Experience the enchanting World Heritage Villages of Shirakawa-Go and Gokayama on a highly recommended day trip bus tour from Kanazawa Station. Enjoy traditional Japanese architecture and step back in time as knowledgeable guides provide commentary in good English.
Explore the villages, enter houses, and marvel at their construction and furnishings. Enjoy a traditional and filling lunch, ensuring a satisfying culinary experience.
With convenient pickup and drop-off at Kanazawa Station, this tour offers efficient sightseeing and an opportunity to avoid crowds.
Great News! You can reserve your spot for free with Viator. You can easliy cancel any time up to 1 day before without paying anything.
Quick Takeaways
The tour starts at 08:00 AM and ends at the meeting point.
There is a full refund policy if the tour is canceled 24 hours in advance, but no refund if canceled less than 24 hours before start time.
In case of poor weather, the tour can be rescheduled or a full refund will be offered.
The tour includes spectacular mountain views, traditional villages, a traditional lunch, and a comfortable bus with large windows.
Not for you? Here's a few more great tours and experiences nearby.
Tour Itinerary and Highlights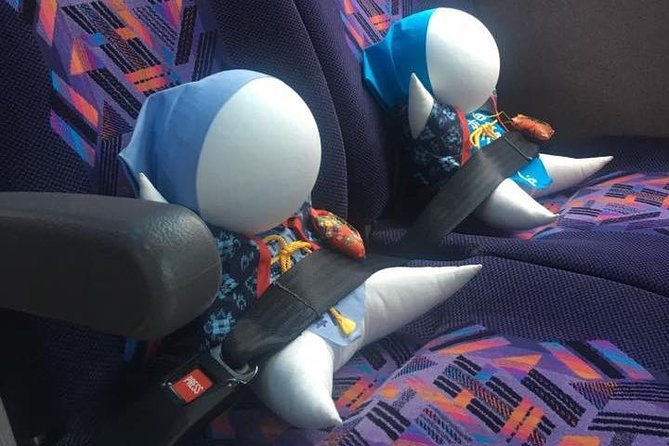 The tour itinerary includes several highlights, such as spectacular mountain views and the opportunity to experience traditional villages. Participants can expect a day filled with engaging tour activities and the chance to enjoy the local culture.
The tour is led by knowledgeable and friendly local guides who are fluent in English, ensuring a seamless and informative experience for all.
Starting from Kanazawa Station, the tour takes participants on a comfortable bus ride to the World Heritage villages of Shirakawa-Go and Gokayama. Along the way, the bus passes through stunning mountain landscapes, offering breathtaking views that are sure to leave a lasting impression.
Once at the villages, participants can explore the traditional houses, interact with locals, and gain insights into the rich history and customs of the region.
This tour promises an unforgettable journey filled with fascinating sights and authentic cultural experiences.
Exploring Shirakawa-Go: a Glimpse Into Traditional Japanese Architecture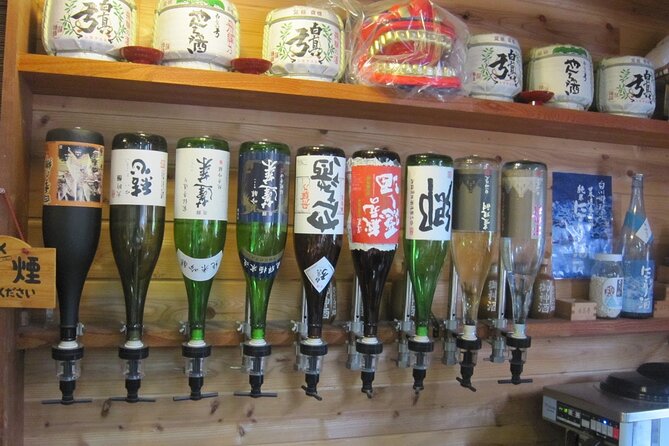 Visitors to Shirakawa-Go can marvel at the intricate craftsmanship and unique design elements of traditional Japanese architecture. This rural Japanese village is known for its well-preserved traditional houses, called gassho-zukuri, which feature steep thatched roofs designed to withstand heavy snowfall. These remarkable structures showcase the ingenuity of the local people who built them centuries ago.
The gassho-zukuri houses are characterized by their triangular shape and wooden framework, held together without the use of nails. Inside, visitors can explore the spacious interiors, often divided into multiple levels, and admire the traditional furnishings and decorations.
The village itself is nestled in a picturesque valley, surrounded by lush mountains, adding to its charm and authenticity. Exploring Shirakawa-Go offers a unique opportunity to take in the rich history and beauty of traditional Japanese architecture in a peaceful rural setting.
Discovering Gokayama: A Hidden Gem of Rural Japan
Exploring Gokayama offers visitors the chance to uncover the hidden beauty of rural Japan while appreciating its traditional architecture and serene landscapes.
Nestled in the Toyama Prefecture, Gokayama is a hidden gem known for its charming villages and rich rural traditions.
The area is famous for its unique Gassho-zukuri houses, characterized by their steep thatched roofs that resemble hands in prayer. These traditional houses have stood the test of time, showcasing the ingenuity of the local people.
Gokayama's hidden charm lies in its untouched landscapes, with lush green fields and winding rivers that create a peaceful and tranquil atmosphere.
Visitors can enjoy the local culture by participating in traditional activities such as making washi paper or trying their hand at local crafts.
Gokayama truly offers a glimpse into the rural traditions and authentic way of life in Japan.
Cultural Experiences and Authentic Cuisine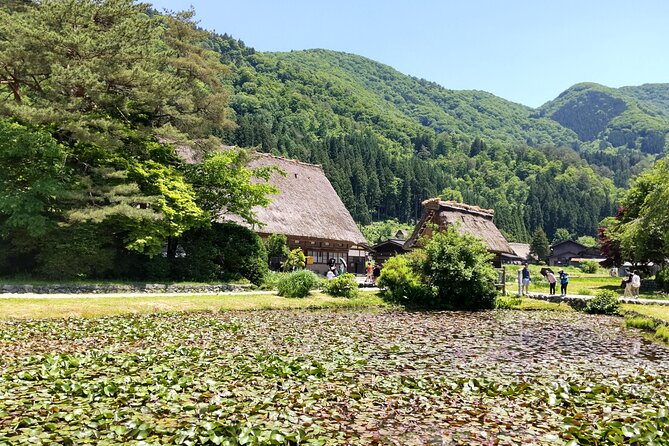 One of the highlights of the tour is the opportunity to indulge in three authentic local dishes, providing participants with a truly immersive cultural experience. The tour takes participants to Shirakawa-Go and Gokayama, two World Heritage Villages in Japan known for their traditional Japanese cuisine.
Here are four reasons why this tour is perfect for those seeking authentic cultural experiences and traditional Japanese cuisine:
Taste traditional Japanese dishes: Participants will have the chance to savor three local dishes that showcase the flavors and techniques of traditional Japanese cuisine.
Learn about local ingredients: The tour provides insights into the ingredients used in traditional Japanese cooking, highlighting the importance of fresh and seasonal produce.
Experience the art of food preparation: Participants will witness firsthand the meticulous preparation and presentation of these authentic dishes, gaining a deeper appreciation for the culinary traditions of Japan.
Connect with local culture: Through the shared experience of enjoying traditional Japanese cuisine, you will gain a deeper understanding of the local culture and its rich culinary heritage.
This tour offers a unique opportunity to not only explore the stunning World Heritage Villages but also take in the authentic cultural experiences and traditional Japanese cuisine that these regions have to offer.
Practical Information and Booking Details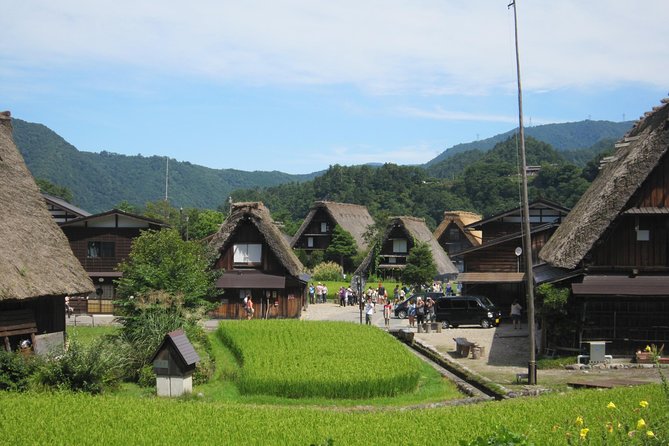 Participants can easily book the day trip bus tour from Kanazawa Station by visiting the Viator website or contacting their Help Center for practical information and booking details.
The tour takes participants to the picturesque villages of Shirakawa Go and Gokayama, both designated as World Heritage Sites.
To get to Kanazawa Station, travelers can take a direct train from Tokyo, Osaka, or Kyoto.
The best time to visit Shirakawa Go and Gokayama is during the winter season, particularly in January and February, when the villages are covered in snow, creating a magical atmosphere.
However, the villages can be visited year-round, with each season offering its own unique charm. Spring brings cherry blossoms, summer offers lush greenery, and autumn showcases vibrant fall foliage.
Regardless of the time of year, the day trip bus tour provides a convenient and comprehensive way to explore these traditional Japanese villages.
Frequently Asked Questions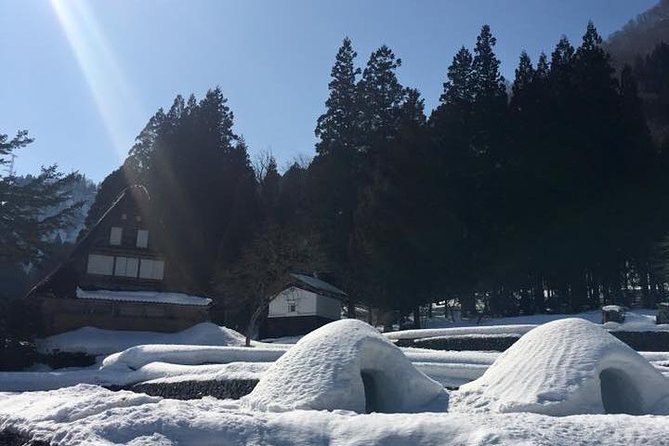 What Is the Best Time of Year to Visit Shirakawa-Go and Gokayama?
The best time to visit Shirakawa-Go and Gokayama is during the winter season, when the villages are covered in snow. This creates a picturesque and magical atmosphere, perfect for experiencing the traditional charm of these World Heritage sites.
Are There Any Age Restrictions for This Tour?
There are no age restrictions for this tour. However, participants should be able to meet the tour requirements, which include walking and navigating uneven terrain in the traditional villages.
Is Transportation Provided From Kanazawa Station to the Meeting Point?
Transportation options from Kanazawa Station to the meeting point for the day trip bus tour include taking a taxi or using public transportation. The meeting point is conveniently located for easy access.
Can I Bring My Own Lunch or Are There Vegetarian/Vegan Options Available?
Yes, participants can bring their own lunch. There are also vegetarian and vegan options available for those with dietary restrictions. This ensures that all participants can enjoy their meals during the tour.
What Should I Wear and Bring With Me on the Tour?
For the tour, participants should wear comfortable clothing and shoes suitable for walking. It is also recommended to bring a hat, sunscreen, and a water bottle for hydration.
The Sum Up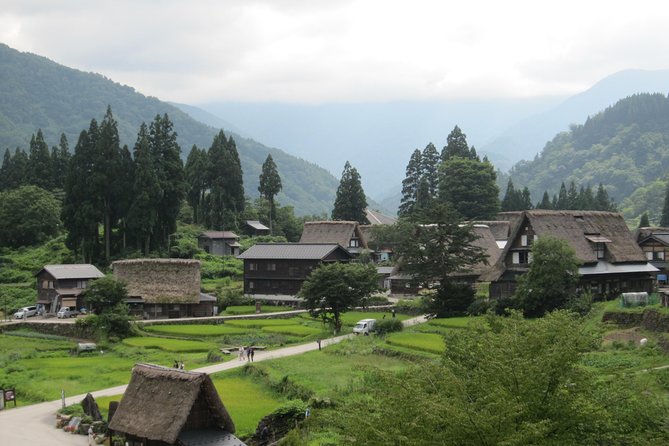 The day trip bus tour from Kanazawa Station to Shirakawa-Go and Gokayama offers a highly recommended and efficient way to explore these enchanting World Heritage Villages.
With knowledgeable guides, the opportunity to enter traditional houses, and a delicious lunch included, participants are immersed in the rich cultural heritage of the region.
Convenient pickup and drop-off at Kanazawa Station make this tour a convenient and enjoyable option for those with limited time.