Join us on our 'Eat Like A Local In Tokyo Food Tour: Private & Personalized' and explore the vibrant culinary scene of Tokyo!
We'll guide you through the bustling streets, from iconic landmarks to hidden gems, where you'll indulge in authentic flavors and savor traditional dishes.
With stops at local eateries and personalized experiences, this tour promises to satisfy your taste buds and create unforgettable memories.
Come on this culinary adventure with us and discover the true essence of Japanese cuisine.
Let's eat like locals in Tokyo!
Great News! You can reserve your spot for free with Viator. You can easliy cancel any time up to 1 day before without paying anything.
Quick Takeaways
The Tokyo Food Tour takes place in the vibrant streets of Asakusa and offers an authentic dining experience.
The tour showcases the heart of Tokyo's culinary scene, from traditional street food stalls to hidden gems.
Local food stops include Tsukiji Fish Market, Ameya-Yokocho Market, and Yakitori Alley, offering a variety of delicious street food and traditional dishes.
Tokyo's food culture blends traditional dishes with modern culinary innovations, providing endless options for food lovers.
Not for you? Here's a few more great tours and experiences nearby.
Meeting Point
The meeting point for the Tokyo Food Tour is at Kaminarimon, a bustling gate in Asakusa known for its vibrant atmosphere and iconic lantern. As we gather at this central location, our knowledgeable guide will be there to welcome you and provide an overview of the tour. However, if you have difficulty finding Kaminarimon or prefer an alternative meeting location, our team is flexible and happy to accommodate your needs.
Located in the heart of Asakusa, Kaminarimon offers more than just a starting point for our food adventure. It's surrounded by a multitude of nearby attractions, including Nakamise Shopping Street where you can explore traditional Japanese souvenirs and snacks. Plus, you can pass by Nakano Broadway, a popular shopping complex filled with anime, manga, and collectibles. Kichijōji Station is also on our route, known for its trendy atmosphere and delicious street food options.
No matter where we meet, get ready to embark on a culinary journey through Tokyo's hidden gems and taste the flavors that make this city a food lover's paradise.
Highlights of the Tour
Exploring the vibrant streets of Asakusa and tasting a variety of mouthwatering dishes are some of the highlights of our Tokyo Food Tour. Enjoy the local food specialties and gain cultural insights as we take you on a culinary adventure through the heart of Tokyo. From traditional street food stalls to hidden gems known only to locals, this tour offers a truly authentic dining experience.
To give you a taste of what to expect, here are some of the local food specialties you'll have the chance to savor:
| Dish | Description |
| --- | --- |
| Ramen | Slurp up a steaming bowl of ramen noodles, topped with savory broth and tender slices of pork. |
| Takoyaki | Bite into these crispy, golden octopus balls, filled with a burst of flavor in every bite. |
| Tempura | Indulge in light and crispy battered seafood and vegetables, fried to perfection. |
| Sushi | Delight in the freshest seafood, expertly crafted into bite-sized pieces of culinary art. |
Join us on this unforgettable food tour and let us introduce you to the local flavors and cultural richness of Tokyo.
Local Food Stops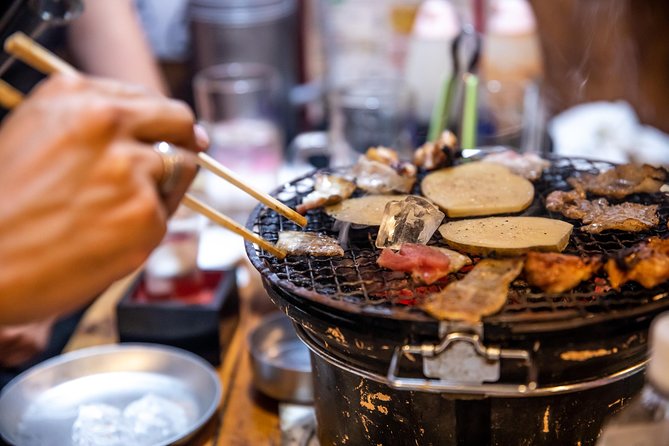 Where can we find the best local food stops in Tokyo?
When it comes to experiencing the vibrant food scene in Tokyo, there are several must-visit places that offer a delicious array of street food and traditional dishes. Here are three local food stops that are sure to satisfy your taste buds:
Tsukiji Fish Market: This bustling market is renowned for its fresh seafood and sushi. Explore the stalls and indulge in mouthwatering sashimi, grilled fish, and other delectable seafood dishes.
Ameya-Yokocho Market: Located in Ueno, this vibrant market is a paradise for food lovers. Sample local snacks like yakitori (grilled skewered chicken), takoyaki (octopus balls), and taiyaki (fish-shaped pastries filled with sweet red bean paste).
Yakitori Alley in Shinjuku: Step into this narrow street lined with tiny yakitori stalls and learn about the tantalizing aroma of grilled skewers. Try various types of yakitori, from chicken to vegetables, and enjoy the lively atmosphere.
Get ready to embark on a culinary adventure filled with authentic flavors and local delights as you explore these fantastic food stops in Tokyo.
Culinary Experiences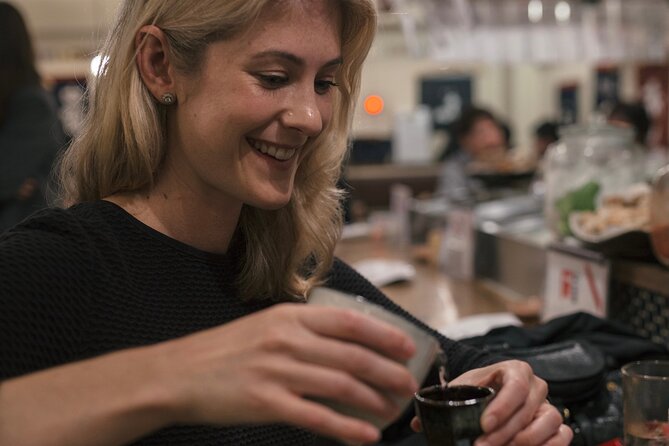 Let's dive into the culinary experiences that await us in Tokyo, where we can indulge in a wide array of mouthwatering dishes and immerse ourselves in the vibrant food culture.
Tokyo's food culture is a delightful blend of traditional dishes and modern culinary innovations. From sushi and ramen to tempura and yakitori, there's something to satisfy every palate.
The city is a paradise for food lovers, with countless restaurants, food stalls, and izakayas offering an endless variety of flavors and textures. Whether you're exploring the bustling streets of Shibuya or the historic lanes of Asakusa, you'll find hidden gems and local favorites waiting to be discovered.
Tokyo's culinary experiences aren't just about the food itself, but also about the atmosphere and the sense of tradition that permeates every bite.
Get ready to embark on a gastronomic adventure like no other.
Insider Tips
During our food tour in Tokyo, we'll provide you with insider tips on how to make the most of the culinary delights this city has to offer. Tokyo is a city full of hidden gems when it comes to food, and we want to share them with you. Here are some insider tips to enhance your experience:
Explore the local izakayas: These traditional Japanese pubs are the perfect place to try a variety of dishes and drinks while enjoying the local culture. Don't be afraid to venture off the beaten path and discover some lesser-known izakayas.
Visit the neighborhood markets: Tokyo is home to vibrant markets where you can find fresh produce, seafood, and street food. Take a stroll through Tsukiji Fish Market or Ameya-Yokocho Market to get a taste of the local flavors and experience the bustling atmosphere.
Embrace the street food culture: Tokyo is known for its street food scene, and trying some of the local favorites is a must. Whether it's takoyaki (octopus balls), yakitori (grilled skewers), or taiyaki (fish-shaped pastries), indulge in these delicious treats for a truly authentic experience.
Booking and Cancellation Policy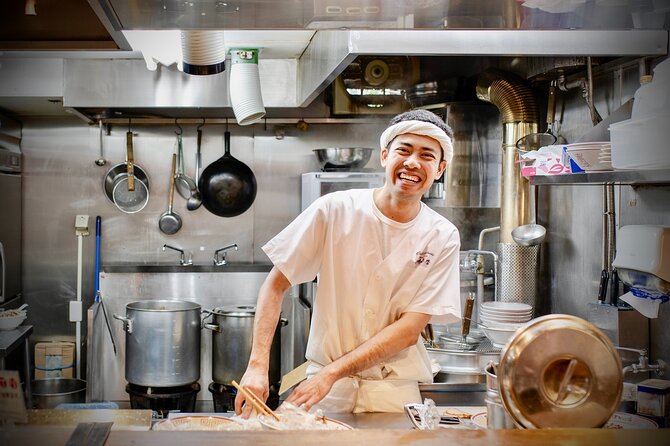 The booking and cancellation policy for the Eat Like A Local In Tokyo Food Tour is straightforward and customer-friendly. We understand that plans can change, so we offer a flexible cancellation policy to accommodate our guests. If you need to cancel your tour, you can do so up to 24 hours in advance of the experience for a full refund. However, if you cancel less than 24 hours before the experience start time, the amount you paid will not be refunded. We kindly ask that any changes or cancellations be made at least 24 hours before the tour begins. To provide transparency and avoid any confusion, we base our cut-off times on the experience's local time. We want to ensure that our guests have a hassle-free experience, which is why we strive to make our booking and cancellation process as simple as possible.
| Cancellation Timeframe | Refund Amount |
| --- | --- |
| Up to 24 hours before the experience start time | Full refund |
| Less than 24 hours before the experience start time | No refund |
We hope this policy provides peace of mind and flexibility for our guests. If you have any further questions or need assistance, please don't hesitate to reach out to our customer service team.
Frequently Asked Questions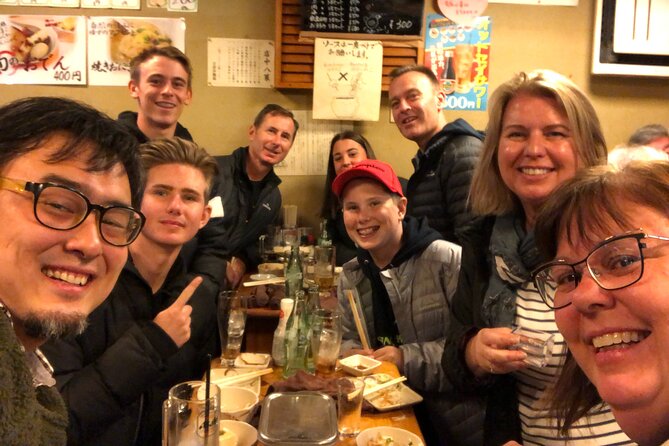 Are There Vegetarian or Vegan Options Available During the Food Tour?
Yes, we have vegetarian and vegan options available during the food tour. Our customizable itinerary allows us to accommodate dietary restrictions. Our English speaking guides will transport you between food stops while discussing local cuisine.
Can I Request Specific Dietary Restrictions or Allergies to Be Accommodated During the Tour?
Yes, you can request specific dietary restrictions or allergies to be accommodated during the tour. Our team will do their best to ensure that you have a personalized and enjoyable experience.
Is It Possible to Customize the Food Tour Itinerary or Add Additional Food Stops?
Yes, we offer customization options for the food tour itinerary. You can request additional food stops or specific dishes to accommodate your preferences. Just let us know and we'll personalize the tour for you.
Will There Be English-Speaking Guides Available During the Tour?
Yes, there will be English-speaking guides available during the tour. We understand the importance of language options for non-English speakers, and our guides are trained to provide a personalized and informative experience.
Is Transportation Included Between the Different Food Stops or Do Participants Need to Arrange Their Own Transportation?
Yes, transportation is included between the different food stops. Participants do not need to arrange their own transportation. We also provide dietary accommodations for those with specific needs.
The Sum Up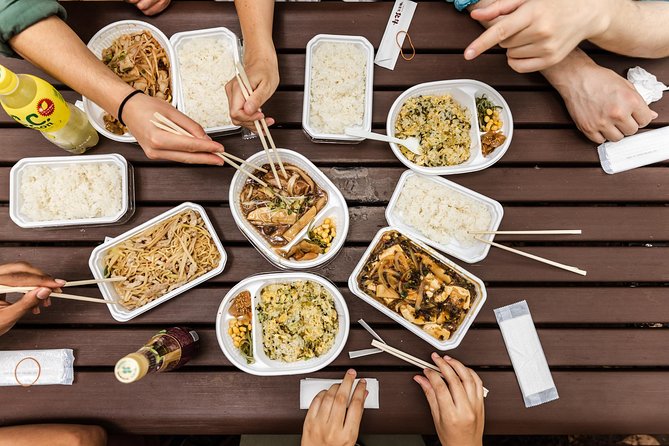 Join us on our 'Eat Like A Local In Tokyo Food Tour: Private & Personalized' and learn about the vibrant culinary scene of Tokyo.
With our expert guides, you'll explore hidden gems, sample mouthwatering delicacies, and learn about the cultural significance of each dish.
Whether you're a sushi aficionado or simply curious about Japanese cuisine, this personalized tour promises to satisfy your taste buds and create unforgettable memories.
Embark on this culinary adventure and experience Tokyo like a local!