Immersed in the secluded valleys of Toyama Prefecture, Gokayama is a tranquil village that exudes a timeless charm. Nestled among verdant mountains and clear streams, this UNESCO World Heritage site holds a world steeped in tradition, much of which remains intact today. Famous for its Gassho-style houses, Gokayama offers an authentic taste of rural Japan, far removed from the hustle and bustle of its urban counterparts.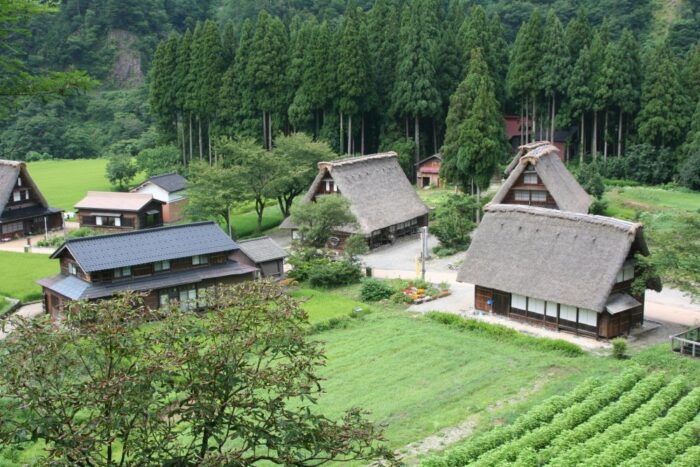 A visit to Gokayama is a journey back in time. The village's distinctive architectural style, characterized by steep thatched roofs designed to withstand heavy snowfall, is a testament to the ingenuity of Japan's ancestral communities. These Gassho-style houses, many of which are still inhabited, cluster the landscape, their rustic charm blending seamlessly with the surrounding nature.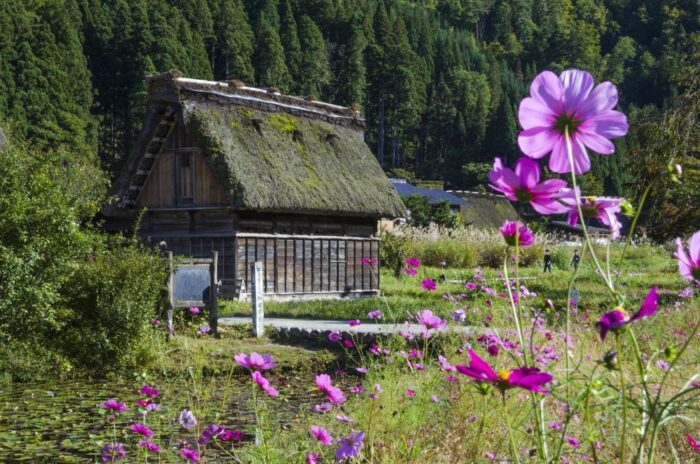 But the allure of Gokayama extends beyond its visual appeal. It's a place where centuries-old customs persist, offering visitors a unique insight into a way of life that has endured for generations. Less frequented than its more renowned neighbor, Shirakawa-go, Gokayama offers a peaceful alternative for those keen on experiencing Japan's cultural heritage without the throng of crowds.
History and Culture of Gokayama
Gokayama's history dates back over a millennium. The area's remote and mountainous terrain made it ideal for sericulture, the cultivation of silkworms, and the production of washi, traditional Japanese paper. Over time, these crafts became a central part of the region's cultural identity, a legacy that continues to this day.
The Gassho-style houses, a trademark of Gokayama, derive their name from the term 'gassho-zukuri', which translates to 'constructed like hands in prayer'. This refers to the steeply slanting thatched roofs that resemble the hands of Buddhist monks in prayer. These structures, ingeniously designed to endure the region's harsh winter snowfall, stand as remarkable examples of adaptive architecture.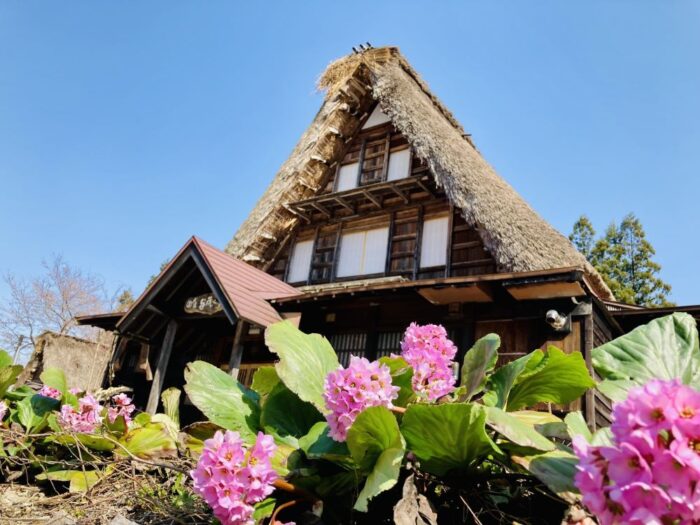 The village's isolation led to the development of unique folk songs, dances, and festivals, many of which are still celebrated today. Among these, the Gokayama style of the Japanese classical music genre, known as 'Gokayama Nanto Kokiriko,' is inscribed on UNESCO's Representative List of the Intangible Cultural Heritage of Humanity. Its haunting melodies, performed with traditional instruments like the 'sasara,' resonate through the village, adding to its enchanting atmosphere.
From its distinctive architecture to its rich cultural heritage, Gokayama serves as a living museum. Its rustic allure, coupled with its commitment to tradition, provides a fascinating glimpse into a Japan that has withstood the test of time.
How to Reach Gokayama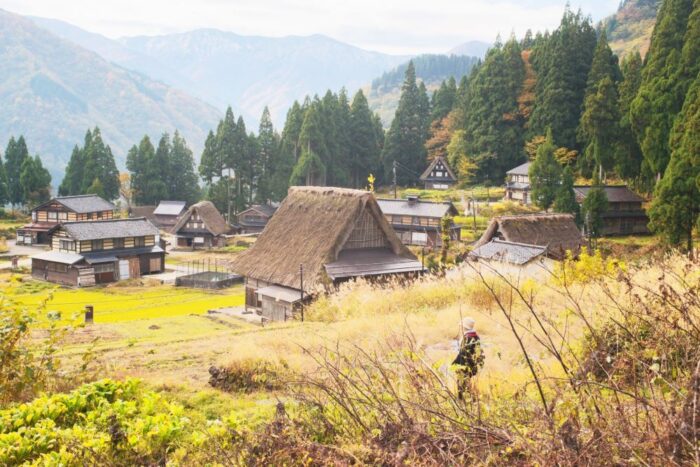 Owing to its mountainous location, getting to Gokayama requires a bit of planning, but the journey is well worth the effort. Here's a comprehensive guide on how to reach this hidden gem from several major Japanese cities.
From Tokyo: If you are coming from Tokyo, take the Hokuriku Shinkansen to Kanazawa, which takes about 2.5 hours. From Kanazawa, the World Heritage Bus connects directly to Gokayama, with the journey taking about 1.5 hours.
From Kanazawa: Direct buses run from Kanazawa to Gokayama, taking approximately 1.5 hours. The buses depart from Kanazawa station's east exit. It's a convenient and comfortable ride that whisks you through scenic landscapes.
From Takayama: From Takayama, you will first need to take a bus to Shirakawa-go (approximately 50 minutes to 1 hour). From Shirakawa-go, you can hop onto another bus to Gokayama (around 30-40 minutes). The entire journey offers stunning views of the rural countryside and mountainous terrain.
From Shirakawa-go: The Nouhi Bus operates services between Shirakawa-go and Gokayama, taking approximately 30-40 minutes. It's an easy and convenient way to explore both World Heritage sites in one trip.
Things to Do in Gokayama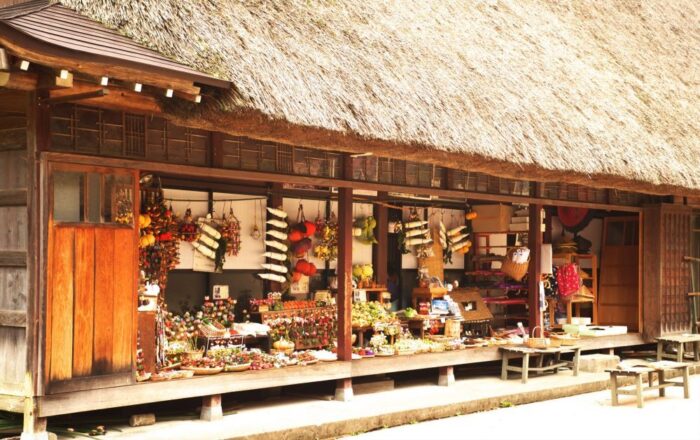 Despite its small size, Gokayama has plenty to offer. Here's a list of must-see attractions and activities that should be on your itinerary:
Visit Ainokura Gassho-style Village: This is the largest of the two main villages in Gokayama, home to about 20 well-preserved Gassho-style houses. Some of these houses have been converted into minshukus (family-run guesthouses), while others function as museums offering insight into the region's historical way of life.
Participate in a Washi Paper Making Workshop: Gokayama's handmade washi paper is famous throughout Japan. Several workshops, like the Gokayama Washi Workshop, allow you to experience this traditional craft firsthand.
Explore Suganuma Village: Smaller than Ainokura, Suganuma Village offers a more tranquil experience with its nine Gassho-style houses. It's a perfect spot for leisurely walks, photography, and soaking up the serene atmosphere.
Visit the Folklore Museum: For a deeper understanding of Gokayama's history and culture, the Gokayama Folklore Museum in Suganuma Village is a must-visit. The museum showcases various artifacts, tools, and traditional costumes, providing a vivid picture of the region's past.
Where to Eat in Gokayama
Like other parts of Japan, Gokayama has its own local cuisine that reflects its historical lifestyle and culture. Here are some of the places to enjoy the regional flavors of Gokayama.
Soba-Dojo: This quaint restaurant in Gokayama serves up delicious soba noodles, a specialty of the region. The buckwheat for the noodles is locally sourced, and the noodle-making process can be viewed through a window in the restaurant. Also, try their tempura, made with fresh, local vegetables.
Heianraku: Located near Ainokura Gassho Village, Heianraku offers an exquisite fusion of Japanese and Western cuisine. Their dishes are made with locally sourced ingredients and beautifully presented. Make sure to try their seasonal kaiseki course.
Irori: A traditional Japanese restaurant located in Suganuma Village. Here you can enjoy a variety of local dishes, including river fish grilled over an open hearth.
Gokayama Chaya: A delightful café to rest your feet and enjoy a cup of tea along with traditional Japanese sweets. It's located near the bus stop in Suganuma Village.
Where to Stay in Gokayama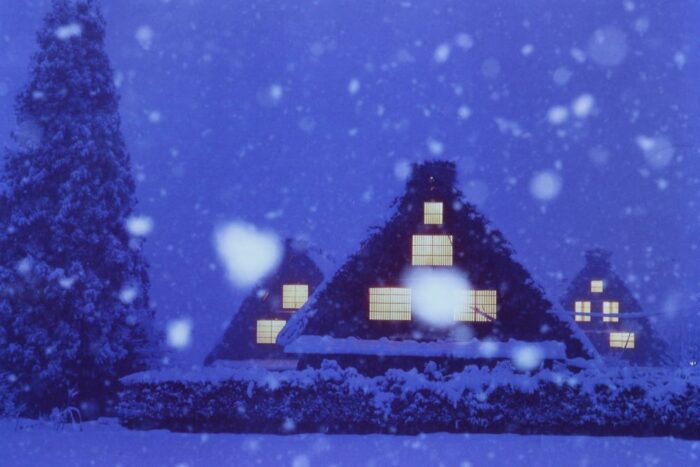 One of the unique experiences in Gokayama is staying overnight in a Gassho-style house. These family-run lodgings, known as minshukus, offer a rare chance to experience traditional Japanese hospitality.
Ainokura Minshuku: This traditional guesthouse in Ainokura Village is one of the many Gassho-style houses that have been converted into lodging. With tatami rooms, a communal bath, and meals featuring locally sourced ingredients, it's a delightful immersion into the rural Japanese lifestyle.
Gassho-style House Murakami: This guesthouse in Suganuma Village allows you to stay in a 400-year-old Gassho-style house. The friendly hosts, delicious home-cooked meals, and the experience of living in a traditional thatched-roof house make this an unforgettable stay.
Gokayama Guesthouse YAMASHITA-YA: If you're looking for a more contemporary accommodation, YAMASHITA-YA is a good choice. Located near Suganuma Village, it offers both Japanese and Western-style rooms, free Wi-Fi, and an onsite café.
Remember, these traditional lodgings can accommodate a limited number of guests, so it's recommended to book in advance.
Comparing Gokayama and Shirakawa-go
Despite their geographical proximity and shared cultural heritage, Gokayama and Shirakawa-go offer distinctive experiences. Understanding these differences can help you decide how to plan your visit.
Crowd Levels: Shirakawa-go's Ogimachi Village, with its dense concentration of Gassho-style houses, is the more well-known of the two and tends to attract larger crowds. Gokayama, on the other hand, offers a more tranquil experience, making it a perfect retreat for those seeking peace and quiet.
Preservation Status: Both villages are UNESCO World Heritage sites and take great care in preserving their Gassho-style houses. However, some argue that Gokayama, perhaps due to fewer visitors, retains a more authentic atmosphere.
Visitor Experience: Shirakawa-go's larger size and wider array of shops, restaurants, and accommodations might appeal to some visitors. However, Gokayama's smaller size and relative seclusion can offer a more immersive experience of traditional Japanese rural life.
In the end, both villages offer unique insights into Japan's cultural heritage and are well worth a visit. Consider your personal preferences and what kind of experience you are looking for when deciding how much time to allocate to each.
Tips for Visiting Gokayama
Best Time to Visit: Gokayama is beautiful year-round, but the scenery changes dramatically with the seasons. The green of spring and summer provides a vibrant backdrop to the thatched houses, autumn leaves create a riot of colors, and winter brings a stunning snowscape.
Etiquette Tips: Remember that Gokayama is not just a tourist site; people live there. Be respectful, keep noise to a minimum, and don't enter private property without permission.
Cash vs. Card: While Japan is gradually becoming more card-friendly, many rural areas still rely heavily on cash. It's a good idea to carry a sufficient amount of yen when visiting Gokayama.
Language Tips: While some residents and business owners may speak basic English, it's not widely spoken in Gokayama. It may be helpful to learn a few basic Japanese phrases, or have a translation app handy.
Day Trips from Gokayama
While Gokayama itself is a delight, its location makes it a perfect base for exploring other parts of the region.
Shirakawa-go: Just a short bus ride away, Shirakawa-go is a must-visit for its more extensive collection of Gassho-style houses.
Kanazawa: Known for its beautiful Kenrokuen Garden, historic samurai district, and thriving arts scene, Kanazawa is an excellent city to explore. It's a 1.5-hour bus ride from Gokayama.
Takayama: Takayama, located in the mountainous Hida region, is famous for its well-preserved old town, local beef, and sake breweries. It's about a 2-hour bus ride from Gokayama.
The Sum Up
Nestled within the verdant mountains of Toyama Prefecture, Gokayama is an enchanting destination. This UNESCO World Heritage site is an invitation to step back in time, to experience a way of life shaped by centuries-old traditions and unforgiving natural conditions. The distinctive Gassho-style houses, with their steep, thatched roofs, are a testament to this history.
Gokayama offers more than just a visual spectacle. From participating in a washi paper making workshop to savoring locally sourced dishes, there are myriad ways to immerse yourself in the region's rich cultural heritage. Staying in a traditional minshuku presents a rare opportunity to experience Japanese hospitality in a uniquely rustic setting.
The village's secluded location and peaceful ambiance make it a more tranquil alternative to the popular Shirakawa-go. The relative lack of crowds can provide a more immersive and personal experience of Japan's rural charm. Whether you're wandering through the picturesque Ainokura and Suganuma villages, enjoying the enchanting sounds of Gokayama Nanto Kokiriko, or simply soaking in the serene atmosphere, Gokayama promises a travel experience that is both deeply enriching and refreshingly different.
To sum it up, a visit to Gokayama is more than just a journey through space; it's a journey through time, offering a rare glimpse into Japan's cultural past and its enduring resonance in the present. So, whether you're a seasoned traveler seeking a less trodden path or a first-time visitor looking for an authentic experience, Gokayama awaits with its timeless charm and warm hospitality.