Discover the enchanting city of Kyoto through the eyes of a local on the 'Highlights & Hidden Gems With Locals: Best of Kyoto Private Tour.'
Led by knowledgeable guides who are passionate about their city, this tour offers a unique perspective on Kyoto, taking travelers to both well-known landmarks and off-the-beaten-path spots known only to locals.
With 59 reviews and an overall rating of 5.0, this tour promises an unforgettable experience, praised for its insightful guides and personalized itinerary.
Don't miss out on this chance to discover the hidden gems of Kyoto with locals as your guides.
Great News! You can reserve your spot for free with Viator. You can easliy cancel any time up to 1 day before without paying anything.
Quick Takeaways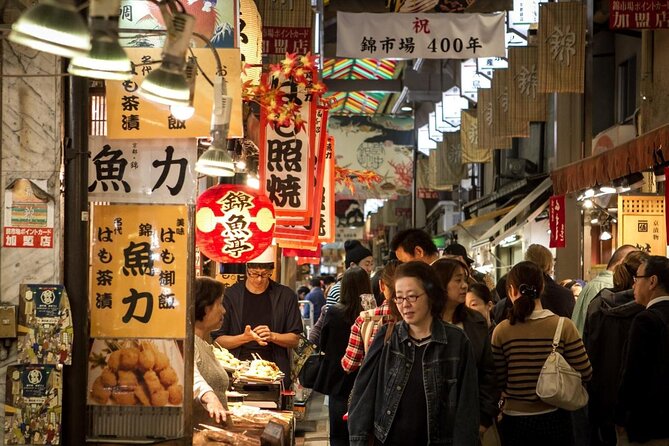 Kiyomizu-dera Temple and Higashiyama district are must-see landmarks representing Kyoto's rich history and culture.
The tour offers the opportunity to explore off-the-beaten-path spots known only to locals and uncover hidden temples, gardens, streets, and markets in Kyoto.
Insider tips include visiting Fushimi Inari Shrine early in the morning, exploring the traditional neighborhood of Higashiyama, trying kaiseki cuisine, and participating in a tea ceremony.
The tour promises unique experiences off the beaten path, discovering hidden gardens, quaint tea houses, and hidden treasures that offer a different perspective on Kyoto.
Not for you? Here's a few more great tours and experiences nearby.
Must-See Landmarks in Kyoto
One must visit the iconic Kiyomizu-dera Temple when exploring the must-see landmarks in Kyoto. This historic temple, known for its wooden terrace that offers breathtaking views of the city, is a symbol of Kyoto's rich cultural heritage. It's a popular destination for both locals and travelers alike.
After exploring the temple, one can venture into the surrounding Higashiyama district, which is home to several local's favorite restaurants and traditional tea houses. These establishments provide a glimpse into Kyoto's culinary traditions and offer a chance to savor delicious local dishes and experience the art of tea ceremony.
From traditional Kyoto cuisine to modern fusion dishes, the local's favorite restaurants in this area cater to a variety of tastes. Similarly, the traditional tea houses provide a serene and authentic setting to enjoy a cup of matcha tea and take in the peaceful ambiance of Kyoto.
Uncover Kyoto's Hidden Gems
Visitors can uncover Kyoto's hidden gems by exploring the city with a local guide and discovering off-the-beaten-path spots known only to locals. With the guidance of a knowledgeable local, travelers can delve deeper into the rich culture and history of Kyoto, while also experiencing the city's authentic local food and traditional crafts.
These hidden gems offer a unique and immersive experience, allowing visitors to step away from the typical tourist attractions and truly connect with the local community. From hidden temples and tranquil gardens to quaint streets and local markets, there's a wealth of hidden treasures waiting to be discovered in Kyoto.
Local's Insider Tips for Exploring Kyoto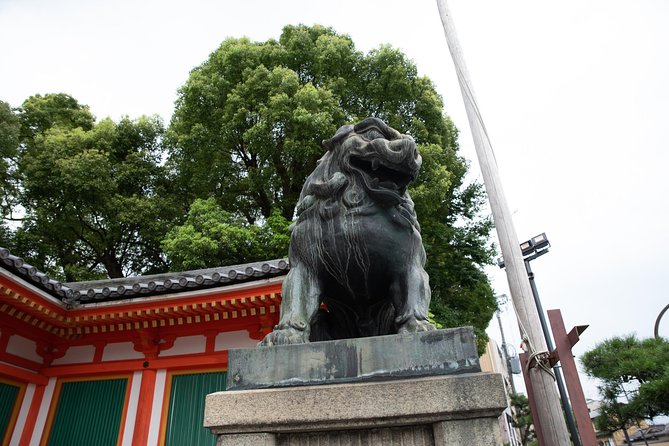 Five locals share their insider tips for exploring Kyoto, offering unique insights and recommendations to enhance your visit to the city. When it comes to exploring Kyoto like a local, these recommendations are invaluable.
One local suggests visiting the Fushimi Inari Shrine early in the morning to avoid the crowds and experience the serene beauty of the torii gates.
Another insider tip is to explore the traditional neighborhood of Higashiyama, where you can wander through narrow streets lined with old wooden houses and discover hidden temples and gardens.
For a unique dining experience, locals recommend trying kaiseki, a traditional multi-course meal that showcases the flavors of Kyoto.
Lastly, don't miss the opportunity to participate in a tea ceremony, where you can learn about the art of tea and experience the tranquility of a traditional Japanese tea house.
These insider recommendations for Kyoto will truly enhance your visit and allow you to discover the city like a local.
Unique Experiences Off the Beaten Path
Travelers can discover hidden gems and create unforgettable memories by exploring unique experiences off the beaten path in Kyoto.
Kyoto, known for its rich cultural heritage and stunning temples, also holds many secrets waiting to be explored. From hidden gardens tucked away in quiet neighborhoods to quaint tea houses serving traditional matcha, there are hidden treasures in Kyoto that offer a different perspective on this ancient city.
Discover the Authentic Kyoto With Locals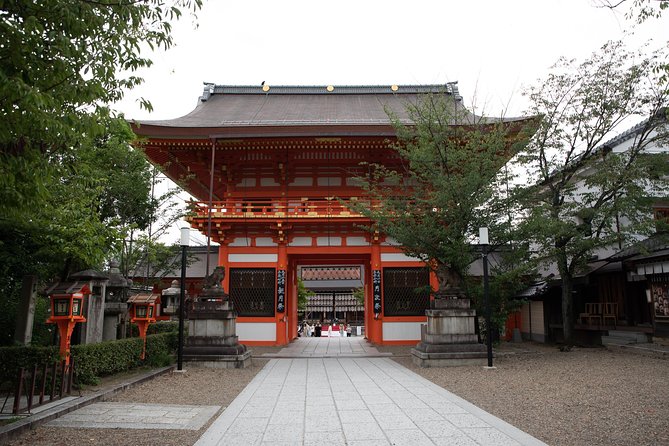 Locals in Kyoto offer an immersive and genuine experience to anyone seeking to uncover the authentic essence of this historic city. Exploring Kyoto's local culture and uncovering hidden neighborhoods can provide a unique perspective on this renowned destination.
From visiting major landmarks like Gion to venturing off the beaten path, locals can guide travelers to spots known only to them. By engaging with locals, visitors have the opportunity to learn about the city's rich history, traditions, and way of life.
Whether it's participating in a traditional tea ceremony, strolling through quaint alleyways, or indulging in local cuisine, these experiences allow travelers to connect with the true spirit of Kyoto. The insights and knowledge shared by locals can enhance one's understanding of this remarkable city and create lasting memories.
Hidden Temples and Shrines in Kyoto
There are numerous hidden temples and shrines in Kyoto that offer a glimpse into the city's rich spiritual heritage. These hidden gems provide an opportunity for hidden temple exploration and sacred shrine discovery.
Here are three sub-lists to engage the audience:
Must-Visit Temples:

Kiyomizu-dera Temple: Known for its wooden terrace and stunning views of the city.
Ryoan-ji Temple: Home to a famous Zen rock garden that's both peaceful and contemplative.
Kinkaku-ji Temple: Also known as the Golden Pavilion, this temple is a stunning sight with its golden exterior.

Lesser-Known Shrines:

Fushimi Inari Taisha: Famous for its thousands of torii gates that create a magical pathway.
Yasaka Shrine: Located in the heart of Gion, this shrine is a popular spot during festivals.
Kitano Tenmangu Shrine: Dedicated to the scholar Sugawara no Michizane, this shrine is known for its beautiful plum blossoms.

Hidden Gems:

Gio-ji Temple: A small secluded temple known for its moss garden and tranquil atmosphere.
Eikan-do Zenrin-ji Temple: Offers a picturesque autumn foliage viewing experience.
Nijo Jinya: A historic house that once served as a secret base for samurai spies.
Embarking on a hidden temple exploration and sacred shrine discovery in Kyoto allows visitors to delve deeper into the city's spiritual roots and uncover hidden treasures.
Kyoto's Best Kept Secrets Revealed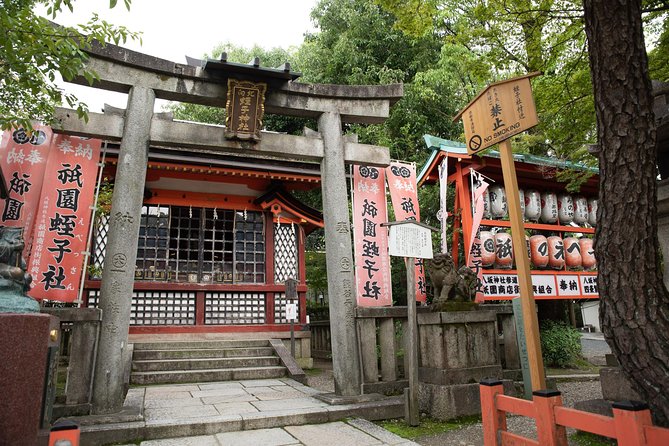 Five lesser-known attractions in Kyoto have been revealed, showcasing the city's best kept secrets.
Kyoto, known for its rich cultural heritage, offers more than just its famous temples and shrines. Visitors can enjoy Kyoto's local cuisine and explore traditional crafts that have been passed down through generations.
One hidden gem is the Nishiki Market, a bustling food market that offers an array of fresh seafood, local produce, and traditional snacks.
Another must-visit is the Kyoto International Manga Museum, where art and literature enthusiasts can delve into the world of Japanese comics.
For those interested in traditional crafts, the Kyoto Handicraft Center is a treasure trove of handmade pottery, textiles, and lacquerware.
Don't miss the chance to discover these hidden gems and experience the authentic side of Kyoto.
Frequently Asked Questions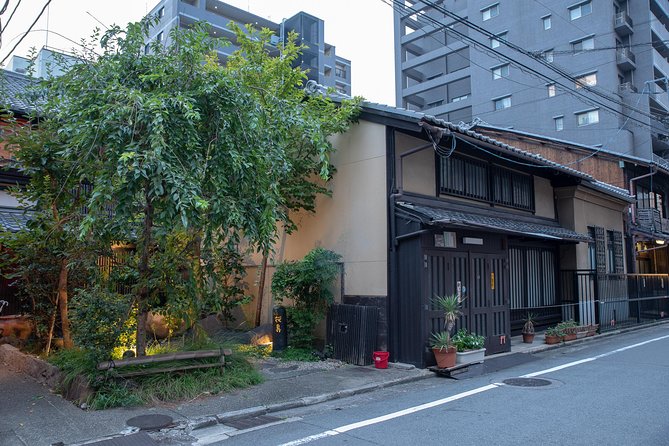 How Long Does the 'Highlights & Hidden Gems With Locals: Best of Kyoto Private Tour' Last?
The duration of the 'Highlights & Hidden Gems With Locals: Best of Kyoto Private Tour' varies depending on the group size. It is best to check with the tour operator for the exact duration.
How Many People Can Participate in the Private Tour?
The private tour group size for this tour is flexible, allowing for a personalized experience. Participants have the opportunity to customize the itinerary according to their preferences and interests.
Is Transportation Included in the Tour?
Yes, transportation is included in the tour. Participants will have the convenience of transportation throughout the duration of the tour, allowing them to easily explore both major landmarks and off-the-beaten-path spots.
Can the Tour Be Customized to Specific Interests or Preferences?
Yes, the tour can be customized to specific interests or preferences. Customization options are available to provide tailored experiences for each traveler, ensuring a personalized and unique exploration of Kyoto.
Are Entrance Fees to the Landmarks and Hidden Spots Included in the Tour Price?
Yes, entrance fees to the landmarks and hidden spots are included in the tour price. This means that travelers do not have to worry about additional costs during the tour.
The Sum Up
To sum it up, the 'Highlights & Hidden Gems With Locals: Best of Kyoto Private Tour' offers travelers an exceptional opportunity to experience the enchanting city of Kyoto from a local's perspective.
With knowledgeable guides, personalized itineraries, and a focus on both well-known landmarks and off-the-beaten-path spots, this tour promises an unforgettable journey of discovery and wonder.
Book your private tour today and uncover the hidden gems and authentic charm of Kyoto with the guidance of passionate locals.