Hoshinoya Fuji is a luxurious glamping hotel near Tokyo that offers guests a one-of-a-kind nature experience. Nestled at the base of Mount Fuji, this hotel provides breathtaking views of the iconic mountain.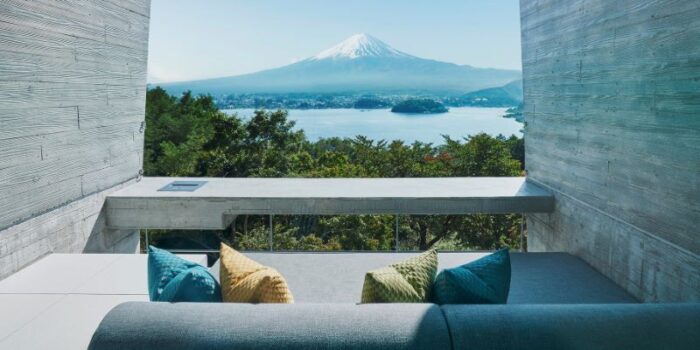 With spacious and fully furnished tents, guests can enjoy modern comforts while being surrounded by nature. From cooking classes to mountain biking, Hoshinoya Fuji offers a range of activities to cater to everyone's interests.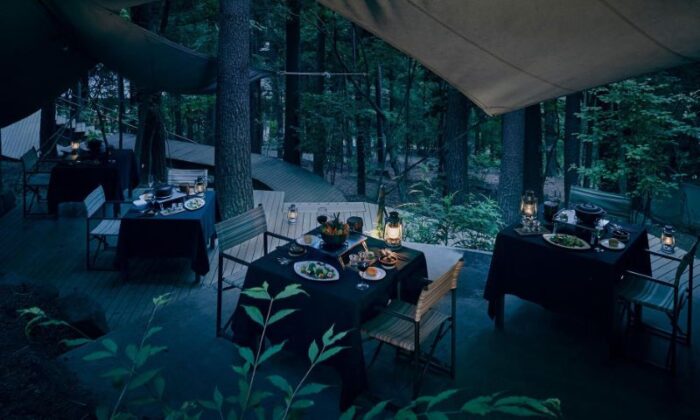 Indulge in the hotel's spa and savor delicious meals featuring traditional Japanese and international cuisine.
Escape the city and immerse yourself in the beauty of nature at Hoshinoya Fuji.
Key Takeaways
Hoshinoya Fuji is a luxury glamping hotel located in Yamanashi prefecture.
The cost of a stay at Hoshinoya Fuji ranges from ¥100,000 to ¥200,000 per night.
The hotel is located at the base of Mount Fuji and offers a stunning view of the mountain.
Hoshinoya Fuji offers a variety of activities and amenities, including cooking classes, mountain biking, spa treatments, and more.
The Luxury of Glamping at Hoshinoya Fuji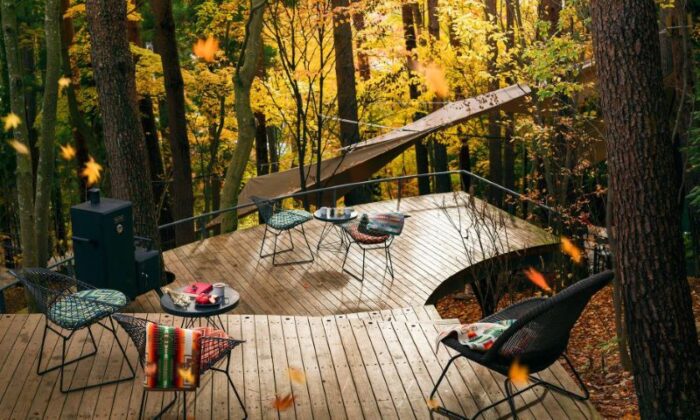 Guests at Hoshinoya Fuji can indulge in the luxury of glamping. They can enjoy spacious tents and modern amenities while being surrounded by the beauty of nature. The tents are designed to provide comfort and convenience. They have features such as comfortable beds, private bathrooms, and heating systems. Each tent also has a private outdoor terrace where guests can relax and take in the breathtaking views of Mount Fuji.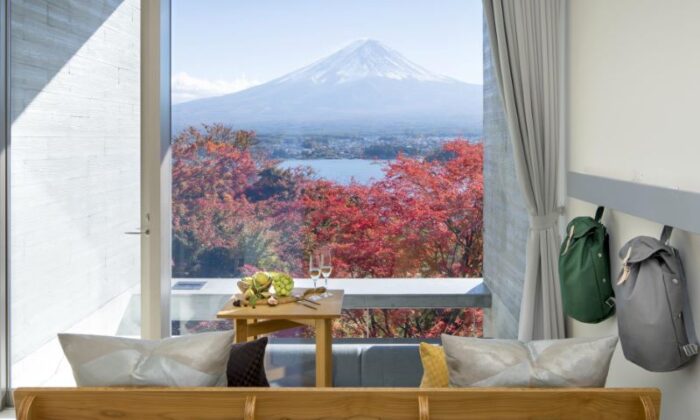 The hotel's location allows for a truly immersive experience in nature. Guests have opportunities for hiking, exploring the surrounding area, and even stargazing at night. Whether it's waking up to the sounds of birds chirping or enjoying a glass of wine under the starry sky, glamping at Hoshinoya Fuji offers a sense of freedom and tranquility that is hard to find elsewhere.
Cost Factors and Tips for Planning Your Hoshinoya Fuji Adventure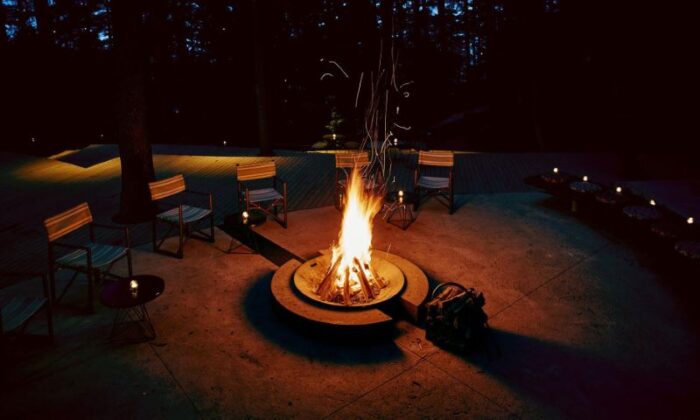 Prices for a stay at Hoshinoya Fuji can vary depending on factors such as the time of year and the type of room. With prices ranging from ¥100,000 to ¥200,000 per night, it's important to plan your adventure accordingly.
Booking in advance and considering off-peak periods can help save money, allowing you to fully enjoy the freedom and luxury of glamping in this beautiful location. Keep an eye out for discounts and promotions, such as extended stay deals or loyalty program offers.
Opting for a meal-inclusive package can also save on food costs, allowing you to indulge in the culinary delights Hoshinoya Fuji has to offer.
The Majestic View of Mount Fuji at Hoshinoya Fuji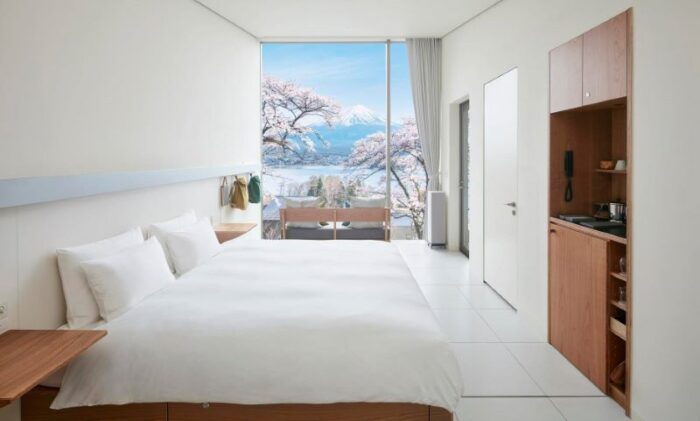 Nestled at the base of a famous mountain, Hoshinoya Fuji offers guests a breathtaking view of the majestic natural wonder. The sight of Mount Fuji from the hotel is truly awe-inspiring, captivating visitors with its beauty and grandeur.
Imagine waking up in the morning, stepping out of your tent, and being greeted by the magnificent sight of the iconic mountain. It's a sight that will leave you feeling connected to nature and in awe of its power.
Whether you're enjoying a cup of coffee on your private deck or lounging in the comfort of your tent, the view of Mount Fuji is a constant reminder of the freedom and serenity that comes with being surrounded by nature. It's a view that will leave you feeling inspired and grateful for the opportunity to experience such natural beauty.
Exciting Activities and Amenities at Hoshinoya Fuji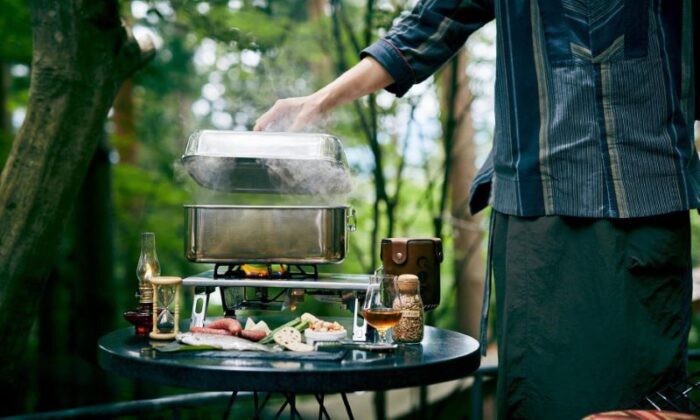 Visitors to Hoshinoya Fuji can choose from a range of exciting activities and amenities to enhance their glamping adventure. Whether it's exploring the breathtaking surroundings on a mountain biking excursion or indulging in a relaxing massage at the hotel's spa, there is something for everyone.
For those seeking a more adventurous experience, the hotel offers cooking classes where guests can learn to create traditional Japanese dishes. And for those looking to unwind, there are amenities available for relaxation and recreation, such as a hot spring bath and a yoga studio.
Hoshinoya Fuji understands that freedom is important to its guests, and that's why they provide a variety of activities and amenities that cater to their desire for exploration and relaxation.
Indulge in a Culinary Experience at Hoshinoya Fuji
Guests at Hoshinoya Fuji can indulge in a culinary experience that includes a variety of traditional Japanese and international dishes for breakfast, lunch, and dinner. The hotel's dining options are sure to satisfy even the most discerning palates.
Here are five mouthwatering highlights of the culinary offerings at Hoshinoya Fuji:
Start your day with a sumptuous Japanese-style breakfast, complete with miso soup, grilled fish, pickled vegetables, and steamed rice.
For lunch, choose from an array of options, such as a bento box filled with sushi, sashimi, and tempura, or a refreshing salad with local ingredients.
In the evening, prepare to be dazzled by an authentic Japanese kaiseki dinner. This multi-course meal showcases the finest seasonal ingredients, expertly prepared by skilled chefs.
Indulge in the delicate flavors of traditional Japanese desserts, such as matcha green tea ice cream or sweet red bean paste mochi.
For those craving international flavors, Hoshinoya Fuji also offers a selection of Western-style dishes, ensuring there is something for everyone to enjoy.
With such a diverse and delectable menu, guests can truly savor the freedom to explore a world of culinary delights at Hoshinoya Fuji.
Transportation and Accessibility to Hoshinoya Fuji
Located in Yamanashi prefecture, Hoshinoya Fuji is easily accessible from Tokyo by public transportation, making it convenient for travelers to reach the luxury glamping hotel.
Whether you're a city dweller looking to escape the hustle and bustle or an adventure seeker wanting to explore the beauty of Mount Fuji, Hoshinoya Fuji offers a serene retreat that is just a short journey away.
Hop on a train or a bus, and within a few hours, you'll find yourself surrounded by nature's tranquility. The accessibility of Hoshinoya Fuji allows you the freedom to embark on a glamping adventure without the hassle of arranging private transportation.
Unforgettable Memories: Testimonials From Hoshinoya Fuji Guests
With breathtaking views and exceptional service, Hoshinoya Fuji has left a lasting impression on those who have experienced its serene retreat. Here are some testimonials from guests who have stayed at this remarkable glamping destination:
'Waking up to the majestic sight of Mount Fuji right outside our tent was truly surreal.'
'The peacefulness of the surroundings made us feel completely disconnected from the hustle and bustle of city life.'
'The staff went above and beyond to ensure that every aspect of our stay was perfect.'
'The on-site activities, such as cooking classes and mountain biking, added an extra layer of enjoyment to our experience.'
'Indulging in the delicious kaiseki cuisine during dinner was an absolute highlight of our trip.'
These testimonials paint a vivid picture of the unforgettable memories that guests have made at Hoshinoya Fuji. It's a place where freedom and tranquility come together, providing an escape from the ordinary and creating cherished moments that will be treasured forever.
Frequently Asked Questions
What Is the Average Length of Stay at Hoshinoya Fuji?
The average length of stay at Hoshinoya Fuji varies depending on individual preferences and availability. Guests can choose to stay for a night or longer to fully enjoy the glamping experience.
Can I Bring My Pet to Hoshinoya Fuji?
No, pets are not allowed at Hoshinoya Fuji. The hotel wants to ensure a serene atmosphere for all guests. However, they offer a range of activities and amenities to make your stay enjoyable.
Are There Any Age Restrictions for Participating in the Activities at Hoshinoya Fuji?
There are no age restrictions for participating in the activities at Hoshinoya Fuji. Guests of all ages can enjoy cooking classes, mountain biking, spa treatments, and more during their glamping experience.
Is There a Dress Code for Meals at Hoshinoya Fuji?
There is no specific dress code for meals at Hoshinoya Fuji. Guests are encouraged to wear comfortable attire that suits their personal style and allows them to fully enjoy their dining experience.
Are There Any Nearby Attractions or Landmarks to Visit During a Stay at Hoshinoya Fuji?
During a stay at Hoshinoya Fuji, guests can explore nearby attractions such as the Chureito Pagoda, Fuji-Q Highland amusement park, and the Fuji Five Lakes. These landmarks provide additional experiences to complement the glamping adventure.
The Sum Up
To sum it up, Hoshinoya Fuji offers a truly unforgettable glamping experience near Tokyo.
With its luxurious tents, breathtaking views of Mount Fuji, and a wide range of activities and amenities, guests can enjoy nature while enjoying the comforts of modern living.
The hotel's culinary experiences and spa treatments add an extra touch of indulgence to the stay.
Whether it's cooking classes, mountain biking, or simply unwinding in the serene surroundings, Hoshinoya Fuji has a lot to offer.
Don't miss the opportunity to create unforgettable memories at this remarkable destination.