The Kamakura Half Day Walking Tour with Kotokuin Great Buddha is a must-try experience for travelers visiting Kamakura, Japan. Led by knowledgeable guides, this immersive tour takes visitors on a scenic walk through the city's mountain trail, covering a distance of at least 5 kilometers.
Along the way, you will encounter various shrines and temples, each with its own significance and traditions. With positive reviews praising the personalized and informative nature of the tour, it offers a fantastic opportunity to explore Kamakura's iconic landmarks and hidden gems.
Great News! You can reserve your spot for free with Viator. You can easliy cancel any time up to 1 day before without paying anything.
Quick Takeaways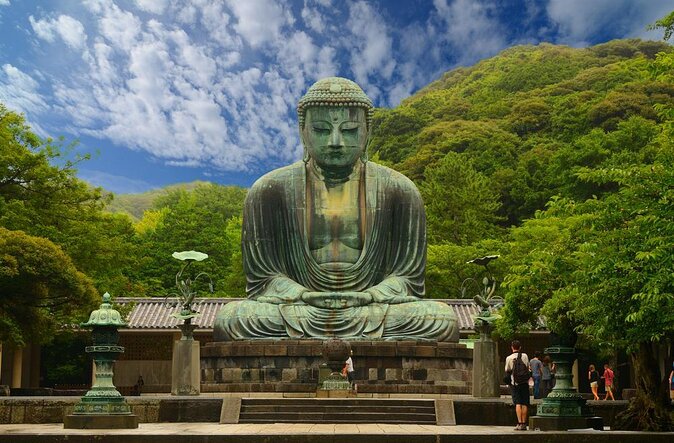 The tour starts at 09:00 AM and ends at Hase Station in Kamakura, Japan.
The tour duration can be extended at a rate of 1,000 yen per person, per half hour.
Travelers should have a strong physical fitness level as the tour involves walking at least 5 km, including a mountain pass.
Cancellation policy allows for a full refund if canceled up to 24 hours in advance, but no refund if canceled less than 24 hours before start time.
Not for you? Here's a few more great tours and experiences nearby.
Exploring the Scenic Mountain Trail
Travelers on the Kamakura Half Day Walking Tour can enjoy exploring the scenic mountain trail, taking in the breathtaking views and experiencing the beauty of nature firsthand. This nature exploration offers a unique hiking experience through the hills of Kamakura.
The trail winds through lush greenery, offering glimpses of shrines and temples along the way. It's a perfect opportunity to take in the tranquility of the natural surroundings and appreciate the wonders of the Japanese landscape.
The tour guides, like Yu and Noriko, provide insightful information about the significance and traditions of the locations, enhancing the overall experience. Many travelers have praised this part of the tour, describing it as fantastic and a great day trip from Tokyo.
Discovering Kamakura's Shrines and Temples
Visitors can explore Kamakura's shrines and temples, seeing the rich cultural heritage of the city. Kamakura, located just south of Tokyo, is known for its architectural wonders and the cultural significance of its religious sites.
The Great Buddha of Kamakura: A towering bronze statue that stands at 13.35 meters tall, this iconic landmark is a symbol of Kamakura and one of Japan's most famous Buddha statues.
Tsurugaoka Hachimangu Shrine: Dedicated to the Shinto deity of war, this shrine is an important cultural and historical site in Kamakura. It features stunning architecture and beautiful gardens.
Hasedera Temple: This Buddhist temple is home to a renowned wooden statue of Kannon, the goddess of mercy. Visitors can admire the serene atmosphere and enjoy panoramic views of the city from the temple grounds.
Exploring these architectural wonders and learning about the cultural significance of Kamakura's shrines and temples is a must for anyone seeking a deeper understanding of Japan's history and spirituality.
A Personalized Tour With Yu as Your Guide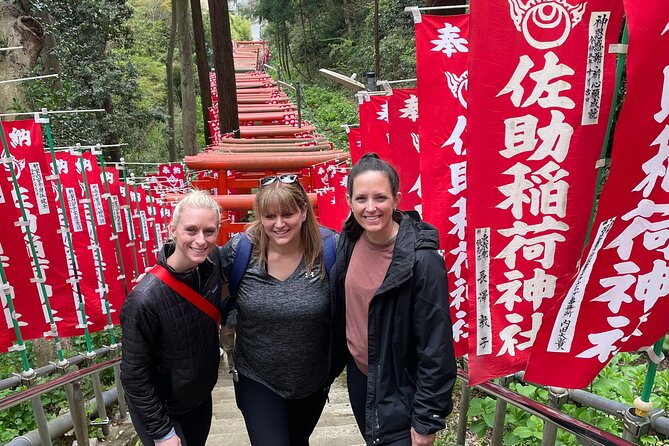 Yu offers a personalized tour of Kamakura, combining historical landmarks and hidden gems for an immersive and unforgettable experience. As a guide, Yu ensures that travelers get to explore the best of Kamakura, including the iconic Kotokuin Buddha.
This half-day walking tour takes visitors on a journey through the mountain trail, where they can admire the beautiful shrines and temples along the way. Yu's expertise and knowledge of the area allow for a deeper understanding of the significance and traditions of each location.
Travelers have praised Yu for their attention to detail, including making reservations at great lunch spots. With a total review count of 79 and an overall rating of 5.0, this tour with Yu as a guide promises to be a fantastic day trip from Tokyo, offering a mix of major landmarks and off-the-beaten-path areas.
Enjoying a Delicious Lunch at a Local Gem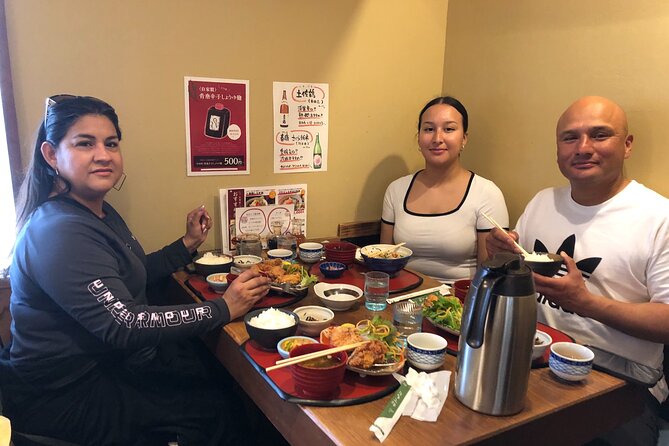 Noriko recommended a cozy cafe, and travelers can savor a delicious lunch there while taking in the local ambiance. Kamakura, known for its rich culinary scene, offers a variety of hidden dining spots that are worth exploring.
Here are some local cuisine recommendations and hidden dining spots in Kamakura:
Kamakura Kaiseki: Experience the exquisite flavors of Kamakura's traditional multi-course meal known as Kaiseki. This dining style showcases the finest seasonal ingredients and meticulous preparation techniques.
Shojin Ryori: Discover the vegetarian delights of Shojin Ryori, a Buddhist cuisine that emphasizes simplicity, harmony, and mindfulness. Enjoy the natural flavors of locally sourced vegetables and tofu.
Kamakura-style Soba: Indulge in the authentic taste of Kamakura-style soba noodles, made from locally grown buckwheat. The smooth texture and nutty flavor make it a must-try dish.
Whether you're a food enthusiast or simply looking to learn about the local culinary culture, Kamakura offers a wide range of dining options that promise a delightful gastronomic experience.
Uncovering the Significance and Traditions of Kamakura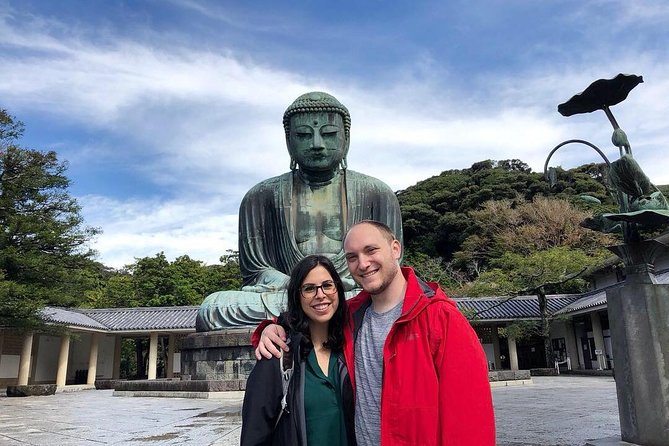 While exploring Kamakura, visitors can uncover the significance and traditions of the city through guided tours and local experiences. Kamakura, known for its rich historical heritage, offers a glimpse into Japan's cultural past.
Guided tours provide insights into the city's historical landmarks, such as the iconic Kotokuin Great Buddha and the Tsurugaoka Hachimangu Shrine. These tours not only showcase the architectural beauty of Kamakura's temples and shrines but also provide a deeper understanding of their cultural significance. Visitors can learn about the rituals and traditions associated with these sacred sites, gaining a greater appreciation for Japan's cultural heritage.
Plus, engaging in local experiences, such as participating in tea ceremonies or trying traditional crafts, offers a hands-on approach to immersing oneself in Kamakura's traditions.
Exploring historical Kamakura and understanding its cultural heritage is an enriching experience that allows visitors to connect with Japan's past.
A Memorable Day Trip From Tokyo: Landmarks and Hidden Gems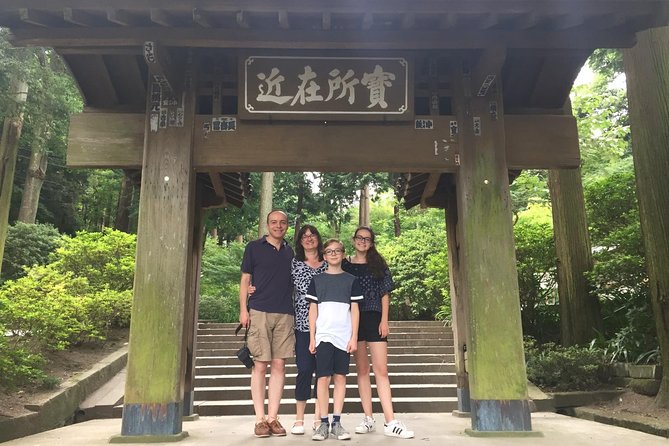 The traveler's guide to a memorable day trip from Tokyo includes a visit to iconic landmarks and hidden gems.
When exploring the local cuisine, travelers have the opportunity to taste delicious treats like matcha-flavored sweets and fresh seafood.
In terms of transportation options, visitors can choose to take the train or bus to their desired destinations. These modes of transportation provide convenience and efficiency, allowing travelers to easily navigate their way around.
Plus, renting a bicycle can be a fun and eco-friendly way to explore the city and its surroundings. By hopping on a bike, travelers can discover hidden gems off the beaten path while enjoying the beautiful scenery.
Overall, a day trip from Tokyo offers a perfect blend of cultural experiences, culinary delights, and convenient transportation options.
Frequently Asked Questions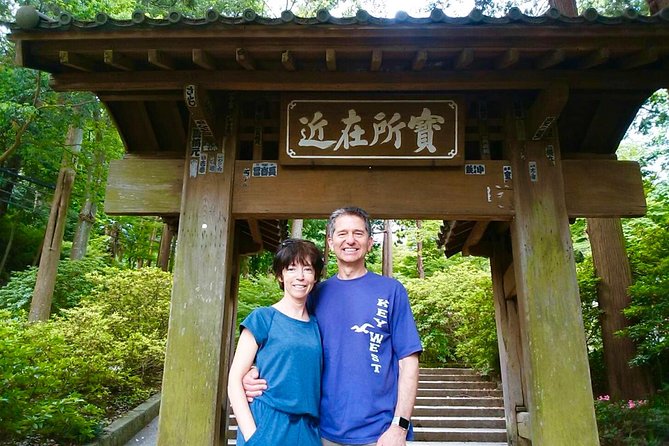 How Long Is the Kamakura Half Day Walking Tour With Kotokuin Great Buddha?
The Kamakura Half Day Walking Tour with Kotokuin Great Buddha lasts for a half day. It is suitable for children and the best time of year to take the tour is not specified.
Is the Tour Suitable for People With Limited Physical Fitness?
The tour offers no accessibility options for people with limited physical fitness. However, for those unable to participate, there are alternative options such as taking a train or bus to the first spot instead of walking there.
What Is the Cancellation Policy for the Tour?
The cancellation policy for the tour states that travelers can receive a full refund if they cancel at least 24 hours before the start time. No refund is given for cancellations made less than 24 hours in advance.
Are Transportation Costs Included in the Tour Price?
Transportation costs are not included in the tour price. Travelers should be prepared to pay small amounts for bus/train fare. It is advisable to review alternative transportation options instead of walking to the first spot.
How Many Reviews Does the Tour Have and What Is Its Overall Rating?
The tour has a total of 79 reviews, with an overall rating of 5.0 based on Viator and Tripadvisor reviews. It is highly recommended by travelers who enjoyed the personalized experience and beautiful hike.
The Sum Up
To sum it up, the Kamakura Half Day Walking Tour with Kotokuin Great Buddha offers an immersive and informative experience of Kamakura's rich history and cultural heritage.
Led by knowledgeable guides, participants can explore the scenic mountain trail, visit shrines and temples, and enjoy a delicious lunch at a local gem.
With positive reviews praising the personalized nature of the tour, it's a fantastic opportunity to uncover the significance and traditions of Kamakura while discovering both iconic landmarks and hidden gems.