The Tokyo Skyliner is a high-speed train service that connects Narita International Airport to Ueno Station in just 41 minutes. This makes it the fastest and most convenient way to travel between the airport and this section of Tokyo.
The train operates daily, and it runs at intervals of about 30 minutes, so you never have to wait long for the next train. This makes it an ideal option for those who are short on time and want to start exploring Tokyo as soon as possible.
Key Take Aways
The Tokyo Skyliner is a high-speed train that connects Narita International Airport to central Tokyo
The train ride takes approximately 41 minutes from Narita airport to Ueno in downtown Tokyo making it a fast and convenient option.
The Skyliner has comfortable seating, large windows for scenic views, and overhead storage space for luggage
The train runs on the Keisei Line
There is a free shuttle bus service available for passengers at the airport to transfer to and from the Tokyo Skyliner train platform
The Tokyo Skyliner also offers a reserved seating option for an additional fee, which provides guaranteed seating and added comfort for travelers.
You can't use a Japan rail pass on the skyline. JR pass holders can use the Narita Express instead.
What stations does the Keisie Skyliner stop at?
The Keisei Skyliner operates between Narita International Airport and Ueno Station in Tokyo.
The train stops at the following stations:
Narita International Airport Terminal 1 Station
Narita International Airport Terminal 2-3 Station
Keisei-Takasago Station
Aoto Station
Nippori Station
Ueno Station
How much does it cost to take the Keisei Skyliner?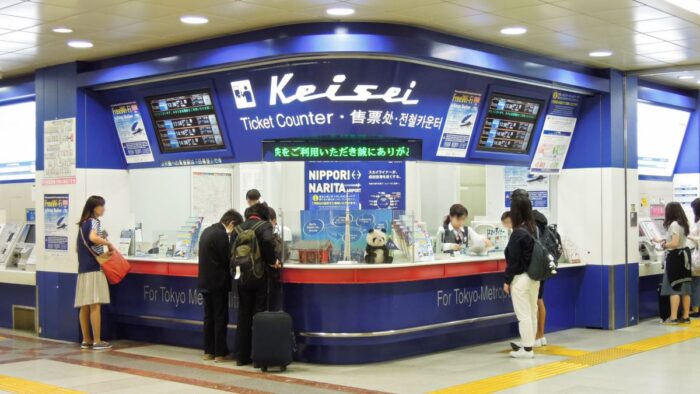 The cost of taking the Tokyo Skyliner varies depending on the type of ticket you purchase and the destination you are traveling to. A one-way ticket from Narita Airport to Nippori Station costs approximately 3,000 yen. A round-trip ticket costs approximately 6,000 yen. It is recommended to check the official Keisei Electric Railway website for up-to-date information on ticket prices.
Tokyo Skyliner Vs The Narita Express: Which should you catch?
The Tokyo Skyliner and Narita Express are both popular transportation options for travelers visiting Tokyo from Narita International Airport. The main difference between the 2 is the route.
here are the two options head to head:
Tokyo Skyliner
Is a fast and direct train service, reaching Ueno Station in central Tokyo in as little as 41 minutes.
Has a comfortable and spacious interior, with seats that recline and ample legroom.
Offers stunning views of the cityscape as it speeds through Tokyo.
Is a dedicated airport express train with few stops, making it a quicker option compared to other trains.
Narita Express:
Offers a more extensive route, stopping at multiple stations throughout Tokyo, including Shinjuku, Shibuya, and Tokyo Station.
Is a more flexible option, allowing travelers to get off at their desired station, rather than having to make their way from Ueno to their final destination.
Has a spacious interior with reserved seating and baggage storage, making it a convenient option for travelers with luggage.
Is a more affordable option compared to the Tokyo Skyliner, with one-way tickets costing as low as 3,000 yen.
Ultimately, the best option between the Tokyo Skyliner and Narita Express will most likely depend on where you are staying.
Is The Skyliner Comfortable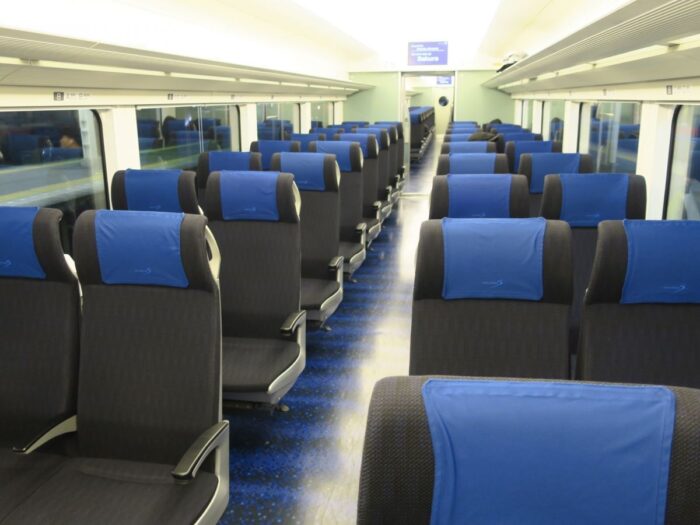 The Tokyo Skyliner offers a comfortable and relaxing journey. The train is spacious and well-appointed, with wide seats and ample legroom, ensuring that you arrive at your destination feeling refreshed and relaxed. The train is also equipped with large windows, providing breathtaking views of the city and its surroundings. Additionally, the train is air-conditioned, ensuring a comfortable journey, even on hot summer days.
Views
The Tokyo Skyliner route takes you on a journey through the heart of Tokyo, passing by some of the city's most iconic landmarks and neighborhoods. As you travel through the city, you'll get to see the Tokyo Skytree, the city's tallest tower, as well as the Sumida River, which winds its way through the city.
The train also offers unobstructed views of the city skyline, providing a unique and breathtaking perspective of Tokyo that you can't get from anywhere else.
The Tokyo Skyliner is a great way to travel between Narita International Airport and Tokyo Station. It's fast, convenient, comfortable, and offers breathtaking views of the city. Whether you're a first-time visitor to Tokyo or a seasoned traveler, the Tokyo Skyliner is a must-try. So, book your ticket today and experience the ultimate in convenient and comfortable travel.