Set out on a captivating journey through Kyoto's enchanting city with the 'Kyoto: Private Walking Tour with Kiyomizu Temple & Gion.'
Led by a knowledgeable guide, this 3.5-hour adventure takes participants to iconic landmarks like Kiyomizu Temple and the vibrant Gion neighborhood.
Explore backstreets, visit Yasaka Shrine, and indulge in authentic local foods at Nishiki Market.
With its rich history, stunning architecture, and culinary delights, this private walking tour promises an unforgettable experience of Kyoto's cultural treasures.
Quick Takeaways
The tour is a 3.5-hour private walking tour in Kyoto, including visits to Kiyomizu Temple, Yasaka Shrine, Gion neighborhood, and Nishiki Market.
The tour provides a knowledgeable guide who will provide information about the history and significance of the attractions.
The Nishiki Market offers a variety of local foods and unique souvenirs, providing an opportunity to taste and purchase traditional Japanese items.
The tour has received positive reviews, with a 5 out of 5 rating based on 5 reviews, and has been praised for its excellent guide.
Not for you? Here's a few more great tours and experiences nearby.
Tour Details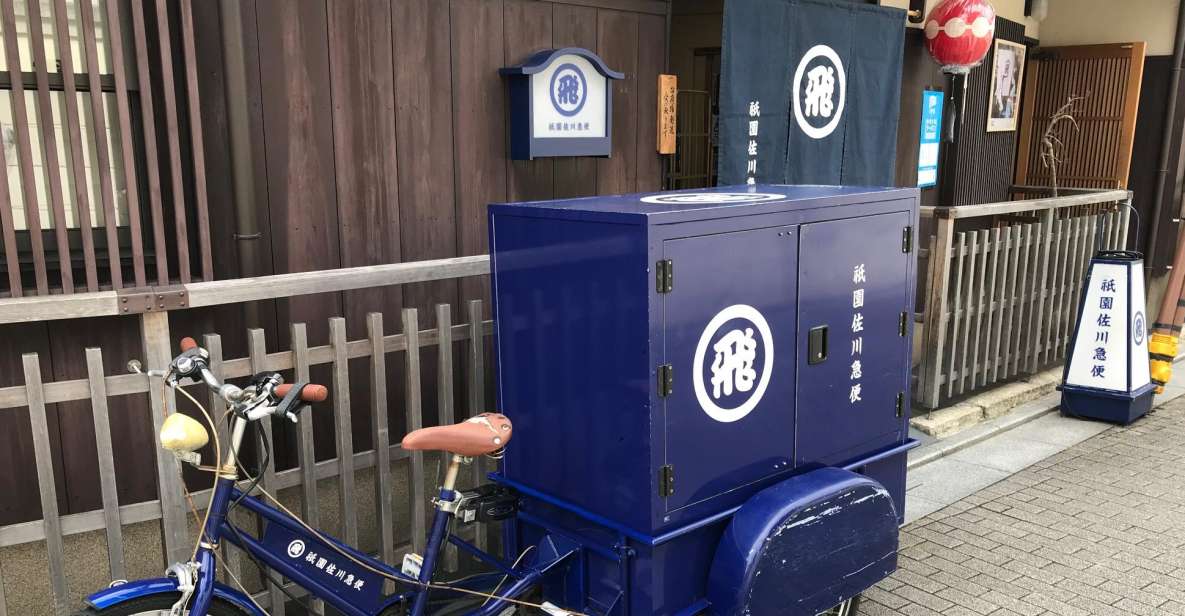 The tour details for the Kyoto Private Walking Tour With Kiyomizu Temple & Gion include a duration of 3.5 hours and a live tour guide available in English.
This tour is perfect for those who want to explore the cultural and historical attractions of Kyoto with the guidance of a knowledgeable local tour guide.
With a duration of 3.5 hours, it allows visitors to experience the highlights of Kiyomizu Temple and Gion at a comfortable pace.
The inclusion of a live tour guide in English ensures that visitors can fully understand and appreciate the history and significance of these iconic sites.
By choosing a local tour guide, visitors can also benefit from their expertise and insider knowledge, enhancing the overall experience.
Customer preferences are taken into consideration, as the tour is designed to provide an informative and engaging exploration of Kyoto's rich cultural heritage.
Kiyomizu Temple Exploration
visitors can explore Kiyomizu Temple with a knowledgeable guide to learn about its historical significance and admire its main gate and observatory. Here are the highlights of the Kiyomizu Temple exploration:
Traditional architecture of Kiyomizu Temple: Marvel at the stunning wooden structure that dates back to the 17th century. The temple is renowned for its impressive construction without the use of any nails.
Geisha culture in Gion: Enjoy the enchanting world of geishas as you explore the nearby Gion neighborhood. Learn about their traditions, performances, and the art of their elegant, traditional attire.
Yasaka Shrine: Visit the Yasaka Shrine, located right next to Kiyomizu Temple. Discover its main stage and underground water, which are believed to have healing properties.
Ninenzaka Sannenzaka streets: Wander through these historic streets lined with interesting food and souvenir shops. Experience the charm of Kyoto's traditional architecture and soak in the nostalgic atmosphere.
Nishiki Market: Indulge your taste buds at this bustling market, famous for its wide array of local foods. Sample fresh seafood, Japanese pickles, and other delectable treats, and explore the vibrant culinary scene of Kyoto.
Embark on this private guided tour to uncover the secrets of Kiyomizu Temple and dive into the captivating world of geisha culture in Gion.
Yasaka Shrine Visit
Visitors can delve deeper into the cultural significance of the area by exploring the enchanting Yasaka Shrine. With a history that dates back over 1,350 years, the Yasaka Shrine is one of Kyoto's most iconic and revered Shinto shrines. It holds great importance in the city's religious and cultural heritage.
The shrine is known for its vibrant festivals, including the famous Gion Matsuri, which attracts millions of visitors each year. At the Yasaka Shrine, visitors can witness traditional Japanese prayers and learn about the customs and rituals associated with shrine visits. They can also explore the shrine grounds, which feature beautiful architecture, serene gardens, and sacred artifacts.
A visit to the Yasaka Shrine offers a unique opportunity to experience the spiritual side of Kyoto and take in the rich traditions of Japan.
Discovering Gion's Backstreets
Exploring Gion's backstreets reveals hidden gems of traditional Kyoto. This historic neighborhood is known for its rich geisha culture and delectable local cuisine. Here are five things you can expect to discover while wandering through Gion's charming backstreets:
Geisha sightings: Keep your eyes peeled for geishas adorned in their elegant kimonos, gracefully making their way to appointments or performances. Gion is one of the few remaining places where you can witness the captivating presence of these skilled entertainers.
Tea houses: Stumble upon traditional tea houses tucked away in the narrow alleyways. These intimate venues offer an authentic experience of Japanese tea ceremonies, where you can savor the delicate flavors of matcha and learn about the tranquil ambiance.
Traditional architecture: Admire the preserved machiya townhouses that line the streets of Gion. These wooden structures with their latticed windows and sliding doors showcase the architectural beauty of Kyoto's past.
Local eateries: Indulge in the diverse flavors of local cuisine as you stumble upon hidden eateries. Sample mouthwatering dishes like kaiseki (traditional multi-course meal), yudofu (tofu hot pot), or wagashi (traditional Japanese sweets) and experience the true essence of Kyoto's culinary offerings.
Serene gardens: Discover peaceful gardens hidden behind unassuming entrances. These tranquil oases provide a serene retreat from the bustling streets and offer a glimpse into the harmonious relationship between nature and architecture in Kyoto.
Exploring Gion's backstreets is a captivating journey that allows you to explore the heart of Kyoto's geisha culture while savoring the flavors of the local cuisine.
Culinary Delights at Nishiki Market
You can indulge in a variety of culinary delights at Nishiki Market. This bustling market, located in Kyoto's downtown area, offers a vibrant atmosphere where you can explore and sample a wide range of local delicacies.
From fresh seafood to deep-fried foods, Japanese pickles to Karaage, Takoyaki to Japanese spice, there's something to satisfy every palate. As you stroll through the market, you'll have the opportunity to stop, taste, and buy food as you go.
But it's not just about the food – Nishiki Market also provides shopping opportunities for those looking to purchase Japanese knives, teacups, plates, and more. Whether you're a food lover or a souvenir hunter, Nishiki Market is a must-visit destination in Kyoto.
Customer Reviews
After experiencing the private walking tour of Kiyomizu Temple and Gion, visitors can gain insights into the tour's quality through customer reviews. Here are some highlights from the reviews:
★★★★★ – 5 out of 5 rating based on 5 reviews
Positive feedback from travelers in the United States and Mexico
Verified bookings
Excellent guide mentioned in one of the reviews
Product ID: 393193
These reviews indicate that the private walking tour has received top ratings and positive feedback from customers. Visitors from different countries have praised the tour's quality, suggesting that it provides a satisfying experience. The fact that the bookings are verified adds to the credibility of the reviews.
Plus, one review specifically mentions the excellent guide, highlighting the expertise and professionalism of the tour guides. With a high rating and positive feedback, it's evident that this tour offers a memorable and enjoyable experience for travelers interested in exploring Gion's geisha culture and indulging in Nishiki Market's unique offerings.
How to Book and Prepare
To book and prepare for the Kyoto private walking tour with Kiyomizu Temple & Gion, visitors can follow a simple process. The booking process is convenient, allowing travelers to reserve their spot in advance and pay later for added flexibility.
Upon booking, visitors can expect a duration of 3.5 hours for the tour, with a knowledgeable guide available in English. Pickup is included, and guests are advised to wait in the hotel lobby five minutes before the scheduled pickup time.
It's important for visitors to be aware of the cultural etiquette during the tour. This includes respecting the rules and customs of the temples and shrines, such as properly praying at the Yasaka Shrine. Plus, visitors should be mindful of their behavior in the Gion neighborhood, where geishas live and work.
Frequently Asked Questions
Is Transportation Included in the Private Walking Tour?
The private walking tour typically lasts 3.5 hours and does not include transportation. However, alternative modes of transportation are not available for this tour as it is designed for exploring on foot.
Can I Customize the Itinerary for the Private Walking Tour?
Customization options are available for the private walking tour, allowing visitors to tailor the itinerary to their preferences. The best time to visit Kyoto for this tour is during the cherry blossom season in spring or the colorful autumn foliage season.
Are There Any Age Restrictions for the Tour?
The private walking tour in Kyoto does not have any age restrictions. The duration of the tour is 3.5 hours, providing ample time to explore Kiyomizu Temple, Gion, and taste authentic local foods at Nishiki Market.
Are There Any Additional Fees or Expenses Not Mentioned in the Tour Description?
The tour description does not mention any additional fees or hidden costs. However, it is always recommended to check with the tour provider directly to confirm if there are any extra expenses involved.
Is There a Dress Code or Any Specific Attire Required for Visiting the Temples and Shrines?
There is no specific dress code mentioned for visiting temples and shrines. However, it is recommended to dress modestly and respectfully. Traditional attire holds cultural significance and can enhance the experience.
The Sum Up
To sum it up, the Kyoto: Private Walking Tour with Kiyomizu Temple & Gion offers a captivating and immersive experience of Kyoto's cultural treasures.
Led by a knowledgeable guide, participants can explore iconic landmarks such as Kiyomizu Temple and Yasaka Shrine, as well as discover the vibrant backstreets of Gion.
The tour also includes a visit to the bustling Nishiki Market, where participants can indulge in authentic local foods and shop for unique Japanese souvenirs.
Don't miss the chance to embark on this unforgettable journey through the enchanting city of Kyoto.