If you're planning a trip to Osaka and looking for a unique way to explore the city, why not try go-karting? Go-kart tours have become increasingly popular in Japan, offering you a fun and exciting way to see the sights.
The Japan cosplay go-karting craze started up in Tokyo but has now moved to Osaka and we must say it's a great city for go Karting. Better we think even than Tokyo to dress up and strap into a Kart.
In this article, we'll cover everything you need to know about go-karting in Osaka.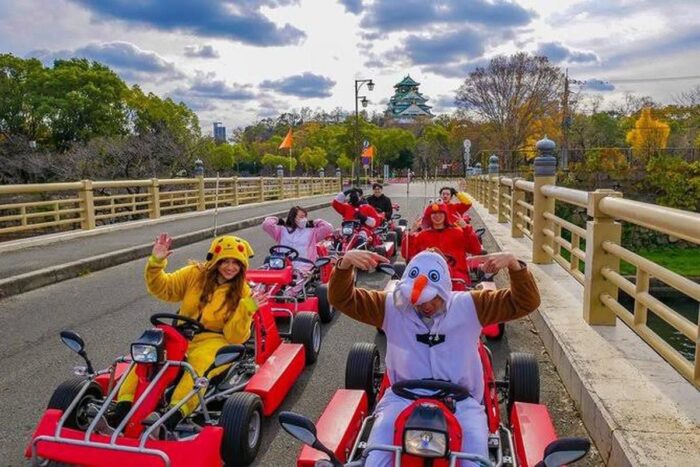 Key Take Aways
Get ready to explore Osaka like never before, zooming through the streets in a fun-filled go-kart tour.
The Osaka street kart tour lasts for about 2 hours, giving you plenty of time to soak in the sights and sounds of the city.
The tour starts from a convenient location in Namba, making it easy to get to and start your adventure.
Expect to turn heads and get lots of attention from locals and tourists alike as you zip past them in your eye-catching go-kart.
With a variety of character costumes to choose from, you can transform yourself into your favorite superhero or anime character and truly stand out.
The tour is led by experienced guides who will make sure you stay safe and have an unforgettable experience.
The routes take you past some of the most iconic landmarks and hidden gems.
Be prepared to feel the rush of adrenaline as you hit speeds of up to 60 km/h and navigate the busy streets with ease.
What Can I Expect?
During the Osaka Street Kart tour, you can explore the city in a fun and exciting way. Participants get to choose their own costumes, with popular choices including Mario and Luigi from Super Mario Bros, Pikachu from Pokemon, and many other characters. Once you are suited up in your chosen costume, you will be given a safety briefing and an explanation of how the go-kart works.
Note: Due to some legal issues with Nintendo it's no longer called "Mario Kart" and they don't supply any Nintendo cosplay outfits. But if you have your heart set on being Mario or Luigo in your own real-world Mario game you can purchase your own outfit beforehand and wear it. But the other costumes they have are just as cool in our opinion.
After that, it's time to hit the streets! The tour takes you through a great selection of Osaka's most iconic neighborhoods, including Namba, Shinsaibashi, and Dotonbori. You'll have the chance to take in the sights and sounds of the city as you cruise around in your go-kart. Your guide will is upfront and will lead you through the streets and point out noteworthy landmarks and sights along the way.
The tour also includes a few stops to take photos and stretch your legs. You will also be able to have pictures taken of you decked out in your cosplay gear in your go-kart, as well as group at various scenic locations throughout the tour. It's a great way to capture memories of your Osaka adventure especially if traveling with a partner or group of friends
How Long Does The Osaka Street Kart Tour Go For?
The length of the Osaka street kart tour varies depending on the package you choose. The standard tour lasts for approximately 2 hours, during which you'll get to see some of the city's most iconic landmarks, such as the Osaka Castle and the Tsutenkaku Tower. If you opt for a longer tour, you can extend your adventure for up to 3 hours, giving you more time to explore the city.
Where does the tour start?
The tour starts from the street kart office, which is conveniently located near the popular Dotonbori area. This area is known for its lively atmosphere, neon lights, and delicious street food, making it a great place to kick off your adventure.
Go-karting in Osaka: How it works
To join the Osaka Street Go Kart experience you have to be over 16 and possess a valid International license (this is explained in full here). In addition, you must have an International Driving Permit (IDP) or a Japanese Translation of your driver's license. You will need to bring these documents with you on the day of your tour.
When it comes to the go-karts themselves, they are low, but fully street-legal. They have turn signals, powerful headlights, and brake lights. The karts have a top speed of approximately 60 km/h and can seat up to two people. If you are traveling alone, you will be paired up with another participant.
Do you need a license to drive a go-kart in Japan?
One of the most frequently asked questions about go-karting in Japan is whether you need a license to drive one. The answer is yes. In order to drive on public roads in Japan, you are required to have a valid Japanese driver's license or an international driving permit (IDP).
The go-karts used for the tours in Osaka are classified as "mini-cars," so you will need an international driver's license or a license and translation to join the tour.
Is it safe?
Safety is a top priority during the Osaka Street Kart tour. Before you start the tour, you will be given a safety briefing that covers the rules of the road and the operation of the go-kart. The karts themselves are equipped with safety features such as seat belts and helmets, which are mandatory for all participants. Your guide will also be with you throughout the tour to ensure your safety and answer any questions you may have.
It's important to note that driving in Osaka can be a bit intimidating, especially for those who are not used to city driving. However, your guide will lead you through the streets and provide guidance along the way. As long as you follow the rules of the road and listen to your guide, you should have a safe and enjoyable experience.
The Sum Up
The Osaka Street Kart experience is an exciting and fun way to see Osaka and an experience you won't forget in a hurry. With the chance to dress up in costume, drive a go-kart through the streets, and take in the sights and sounds of Osaka, it's an adventure you won't soon forget.