For a unique and immersive space experience (or just a comfy seat and rest) while visiting the Skytree observation deck, then the Konica Minolta Planetarium "TENKU" in Tokyo Skytree Town is a great option.
In Tokyo's Sumida area, this state-of-the-art planetarium offers visitors the chance to journey through the stars in a stunning and immersive environment.
Key Take Aways:
The planetarium is located in the Tokyo Skytree Town shopping and entertainment complex, easily accessible by public transportation.
One of the largest planetariums in Japan, Konica Minolta Planetarium TENKU offers an immersive and interactive experience that is suitable for visitors of all ages.
Duration: Shows typically last 50-70 minutes, so plan for a leisurely experience and allow plenty of time to explore the complex.
Consider combining your planetarium visit with other attractions in Tokyo Skytree Town, such as the Tokyo Skytree observation deck or the Sumida Aquarium.
With a range of seating options, including reclining seats, the planetarium is designed for comfort and relaxation.
The planetarium features a variety of shows, including live-guided shows, 3D shows, and shows that highlight the beauty of the night sky.
Tickets can be purchased online or at the door, and there are often special shows and events offered throughout the year.
What is the Konica Minolta Planetarium "TENKU"?
The planetarium known as TENKU is a cutting-edge planetarium located in Tokyo Skytree Town. It is equipped with a state-of-the-art projection system that allows visitors to experience the night sky in stunning detail.
It has a diameter of 18 meters, making it one of the largest planetariums in Japan.
What Can You Expect at Planetarium TENKU?
Visitors to TENKU can expect to be transported on a journey through the stars. The planetarium offers a variety of programs that showcase the wonders of the universe, from the constellations and planets in our own solar system to the far reaches of the galaxy.
The planetarium's cutting-edge projection system creates a truly immersive experience, with high-definition images that transport visitors to the furthest reaches of the universe.
It also features a variety of shows that are tailored to different ages and interests, ensuring that there is something for everyone.
Programs On Show
They offer a variety of programs that showcase the beauty and wonder of the universe. Here are just a few of the programs that you can experience at the planetarium:
Starry Sky Guide: This program takes visitors on a journey through the night sky, highlighting the constellations and planets visible from Tokyo. This is a great program for those who are new to stargazing or want to learn more about the night sky.
Journey to the Stars: This program explores the far reaches of the universe, taking visitors on a journey through the cosmos to explore black holes, galaxies, and more.
Digital Universe Atlas: This program uses cutting-edge technology to create a virtual journey through the universe, exploring the wonders of space in stunning detail.
Ticket Options for Konica Minolta Planetarium "TENKU"
If you're planning a visit, you might be wondering how to buy tickets for this fascinating planetarium. Here's everything you need to know: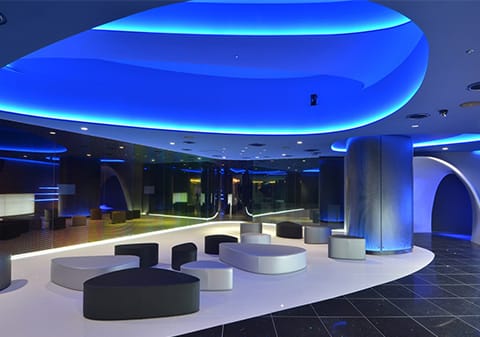 There are a variety of ticket options available for Konica Minolta Planetarium "TENKU," including:
Admission ticket: This ticket provides access to the planetarium show and the exhibition space.
Combination ticket: This ticket includes admission to both the planetarium show and the Sumida Aquarium, another popular attraction in Tokyo Skytree Town.
Annual Passport: If you plan on visiting the planetarium multiple times, the Annual Passport is a great value, providing unlimited access to the planetarium for one year from the date of purchase.
How to Buy Tickets for The SkyTree Planetarium TENKU
There are several ways to purchase tickets for TENKU, including:
Online: Tickets can be purchased online through the official Konica Minolta Planetarium "TENKU" website or through sites such as Klook.
On-site: If you prefer to purchase your tickets in person, you can do so at the ticket counter inside Tokyo Skytree Town.
Useful Tips for Buying Tickets
Here are a few useful tips to keep in mind when buying tickets for Konica Minolta Planetarium TENKU:
It's best to buy tickets in advance, especially during peak travel seasons or holidays, as tickets can sell out quickly.
Be sure to check the planetarium show schedule in advance to plan your visit accordingly.
If pre-purchasing tickets online, make sure to print out your ticket voucher or have it available on your smartphone for scanning at the entrance.
If purchasing tickets on-site, be prepared to wait in line during peak times.
Konica Minolta Planetarium TENKU Ticket Prices
The ticket prices for Planetarium TENKU vary depending on the type of show and seat you choose. Here is a breakdown of the prices:
Adults: 1,800 yen to 2,200 yen
High school students: 1,200 yen to 1,600 yen
Elementary and middle school students: 800 yen to 1,200 yen
Children over 3 years old: 600 yen to 800 yen
Children under 3 years old: free
There are several types of seats available for each show, including regular seats, sofa seats, and VIP seats. The VIP seats provide the best view of the show and include a drink and a souvenir.
The sofa seats are perfect for couples or small groups, providing a more intimate experience. Regular seats are available for individuals or groups and offer a great view of the show as well.
Other Facilities at Tokyo Skytree Town
In addition to the Konica Minolta Planetarium TENKU, Tokyo Skytree Town offers a variety of other facilities and attractions that are well worth a visit. Here are just a few of the highlights:
Tokyo Skytree: Standing at a height of 634 meters, Tokyo Skytree is the tallest tower in the world. Visitors can take the elevator to the observation deck to enjoy panoramic views of Tokyo and the surrounding area.
Solamachi: This shopping and dining complex is located at the base of Tokyo Skytree and offers a wide variety of shops and restaurants.
Sumida Aquarium: This aquarium is home to a wide variety of aquatic life, including penguins, otters, and seals. Visitors can see the popular "Penguin Coast" exhibit, a recreation of the natural habitats of Humboldt penguins.
Skytree Town Studio: This studio offers a variety of interactive experiences and workshops related to Japanese anime, manga, and gaming culture.
Postal Museum Japan: This museum showcases the history and evolution of the Japanese postal system, with exhibits featuring stamps, postcards, and postal equipment from various eras.
Interesting Facts
Features a cutting-edge, high-definition 3D projection system that creates a fully immersive, dome-shaped screen.
The planetarium has a seating capacity of 180 people and is wheelchair-accessible.
Offers a variety of shows throughout the day, with both Japanese and English audio available for visitors.
Some of the planetarium's most popular shows include "Journey to the Stars," which explores the mysteries of the universe, and "Eclipse: The Sun and the Moon," which examines the phenomenon of solar and lunar eclipses.
TENKU's "Live Starry Sky Observation" program allows visitors to observe the night sky in real-time, with guidance from a professional astronomer.
What hotels are near Konica Minolta Planetarium Tenku and Tokyo Sky Tree?
If you're looking for a hotel near the Tenku Planetarium and Tokyo Skytree, there are several great options to choose from. Here are some of the most interesting features of the top hotels within walking distance:
Richmond Hotel Premier Tokyo Oshiage: This hotel offers spectacular views of the Tokyo Skytree from its upper floors. It also has a relaxing hot spring bath and a fitness center.
Hotel LiveMax Asakusa Sky Front: This hotel is conveniently located just a short walk from the Tokyo Skytree, and offers comfortable rooms with modern amenities.
Keisei Richmond Hotel Tokyo Oshiage: Another great option for those looking for a hotel with views of the Tokyo Skytree. This hotel also has a restaurant and bar on-site.
Tokyo Hutte: This cozy guest house offers private and dormitory-style rooms with a shared kitchen and lounge area. It's a great option for budget travelers.
ONE@Tokyo: This trendy hotel features sleek and stylish rooms with modern decor. It also has a rooftop terrace with views of the Tokyo Skytree.
The Sum Up
A visit to Planetarium TENKU at Tokyo Skytree Town is an interesting experience. Whether you're a space enthusiast, looking for a fascinating way to spend an afternoon, or just after a comfortable seat for an hour or 2, the planetarium's state-of-the-art technology, nice seats, and expertly crafted shows are sure to impress.
And with the many other attractions and facilities available in Tokyo Skytree Town, there's something for everyone to enjoy. So if you're planning a trip to Tokyo, be sure to add the TENKU to your list of must-see destinations.