Pontocho is a narrow alley located in the heart of Kyoto, Japan. It is a popular destination, known for its traditional architecture, delicious food, and geisha sightings. The alley runs parallel to the Kamogawa River and is lined with restaurants, bars, and tea houses.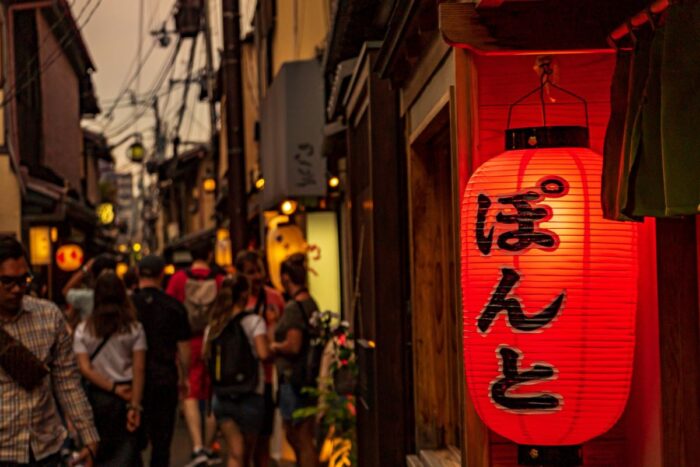 Visitors to Pontocho can enjoy a unique dining experience, with many restaurants offering traditional Japanese cuisine such as sushi, tempura, and soba noodles. The alley is particularly lively in the evenings when the lanterns are lit and geisha can be seen walking to and from their appointments.
While Pontocho is a popular tourist destination, it is also a working neighborhood where geisha entertain clients and locals go about their daily lives.
Visitors are encouraged to be respectful of the residents and to observe the rules of the district, such as not taking photographs of the geisha without permission.
History of Pontocho
Pontocho is a historic alley in Kyoto, Japan that has been a popular destination for many for centuries. The district was established in 1670 when the Edo government reinforced the city's boundaries to prevent fires from spreading.
The name "Pontocho" is derived from the Portuguese word "ponte" meaning bridge, as the area was originally a bridge over the Kamogawa River.
During the Edo period, Pontocho was a popular entertainment district where geishas and courtesans entertained guests with traditional Japanese arts such as music, dance, and poetry.
Today, the area is still home to many traditional teahouses, restaurants, and bars that offer a glimpse into Japan's rich cultural heritage.
Over the years, Pontocho has undergone many changes, but it has managed to maintain its unique charm and character. The narrow alleyways, wooden buildings, and lantern-lit streets create a nostalgic atmosphere that transports visitors back in time.
Despite being a popular tourist destination, Pontocho has managed to preserve its traditional way of life. The geishas and maikos (apprentice geishas) still entertain guests at exclusive teahouses, and the area's many restaurants continue to serve traditional Kyoto cuisine.
Things to Do in Pontocho
Pontocho is a charming alley in Kyoto that offers activities for visitors to enjoy. Here are some of the top things to do in Pontocho:
Try the local cuisine: Pontocho is known for its many restaurants and food stalls that offer a range of traditional Japanese dishes. From sushi and sashimi to yakitori and tempura, there is Something to interest all to enjoy. Some popular restaurants to try include Musashi Kyoto Kawaramachi and Izakaya Mamehana.
Take a stroll: Walking through the narrow alleyways of Pontocho is a delightful experience. The traditional wooden buildings and lantern-lit streets create a unique atmosphere that is both peaceful and romantic. Visitors can take a leisurely stroll and admire the scenery, or join a guided walking tour for a more in-depth experience.
Enjoy the nightlife: Pontocho is also a popular destination for nightlife in Kyoto. Many of the restaurants and bars stay open late into the night, and the alleyway is a great place to enjoy a drink or two. Visitors can also catch a glimpse of geisha and maiko walking to their appointments.
Attend a cultural event: Pontocho hosts cultural events throughout the year, including traditional dance performances and tea ceremonies. Visitors can check the local event calendar to see what's happening during their visit.
Whether you're a foodie, a history buff, or just looking for a unique experience in Kyoto, Pontocho has something to offer. Plan your visit today and discover all the hidden gems this charming alley has to offer.
Layout of Pontocho
Pontocho is a narrow alley located in the heart of Kyoto, Japan. It runs from Shijo-dori to Sanjo-dori, one block west of Kamogawa River. The alley is approximately 500 meters long and is parallel to the river.
Pontocho is located in the Higashiyama district of Kyoto, which is known for its historic buildings and temples. The area is also home to many traditional teahouses and restaurants, making it a popular destination.
The Kamogawa River, which runs parallel to Pontocho, is a popular spot for locals to relax and enjoy the outdoors. The river is also home to many traditional restaurants and cafes, offering visitors a unique dining experience with beautiful views of the river.
Restaurants in Pontocho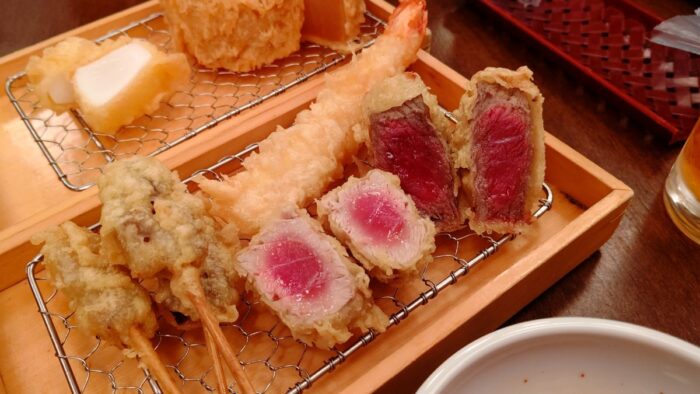 Visitors to Pontocho can enjoy Japanese cuisine, ranging from sushi and tempura to yakitori and kaiseki.
One of the most popular restaurants in Pontocho is Pontocho Kappa Zushi, which serves delicious sushi made from fresh, seasonal ingredients. Another great option is Gion Karyo, which offers a unique fusion of Japanese and French cuisine.
For those who prefer a more casual dining experience, Pontocho Ramen Koji is a must-visit. This restaurant specializes in ramen noodles, and the rich, flavorful broth is sure to satisfy any craving.
If you're looking for a unique dining experience, consider visiting Warajiya. This restaurant serves traditional Kyoto-style cuisine, including dishes made with tofu and yuba (tofu skin).
Other popular restaurants and bars in Pontocho include:
Bar LiquorMuseum Pontocho
Kyoto Kawaramachi Okonomiyaki Botejyu
Nikubaru Ginjiro Pontocho
Steak House Pound Shijo
How to Get to Pontocho

Pontocho is located in the Kawaramachi area and is easily accessible by public transportation. Here are some of the ways to get to Pontocho:
By Bus: The closest bus stop to Pontocho is Shijo Kawaramachi, which is served by numerous bus lines, including lines 17 and 205 from Kyoto Station. From the bus stop, it's just a short walk to Pontocho.
By Train: The closest train station to Pontocho is Kawaramachi Station, which is on the Hankyu line. From the station, it's just a three-minute walk to Pontocho.
By Taxi: Taxis are readily available in Kyoto and can be a convenient way to get to Pontocho. Just tell the driver to take you to Pontocho, and they will know where to go.
Once you arrive at Pontocho, you can explore the narrow alleyways and enjoy the traditional architecture and atmosphere. It's a great place to do some geisha spotting in the evening.
Note that Pontocho is a popular tourist destination, so it can get crowded during peak times. If you're looking to avoid crowds, consider visiting during off-peak hours.
The Sum Up
Overall, Pontocho should be on your to-do list for anyone traveling to Kyoto. The narrow alleyways, traditional architecture, and vibrant nightlife make it a unique and unforgettable experience. Whether you're interested in trying traditional Japanese cuisine, watching a kabuki performance, or simply strolling along the river, Pontocho has Something to interest all.
One of the highlights of Pontocho is the opportunity to see geisha and maiko up close. While it can be difficult to spot them during the day, they often come out in the evenings to attend appointments and performances. Visitors should be respectful and not attempt to touch or photograph them without permission.
Another great way to experience Pontocho is through a guided tour. Many companies offer walking tours that provide historical and cultural context, as well as insider tips on the best places to eat and drink. Some popular tours include the Pontocho Geisha Experience and the Pontocho Night Food Tour.
Overall, Pontocho is a unique and fascinating destination that should not be missed. Whether you're interested in history, culture, or nightlife, there is Something to interest all in this vibrant and charming neighborhood.
Visitor Details
| Information Category | Details |
| --- | --- |
| Name | Pontocho (先斗町) |
| Address | Pontocho-dori, Nakagyo-ku, Kyoto, Japan (Centered along the Pontocho-dori street) |
| Nearby Hotels | |
| Luxury | The Ritz-Carlton Kyoto – 0.6 km |
| | Four Seasons Hotel Kyoto – 2.3 km |
| Mid-range | Solaria Nishitetsu Hotel Kyoto Premier – 0.4 km |
| | The Royal Park Hotel Kyoto Sanjo – 0.4 km |
| Budget | Piece Hostel Sanjo – 0.5 km |
| | Kyoto Hana Hostel – 0.7 km |