For a unique and immersive art experience in Tokyo, teamLab Planets TOKYO is hard to top. Located in Toyosu, this interactive digital art museum offers visitors a one-of-a-kind experience of exploring various installations and artworks.
In this guide, we'll provide you with everything you need to know about teamLab Planets TOKYO, including what to expect, how to get there, ticket prices, and some of the must-see exhibits.
Key Take Aways:
Immerse yourself in a digital art experience like no other, with interactive installations that respond to your movements and actions.
Wear removable socks, not stockings and long skirts as you might get your feet wet in some of the exhibits
Buy tickets online in advance to avoid the lines, and make sure to arrive early to fully experience all the exhibits.
Take the Yurikamome Line to Toyosu Station and enjoy a short walk to the museum.
It takes about 1-2 hours to explore the museum, with plenty of opportunities to take photos and interact with the exhibits.
Don't miss the unique Crystal World installation, where visitors can walk through a room filled with crystals and experience a mesmerizing display of light and sound.
You can download the teamLab Planets app before your visit to enhance your experience
Consider purchasing a combination ticket for teamLab Planets Tokyo and teamLab Borderless in Odaiba
What to Expect at teamLab Planets TOKYO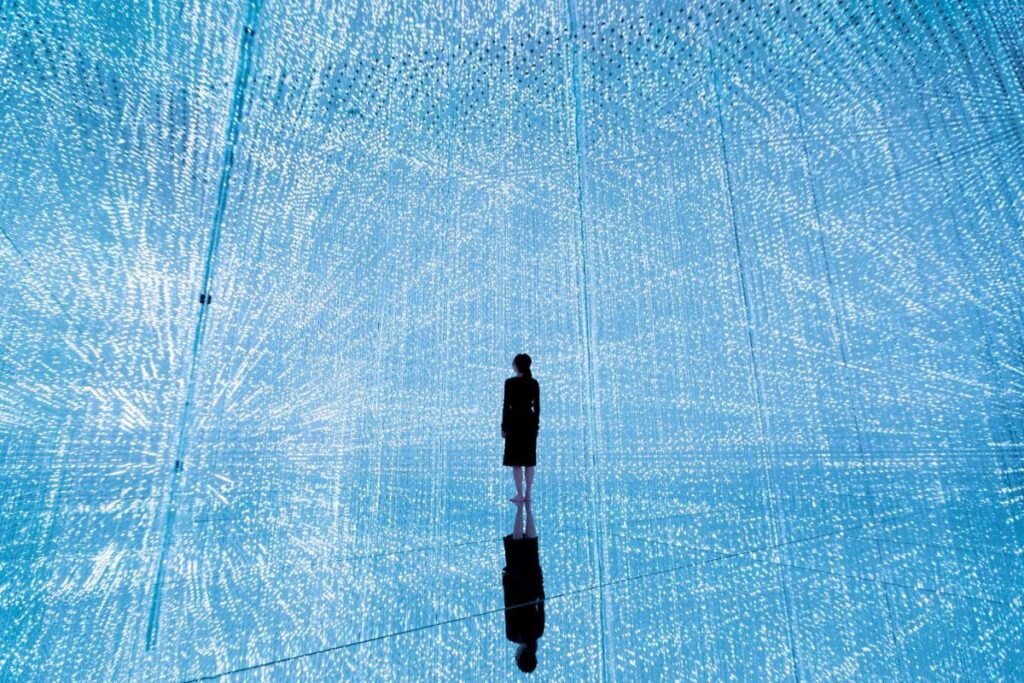 teamLab Planets TOKYO is designed to be an immersive and interactive digital art space. Visitors are invited to explore various installations and artworks, many of which are interactive and responsive to the movements and actions of the viewer. Here are some of the key highlights you can expect to see at teamLab Planets TOKYO:
Body Immersive: This installation invites visitors to immerse themselves in a space filled with water, projections, and music, creating an otherworldly and dreamlike experience.
Light Sculpture: In this installation, visitors are surrounded by a maze of LED lights that change colors and patterns in response to their movements and actions.
Sketch Aquarium: Visitors can draw and color their own sea creatures, which are then scanned and added to a digital aquarium, swimming alongside other visitors' creations.
Crystal Universe: This installation features a mesmerizing display of LED lights, creating a breathtaking and immersive digital universe.
Ticket Prices for teamLab Planets
The ticket prices for teamLab Planets are as follows:
Adults: 3,200 yen
High school and college students: 2,500 yen
Children aged 4 to junior high school students: 2,000 yen
Seniors (65 years and older) and people with disabilities: 2,500 yen
Tickets can be purchased at the museum entrance or online in advance. It's recommended to buy tickets in advance to avoid long lines and ensure admission, as teamLab Planets can be a very popular attraction. Online tickets can be purchased through the teamLab Planets website or other ticketing platforms such as Voyagin and Klook.
It's worth noting that teamLab Planets does not offer any discounts for large groups, and there are no free admission days. However, visitors can purchase a combo ticket for both teamLab Planets and teamLab Borderless, the other teamLab museum in Tokyo, at a slightly discounted price.
Must-See Exhibits at teamLab Planets TOKYO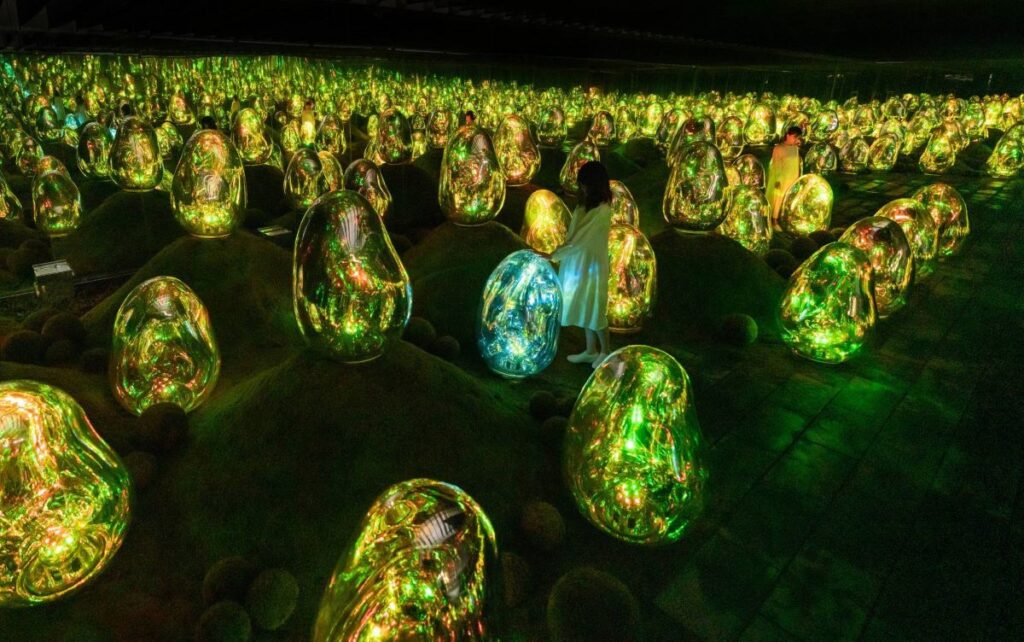 In addition to the installations listed above, here are some of the must-see exhibits at teamLab Planets TOKYO:
Flowers and People, Cannot be Controlled but Live Together: In this installation, visitors can explore a virtual garden filled with colorful flowers and butterflies that react to their movements and touch.
Light Cave: Visitors can walk through a tunnel of LED lights, creating an immersive and mesmerizing experience.
Reversible Rotation: This installation features a large sphere that rotates and spins, creating a mesmerizing and disorienting visual effect.
Sinking Universe: In this installation, visitors can observe a virtual universe being created and destroyed in real-time, immersing them in a constantly changing and evolving world.
Whether you're a fan of digital art or just looking for a unique and immersive experience, teamLab Plan
Is TeamLab Planets Tokyo Closing
Yes. According to the team at TeamLabs, It's due to close at the end of 2023 so best to get in quickly before it's gone. There are plenty of other team lab exhibitions around Japan which we will cover down the page.
How Long Do teamLab Planets Take?
The amount of time you'll need to spend at teamLab Planets can vary depending on how much you want to explore and experience. On average, most visitors spend around 1-2 hours in the museum, though some may spend longer.
One factor that can impact the length of your visit is the queue time. teamLab Planets is a popular attraction and can get quite crowded, particularly on weekends and holidays. If you want to avoid long queues, it's recommended to visit on weekdays or during non-peak hours.
Another factor to consider is the interactive nature of the exhibits. Many of the installations are responsive to the movements and actions of the viewer, which can add to the overall experience but also take more time to fully explore.
What to Bring and Wear at teamLab Planets TOKYO
As teamLab Planets TOKYO is an immersive digital art space, there are some recommended items to bring and wear to enhance your experience. Here are some tips:
Shoes: Comfortable, slip-on shoes are recommended, as you will need to remove your shoes for some installations.
Clothing: It's best to wear light and comfortable clothing that you don't mind getting wet, as some installations involve wading through water.
Towels: It's a good idea to bring a small towel to dry off after certain installations.
Camera: Don't forget to bring your camera or smartphone to capture your experience at teamLab Planets TOKYO. However, please be respectful of other visitors and the artwork when taking photos.
Tips for Visiting teamLab Planets TOKYO
To make the most of your visit to teamLab Planets TOKYO, here are some tips and recommendations:
Arrive early: teamLab Planets TOKYO can get very crowded, especially on weekends and holidays. Arriving early can help you beat the crowds and have a more enjoyable experience.
Take your time: There is a lot to see and explore at teamLab Planets TOKYO, so don't rush through the installations. Take your time and fully immerse yourself in the experience.
Visit during the week: If possible, try to visit teamLab Planets TOKYO during the week, as it can be less crowded than on weekends.
Check the website: Before visiting, be sure to check the teamLab Planets TOKYO website for any updates, special events, or installation closures.
Be respectful: teamLab Planets TOKYO is an interactive and immersive space, but it's important to be respectful of the artwork and other visitors. Follow the rules and guidelines, and don't touch or damage the installations.
Train Directions to teamLab Planets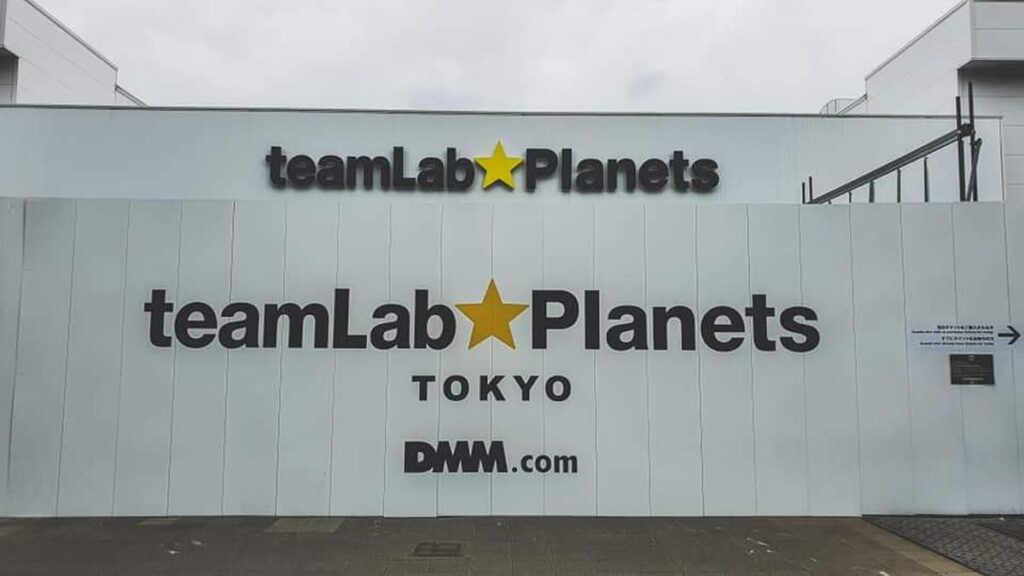 teamLab Planets is located in the Toyosu district of Tokyo, making it easily accessible by train. The nearest station to the museum is Toyosu Station, which can be reached via the Yurikamome Line. Visitors can transfer to the Yurikamome Line from various other train lines, including the JR Yamanote Line at Shinbashi Station, and the Tokyo Metro Hibiya Line at Tsukiji Station.
From Toyosu Station, it's just a short walk to teamLab Planets. Follow the signs to the museum, which is located in the same building as VenusFort, a popular shopping center in the area.
The museum is open every day from 10:00 am to 10:00 pm, with the last admission at 9:00 pm.
Which teamLab is Best in Japan?
teamLab has several locations throughout Japan, each with its own unique installations and themes. Here are some of the most popular other teamLab locations and what makes them stand out:
teamLab Borderless
Located in the Odaiba district of Tokyo, teamLab Borderless is the largest teamLab location and is known for its immersive and dreamlike installations. One of the highlights of the museum is the Forest of Resonating Lamps, a mesmerizing display of hanging lamps that change colors and patterns in response to the movements of visitors.
teamLab Jungle
Located in the Tokushima prefecture on the island of Shikoku, teamLab Jungle is an outdoor digital art museum set in a lush forest. Visitors can explore various installations, including a waterfall that responds to the movements of visitors and a tunnel of glowing flowers.
teamLab Hikari no Mori
teamLab Hikari no Mori is located in the Kyushu region of Japan and is known for its interactive installations set in a natural forest environment. Visitors can explore various exhibits, including a pond filled with interactive digital koi fish and a forest filled with glowing orbs that respond to the movements of visitors.
teamLab DMM.PLANETS Art
Located in the Fukuoka prefecture, teamLab DMM.PLANETS Art is a digital art museum that combines technology and art to create a unique and immersive experience. One of the most popular exhibits is the Crystal Universe, a stunning display of LED lights that create a mesmerizing and immersive digital universe.
While each teamLab location offers a unique and unforgettable experience, choosing the best one to visit can depend on personal preference and the specific installations and themes that interest you the most.
The Sum Up
teamLab Planets TOKYO offers visitors a unique and unforgettable experience of exploring the digital art world. With its immersive installations and interactive exhibits, it's no wonder that it has become one of the most popular art destinations in Tokyo. By following this guide and our tips for visiting, you'll be able to fully enjoy all that teamLab Planets TOKYO has to offer.