Fukuoka, Japan's seventh largest city, offers a unique blend of ancient traditions and modern conveniences. For an authentic cultural experience, head to the Hakata Traditional Craft Center or visit Fukuoka Castle for a glimpse into the past.
Foodies will love exploring local cuisine at stalls in Yatai (food stall) Alley while shopaholics can indulge their passion at Canal City Hakata shopping complex. To relax after sightseeing and shopping, take a stroll through Ohori Park before catching some live music performances at intimate venues such as Livehouse CB Hall or jazz club Blue Note Fukuoka.
Key Points When Visiting Fukuoka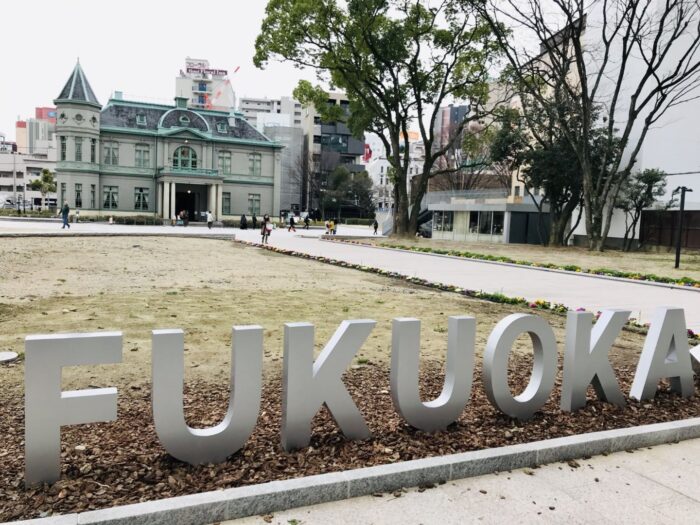 Fukuoka is a vibrant and cosmopolitan city, offering everything from ancient temples to modern shopping districts.
One of the must-visit attractions in Fukuoka is Ohori Park which has a beautiful Japanese garden, pond, and walking path around it.
Don't forget to try out its famous food like Mentaiko, Hakata Ramen & Tonkotsu (pork bone broth) dishes available all over the city.
The Kushida Shrine situated in downtown should be included on your itinerary for its breathtaking architecture harking back as far as 757AD with amazing festivals throughout the year – most notably Gion Yamakasa during July every year.
Head down to Tenjin underground mall where you will find long stretches of shops that offer various experiences ranging from sushi restaurants to game centers making an entertaining afternoon or evening spot
Fukuoka Tower by night gives unparalleled views across this sprawling metropolis location so do not miss enjoying these stunning vistas at dusk time when they light up beautifully
Is Fukuoka Worth Visiting
Fukuoka, located on the southern island of Kyushu in Japan, is a must-visit destination for those seeking an authentic experience. The city boasts a unique blend of modernity and tradition with its bustling streets lined with historical landmarks like Fukuoka Castle and ancient shrines such as Kushida Shrine. Foodies will also appreciate the local culinary delights including tonkotsu ramen (pork bone soup) and hakata-style motsunabe (beef intestine hot pot). Whether you're interested in exploring history or indulging your taste buds, Fukuoka offers something truly special that's definitely worth visiting.
Fukuoka Tower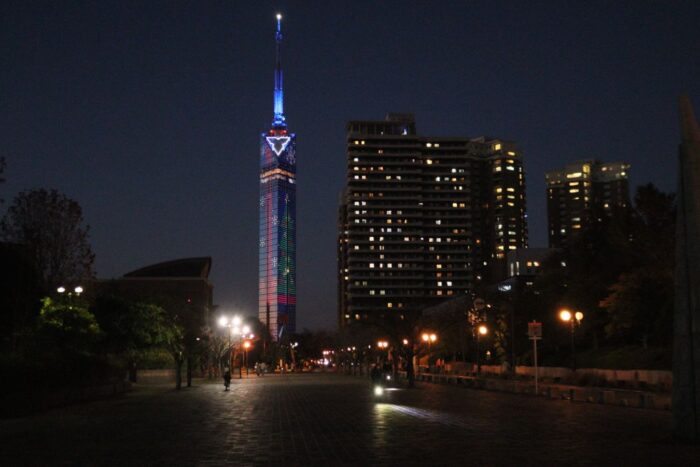 Rising majestically from the waterfront of Fukuoka, Japan is the impressive and iconic structure known as Fukuoka Tower. Standing more than 230 meters tall, this remarkable tower boasts incredible views over both land and sea from its observation deck on the top floor.
Visitors can take a panoramic elevator ride up to see stunning vistas in every direction – including glorious sunsets that make for unforgettable photo opportunities. Outside of simply enjoying breathtaking scenery, there are plenty of dining options located within Fukuoka Tower itself or nearby along with various fun activities such as cruises around Hakata Bay which provides an amazing perspective on what makes this city so special.
Ohori Park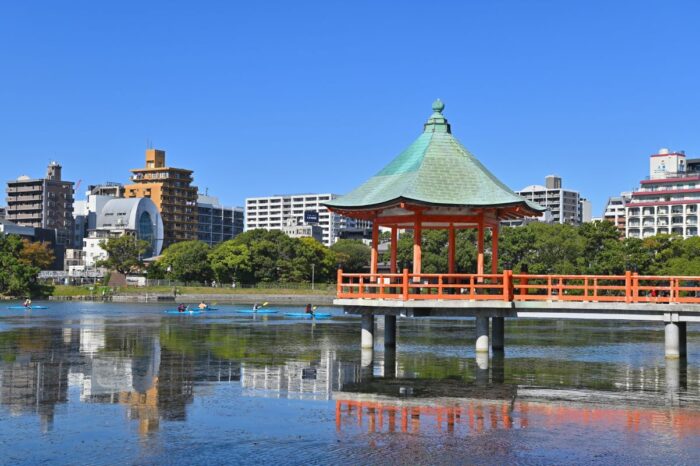 Ohori Park is the perfect oasis within bustling Fukuoka city. With its tranquil lake, picturesque bridges and lush greenery, it's easy to forget you're in a metropolis. The park offers something for everyone; whether it's enjoying a picnic with friends or renting paddle boats on the water, exploring Japanese gardens or simply taking a leisurely stroll around the perimeter of Ohori Lake whilst watching swans swim past effortlessly.
There are also several cultural events hosted here throughout the year making this an ideal spot for families and couples alike who want to take some time out from sightseeing.
Canal City Hakata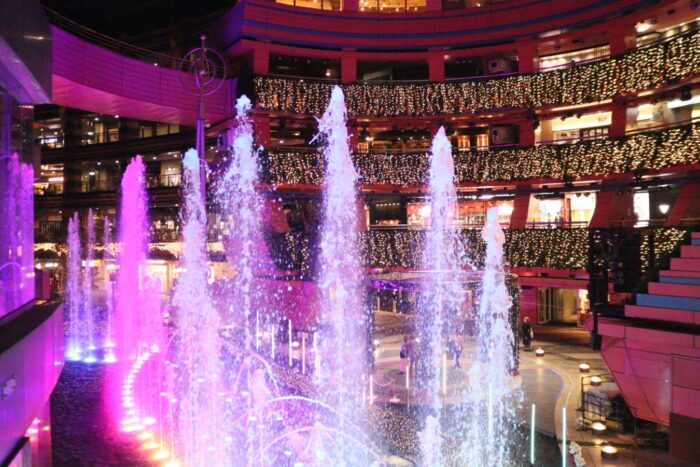 Canal City Hakata is a shopping and entertainment complex located in the heart of Fukuoka, Japan. This impressive city within a city boasts over 200 shops, restaurants, cinemas and even an indoor amusement park. The highlight of this unique architecture is undoubtedly its central canal which runs through the middle of the complex- complete with waterfalls and fountains. In addition to all these attractions there are also regular events held here including fashion shows, concerts and art exhibitions making Canal City Hakata one must visit destination for any traveler visiting Japan's southernmost island Kyushu.
Fukuoka City Museum
The Fukuoka City Museum offers a fascinating look into the history and culture of this vibrant Japanese city. Exhibits include artifacts from ancient times to the present day, showcasing everything from traditional crafts to modern design. Visitors can also learn about local folklore and customs, as well as explore interactive exhibits that bring Fukuoka's past to life through sights, sounds, and touch. With informative displays in both English and Japanese, the museum is an excellent place for visitors of all ages to deepen their understanding of one of Japan's most unique cities.
Fukuoka Castle
Fukuoka Castle is a magnificent fortress located in the heart of Fukuoka City, Japan. It was built during the Edo period and later reconstructed in 1958 after it was destroyed during World War II. The castle boasts impressive stone walls, turrets and moats that evoke ancient Japanese history.
Inside the castle grounds are several exhibits showcasing artifacts from the olden times including traditional samurai swords, armors and clothing worn by feudal lords as well as an observation deck which offers panoramic views over Fukuoka city skyline. A visit to this historical landmark comes highly recommended for those with interest in learning about Japan's rich cultural heritage.
Nanzoin Temple
Nanzoin Temple is a hidden gem nestled in the rolling hills of Sasaguri, Japan. Its main attraction is the stunning reclining Buddha statue that measures an astonishing 41 meters long and stands as one of the largest bronze representations in Asia. Visitors can explore its tranquil grounds adorned with cherry blossom trees, ponds filled with koi fish, and small shrines dotted throughout. This temple offers tourists an authentic Japanese experience offering not only architectural beauty but also spiritual nourishment making it a must-visit during your trip to Fukuoka prefecture
Hakozaki Shrine
Hakozaki Shrine is a Shinto shrine located in Fukuoka, Japan. The temple has been around since 923 AD and is renowned for the Kagura dances that are performed here every evening during summer months. Visitors can also participate in miko (shrine maiden) experiences like playing traditional instruments or offering prayers to the gods of good fortune. There's even an annual Hakata Gion Yamakasa festival held at this site where teams race with huge floats. So if you're ever visiting Fukuoka, make sure to stop by Hakozaki Shrine and experience some authentic Japanese culture firsthand.
Fukuoka Asian Art Museum
Fukuoka Asian Art Museum is a must-visit destination for art lovers when in Fukuoka, Japan. This museum houses an extensive collection of contemporary and traditional artworks from different parts of Asia. Its mission is to bridge the gap between East and West by showcasing diverse cultural expressions through various mediums such as paintings, sculptures, ceramics, textiles among others. The building itself is also worth admiring with its striking design featuring sloping roofs made of copper plates that reflect light beautifully during sunset time. Visitors can attend guided tours or participate in workshops organized throughout the year to learn more about Asian culture and heritage while enjoying breathtaking works of art at this world-class institution.
Dazaifu Tenmangu Shrine
Dazaifu Tenmangu Shrine is a historic Shinto shrine located in Dazaifu, Japan. This sacred site was built over 1,000 years ago and serves as the final resting place of Sugawara-no-Michizane – a renowned scholar and poet who became deified after his death. The shrine features an impressive vermillion torii gate at its entrance that leads to several beautiful gardens filled with cherry blossoms during springtime. Visitors come from all over the world to pray for academic success or take part in traditional Japanese ceremonies held here throughout the year. It's definitely worth adding this stunning cultural landmark to your next travel itinerary.
Fukuoka Yafuoku. Dome
Fukuoka Yafuoku. Dome is a magnificent indoor stadium located in the heart of Fukuoka, Japan. With its state-of-the-art facilities and modern infrastructure, this multi-purpose venue can host various events such as sports tournaments, concerts or exhibitions. The dome has an impressive capacity of 38,561 seats offering spectacular views from every angle for spectators to enjoy their favorite games or shows comfortably. Moreover, visitors have easy access to nearby restaurants and shops before or after the event making it a popular spot for locals and tourists alike.
Yanagawa River Cruising
Yanagawa River Cruising is a blissful way to see the charming city of Yanagawa, Japan. The leisurely boat ride along the tranquil canals and historic buildings allures tourists seeking serenity amidst urban chaos. A boatman will steer you through narrow waterways while narrating about Japanese history and folklore in English or Japanese language. This idyllic adventure attracts couples for its romantic ambiance, cherry blossom season visitors for natural beauty, and families with children who love exploring secret corners only accessible by narrows boats on this perfect escape from bustling cities.
Fukuoka Art Museum
The Fukuoka Art Museum is a magnificent art space located in the heart of Japan. With its stunning collection of traditional and contemporary works from around the world, it's an ideal destination for every art enthusiast. The museum showcases pieces from various eras alongside interactive installations that will fascinate visitors young and old alike. You don't have to be an expert on Japanese culture or history to appreciate this incredible institution; whether you're there just for leisure or as part of research work, you'll discover something new at every turn.
Kushida Shrine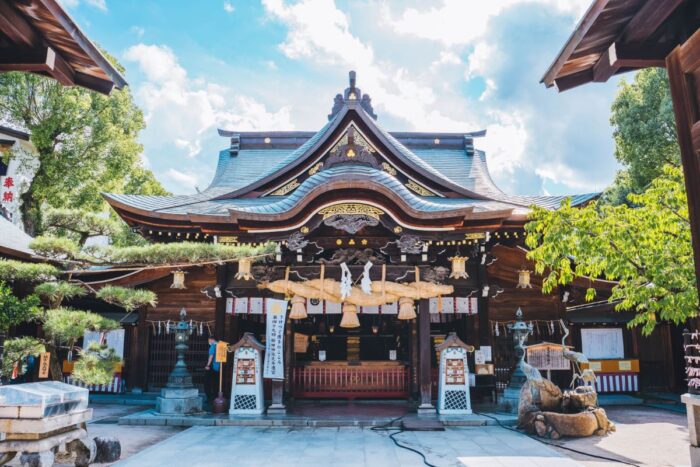 Kushida Shrine is a beautiful Shinto shrine located in the heart of Fukuoka, Japan. This historic site is known for its stunning architecture and rich cultural significance. Visitors can explore the various buildings on-site including Torii gates, worship halls, and sacred areas dedicated to different gods. The lush gardens surrounding Kushida add to its beauty creating a peaceful atmosphere perfect for relaxation or reflection. Whether you are interested in Japanese culture or simply want to experience something new while traveling through Japan, Kushida Shrine should definitely be on your must-visit list.
Momochi Beach
Located in Fukuoka, Japan, Momochi Beach is a delightful escape for families. The beach has calm waters ideal for young children to play and enjoy the sand without fear of rough waves. Enjoy lunch or dinner with your family at one of the many restaurants along the seaside promenade. Take a walk through an urban park that features stunning views of Hakata Bay while allowing you to witness modern Japanese architecture up close. To complete your day out, visit other local attractions such as Marinoa City Outlet Mall or Canal City shopping center which are just minutes away from Momochi Beach by car or public transportation.
Fukuoka Prefectural Museum of Art
The Fukuoka Prefectural Museum of Art is a must-visit for all art enthusiasts. The museum boasts an impressive collection of over 16,000 pieces including modern and traditional Japanese art as well as non-Japanese works from Asia and Europe. Highlights include the stunning glasswork by Emile Galle, exquisite calligraphy displays, contemporary installations by local artists plus much more. The architecture itself is also noteworthy – designed to reflect its location near the sea in southwestern Japan with curved walls reminiscent of waves on sand dunes making it quite unique amongst museums globally.
Hakata Ramen
Hakata Ramen is a rich and hearty dish that originates from the city of Fukuoka in Japan. Typically made with thin, straight noodles served in a savory pork broth, this ramen is known for its deep umami flavor profile. Toppings such as chashu (braised pork belly), green onions, pickled ginger and soft-boiled eggs only add to the deliciousness of Hakata Ramen. This Japanese classic will surely warm you up on chilly days or satisfy your hunger after a long day exploring new sights.
Fukuoka City Zoological Garden
Fukuoka City Zoological Garden is a popular attraction for families visiting the city. Located in Minami-ku, it houses over 130 species of animals including lions, tigers, giraffes and penguins. The zoo also has several playgrounds for children to enjoy as well as areas where they can interact with some of the smaller animals such as rabbits and guinea pigs. One highlight is the African savannah exhibit which features zebras, rhinoceroses and antelopes roaming freely in a large enclosure. In addition to being entertaining, Fukuoka Zoo strives to promote conservation efforts through educational programs that teach visitors about biodiversity and animal welfare issues.
Yatai In Fukuoka
Yatai are mobile food stalls that line the streets of Fukuoka at night, offering delicious local street cuisine. These charming little eateries serve up everything from ramen and gyoza, to grilled seafood and yakitori. The atmosphere is lively as locals and tourists alike gather around the yatai for an authentic taste of Fukuokan culture. Yatai are concentrated in Hakata's Nakasu Island area where you can find dozens of them lined up on both sides along one narrow alleyway – it's a must-try experience when visiting this city.
Kyushu National Museum
Kyushu National Museum, located in Fukuoka Prefecture of Japan, is a popular destination for culture enthusiasts. The museum showcases the rich history and diversity of Kyushu Island through exhibits featuring artifacts from various cultural groups that have inhabited the island over centuries. From pottery to swords, visitors can immerse themselves in ancient Japanese art and craftmanship while also learning about local traditions such as tea ceremonies or folk festivals. With its interactive displays and bilingual staff, this museum offers an educational experience suitable for all ages.
Fukuoka International Congress Center (ACROS Fukuoka)
Nestled in the heart of Fukuoka City, Japan lies one of the most impressive architectural marvels – The ACROS Fukuoka (Fukuoka International Congress Center). This 14-story building features a stunning glass facade that is home to over 35,000 plants and trees. Visitors can take a stroll up its zig-zagging terraces or admire it from afar as an urban oasis amidst city living. Inside, there are conference halls, exhibition spaces and concert venues that play host to major international events all year round.
What To eat In Fukuoka
Fukuoka is a food lover's paradise, with an abundance of delicious dishes to try. Ramen is the city's most famous dish and you can find it everywhere in Fukuoka. Another must-try are the Hakata-style yakitori skewers – grilled chicken on sticks that come with various sauces and spices for flavoring. If seafood is more your thing, be sure to indulge in fugu sashimi (blowfish) or mentaiko (spicy cod roe). And let's not forget about dessert: head over to one of Fukuoka's bustling night markets for some cream puff filled treats known as choux à la crème.
History Of Fukuoka
Fukuoka is a city with an incredibly rich history, dating back over 2,000 years. Originally known as "Hakata," it was one of Japan's most important trading ports and played a vital role in connecting the country to China and Korea. Throughout its long history, Fukuoka has been home to numerous cultural and architectural treasures, including stunning temples like Shofukuji and Tochoji. Today visitors can explore these historic landmarks alongside modern attractions such as shopping malls located by scenic waterfront views or check out local markets selling traditional crafts & food specialties.
How to travel to Fukuoka
Fukuoka, Japan's seventh-largest city, is rich in history and culture. The easiest way to travel there from outside of the country would be by plane with Fukuoka Airport being one of Japan's busiest domestic airports. If you are coming within Japan, consider taking a bullet train that will get you there quickly and comfortably. Once in Fukuoka, getting around on foot or using public transportation like subways and buses can take visitors anywhere they want to go easily while experiencing authentic Japanese life. Exploring its many temples such as Tocho-ji Temple or tasting traditional dishes like Hakata ramen should not be missed.
The Sum Up
Fukuoka, Japan is a city that's full of surprises when it comes to things to do. From experiencing the local cuisine and shopping at traditional markets, to visiting ancient temples and exploring exciting amusement parks; there truly is something for everyone here. Take in an evening stroll along scenic canals or soak up some sun on one of Fukuoka's beautiful beaches.
Whether you're traveling with your family or backpacking solo, this vibrant Japanese metropolis has endless options for adventure seekers looking for unique experiences off the beaten path. So pack light but be ready for action – Fukuoka awaits."