Toei Uzumasa Eigamura, also known as Kyoto Studio Park, is a unique attraction in Kyoto, Japan that lets you chance to experience the world of Japanese film and television. The park is essentially a small town from the feudal ages, complete with a collection of traditional buildings that are occasionally used as a backdrop for filming historical movies and dramas.
Opened in 1975, it is a theme park and film set modeled after the Edo period. It is situated in Toei Company's Kyoto Studio, where movies have been produced for decades. The park is not just a film set, but also a theme park that offers various attractions, including ninja and transformation experiences, as well as events featuring popular Toei anime characters.
One of the park's main attractions is the Edo-era street set, which is used to shoot more than 200 films per year. You can walk freely around the set, observe the filming of period dramas, and even catch a glimpse of actors and actresses in traditional costumes. The park also features a museum that showcases the history of Japanese cinema and a collection of props and costumes from popular films and TV shows.
History
The park opened its doors in 1975 and has since become a must-visit destination for movie enthusiasts and tourists alike.
The park was built by Toei Company, a Japanese film, television, and production company. The idea behind the park was to create a space where visitors could experience the world of Japanese cinema and television. To achieve this, Toei Company built a range of authentic sets, including a samurai village, a ninja house, and a traditional Japanese street. These sets have been used in numerous films and TV shows over the years, including the popular Japanese TV series, "Abarenbo Shogun."
Since its opening, it has undergone several renovations and expansions. In 1998, the park added a new attraction called "Toei Hero World," which features exhibits and rides based on popular Toei superheroes such as Kamen Rider and Super Sentai. In 2008, the park underwent a major renovation that saw the addition of new attractions, restaurants, and shops.
Today, Toei Uzumasa Eigamura remains one of Kyoto's most popular tourist destinations, attracting visitors from all over the world. The park offers a unique opportunity to experience the world of Japanese cinema and television, and is a great option for anyone interested in the history and culture of Japan's entertainment industry.
Attractions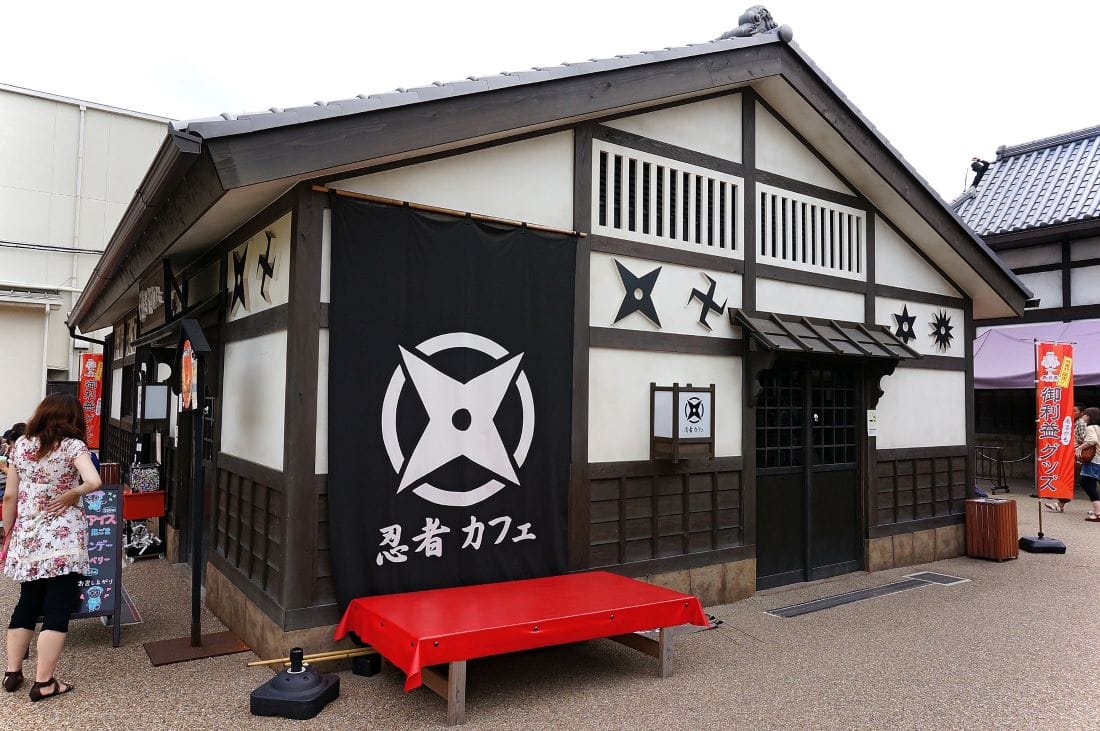 The park is a combination of a film set and a theme park with various attractions for guests to enjoy. You can experience the thrill of being a ninja, samurai, or geisha, watch live action shows, and explore the sets of popular Japanese movies and TV dramas.
One of the most popular attractions is the ninja performances. You can watch skilled ninja performers showcase their acrobatic skills, sword fighting, and other ninja techniques. For those who want to test their own ninja skills, there is a ninja maze where you can navigate through obstacles and challenges.
Another popular attraction is the 360-degree 3D theater. You can watch short films that showcase the history of Japanese cinema and the making of popular movies and TV dramas. The theater also offers a unique experience where you can feel like they are part of the action on the screen.
For those who want to experience the thrill of being in a horror movie, the haunted house at Toei Uzumasa Eigamura is a must-visit attraction. The haunted house is known to be one of the scariest in Japan and is not recommended for the faint-hearted. You can expect to encounter ghosts, monsters, and other creepy creatures as they make their way through the maze-like house.
Other attractions include filming demonstrations, where you can watch behind-the-scenes action of movies and TV dramas being filmed, and the opportunity to dress up as a samurai or geisha and take photos in authentic costumes. It is important to note that some attractions require additional entrance fees.
Studio Tours
If you're interested in the film industry or just want to see how movies are made, then taking a studio tour at Toei Uzumasa Eigamura is a great option. The park offers several different types of tours, each with varying levels of access to the studio sets and props.
The most popular tour is the "Edo Wonderland" tour, which takes visitors through the Edo-period town sets that are used in many samurai and ninja movies. A Toei actor will guide you through the town, giving you insights into the different buildings and their uses. You'll also get to see live-action shows featuring sword fights, acrobatics, and other stunts.
If you're more interested in the technical aspects of filmmaking, then the "Studio Backlot" tour might be more up your alley. This tour takes you behind the scenes and shows you how special effects are created, how camera angles are set up, and how sound is recorded. You'll also get to see some of the giant props and sets that are used in Toei's monster movies.
For those who want a more immersive experience, there's the "Ninja Experience" tour. This tour allows you to dress up as a ninja and learn some basic martial arts moves. You'll also get to explore a ninja house and see some of the weapons and tools that were used by real-life ninjas.
Events and Festivals
They hosts various events and festivals throughout the year, providing visitors with a unique experience of Japanese culture and entertainment. Here's a few of the notable events:
Samurai and Ninja Festival: This festival is held in early May and features live performances by actors dressed as samurai and ninja. You can also participate in workshops to learn about sword fighting and shuriken throwing.
Summer Night Festival: This festival takes place in July and August and offers a chance to experience traditional Japanese summer activities such as yukata-wearing, goldfish scooping, and hanabi (fireworks) viewing.
Halloween Horror Night: Held in late October, this event turns Eigamura into a spooky haunted village with various attractions, including the famous haunted house.
Winter Illumination: From late November to early January, Eigamura is decorated with beautiful illuminations, creating a magical atmosphere those to enjoy.
It's worth noting that some events may require additional entrance fees or reservations. It's recommended to check the official website for up-to-date information and schedules.
Access and Hours
You can take the Keifuku Railway to Uzumasa Station on the Arashiyama Line, which is just a 5-minute walk from the park. Alternatively, they can take the JR Hanazono Station on the JR Sagano Line, which is a 13-minute walk from the park. City Bus Stop Uzumasa-eigamura-michi stop/Kyoto Bus Stop Eigamura-mae is also a 5-minute walk from the park.
The park is typically open from 9:00 or 10:00 until 17:00, with admission ending one hour before closing time. However, there may be infrequent irregular closures for maintenance, so visitors are advised to check the park's official website for any updates or changes to the schedule.
| Admission | Additional Entrance Fees |
| --- | --- |
| 2400 yen | Some attractions require additional entrance fees |