Witnessing cherry blossoms in full bloom all across the bustling city of Tokyo creates a dream-like atmosphere that sparks joy and wonder for visitors and Tokyoites alike. With more cherry blossom viewing spots than you can shake a chop stick at blooming yearly, it can be tough to determine which spots are worth visiting when seeking out these delicate pink blooms amidst the urban landscapes.
Good thing we've done the research for you.
Here's our Ultimate guide on 18 of the best of Tokyo's locales for cherry blossom viewing. Whether brimming with festive energy or providing moments of tranquil solitude under pastel-pink petals showering down around you – we've got a spot for you this hanami season.
Key Tips & Takeaways
Plan ahead and check the bloom forecast to ensure you catch the cherry blossoms at their peak.
If you can avoid weekends when crowds are high, or visit early in the morning or late at night for a more peaceful experience.
Bring a picnic blanket (or a big blue tarp from the 100 yen shop like the locals) and snacks to enjoy under the trees It's customary to have hanami (cherry blossom viewing) parties with friends and family.
Wear comfortable shoes for walking around parks like Ueno Park, Shinjuku Gyoen National Garden, and Yoyogi Park.
Try local festival food such as sakura mochi (pink-colored rice cakes filled with sweet bean paste), yakitori skewers, takoyaki balls stuffed with octopus pieces sold by vendors near popular sites
Bring cash; many food stalls don't accept credit cards so make sure you carry yen currency,
Don't pick branches from blooming trees or disturb tree roots while setting up your party area
Watch nightly illuminations- Some spots now light up Sakura after dark adding extra charm
What's The Best Time To See The Cherry Blossom In Tokyo?
The exact timing for cherry blossom season varies slightly year by year depending on weather conditions, but typically it starts around late March to early April. During this period, visitors flock from all over Japan and beyond to witness the breathtaking beauty of sakura or cherry blossoms with their loved ones.
Rikugien Garden
If you're looking for a serene and tranquil spot to view cherry blossom in Tokyo, Rikugien Garden should be at the top of your list. The garden's expansive grounds are home to over 400 trees that burst into shades of pink during the sakura season.
What sets this location apart from others is its illuminated night-time display – where guests can take romantic strolls through pathways lit up by charming lanterns beneath blooming branches overhead. And if you want an unforgettable experience, they even offer boat rides under the blossoms.
Meguro River
Meguro River in Tokyo is undoubtedly one of the best places to view cherry blossom. The tranquil river offers a stunning backdrop as thousands of delicate pink petals create an ethereal canopy overhead, making it the perfect spot for a romantic stroll or peaceful picnic.
Venture out at night and witness the elegant illuminated trees that will transport you into another world entirely. Don't forget your camera – this is where memories are made.
Jindai Botanical Gardens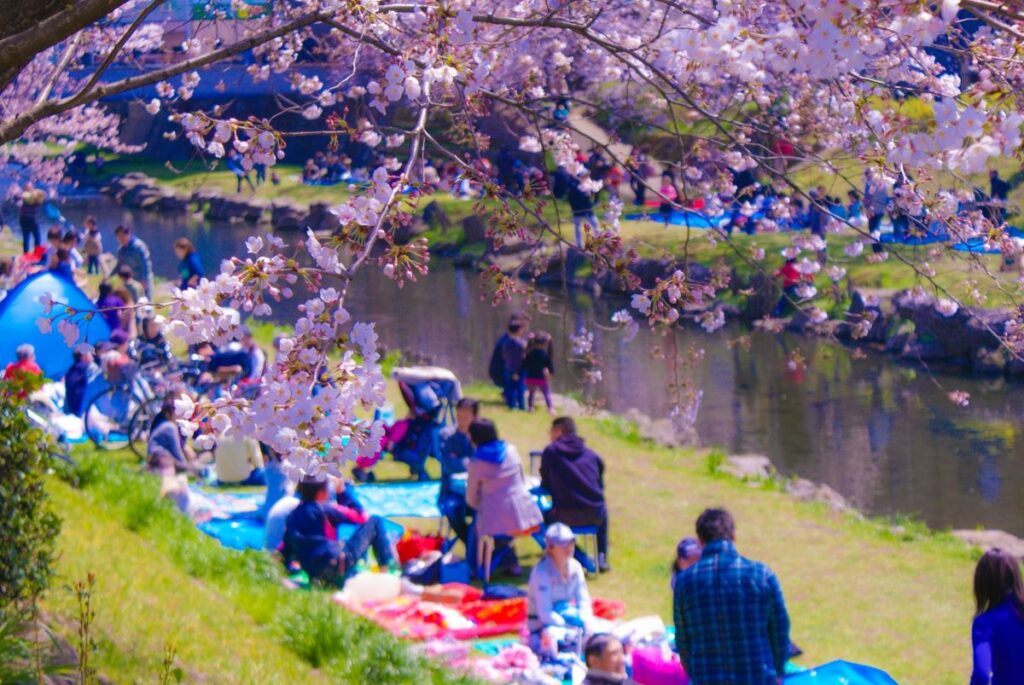 As spring arrives in Tokyo, the Jindai Botanical Gardens burst into life with an explosion of pink and white cherry blossom trees. Known for its tranquil atmosphere and natural beauty, this botanical garden is one of the best places to view Hanami.
Visitors can enjoy a peaceful stroll along winding paths while admiring over 100 species of sakura that bloom here every year. Don't forget to explore hidden corners like "Ume Grove" which has stunning plum blossoms at their peak during early March.
Hama Rikyu Gardens
At Hama Rikyu Gardens, one of the most breathtaking sights in Tokyo is undoubtedly its cherry blossoms. With more than 100 varieties of sakura trees throughout the garden, visitors can expect a riot of color and fragrance during peak season.
Take your pick from strolling along picturesque walking paths that overlook tranquil ponds or sitting at a traditional tea house while surrounded by serene pink blooms – it's an experience you won't forget. Don't miss out on this stunning display when visiting Tokyo for hanami (cherry blossom viewing) season.
Ueno Park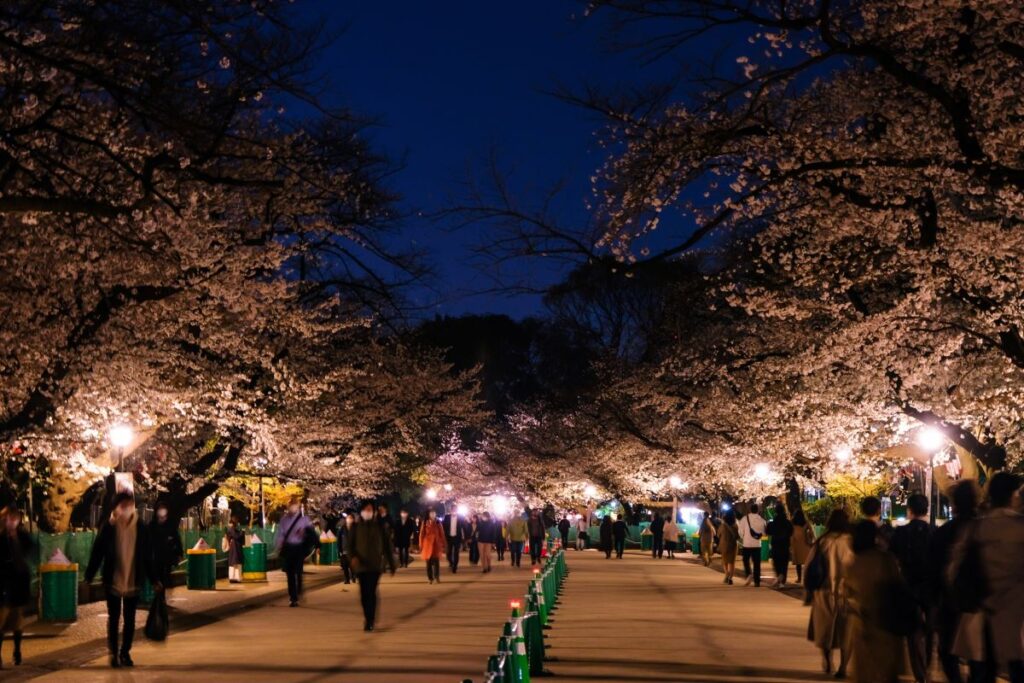 When it comes to viewing cherry blossoms in Tokyo, Ueno Park is a must-visit destination. With over 1,000 cherry trees lining its pathways and lake areas, the park transforms into a sea of pink during sakura season.
Not only can visitors take part in traditional hanami (flower-viewing) picnics under the blossoms but they can also enjoy various food vendors selling Japanese snacks such as yakitori and dango. The historic Toshogu Shrine within the park is also illuminated at night making for an enchanting evening stroll amongst the petals.
Imperial Palace East Gardens
The Imperial Palace East Gardens in Tokyo offer a stunning display of cherry blossom during springtime. With over 1,000 sakura trees on the grounds, visitors can enjoy both traditional and modern views of this iconic flower.
The gardens are especially popular for hanami picnics under the blooming trees or strolls along its walking paths lined with pink hues. It's worth noting that these delicate flowers only bloom for a short period each year – usually from late March to early April – so be sure to plan your visit accordingly.
Showa Kinen Park
Cherry blossom season in Tokyo is a magical time, and one of the best places to experience it is at Showa Kinen Park. The vast park offers endless opportunities for serene picnics under cherry trees, with more than 1,500 sakura (cherry blossom) trees blooming simultaneously.
You can also rent a boat and row around the lake surrounded by pink petals or explore on foot along winding paths lined with blossoms in shades from pale baby-pink to deep fuchsia. Visiting this natural spectacle will make any trip unforgettable.
Koganei Park
For those seeking a serene and picturesque spot to witness the famed Japanese cherry blossom, Koganei Park in Tokyo is an ideal destination. The vast green space boasts over 1,700 Sakura trees of various types that bloom from late March through early April.
You can take part in traditional hanami picnics while enjoying stunning views of pink petals against blue skies or being illuminated at night for magical scenery. Don't miss out on experiencing this sought-after seasonal highlight amongst locals and tourists alike.
Yoyogi Park
Nestled in a corner of Shibuya, Yoyogi Park is a popular spot for locals and visitors alike to view the blooming cherry blossoms. With over 600 trees scattered throughout the park, it's no wonder why this location attracts thousands of people each year during sakura season.
The juxtaposition between Tokyo's towering skyscrapers and delicate pink petals makes for stunning photo opportunities that are sure to leave you captivated. Plus, with food vendors selling traditional Japanese treats like yakitori (grilled chicken skewers) and taiyaki (red bean filled fish-shaped cake), your taste buds will be just as satisfied as your eyes.
Koishikawa Korakuen Garden
As spring arrives in Tokyo, locals and tourists alike flock to the city's many gardens and parks for a glimpse of the famous cherry blossoms. One such destination is Koishikawa Korakuen Garden, known for its picturesque landscapes that perfectly showcase Japan's most beloved flower.
It's nice to stroll along winding paths lined with over 1000 sakura trees as they marvel at the delicate petals fluttering down from above. With stunning views like these, it's no wonder this garden has been named one of Tokyo's top locations to view cherry blossom.
Inokashira Park
Inokashira Park is a tranquil oasis in the heart of Tokyo, and it's no wonder that this serene spot becomes one of the city's prime spots for cherry blossom viewing every year. With over 1,000 stunning sakura trees lining its paths and reflecting ponds, visitors can stroll through a dreamy pastel universe framed by pink petals overhead.
The park also features boat rentals on an idyllic lake crowded with paddleboats sporting their own miniature "tree tunnels."
This mesmerizing scene makes Inokashira Park an ideal destination to embrace hanami season at its finest.
Sumida Park
Cherry Blossom at Sumida Park in Tokyo is another great sport and it's right next to the Tokyo sky tree and just a short walk from all the great things to do in Asakusa.
Not only does it offer stunning views of the iconic cherry blossom trees, but also has other interesting things to do nearby such as visiting Asakusa Temple and taking a river cruise down the Sumida River.
The park's location near Tokyo Skytree provides for an amazing skyline view while enjoying hanami under the pink blossoms. With over 600 sakura trees lining both sides of the park's promenade, you are guaranteed breathtaking sights that will leave lasting memories.
Asukayama Park
Asukayama Park offers a unique cherry blossom viewing experience in Tokyo. The park features over 600 trees, including some rare varieties that bloom later than most others around the city, giving visitors an extended window to enjoy these delicate pink blooms.
To add to its picturesque appeal, there are also lanterns and small shrines dotted throughout the park's wooded areas along with performances by street artists during peak blooming seasons. This hidden oasis makes Asukayama one of Tokyo's best places for hanami picnics and leisurely strolls amidst nature's captivating beauty.
Chidorigafuchi
If you're looking for the ultimate cherry blossom experience in Tokyo, make sure to head over to Chidorigafuchi. This picturesque location offers a stunning sight of approximately 260 trees lining up beautifully along its banks.
One special thing about this spot is that visitors can appreciate views both from above and below by renting a boat or taking a stroll along the walking path beneath them. It's also an ideal place for photography enthusiasts who love capturing pink petals against dark blue water backgrounds.
The park remains open until late at night giving people ample opportunity to enjoy illuminated cherry blossoms blooming brightly even during nighttime strolls – making it one of our favorites.
Sum up
Tokyo offers an unparalleled experience when it comes to cherry blossom viewing. The bloom is not only a beautiful spectacle but also holds significant cultural and historical value in Japanese society.
From the famous Ueno Park with its enchanting pink canopy to the peaceful Shinjuku Gyoen National Garden, each spot has something unique to offer visitors seeking beauty and tranquility amidst bustling city life. Although timing can be unpredictable due to weather conditions, planning your visit around peak season will ensure you witness this natural wonder at its finest.
As you embark on your journey through Tokyo's top spots for Hanami (cherry blossom viewing), take time to indulge in local delicacies like sakura mochi or sip sake under a blooming tree; truly immersing yourself in Japan's rich culture and traditions while admiring these ephemeral wonders of nature that are revered by locals year after year.