Discover Tokyo's hidden gems on the Tokyo Off the Beaten Path Full-Day Private Tour. Led by a government-licensed guide, this immersive experience takes you away from the typical tourist spots and into the local neighborhoods and streets of Tokyo.
With the option to customize your trip and a maximum of 7 passengers for private tours, you can tailor the experience to your preferences. Explore the authentic side of Tokyo and gain a deeper understanding of its culture and history.
Great News! You can reserve your spot for free with Viator. You can easliy cancel any time up to 1 day before without paying anything.
Quick Takeaways
The Tokyo off the Beaten Path Full-Day Private Tour offers a unique and personalized experience of exploring local neighborhoods and streets in Tokyo.
The tour allows for customization based on the traveler's interests, with a licensed guide who is knowledgeable and fun.
There is an option to arrange for a private vehicle, although public transportation or local taxis may be used for transfers. Transportation costs need to be discussed with the guide and Japanese Yen is needed for expenses.
The tour includes must-visit attractions such as Team Lab Planet for immersive art experiences and Tokyo Dome for a baseball game, as well as other attractions like Gingko Avenue, Tsukiji fish market, Tokyo subways, and Sensoji temple.
Not for you? Here's a few more great tours and experiences nearby.
Exploring Tokyo's Hidden Gems
Visitors on the Tokyo off the Beaten Path Full-Day Private Tour have the opportunity to uncover Tokyo's hidden gems.
One of the highlights of this tour is the chance to explore hidden dining spots and local artisan workshops. Tokyo is known for its vibrant food scene, and this tour takes you off the beaten path to discover lesser-known dining establishments that are favored by locals. From cozy izakayas serving traditional Japanese dishes to trendy cafes offering unique fusion cuisine, there's something to satisfy every palate.
In addition, you'll have the chance to visit local artisan workshops, where you can witness the craftsmanship and skills of Tokyo's talented artisans. From pottery and ceramics to traditional crafts like calligraphy and woodblock printing, these workshops provide a fascinating insight into Tokyo's rich cultural heritage.
Immersive Cultural Experiences
To fully enjoy Tokyo's cultural scene, travelers on the Tokyo off the Beaten Path Full-Day Private Tour can participate in traditional tea ceremonies and watch mesmerizing performances of traditional Japanese arts. These unique cultural encounters provide an opportunity to delve deep into the local traditions and customs of Tokyo.
Here are three immersive experiences that can be enjoyed on this tour:
Traditional Tea Ceremonies: Travelers can learn about the art of tea making and participate in a traditional tea ceremony led by a knowledgeable guide. They can experience the serene atmosphere and intricate rituals associated with this ancient Japanese tradition.
Mesmerizing Performances: The tour offers the chance to witness captivating performances of traditional Japanese arts, such as Kabuki theater or Noh plays. These age-old art forms showcase the rich cultural heritage of Japan and provide a glimpse into its history and traditions.
Local Festivals and Events: Depending on the time of year, travelers may have the opportunity to participate in local festivals or events. This allows them to witness firsthand the vibrant celebrations and customs that are an integral part of Tokyo's cultural fabric.
Unforgettable Neighborhood Discoveries
The guide takes visitors on a journey through Tokyo's neighborhoods, uncovering unforgettable discoveries along the way.
One of the highlights of this tour is the opportunity to visit hidden cafes and explore local markets. These hidden cafes offer a unique and authentic experience, away from the typical tourist spots. Visitors can savor delicious coffee or tea while seeing the local atmosphere.
Plus, exploring the local markets provides a glimpse into the daily lives of Tokyo residents. Visitors can browse through an array of fresh produce, unique crafts, and traditional snacks. The bustling energy and vibrant colors of these markets make for a truly unforgettable experience.
Off-the-Beaten-Path Adventures
During this private tour, the government-licensed guide will lead adventurous travelers through Tokyo's off-the-beaten-path experiences. This tour is perfect for those seeking hidden treasures and local secrets that aren't typically found in guidebooks.
Here are some of the exciting off-the-beaten-path adventures that participants can look forward to:
Exploring the vibrant neighborhood of Yanaka, known for its traditional Japanese atmosphere and charming streets lined with old houses and temples.
Visiting the Ameya-Yokocho Market, a bustling street market where locals shop for fresh produce, seafood, and bargain goods.
Discovering the hidden gem of Kagurazaka, a neighborhood filled with narrow alleyways, traditional restaurants, and quaint cafes.
These off-the-beaten-path adventures offer a unique and authentic glimpse into Tokyo's local culture and provide travelers with unforgettable experiences that go beyond the typical tourist attractions.
Customized Itineraries for Authentic Tokyo Exploration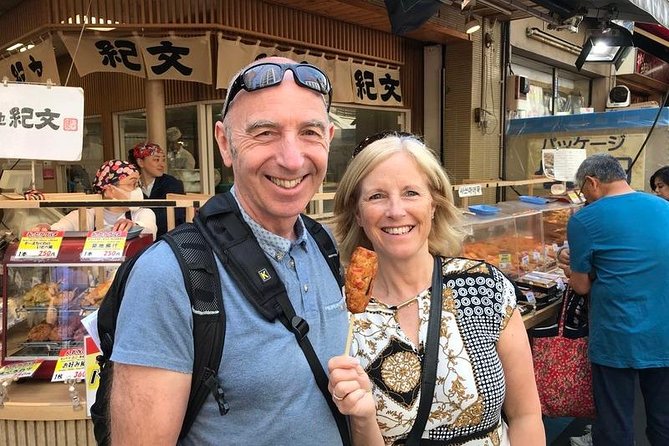 With a government-licensed guide, travelers can customize their itineraries for an authentic exploration of Tokyo, going beyond the typical tourist spots. This allows visitors to discover hidden culinary delights and engage in traditional crafts discovery, offering a unique and immersive experience of the city.
The guide will take into account the interests and preferences of the travelers, creating a tailored itinerary that showcases the lesser-known aspects of Tokyo's culture and heritage. From exploring local food markets to participating in workshops where traditional crafts are practiced, travelers will have the opportunity to delve deeper into the rich tapestry of Tokyo's culinary and artistic traditions.
This personalized approach ensures that visitors not only see the popular attractions but also gain a deeper understanding of the local culture and customs.
Frequently Asked Questions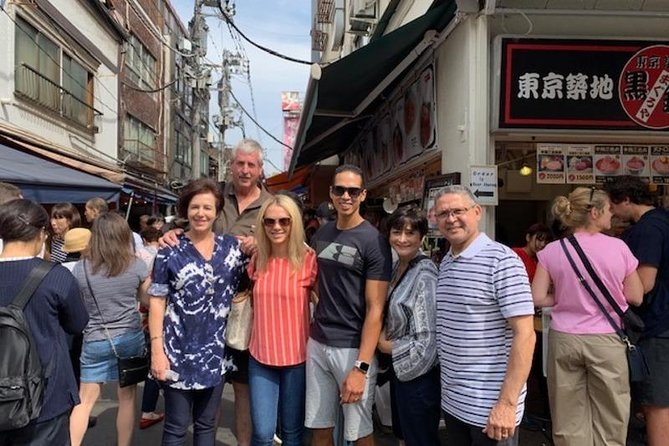 How Do I Book a Private Vehicle for the Tour?
To book a private vehicle for the tour, travelers can arrange it two days in advance. The guide will discuss transportation costs with them. Alternatively, public transportation or local taxis can be used.
Is There a Minimum Number of Passengers Required for the Private Tour?
There is no minimum passenger requirement for the private tour. Group discounts may be available for larger parties. The tour allows for a maximum of 7 passengers and offers the option to arrange for a private vehicle.
Can I Pay for Transportation Expenses in a Currency Other Than Japanese Yen?
Yes, alternative currencies for transportation expenses may be accepted, but it is recommended to discuss this with the guide. Exchange rates for foreign currencies will also be discussed during the conversation.
What Is the Average Duration of the Tour?
The average tour duration for this private tour is a full day, allowing visitors to explore Tokyo's non-touristy parts. The best time to visit is when the weather is pleasant for outdoor activities.
Are There Any Age Restrictions for Participating in the Tour?
There are no age restrictions for participating in the tour. The tour offers accessibility options for participants with disabilities. The detailed itinerary can be customized to accommodate different interests and mobility levels.
The Sum Up
To sum it up, the Tokyo Off the Beaten Path Full-Day Private Tour offers travelers the opportunity to discover the hidden gems of Tokyo and enjoy the local culture.
With a knowledgeable and fun government-licensed guide, visitors can customize their itinerary to suit their interests and preferences.
From popular attractions to off-the-beaten-path adventures, this tour provides a unique and authentic experience of Tokyo's non-touristy parts.
Whether you're a first-time visitor or a seasoned traveler, this tour is the perfect way to explore the hidden side of Tokyo.