Are you looking for a land of cuteness, fun, and adventure? Welcome to Tokyo's Sanrio Puroland – the home of Hello Kitty and all your favorite characters!
Let me take you on an exciting tour filled with kawaii-ness that is sure to be full of discovery.
Here's my guide so you can make the most out of your visit:
What Is At Sanrio Puroland Tokyo?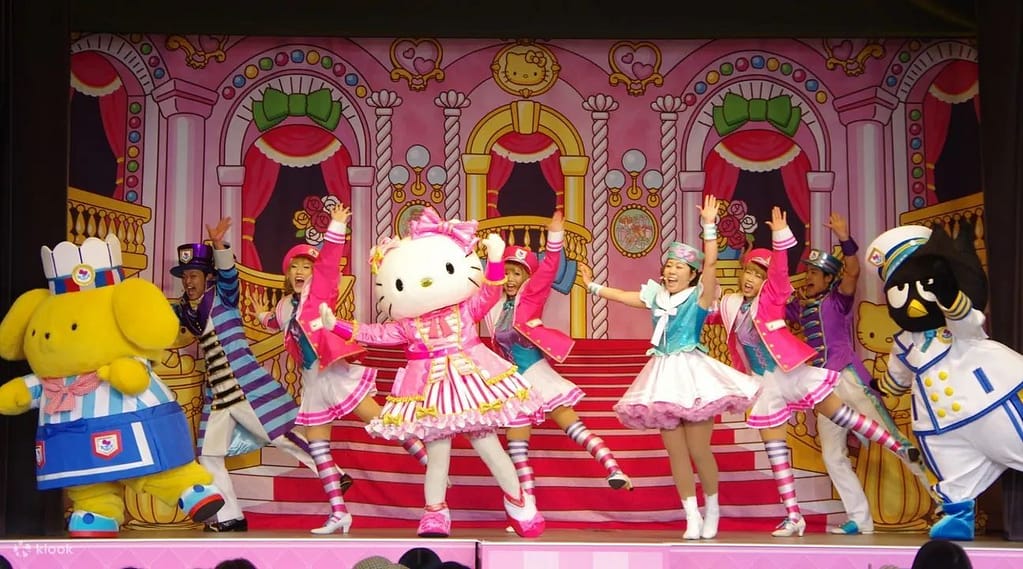 Sanrio Puroland offers something magical – unlimited happiness in a world where Hello Kitty reigns supreme! From family attractions like Gudetama Land or Lady Kitty House to thrilling rides like The Boat Rides around Character Harbor—there's plenty here for both children & adults to enjoy.
There are also plenty of shops and restaurants where you can buy souvenirs, clothing, toys & food inspired by Sanrio characters like My Melody or Keroppi!
How Much Do Sanrio Puroland Tickets Cost?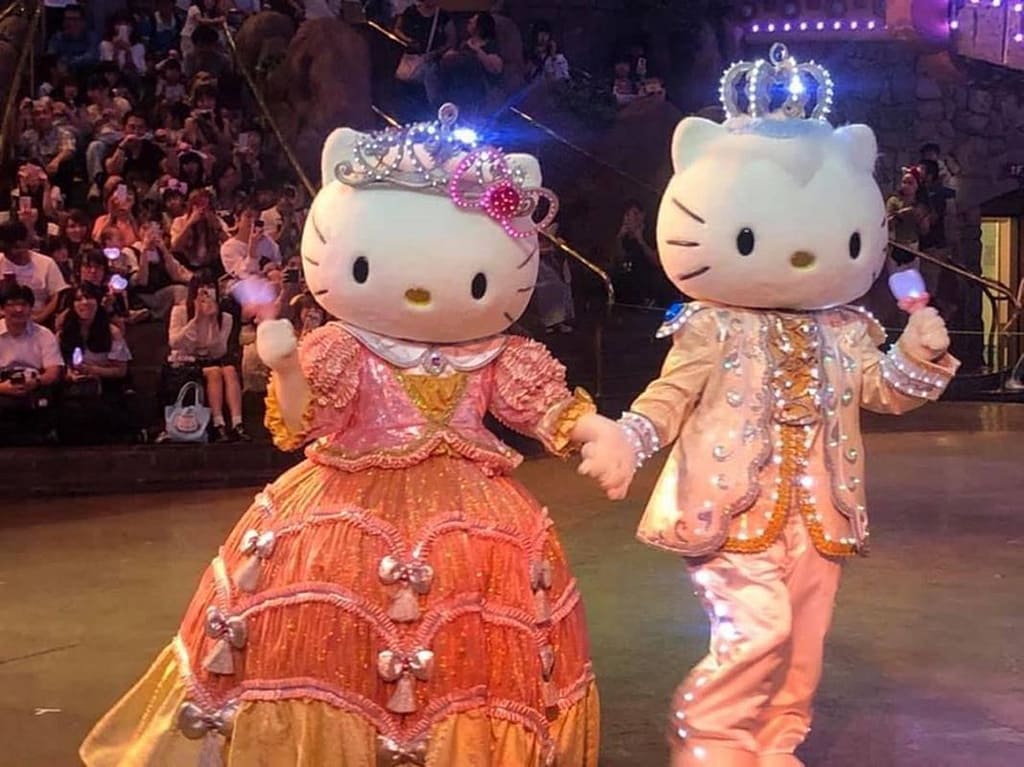 Sanrio euroland offers a variety of ticket options depending on your age group and length of stay. For adults the basic one-day entry fee is ¥5400; children 3 – 5 years old get in for free while 6 – 12 pay only ¥2000.
If you would rather have an unlimited pass that allows access over multiple days there's also the Annual Pass which costs from¥9000–15000 (depending on when it's purchased). To save money why not buy discounted tickets online at Klook?
How To Buy Cheap Tickets For Sanrio Puroland?
If you're looking for a deal, buying discount tickets through the official ticketing partner Klook is definitely worth considering.
They have deals that can save up to 41% off regular admission prices in addition to exclusive benefits like fast-track entry and free snacks!
You don't even need to worry about bringing your passport or other ID as they offer digital e-tickets with QR codes that make getting into Puroland easy peasy.
Puro Village & Sanrio Town
Sanrio Puroland has two main areas – the cute & cozy "Puro Village" and the bustling, neon-lit Sanrio Town.
In Puro village, there are plenty of attractions like Gudetama Land or Lady Kitty House for all ages to enjoy; plus a range of shops that sell exclusive items related to characters such as My Melody or Keroppi.
On top of this, you can explore other themed zones throughout puro land including Harmony Land, or take part in parades and shows!
Sanrio Characters Boat Ride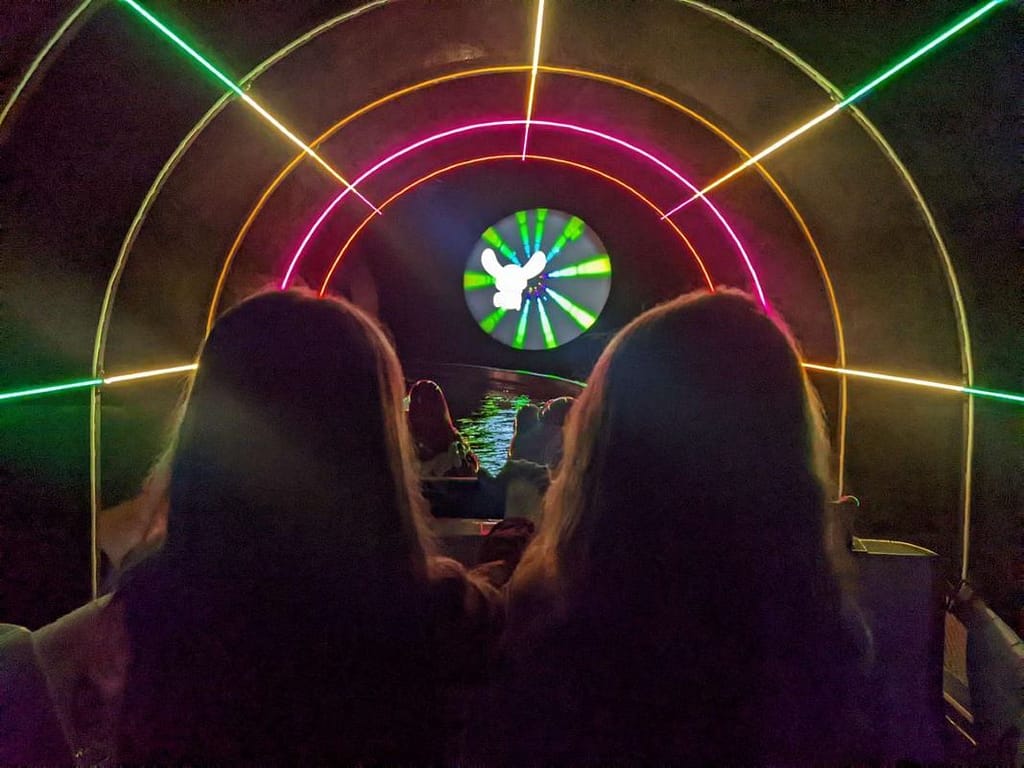 One must when visiting Tokyo's Sanoiro Puroland is taking a ride on their special boat which takes visitors around Character Harbor while playing popular songs from the Sanrio universe – it's a great way to get in touch with all your favorite characters!
Lady Kitty House
Get an inside look at Hello Kitty's home when you visit Lady Kitty's house. This interactive experience allows visitors to explore her bedroom and other themed rooms, enjoy fun activities like karaoke or take pictures wearing special costumes inspired by their fave Sanrio character.
Not only is this area extremely cute but also educational as there are plenty of facts about culture & history too – perfect for kids and adults alike.
Gudetama: The Movie Show
If Gudetama is one of your favorites then don't miss out on watching his movie show!
This 3D movie takes you on a journey through Gudetama's world full of adventures and exciting twists. It's not only visually stunning but also incredibly funny – it'll have everyone in the family laughing out loud.
Gudetama Land
For those who love all things Gutetama then this is the place for you!
Here at Gudetama land, there are over 40 different activities to enjoy from trying your hand (or feet) at egg-shaped foot massage chairs; or taking pictures with life-sized versions of your favorite characters like PompomPurin & My Melody.
Where To Shop At Sanrio Puroland?
Whether it's exclusive merchandise from the Sanrio store or unique fashion items at Lady Kitty House – there's something for everyone here.
For souvenirs, check out Harmony Land's Pudding Shop- it sells kawaii goods like key chains and plush teddy bears made in Japan
Puro Christmas Special
With each year that passes, puro land hosts a special event for its visitors during winter holidays – Puro Christmas Special. This is when festive decorations cover every corner of the character harbor and exclusive activities like taking pictures with Santa Claus or Gudetama himself are available to enjoy
Who Made Sanrio Puroland?
The Tokyo-based theme park was created in 1990 as part of the larger Sanrio company, founded by designer Shintaro Tsuji. Since then it has become one of the most popular attractions in Japan – a place where people can come together and enjoy all things kawaii!
What Food Can I Eat At Sanrio Puroland?
Tokyo's puro land offers a variety of delicious food options to choose from.
The restaurants here are inspired by characters like Hello Kitty or Keroppi so why not try their themed menu items such as Gudetama egg-topped burgers or My Melody parfaits for dessert?
No matter what you decide to eat, there's something yummy waiting just around the corner
Don't miss the Sanrio Puroland Parades
A great way to experience puro land is with their daily parades!
Located all around the character harbor you can watch floats inspired by popular characters go past while listening to fun music played live on stage.
It really brings everything alive so make sure not to miss this when visiting 🙂
Sanrio Puroland Map
Finding your way around the theme park is made easier with their handy map. You can pick one up when you first enter and it'll help guide you to all of puro land's attractions, shops & restaurants.
Train Directions To Sanrio Puroland
The closest station to puro land is Tama Center Station, which has direct access from Tokyo's JR line. From there it's a short walk to the front entrance. Just follow the characters along the street.
Harmonyland: The other Sanrio Theme Park In Kyushu
Located in Beppu City on Japan's southern island of Kyushu, Harmony Land is another great place where fans can experience all things kawaii! There are plenty of attractions & shows here that echo those found at puro land plus exclusive ones like taking pictures with giant Hello Kitty statues and larger-scale rides.
When To Visit Sanrio Puroland Tokyo?
it can get quite crowded so try to avoid weekends or school holidays if possible and definitely plan your trip for a weekday!
Where Can I Stay Near Sanrio Puroland Tokyo?
If you're looking for somewhere close by, check out Hotel Tama Plaza which has comfortable rooms & direct access from JR Tamaden Station – it's only 5 minutes away on foot. For those who want something more luxurious, there's also Windsor Castle Koganei nearby as well.
Other Theme Parks In And Around Tokyo Japan
If you're looking for more fun, there are plenty of other theme parks to explore in & around the city. Some popular ones include Tokyo Disney Resort or Disney sea or Universal Studios if you plan to make the trip to Osaka.
Don't Miss Japan's Cutest Theme Park
Are you ready to enter the world of kawaii and experience all that Tokyo's Sanrio Puroland has to offer? I hope this guide has helped you. Now go have fun & happy exploring.