The ICOCA Card is a rechargeable smart card that is the key to unlocking an efficient and convenient travel experience in Japan. It's not just a ticket for transportation, but a tool that can make your time in Japan much more memorable. Imagine being able to breeze through train station turnstiles, avoid long ticket purchasing lines, and access exclusive discounts and services.
What is an ICOCA Card and what can it be used for?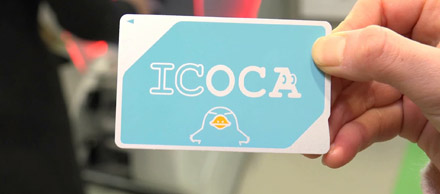 Here are just a few examples of what you can use your ICOCA IC Card for:
Taking trains and buses across the Kansai region of Japan, including the iconic Shinkansen bullet trains
Conveniently purchasing and using Suica or Pasmo cards in Tokyo and other major cities
Accessing special deals and discounts at participating restaurants, shops, and tourist attractions
Making purchases at vending machines, convenience stores, and other retail outlets
With an ICOCA IC Card, you can simplify your travels and make the most of your time in Japan. Whether you're commuting to work, exploring new cities, or simply grabbing a bite to eat, the ICOCA IC Card is an essential tool for a seamless and memorable trip.
How does the ICOCA Card work?
Imagine yourself walking through the bustling streets of Osaka, your hands are full of shopping bags and you're in a rush to catch your next train. But wait, do you have to stop and fiddle with coins and bills every time you want to ride the train? That's where the ICOCA IC Card comes in, a game-changer for stress-free and seamless travel.
The ICOCA IC Card is a rechargeable smart card that works like a pre-paid debit card. Simply tap the card against the reader at the station gates and the fare is automatically deducted from your balance.
No more searching for the right change or waiting in line to buy a ticket, you can breeze through the station gates and board your train with ease. And if you're traveling with friends or family, you can share one ICOCA Card to save time and hassle.
Not only that, but the ICOCA Card also doubles as a shopping card. You can use it to pay for purchases at participating stores, vending machines, and even some tourist attractions. Just tap and go
How much does an ICOCA IC Card cost and where can I purchase one?
An ICOCA IC Card costs 2,000 yen, with a 500 yen deposit, which is refundable upon the return of the card. The remaining 1,500 yen can be used to pay for transportation and other purchases made using the card. You can purchase an ICOCA IC Card at ticket vending machines located at train stations, as well as at convenience stores and other retail outlets.
Here are some of the advantages that make the ICOCA IC Card a great option for travelers to Osaka and Kyoto.
Easy to purchase: You can purchase an ICOCA IC Card at a variety of locations, including train stations, convenience stores, and other retail outlets.
Convenient: The card is easy to use and can be charged at any time with a credit card, making it a hassle-free way to get around Japan.
Saves money: You can save money on your transportation costs with the ICOCA IC Card, as you'll avoid having to buy individual tickets each time you take a train or bus.
Transferable: You can transfer the card between multiple people, making it a great option for families or groups traveling together.