The new kid on the block of Tokyo's observation deck scene is Shibuya Sky and it just might be the best. An architectural marvel that boasts stunning views of the city skyline and beyond.
It is a destination that promises to captivate the hearts of visitors with its innovative design, breathtaking panoramic views, and a plethora of dining and shopping options. With its unique structure soaring to the height of 230 meters above the city streets, it has quickly become one of the most popular tourist attractions in the city.
As you step into the building, you are immediately greeted with an array of vibrant digital displays that set the tone for the journey ahead. Taking the elevator to the 46th floor, you are transported into an open-air space, surrounded by transparent windows that offer 360-degree views of the city.
The lack of a ceiling only adds to the feeling of being suspended in mid-air, offering an awe-inspiring experience that is not easily forgotten. The 47th floor is a heliport and a rooftop observatory, offering unparalleled views of the city and its surroundings.
So there's a good reason why Shibuya Sky sits high on our list of the best Observation decks in Tokyo, but there's more to do than just take in the views.
The Shibuya Sky building offers a unique blend of entertainment, dining, and shopping options, with a range of restaurants, cafes, and boutiques spread across its floors.
Whether you're in the mood for a leisurely lunch, an intimate dinner, or just a quick bite, you'll find something to suit your taste. With its prime location in fashionable Shibuya, it's the perfect destination for those looking to experience the style and awe of Tokyo from above.
Shibuya Sky Tickets
Admission to the dizzying heights of Shibuya Sky comes at a cost, but it's worth every yen. For those 18 and up, the entrance fee is ¥2,000 at the door. If you're a junior or senior high student, the fee is ¥1,600, while elementary students can get in for ¥1,000. And for the little ones aged 3 to 5, the fee is just ¥600.
If you plan ahead and book your tickets through the Shibuya Scramble Square website or Klook, you can snag up to a ¥200 discount. Just keep in mind that when you book online, you'll need to choose a specific time slot for a specific date.
And for those with disabilities, you'll only be charged half the price.
Should I Pre-purchase tickets?
Just like when visiting the Tokyo SkyTree we recommend pre-purchasing tickets. True it is marginally cheaper by 200 yen but the real saving is in the time that you won't have to spend lining up. This can be up to an hour during bust periods so it's much better to pre-purchase and have a set time.
On our last trip there we used Klook to pre-purchase and were able to whizz through in under 5 minutes.
So… now that you have your Shibuya sky tickets, what can you expect as you enter Tokyo's newest observation decks?
Sky Gate
You will experience the most thrilling journey from the moment you step onto the 14th floor, where a ticket counter and an elevator await to whisk you away to the pinnacle of the building.
As the elevator ascends to the 45th floor, you may just feel yourself become immersed in a mesmerizing digital display of vibrant colors on the ceiling and walls, making you feel as if you have entered a surreal world disconnected from reality.
Next, the ascent to the 47th floor begins from the 46th floor, where you'll find the awesome sky escalator leading upwards. Look to you your left through the clear glass panel and you will spot Yoyogi park sitting like a lake among the concrete metropolis.
The Sky Edge
Upon reaching the open-air platform, which stands at a staggering 230 meters above the ground, I was momentarily overcome with a mixture of awe and fear (I have a tendency to get dizzy heights).
The walls of the observatory are comprised of transparent windows, providing a panoramic view of the bustling cityscape below. On a clear day, you can see iconic landmarks such as Yoyogi Park, the Tokyo Sky Tree, and Roppongi Hills from this bird's eye view. With favorable weather conditions, you may even catch a glimpse of Mount Fuji in the distance.
The rooftop serves not only as a breathtaking observatory, but also doubles as a heliport, adding an extra layer of excitement to the already unforgettable experience.
The ROOF Bar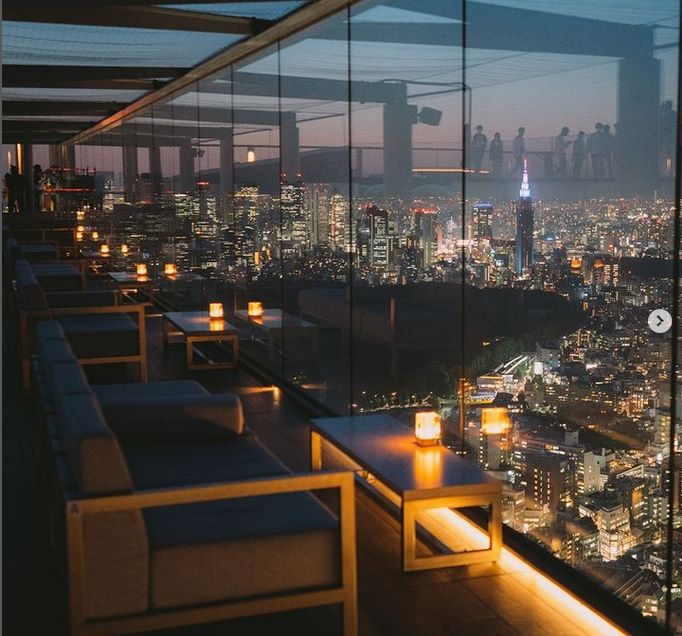 The ROOF is a bar located at the top of the Shibuya Scramble Square building in the cool Shibuya district of Tokyo. It provides a panoramic view of the city from its elevated position, making it a popular destination for those looking for a unique dining experience.
With its location atop one of the city's busiest shopping and entertainment districts, visitors can enjoy a meal or drinks while taking in the sights and sounds of the bustling city below. The Sky Edge is known for its innovative cocktails, delectable food, and stylish interior design. It is open from 11:00 am to 11:00 pm, making it a popular destination for both day and night-time visitors.
How To Get To Shibuya Sky?
One of the best things about Shibuya Sky is its great location and accessibility. It's right next to Shibuya station which is easy to get to via the following options:
One of the most convenient ways to reach Shibuya Station is via the JR Yamanote Line, which connects the station to other popular spots such as Shinjuku, Tokyo, and Ueno. Simply hop on the train at your starting point and make your way to Shibuya Station, with the journey taking anywhere from 5 to 25 minutes depending on where you're coming from.
Another option is the Tokyo Metro Ginza Line, which also stops at Shibuya Station and provides a direct route to Asakusa and other destinations.
Getting to Shibuya Sky from Shibuya Station is then a piece of cake. Firstly, exit from the station's Hachiko exit and you'll be welcomed by the iconic scramble crossing. From there, simply head towards the east side of the station and look for the massive skyscraper with its modern glass façade.
It's impossible to miss. Once you reach the building, step inside and take the elevator to the 14th floor where you'll find a ticket counter and an elevator that will whisk you up to the top.
Is Shibuya Sky better day or night?
The debate about whether Shibuya Sky is better during the day or at night has been a topic of discussion among visitors. While both times offer unique experiences, let's dive into the advantages of each to help you determine which is the best fit for you.
Daytime Experience:
Awe-Inspiring Views:
The natural light enhances the panoramic views of Tokyo's sprawling cityscape, allowing you to fully appreciate the vibrant colors and intricate details of the city.
The Perfect Instagram Shot: With the sun shining and clear skies, the daytime is the perfect opportunity to snap some stunning photos to share with friends and family back home.
City Exploration: During the day, the observatory provides a great starting point for exploring the city, giving you a bird's eye view of popular destinations and helping you plan your itinerary.
Nighttime Experience:
Great sunset views
Enjoy an evening drink at the bar
City Lights: As the sun sets, the city transforms into a glittering metropolis, with the twinkling lights of skyscrapers and illuminated streets providing a mesmerizing sight.
Starry Nights: On a clear night, the sky above Tokyo is dotted with stars, offering a magical view of the night sky.
The Excitement of the City that Never Sleeps: The energy of the city at night is palpable, with bustling streets and lively crowds creating an electric atmosphere.
Ultimately, whether you prefer the daytime or nighttime experience at Shibuya Sky will depend on your personal preferences and what you're looking to get out of your visit. Both times offer unique and unforgettable experiences, so consider your itinerary and what you hope to see and do in Tokyo before making a decision.
Things To Nearby Shibuya Sky?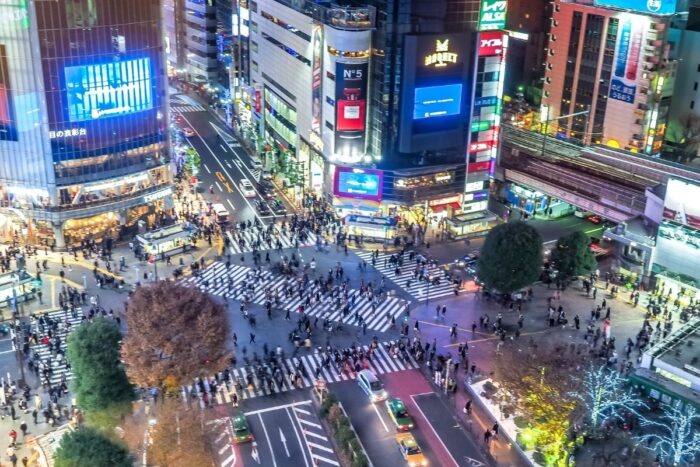 If you're looking for more things to do in the vibrant area of Shibuya, there's no shortage of incredible sights to see. Here are a few must-visit places nearby Shibuya Sky:
Shibuya Crossing: The famous scramble crossing, which is known as one of the busiest intersections in the world, is located just a few minutes away from Shibuya Sky. As you stand on the rooftop, imagine looking down at the chaotic yet harmonious dance of people crossing the street below.
Hachiko Statue: This bronze statue of a dog is a popular landmark in Shibuya, and is dedicated to the loyalty of Hachiko, who would wait at Shibuya Station every day for his owner to come home.
Meiji Shrine: This stunning shrine is dedicated to Emperor Meiji and his wife, Empress Shoken. Surrounded by lush green forests, it offers a peaceful escape from the bustling city.
Yoyogi Park: This sprawling green oasis is a great place to relax, people-watch, or take in a performance. From Shibuya Sky, you can catch glimpses of its cherry blossom-lined paths and sprawling lawns.
Omotesando: This trendy shopping district is lined with chic boutiques and upscale cafes, making it a great place to indulge in some retail therapy or grab a bite to eat.
Shibuya Parco: This shopping complex is a true hub for youth culture and is filled with a diverse range of shops and entertainment facilities.
Bunkamura: This cultural complex is home to a theater, art museum, and concert hall, offering a range of cultural experiences in one convenient location.
So, whether you're interested in history, nature, shopping, or entertainment, there's plenty more to do near Shibuya Sky.