As the main entry point to the city, Kyoto Station Area is a major transportation hub with an extensive network of trains, buses, and taxis. It is also a bustling shopping district with a great mix of shops, restaurants, and entertainment options.
Not far from Kyoto Station, there are several worthwhile temples and other attractions to explore. Tō-ji and Tōfuku-ji are two famous temples in the area that are definitely worth a visit. Kyoto Tower, a 131-meter-tall observation tower, offers stunning views of the city from the top.
Additionally, there are several museums, galleries, and parks in the area that provide insight into Kyoto's rich history and culture.
In this guide as part of our guides to Kyoto series, we will cover everything you need to know about the Kyoto Station Area, including transportation options, top attractions, and insider tips to help you make the most of your trip.
Getting to Kyoto Station Area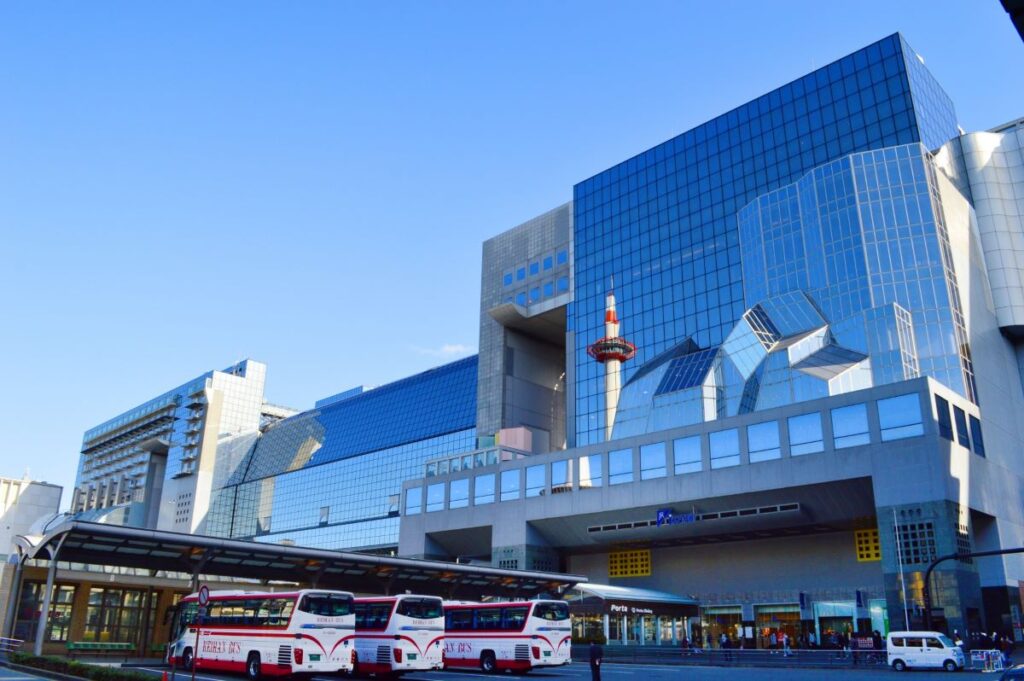 Kyoto Station Area is, as the name would suggest one of the most accessible areas in Kyoto due to its central location and excellent transportation options. Visitors can easily reach the area by bus, taxis, or of course by train.
By Train: Kyoto Station is one of the busiest train stations in Japan, and it serves as a major transportation hub for both local and long-distance trains. Visitors can take the JR Kyoto Line, Kintetsu Kyoto Line, or the Karasuma Subway Line to reach the station. Once at the station, visitors can easily access the Kyoto Station Area by walking or taking the escalators up to the ground level.
By Bus: Kyoto Station is also a major bus terminal, and visitors can take buses to various destinations in Kyoto and beyond. Visitors can take the Kyoto City Bus, the Keihan Bus, or the Kintetsu Bus to reach the station. The bus terminal is located on the south side of the station, and visitors can access the Kyoto Station Area by walking or taking the escalators up to the ground level.
By Taxi: Taxis are also a convenient way to reach the Kyoto Station Area. Visitors can take a taxi from any part of Kyoto, and the ride to the station usually takes around 10-15 minutes depending on traffic. Taxis can drop off passengers at the taxi stand located on the south side of the station.
Things to Do in Kyoto Station Area
Kyoto Station Area is a bustling hub of activity with plenty of things to do and see. Whether you're looking to shop, explore temples, or take in the sights from above, you are sure to find something interesting to do.
Visit Temples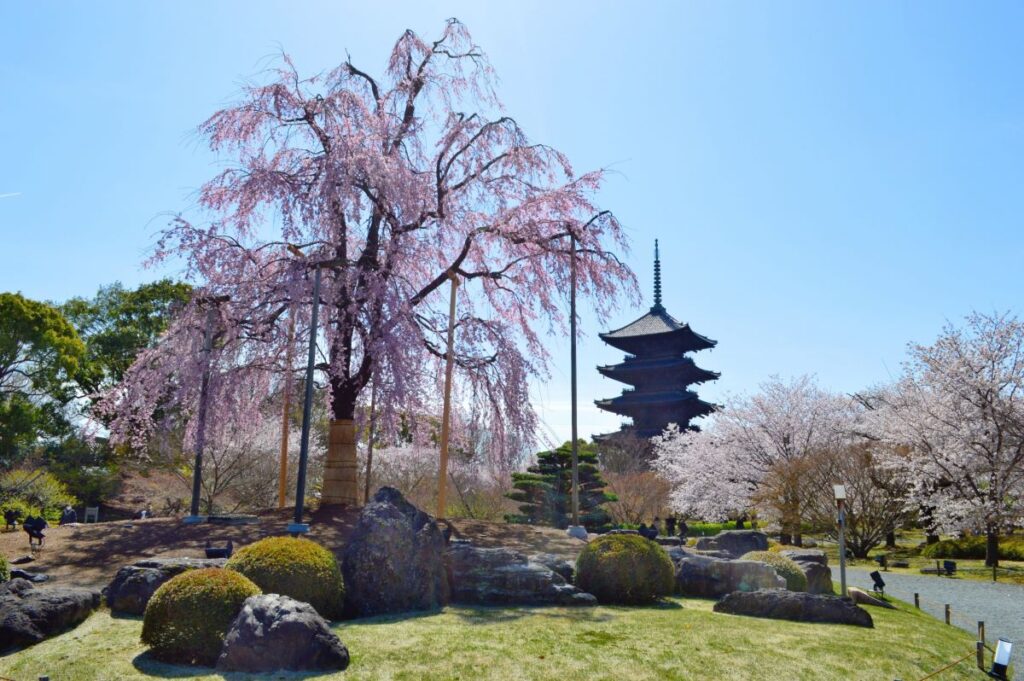 There are several temples located near Kyoto Station, including Tō-ji and Tōfuku-ji. Tō-ji is a UNESCO World Heritage Site and features a five-story pagoda that is the tallest wooden tower in Japan. Tōfuku-ji is known for its beautiful autumn foliage and is a popular spot for visitors during the fall season.
Explore Kyoto Tower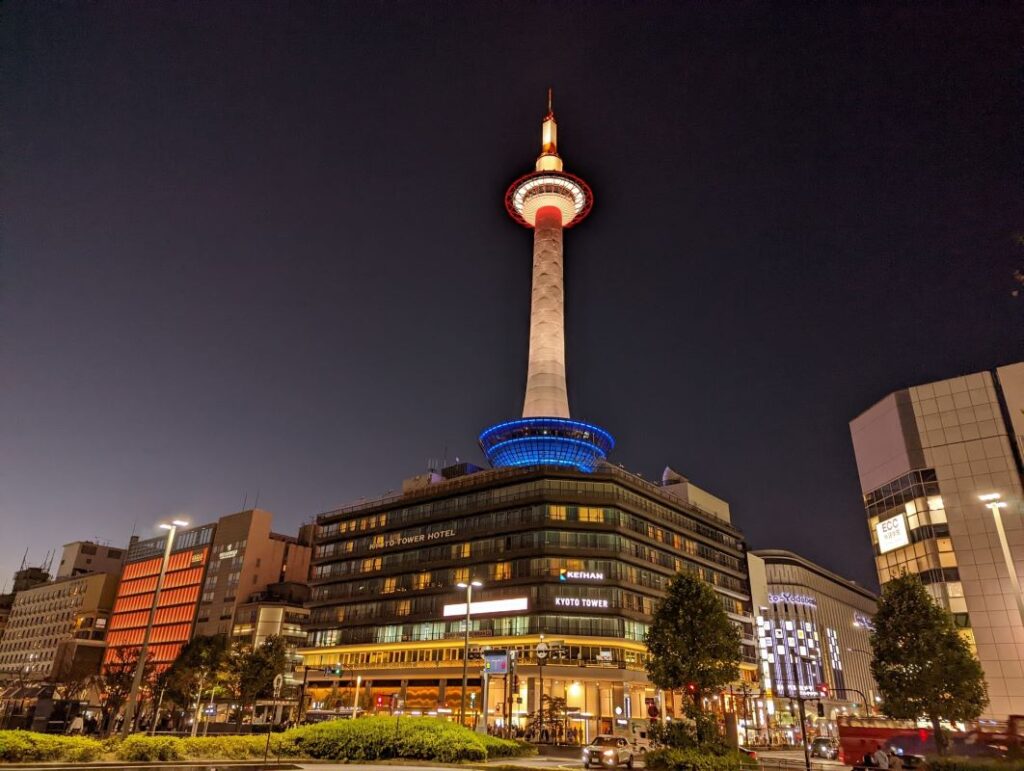 Kyoto Tower is a 328-foot-tall tower located near Kyoto Station. Visitors can take an elevator to the top for panoramic views of the city. The tower also features a variety of restaurants, souvenir shops, and a public bathhouse.
Shop at Kyoto Station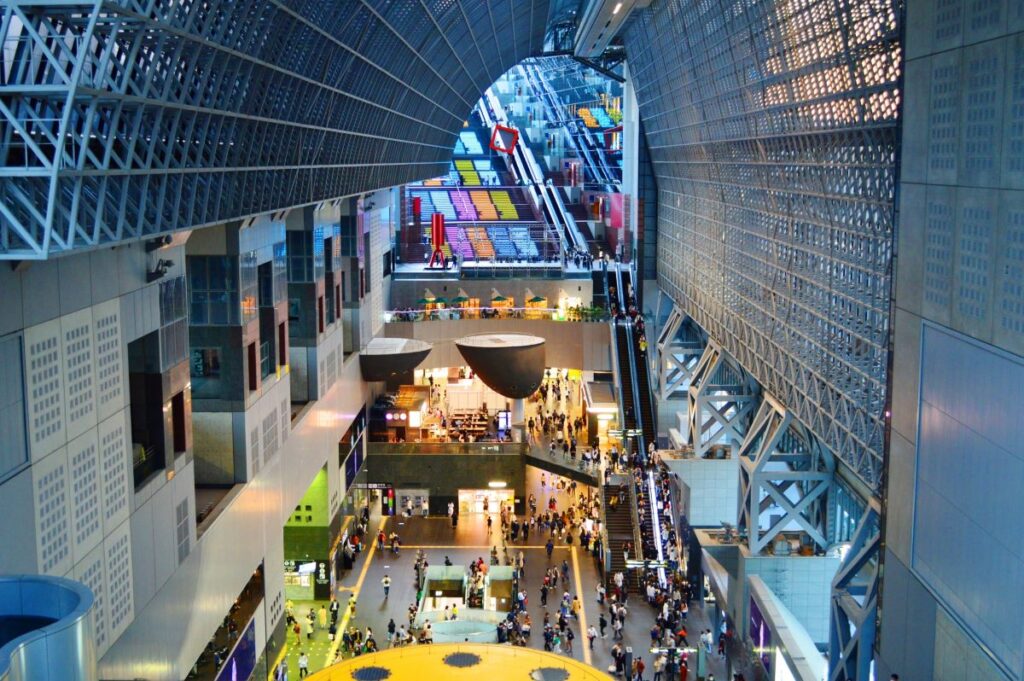 Kyoto Station is home to several large shopping malls, including Isetan and The Cube. You can shop for a variety of goods, from traditional Japanese crafts to high-end fashion brands. There are also several electronics stores in the area, such as Yodobashi Camera and Bic Camera, for those looking to purchase gadgets or appliances.
Take in the View from Kyoto Station Building Roof
The Kyoto Station Building has a large rooftop area that offers stunning views of the city where you can enjoy the scenery while sipping on a cup of coffee or a cold drink from one of the many cafes located in the building.
Visit the Kyoto Railway Museum
The Kyoto Railway Museum is just a short walk from Kyoto Station and features a variety of exhibits showcasing the history of Japan's railways. You can see vintage trains, simulators, and other railway-related artifacts.
Where to Eat in Kyoto Station Area
Kyoto Station Area is home to some of the best restaurants in the city. With a variety of options available, visitors can indulge in traditional Japanese cuisine or try out some international dishes. Here are some of the best places to eat in Kyoto Station Area:
Kobushi Ramen
If you're looking for a quick and delicious meal, Kobushi Ramen is the perfect choice. This restaurant is located near Keihan Shichijo Station and offers some of the best ramen in Kyoto. The broth is rich and flavorful, and the noodles are cooked to perfection. Don't forget to try their gyoza, which is crispy on the outside and juicy on the inside.
Kyoto Ramen Koji
Another great ramen spot in Kyoto Station Area is Kyoto Ramen Koji. This restaurant features eight different ramen shops, each with their own unique flavors and styles. Visitors can try out different types of ramen and find their favorite. The atmosphere is lively and fun, making it a great spot for groups.
Yakitori Kikuyoshi
If you're in the mood for some grilled skewers, Yakitori Kikuyoshi is the place to go. This restaurant is known for its delicious chicken skewers, which are grilled to perfection. Visitors can also try out other grilled dishes, such as beef tongue or vegetables. The atmosphere is cozy and intimate, making it a great spot for a date or a night out with friends.
Kyoto Gatten Sushi
If you're a sushi lover, Kyoto Gatten Sushi is a must-visit spot in Kyoto Station Area. This restaurant offers a unique sushi experience, where visitors can order sushi using a touch screen. The sushi is then delivered to their table on a conveyor belt. The fish is fresh and the sushi is beautifully presented. Don't forget to try out their signature dish, the Kyoto-style egg sushi.
These are just a few of the many great restaurants in Kyoto Station Area. Visitors can also check out the department stores and shopping malls in the area, which offer a variety of dining options.
Where to Stay in Kyoto Station Area
The Kyoto Station area is one of the most convenient places to stay in Kyoto. It is located in the heart of the city and is the transportation hub of Kyoto, making it easy to travel to different parts of the city and beyond. There are also plenty of accommodation options in the area, ranging from budget-friendly hostels to luxury hotels.
For those who are looking for more budget-friendly options, there are several hostels and guesthouses in the area. The Kyoto Station Area has many capsule hotels and budget-friendly hotels that are perfect for solo travelers or those on a tight budget.
Overall, the Kyoto Station area offers a wide range of accommodation options for travelers of all budgets and preferences. Whether you prefer to stay in a luxury hotel or a budget-friendly hostel, there is something for everyone in this bustling area of Kyoto.
Tips for Visiting Kyoto Station Area
When visiting Kyoto Station Area, it's important to keep a few things in mind to make the most of your experience. Here are some tips:
Use the tourist information center: The tourist information center located in the station is a great resource for visitors. There, you can get maps, ask for recommendations, and even book tours.
Take advantage of the shopping: Kyoto Station Area is home to a variety of shops, ranging from high-end department stores to souvenir shops. Take some time to explore the shopping options and pick up some unique souvenirs to take home.
Visit the observation deck: The observation deck on top of Kyoto Station offers stunning views of the city. It's free to visit and is open from 9:00 am to 9:00 pm.
Try the food: Kyoto Station Area is home to a variety of restaurants and food stalls, offering everything from traditional Japanese cuisine to international dishes. Don't be afraid to try something new!
The Sum Up
With its modern architecture, bustling atmosphere, and rich cultural landmarks, this area offers a unique blend of old and new Japan.