Osaka is a diverse metropolis that has plenty to offer. Whether you're looking for historical architecture, an eclectic food scene or just want to take in the cityscape from one of its many observation decks and towers – Osaka can provide it all.
Here, we will explore what there is to do during your visit to Japan's third-largest city. From delicious street food at bargain-filled markets, getting lost in ancient shrines and castles or simply enjoying the unique energy and comedic flourishes of the Osaka people themselves.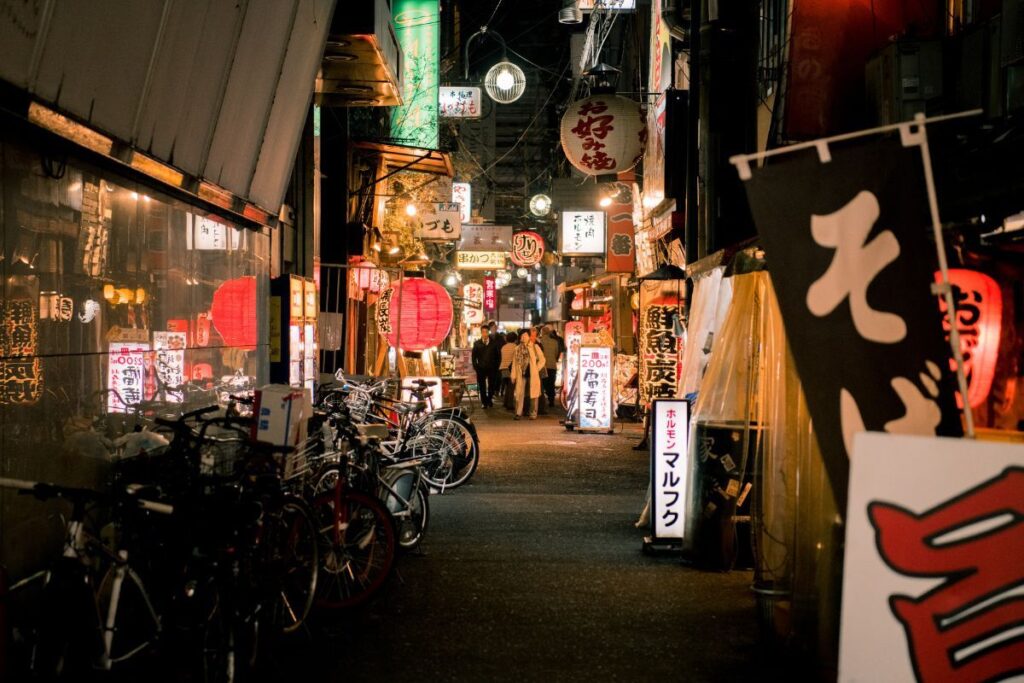 With so much on offer, make sure you add plenty of time into your itinerary when planning out your trip as Japan's kitchen is it's lovingly known and should not be missed off any bucket list.
Key points
Make sure to explore the vibrant culture and nightlife of Osaka—known as Japan's "kitchen" for its famous street food, unique bars, and lively izakayas (Japanese pubs).
Visit some of Osaka's most popular attractions such as Universal Studios Japan, and the historic castle grounds at Ōsaka-jo Park, or take a stroll along Dōtonbori riverfront area to admire its bright lights and towering billboards.
Sample local specialties throughout your stay – from takoyaki octopus balls to okonomiyaki savory pancakes made by specially trained chefs right before your eyes.
Shop till you drop in Shinsaibashi and Umeda
Osaka is well connected to the rest of Japan via shinkansen (bullet trains) and other public transportation options, making it easy to get t
As one of Japan's largest cities with over 19 million people living within its suburbs, it has a more busy vibe than Kyoto, its more refined snobbish older brother just 50 km up the Yodogawa river.
The impressive dining options vary widely depending on what you're looking for – from street food stands selling takoyaki and okonomiyaki to upscale restaurant chains serving sushi, or word-class international dishes
A Very Brief History of Osaka
Osaka, Japan's third-largest city and the heart of the Kansai region has a rich history dating back to ancient times when it was still known by its old name of Naniwa
Archeological evidence suggests that people inhabited Osaka as early as the 10th century BC during the Yayoi period.
Founded in the 5th century, it flourished as an important port and trading hub for many years. In 1615, Toyotomi Hideyoshi established Osaka Castle which was later burned down by Tokugawa troops during their victory against the Toyotomi clan in the 1615-1618 period known as "The Siege Of Osaka".
In 19-20 centuries after the Meiji Restoration urban development took place transforming Osaka into one of Japan's most important cities – even today its economy remains strong due to being home to some world-leading companies such as Panasonic and Honda.
With countless historical monuments including Shitennoji Temple, Sumiyoshi Taisha Shrine, Tsutenkaku Tower or Naniwa Palace ruins there are plenty of things to explore when visiting the vibrant 'City Of Water' ass it's known.
Ok now that history class is all wrapped up, let's take a look at all the wonderful things to do in Osaka! But be warned. There's a lot here, so you may have a hard time narrowing your list down.
Enter Osaka Castle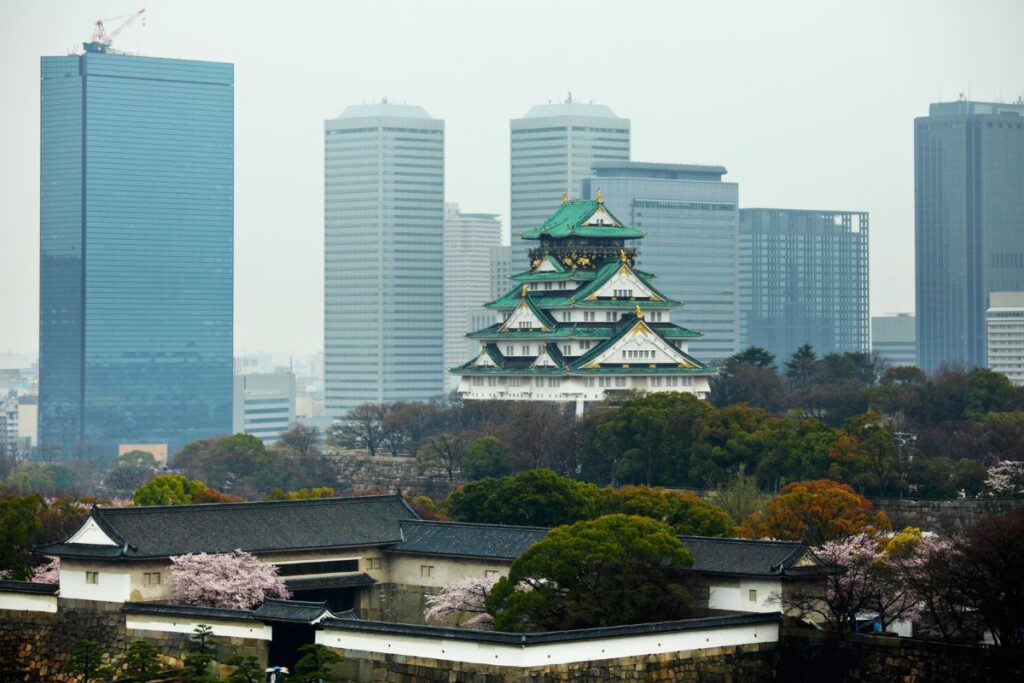 Osaka Castle is a symbol of the city's rich history and is one of the most visited tourist attractions. The castle was built in 1583 by Toyotomi Hideyoshi, a Japanese warrior, and ruler. The castle has been destroyed and rebuilt several times throughout history, with the current structure dating back to 1931.
We love to explore the castle's interior and learn about the history of Japan through exhibits and artifacts.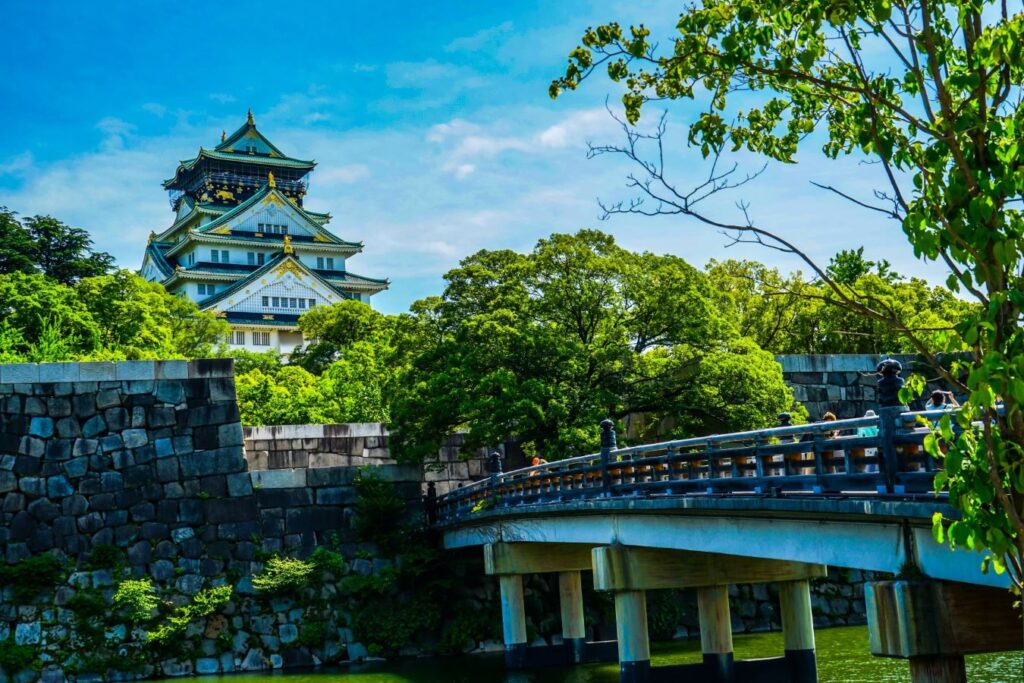 The castle's observation deck provides a breathtaking view of Osaka City and is especially stunning during cherry blossom season. While you're there take a stroll through the castle's sprawling park, which features a variety of seasonal flowers and trees.
Walk Around Dotonbori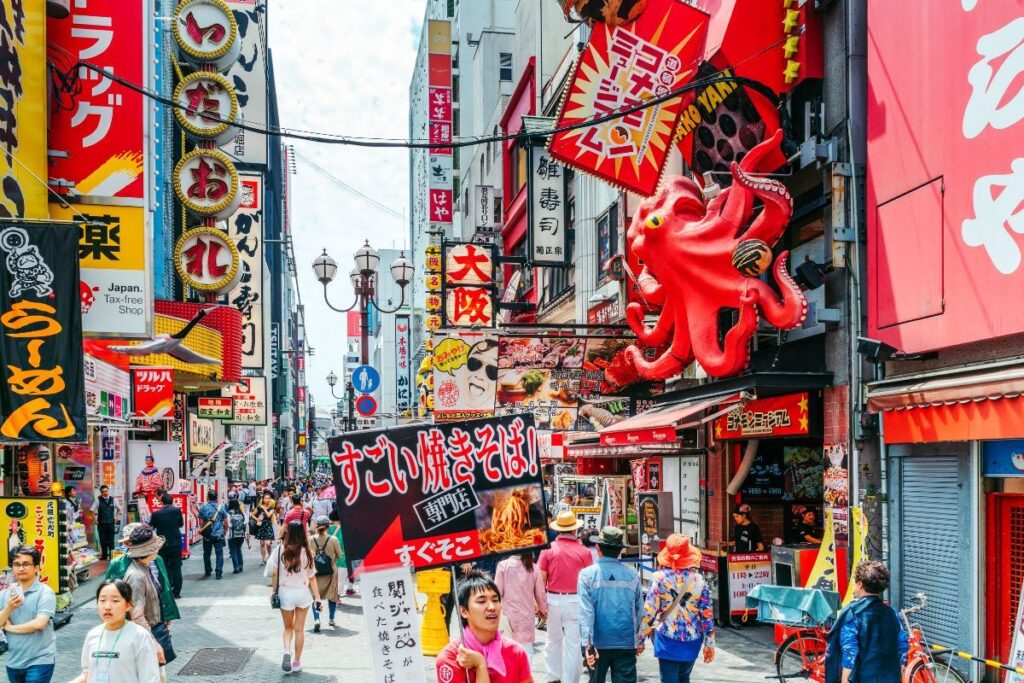 Dotonbori is Osaka's most popular entertainment district, known for its bright neon lights, bustling crowds, and delicious street food. You can take a stroll along the Dotonbori Canal and enjoy the vibrant atmosphere while sampling some of Osaka's famous dishes, such as takoyaki (grilled octopus balls), okonomiyaki (savory pancakes), and kushikatsu (deep-fried skewered meat and vegetables).
Dotonbori is also home to several entertainment options, including theaters, clubs, and karaoke bars. The district's giant illuminated signs, including the iconic Glico Running Man, provide the perfect backdrop for photos and are a must-see when visiting Osaka.
Marvel At The Osaka Aquarium Kaiyukan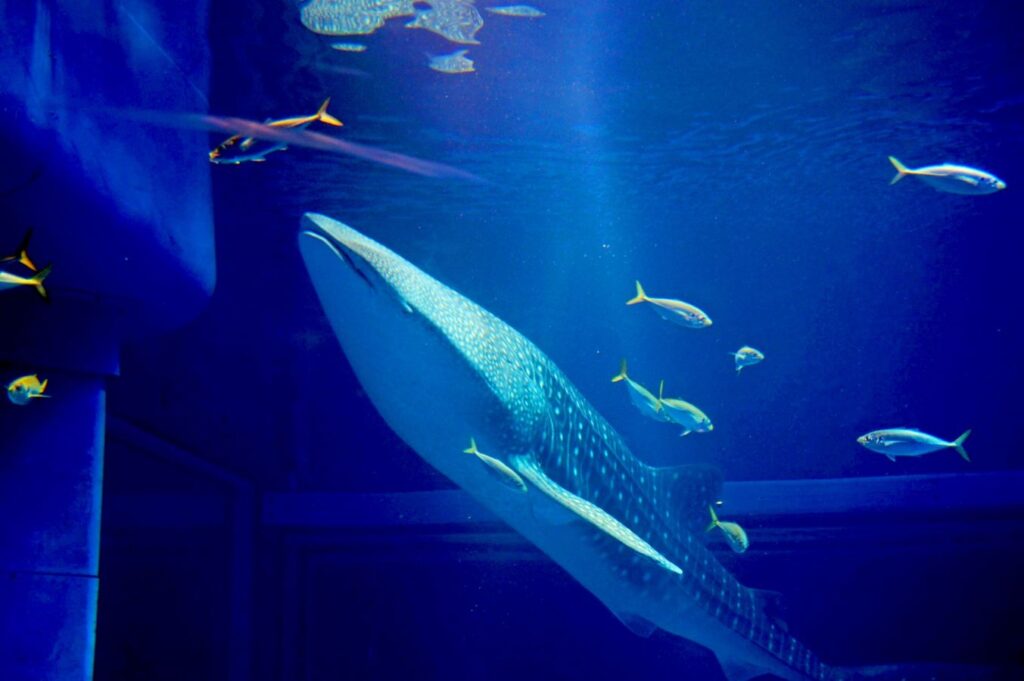 The Osaka Aquarium Kaiyukan is one of the largest aquariums in the world, featuring over 30,000 marine animals from over 620 species. As you walk through the aquarium's enormous tanks and see a variety of sea creatures, including whale sharks, manta rays, and penguins.
The aquarium's exhibits are organized by the Pacific Rim's various marine environments, including the Great Barrier Reef, the Aleutian Islands, and the Gulf of Panama. And don't forget the aquarium's "Aqua Gate" exhibit, which features an underwater tunnel that allows visitors to see marine life from all angles.
Enjoy The Views At Abeno Harukas 300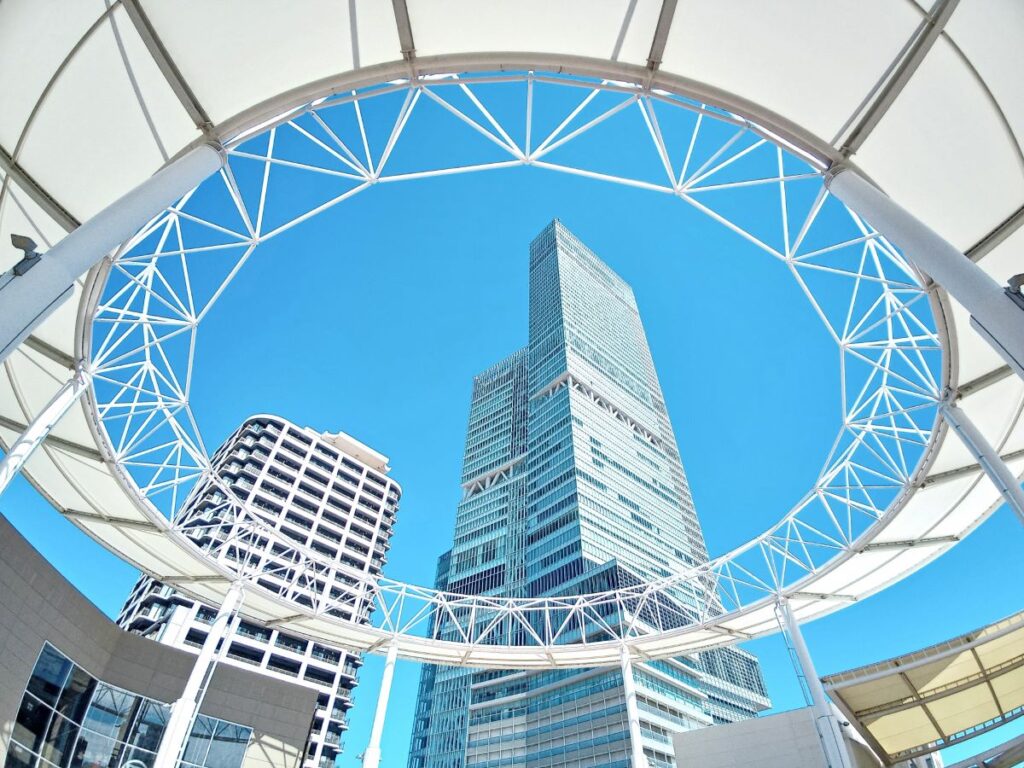 Abeno Harukas 300 is one of Japan's tallest buildings. Standing at a mighty 300 meters high, it offers sweeping views of the Osaka skyline from its stylish and modern observation deck. Inside you'll find an array of activities to keep all ages entertained including; a shopping mall filled with over 160 stores and restaurants, cinemas, bowling alleys & plenty more.
It even has onsite accommodation so you can stay in this iconic building. With something for everyone, Abeno Harukus 300 is guaranteed to provide unforgettable experiences that will last long after your visit.
Abeno Harukas 300 is a serious rival to the Iconic Umeda Sky Building for the Best Observation deck in Osaka title.
Experience The Fun Of Universal Studios Japan
The gigantic Universal Studios Japan is one of Japan's most popular theme parks and is located in Osaka's Bay Area. The park features several attractions based on popular movies and TV shows, including Harry Potter, Jurassic Park, and Jaws.
We love the park's seasonal events, including Halloween Horror Nights and Universal Wonder Christmas. The park's Wizarding World of Harry Potter is a must-see for fans of the series and features a replica of Hogwarts Castle and Hogsmeade Village.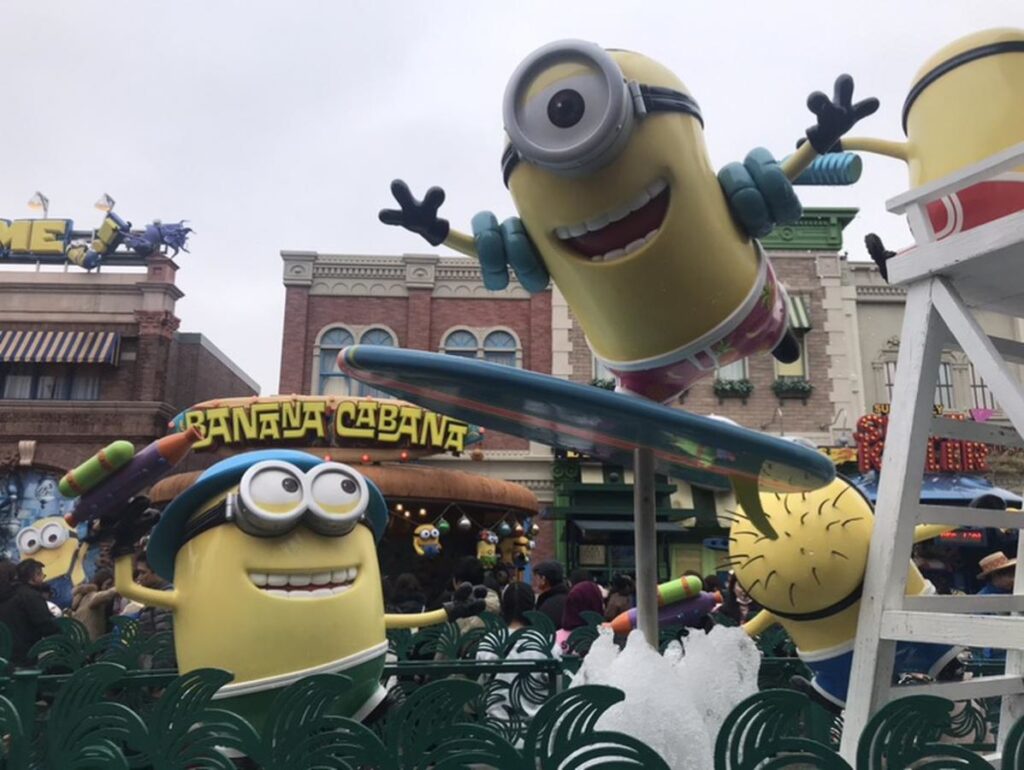 There are also rides such as the Harry Potter and the Forbidden Journey, Flight of the Hippogriff, and the Jurassic Park – The Flying Dinosaur.
The park also has restaurants and cafes serving delicious food and snacks, including Butterbeer, which is a must-try for any Harry Potter fan.
Pay Your Respects At Shitennoji Temple
The Shitennoji Temple is one of the oldest temples in Japan, dating back to the 6th century. The temple was founded by Prince Shotoku, who played a significant role in introducing Buddhism to Japan.
The temple's main hall, the Honden, is a designated National Treasure of Japan and features stunning architectural details and artwork.
Take a Cruise on the Tombori River
The Tombori River is a scenic waterway that runs through the heart of Osaka's entertainment district. After gulping down some Takoyaki in Dontonbori why not take a leisurely cruise along the river and enjoy stunning views from the water?
The Tombori River Cruise, covered by the Osaka Amazing Pass is a popular activity for couples and families, and the boats are equipped with comfortable seating and audio guides in multiple languages.
Walk Along Tenjinbashi-suji Shopping Street
The Tenjinbashi-suji Shopping Street is the longest shopping street in Japan, stretching for over 2.6 kilometers. The street is home to over 600 shops and restaurants, offering a wide variety of goods and cuisine.
Come here to stroll through the bustling street and shop for souvenirs, clothing, electronics, and more. The street also has a variety of food options, including local specialties such as kushikatsu and takoyaki.
The Tenjinbashi-suji Shopping Street is a great place away from the main tourist attractions to experience Osaka's everyday shopping culture and sample some delicious cuisine with the locals.
View The National Museum of Art, Osaka
The National Museum of Art, Osaka, is famous for being fully underground and iss a must-visit for art lovers and enthusiasts. The museum features a vast collection of modern and contemporary art, including works by Japanese and international artists.
The museum's permanent collection includes over 7,000 pieces, ranging from paintings and sculptures to installations and video art.
Relax at Spa World
Spa World is a unique spa facility that offers a range of hot springs and baths from around the world. The facility features themed floors, including European, Asian, and Middle Eastern-inspired baths, as well as a pool and a sauna.
Relax and unwind in the various hot springs and baths, which are said to have therapeutic benefits for the body and mind. They also have a variety of restaurants and lounges serving food and drinks, as well as massage and beauty treatments.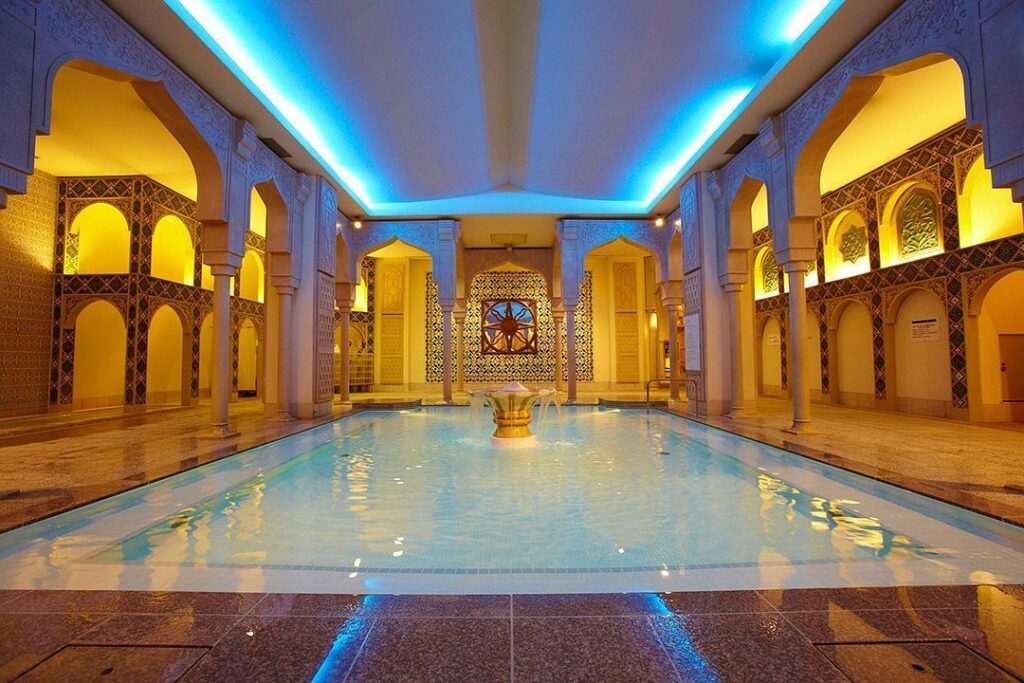 A visit to Spa World is the perfect way to pamper yourself and experience Japanese spa culture.
Learn At The Osaka Science Museum
The Osaka Science Museum is a fascinating destination for those interested in science and technology. The museum features interactive exhibits on various scientific fields, including physics, chemistry, and biology.
We love the various hands-on activities, such as simulating an earthquake or controlling a robot. The museum also features a planetarium, where you can experience an immersive journey through the universe.
If traveling with kids, the Osaka Science Museum is a great place to learn and have fun at the same time.
Take a Walk in Osaka's Parks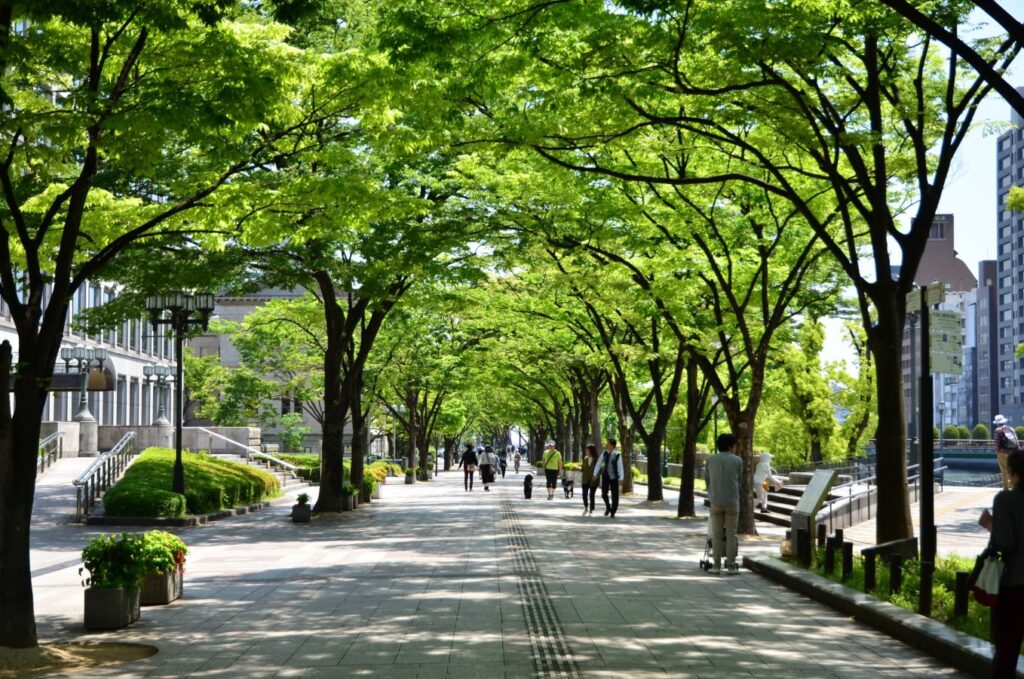 Osaka has several beautiful parks that offer a serene escape from the city's hustle and bustle. The Nakanoshima Park, located on an island in the middle of the city's rivers, is a popular spot for its rose garden and waterside vibes.
The Osaka Castle Park is another great destination, offering stunning views of the castle and its surroundings.
Eat Steetfood At Kuromon Ichiba Market
The Kuromon Ichiba Market, also known as "Osaka's Kitchen," is a must-visit for foodies. The market is over 190 years old and features over 150 shops selling a wide variety of fresh seafood, fruits, vegetables, and snacks.
Make a beeline here to sample Osaka's famous street food, such as takoyaki, grilled seafood, and kushikatsu, and shop for local ingredients and souvenirs. The market is a great place to experience Osaka's vibrant food culture and mingle with the locals.
Learn How To Cook Osaka style!
Osaka is famous for its delicious cuisine, and taking a cooking class is a great way to learn about the city's food culture and try your hand at making local dishes. Several cooking schools and restaurants offer classes and workshops, ranging from sushi making to okonomiyaki and takoyaki.
It's a great way to bring the taste of Osaka back home.
See The Osaka Of Old At The Osaka Museum of History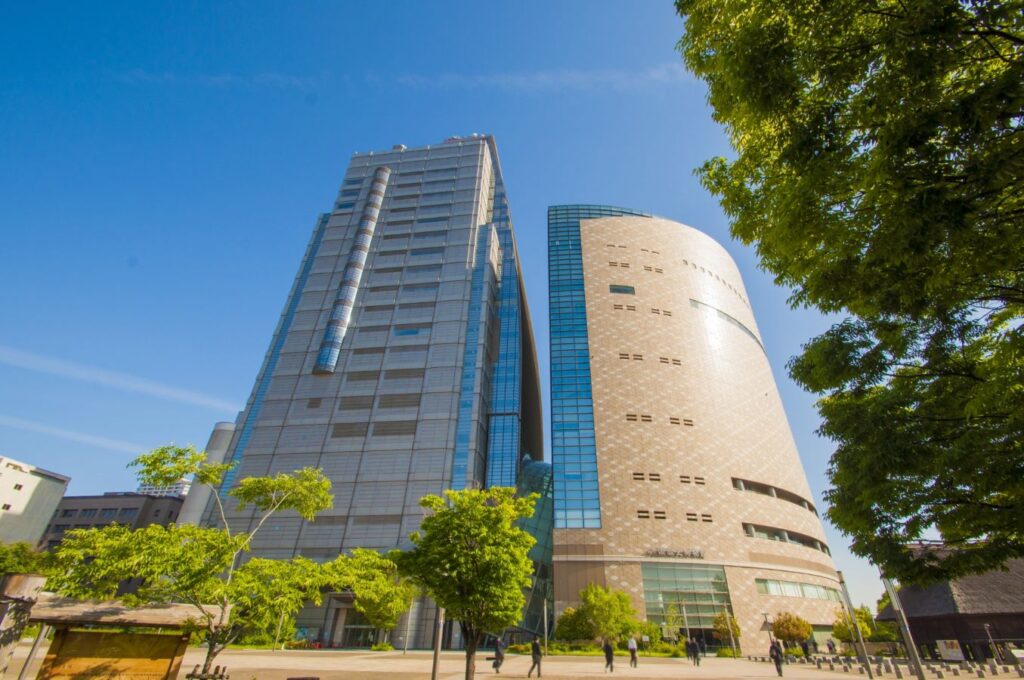 The Osaka Museum of History is a must-visit for those interested in the city's past. The museum features exhibits that cover Osaka's history from ancient times to the present day.
They have impressive life-sized replicas of historical buildings and streets, including a castle tower and a traditional merchant's house.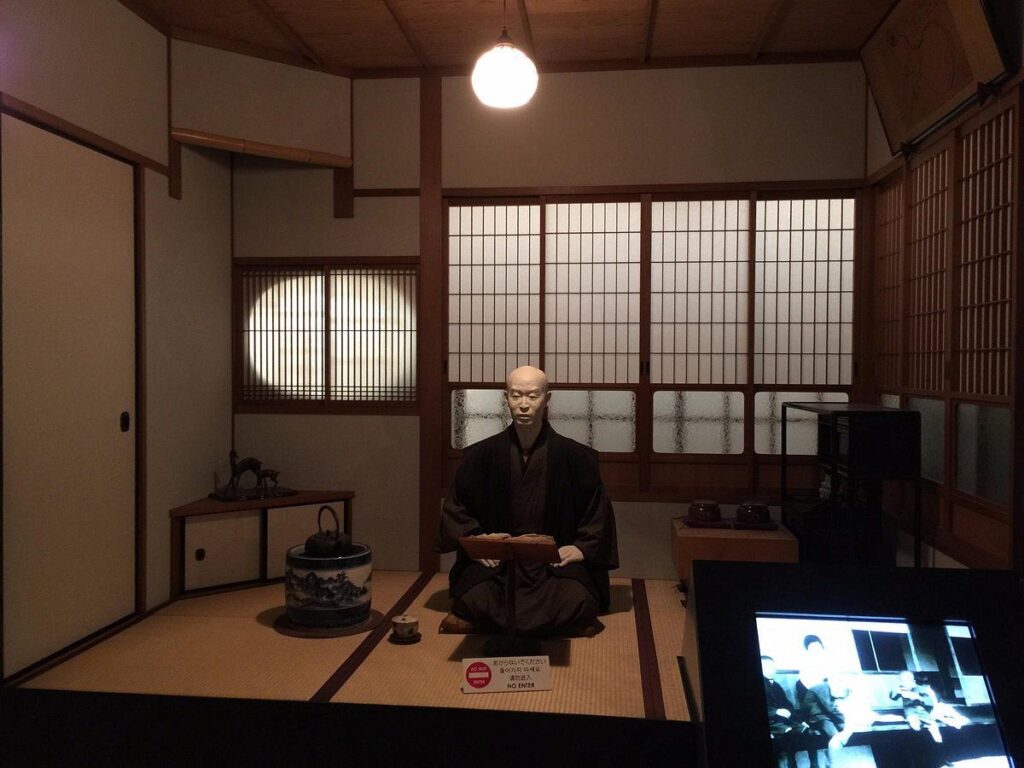 The museum is a short walk from Osaka castle and it's a great place for those looking for a deeper insight into Osaka's fascinating past.
Party The Night Away In Minami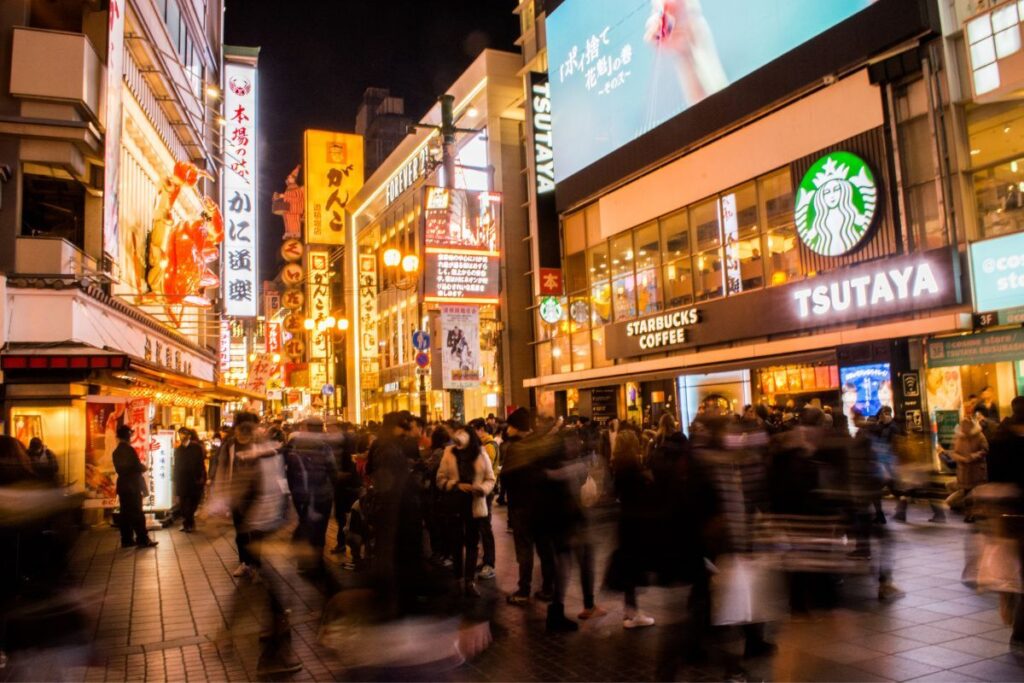 Osaka is known for its lively nightlife, with countless bars, clubs, and restaurants that stay open until the early morning hours.
The city's entertainment districts, such as Dotonbori and Shinsaibashi, or just "Minami" (south) to the locals offer a vibrant atmosphere that is perfect for partying and socializing with the friendly locals.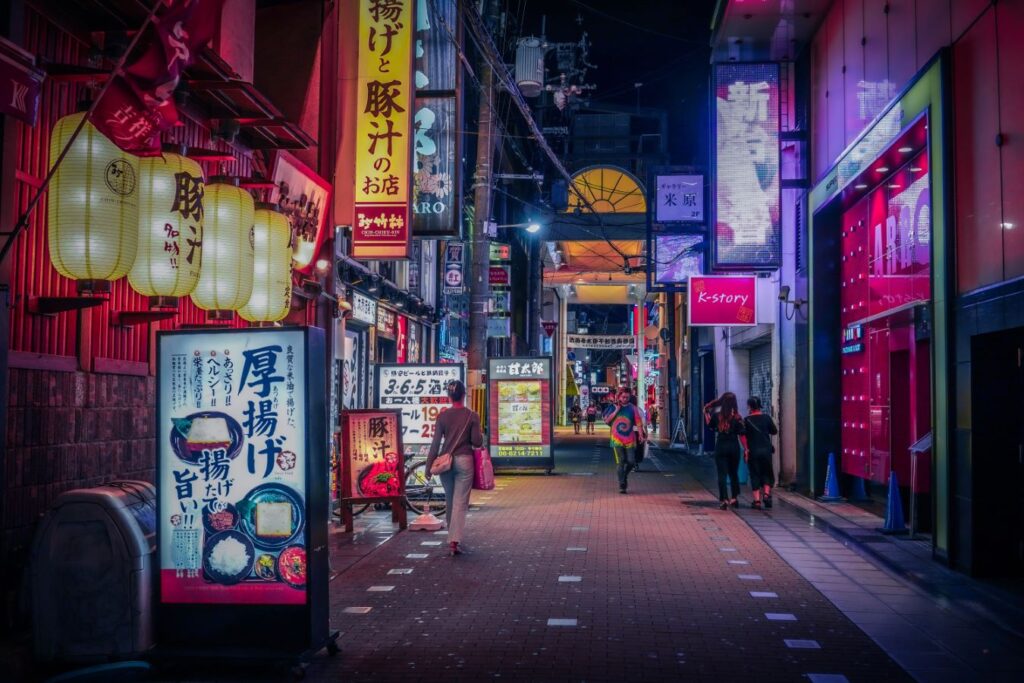 Start the night with some of Osaka's famous street food, try local drinks such as sake and shochu, and dance the night away at one of the many clubs and music venues.
Note: Osaka folks may just be the best partiers in Japan. Enjoy!
Check Out The Osaka City Central Public Hall
The Osaka City Central Public Hall is a stunning building that showcases the city's European-inspired architecture. The hall was built in 1918 and features a beautiful concert hall, a library, and exhibition spaces.
The building is an iconic landmark of Osaka and the surrounding riverside area is great to explore.
Take a Bicycle Tour of Osaka
Exploring Osaka on a bicycle is a fun and unique way to see the city's sights and neighborhoods.
You can mount up and cycle through Osaka's parks and riverside paths, explore the city's historical districts and stop at local shops and cafes. A bicycle tour is a great way to get some exercise after eating all those Takoyaki and experience Osaka in a new and exciting way.
Do A Go Kart Tour Of Osaka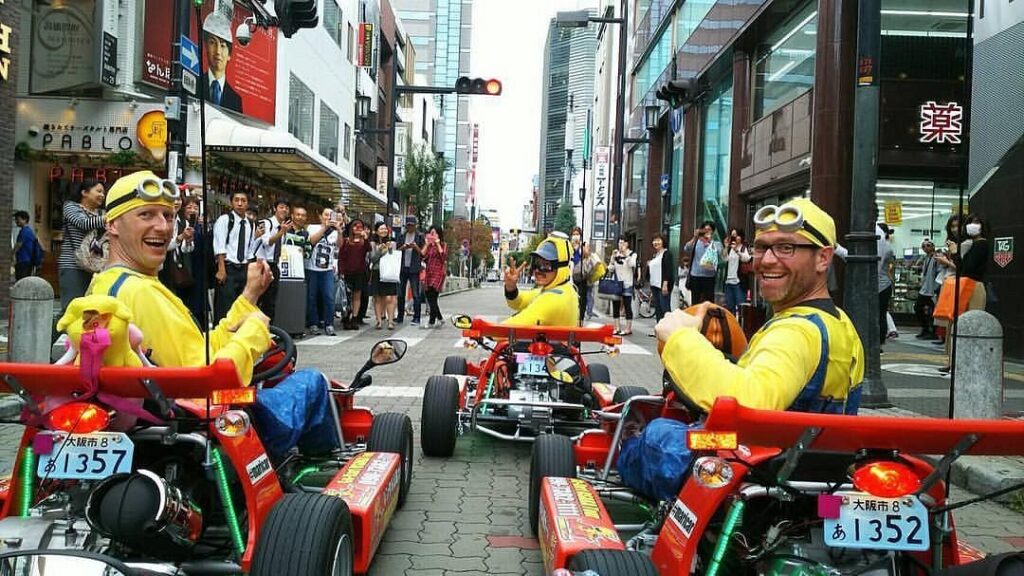 For something completely different and unforgettable why not dress up your favorite cosplay outfit, jump in a go Kart, and zoom around Osaka past many of the attractions covered here?
An Osaka Go Kart tour is sure to be an unforgettable and no doubt hilarious adventure.
Just make sure to book early because the tour sells out fast!
More: Osaka Go Kart Tour
Visit the Umeda Sky Building
The Umeda Sky Building is a stunning skyscraper that offers panoramic views of Osaka and its surroundings. The building features a unique design that includes two towers connected by a floating garden observatory.
Take the amazing glass elevator to the observatory and enjoy the breathtaking views of the city. It's a popular spot for romantic dates and photography, especially during sunset.
Explore the Osaka Bay Area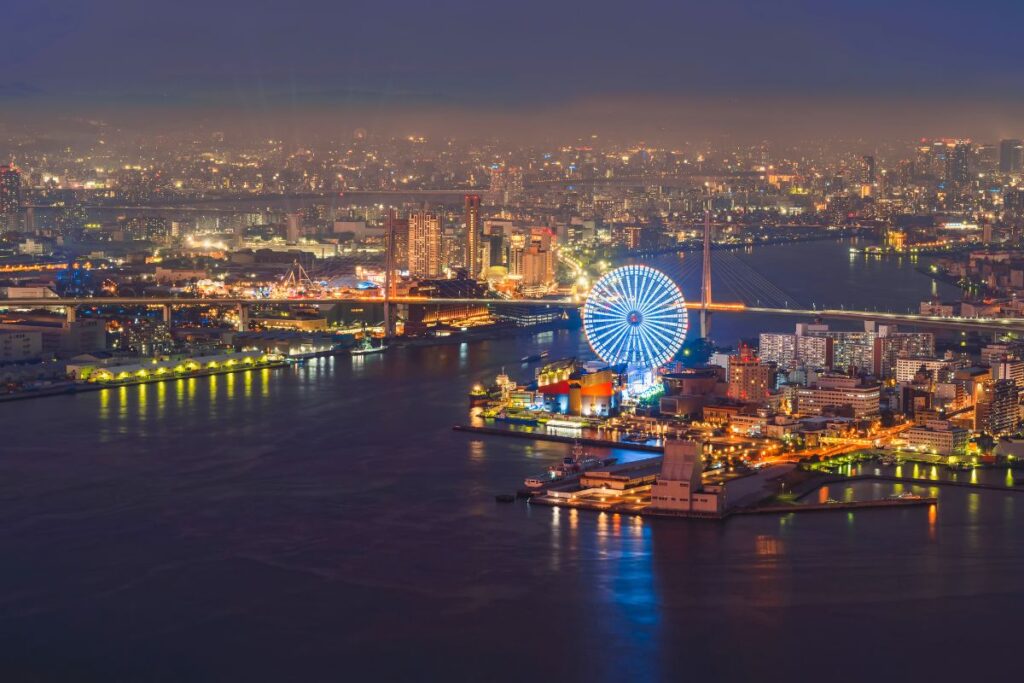 The Osaka Bay Area is a modern and futuristic district that is home to several attractions and landmarks. The area features the famous Osaka Aquarium Kaiyukan, which is one of the largest aquariums in the world and showcases a variety of marine life.
On our last trip, we came here to shop, get some great food at the Tempozan Marketplace, ride the Tempozan Ferris Wheel, and visit the LEGOLAND Discovery Center.
The Osaka Bay Area is a bit more open and is a great destination for families or young couples.
Get Spiritual Sumiyoshi Taisha Shrine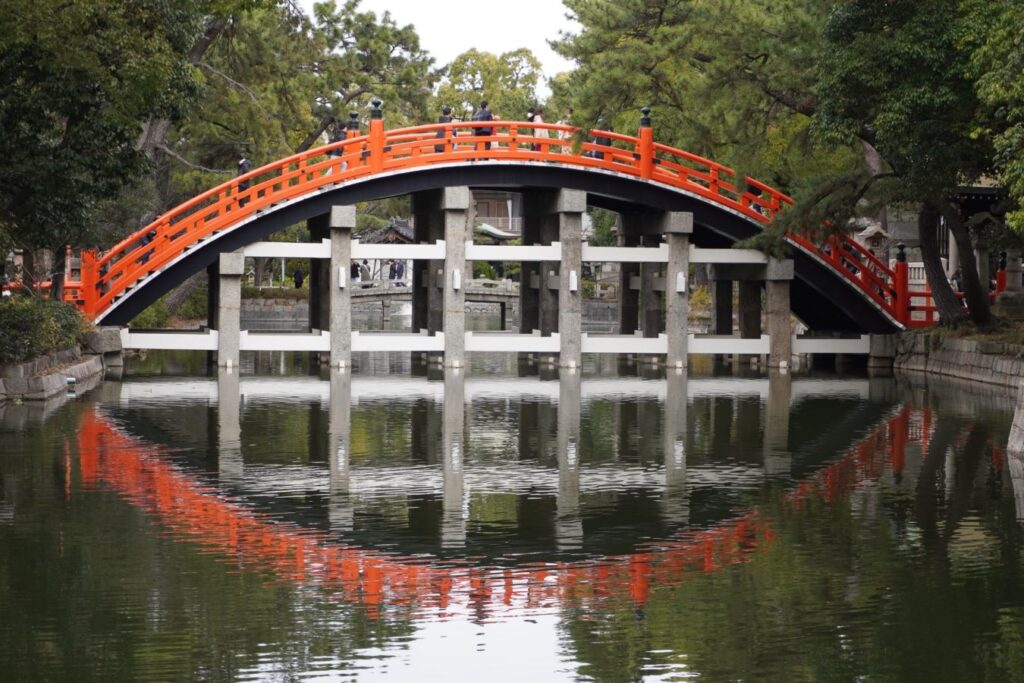 We loved spending an afternoon here. The Sumiyoshi Taisha Shrine is one of the oldest and most important shrines in Japan, dating back to the 3rd century.
The shrine is dedicated to the three gods of the sea and is known for its unique architectural style, which features a curved roof and no veranda.
Allow some extra time to explore the shrine's buildings, gates and amazing red bridge, and adjacent park and pond.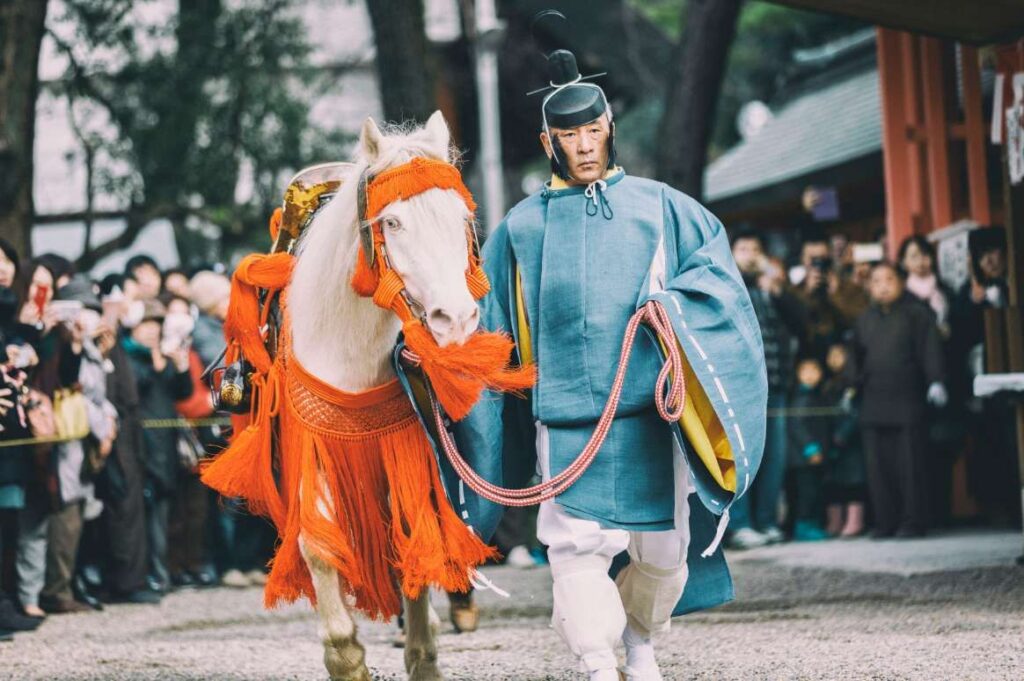 The Sumiyoshi Taisha Shrine is also is a great place for photographers to take some cool snaps while you learn about Japan's Shinto religion and history.
Drop By The Osaka Tenmangu Shrine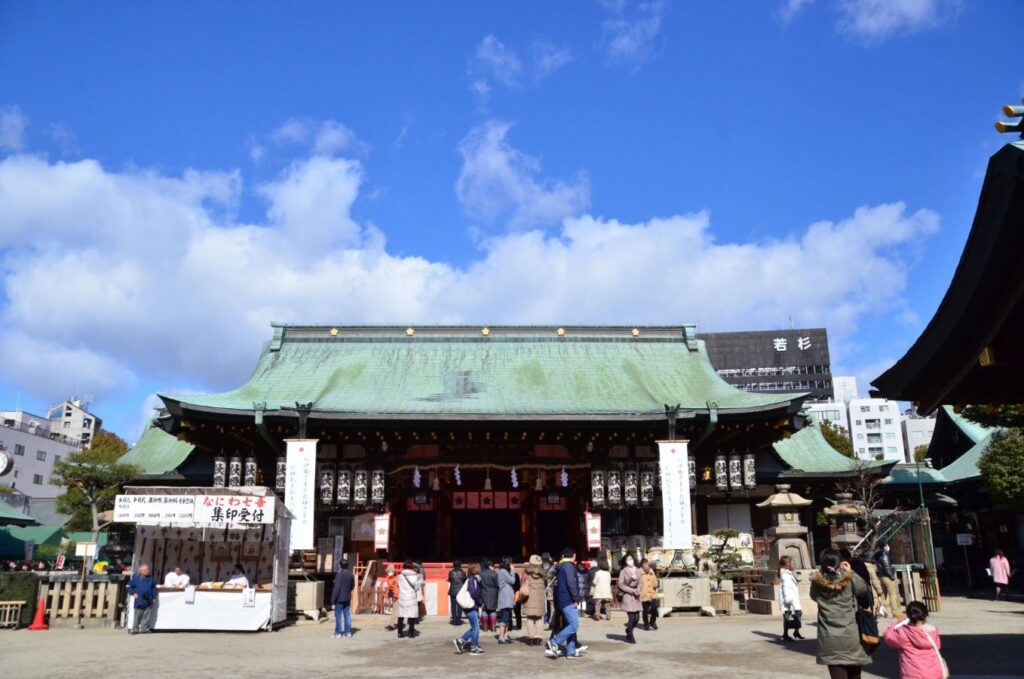 The Osaka Tenmangu Shrine is a beautiful Shinto shrine that is dedicated to the god of learning and scholarship. The shrine features a stunning vermilion gate and several buildings and gardens that are adorned with intricate carvings and decorations.
Once there can explore the shrine's various halls and worship areas, and participate in traditional rituals and ceremonies. The shrine also hosts various events throughout the year, such as the Tenjin Festival in July, which is one of Osaka's most important festivals.
Take a River Cruise on the Okawa River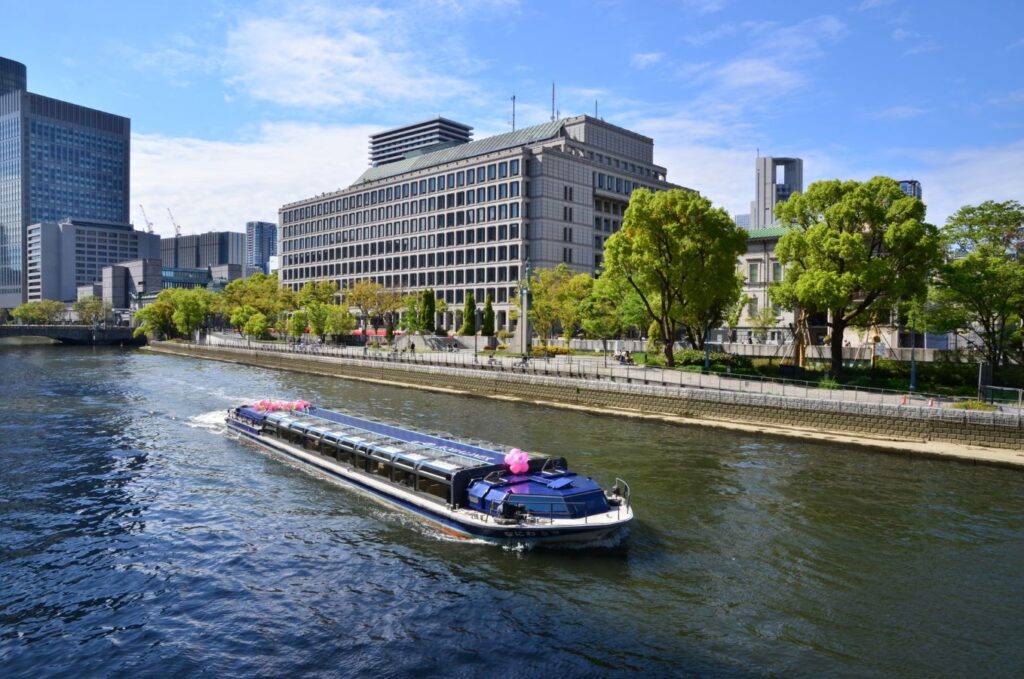 The Okawa River is a picturesque waterway that runs through the heart of Osaka and has a great cruise boat that you can head out on. Take a leisurely boat ride along the river and enjoy stunning views of the city's skyline and landmarks.
If you have the Osaka Amazing Pass, the boat cruise is included!
Stroll Around The Shinsekai District
The Shinsekai District is a vibrant and colorful neighborhood that is known for its retro atmosphere and delicious street food. The district features a famous landmark, the Tsutenkaku Tower, which offers stunning views of the city from its observation deck.
Explore the district's narrow streets and alleys, and sample local specialties such as kushikatsu, takoyaki, and fugu. The Shinsekai District is a great place to experience Osaka's unique charm and culture.
Visit the Open-Air Museum of Old Japanese Farmhouses
The Open-Air Museum of Old Japanese Farmhouses is a unique destination that showcases traditional Japanese architecture and lifestyle. The museum features several historic farmhouses from various regions of Japan, each with its unique style and design.
You can explore the farmhouses and learn about traditional farming techniques and daily life in rural Japan.
People Watch At Amerikamura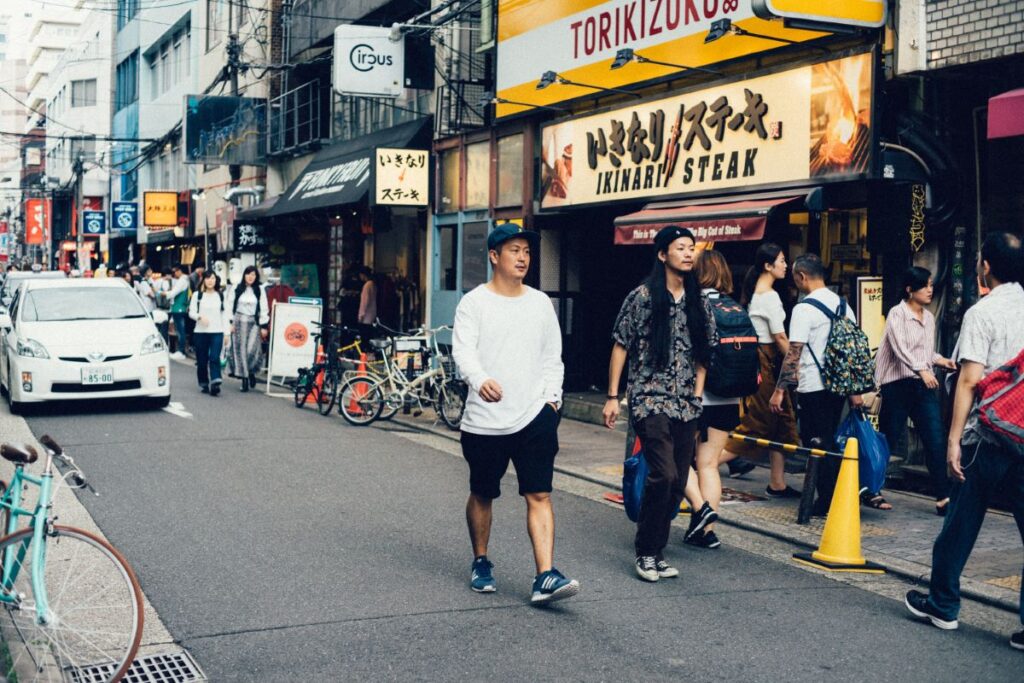 Amerikamura, also known as "Amemura," is a trendy and youthful district that is popular among Osaka's younger crowd. The district features numerous cafes, bars, and clubs that offer a lively and energetic atmosphere.
You can shop for fashion and accessories at the district's many boutiques and vintage stores, or try out local street food such as taiyaki and bubble tea. Amerikamura is a great place to experience Osaka's modern and urban culture.
Take a Food Tour of Osaka's Neighborhoods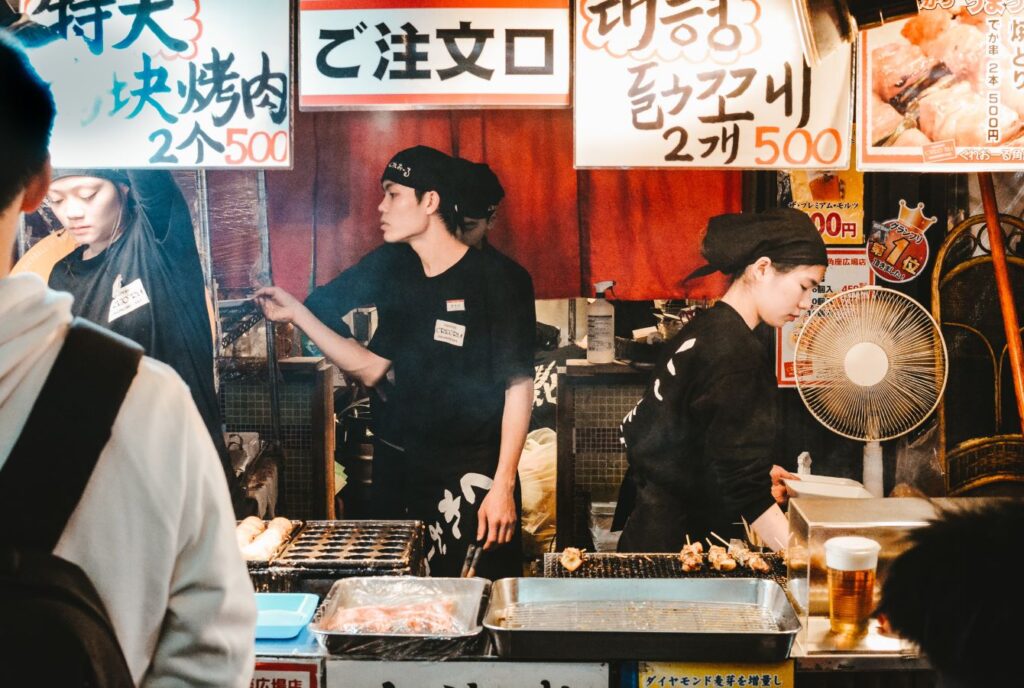 Osaka is known for its delicious cuisine, and taking a food tour is a great way to sample the city's local dishes and flavors. You can join up and try local specialties such as okonomiyaki, kushikatsu, and takoyaki, and learn about the city's food culture and history.
This a great way to experience Osaka's vibrant food scene and meet local foodies.
Explore the Osaka City Museum of Fine Arts
The Osaka City Museum of Fine Arts is a world-class museum that showcases a vast collection of Japanese and Western art. The museum features works by renowned artists such as Renoir, Monet, and Van Gogh, as well as Japanese art from various periods and genres.
Drop By The Osaka International Peace Center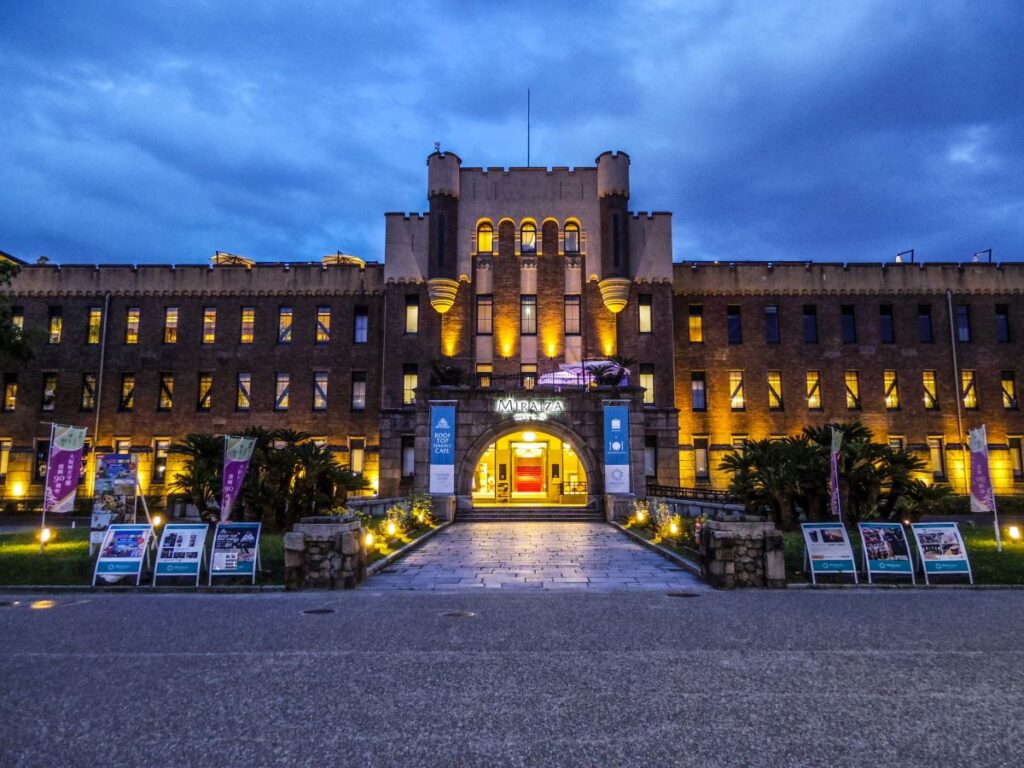 The Osaka International Peace Center just next to Osaka castle is a museum and educational center that is dedicated to promoting peace and understanding. The center features exhibits that cover the history of war and peace in Japan and the world, as well as interactive displays and workshops.
You can learn about the devastating effects of war and the importance of peace and cooperation, as well as participate in events and programs that promote dialogue and understanding. The Osaka International Peace Center is a great place to reflect and learn about important global issues.
Take a Day Trip to Kyoto
Kyoto is a city located just a short train ride away from Osaka and is a must-visit for those interested in Japanese culture and history. The city is home to over 1,600 Buddhist temples and Shinto shrines, as well as several UNESCO World Heritage Sites.
Take the train and spend a day exploring Kyoto's traditional neighborhoods, such as Gion and Higashiyama, and try a tea ceremony or even rent a kimono. Kyoto is a beautiful and serene destination that provides a stark contrast to the energy and excitement of Osaka.
Visit the Osaka Museum of Natural History
The Osaka Museum of Natural History is a fascinating museum that showcases the natural history of the Kansai region. Here you can learn about the diverse flora and fauna of the region, as well as the geological and environmental factors that shaped the Kansai landscape. The museum also features a planetarium with some impressively high specced technology.
Head To The Tennoji Zoo
The Tennoji Zoo is a popular destination for families and animal lovers. The zoo features a wide variety of animals from around the world, including lions, tigers, giraffes, and elephants.
Take a Walk Through the Namba Parks
The Namba Parks is a modern and unique shopping complex that is designed to resemble a natural canyon. The complex features a variety of shops, restaurants, and entertainment facilities, as well as a rooftop garden that offers stunning views of the city.
We love to take a leisurely walk through the rooftop gardens and do a bit of shopping. Namba Parks is just a stone's throw from Namba station and a great place to escape the heat and crowds of dotombori.
Go Up High At Hep 5 Umeda
Hep 5 Umeda is a unique and modern shopping complex in the heart of Osaka's business district known as Umeda. Take a shopping break and enjoy the fun and excitement of a Ferris wheel ride, as well as take in the stunning views of the city skyline.
Hep 5 Umeda is a great place to experience the modern and cutting-edge side of Osaka and the area at the front is a popular meeting spot
Get Away From The Bustle At The Expo '70 Commemorative Park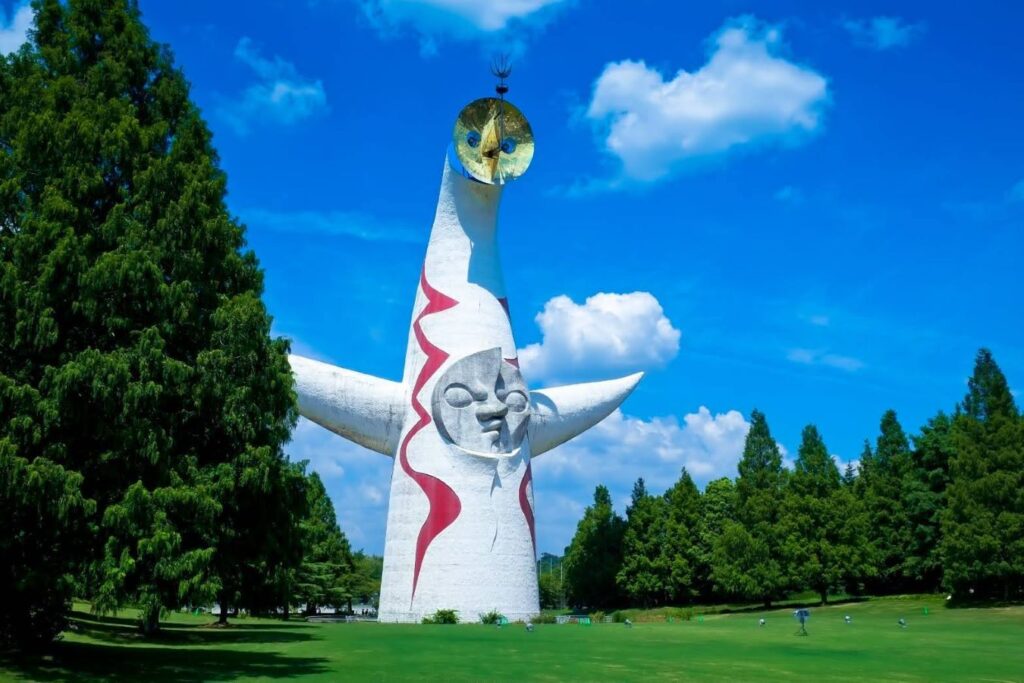 Expo '70 Commemorative Park is a sprawling park that was built to commemorate the 1970 World Exposition held in Osaka. The park features several attractions and facilities, such as the Tower of the Sun, a Japanese garden, and several museums and exhibition halls.
We love to explore the park's various attractions and learn about the history and significance of the World Exposition, as well as enjoy the beautiful natural scenery and architecture. The park is a great place to spend a leisurely afternoon and learn about Japan's cultural and technological achievements.
Eat Takoyaki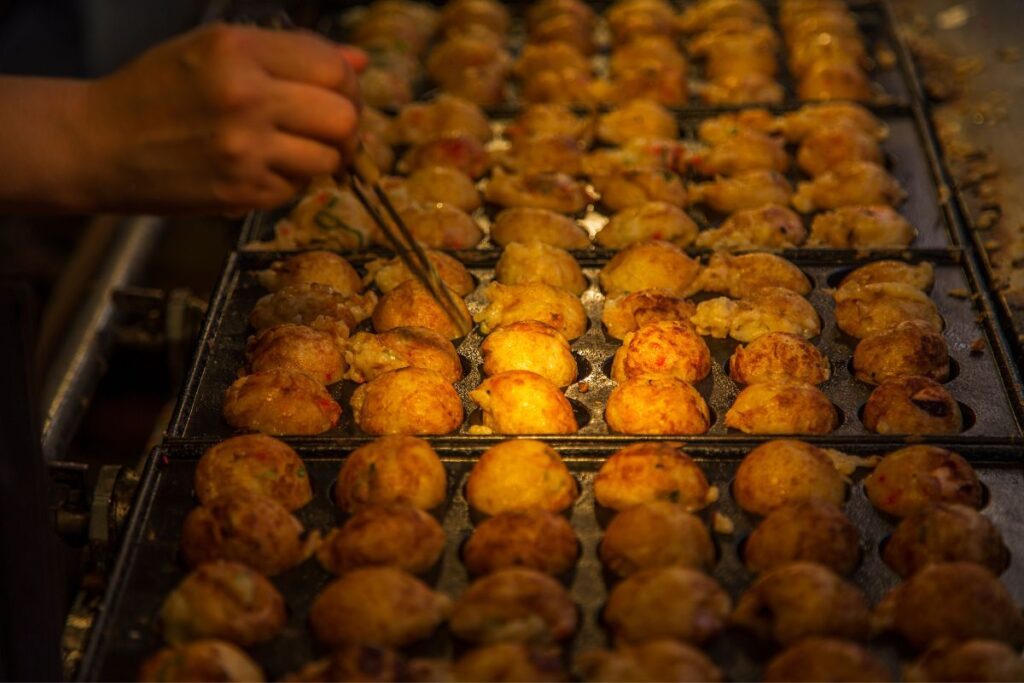 Takoyaki is a popular street food in Osaka that consists of small balls of dough filled with octopus, tempura, and green onions. The balls are cooked on a griddle and served hot with a variety of toppings, such as mayonnaise, soy sauce, and bonito flakes.
Make sure to try takoyaki at various street vendors and restaurants throughout the city, and experience the unique taste and texture of this Osaka specialty. Takoyaki is a must-try dish for any foodie visiting Osaka.
Get Back to Nature At Minoh's Otaki Falls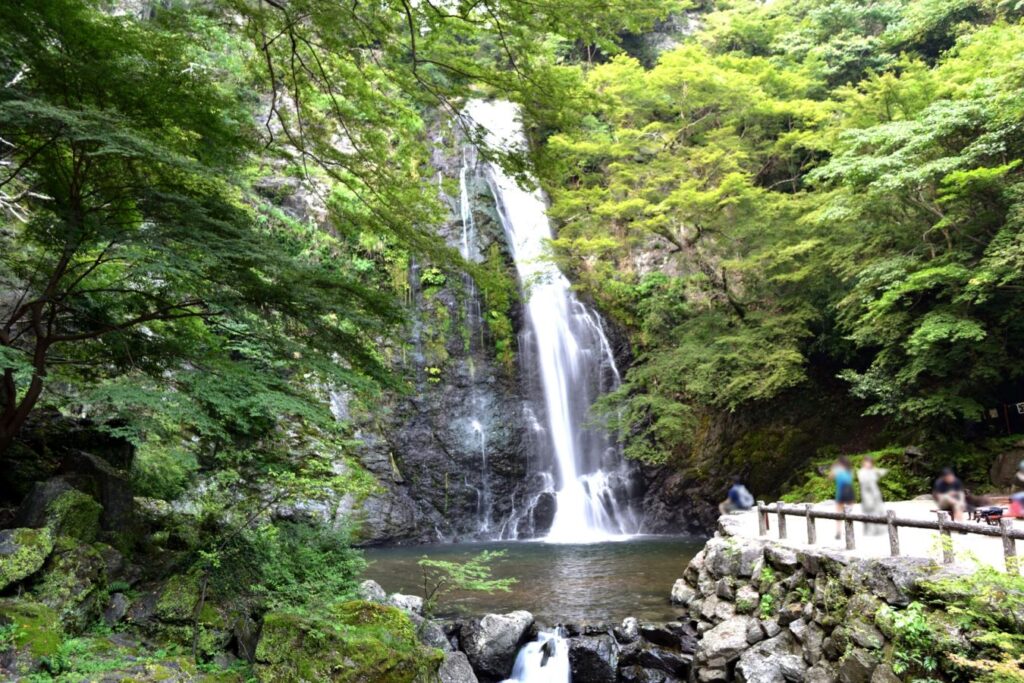 Minoh is a hot spring town located just outside of Osaka, known for its natural hot springs and beautiful scenery. The town is also home to the Otaki Waterfall, a picturesque waterfall that is a popular hiking destination.
One of the highlights of our last trip to Osaka has the hike to the Otaki Waterfall followed by a wonderful Onsen hot spring bath.
Check Out The Views From Tsutenkaku Tower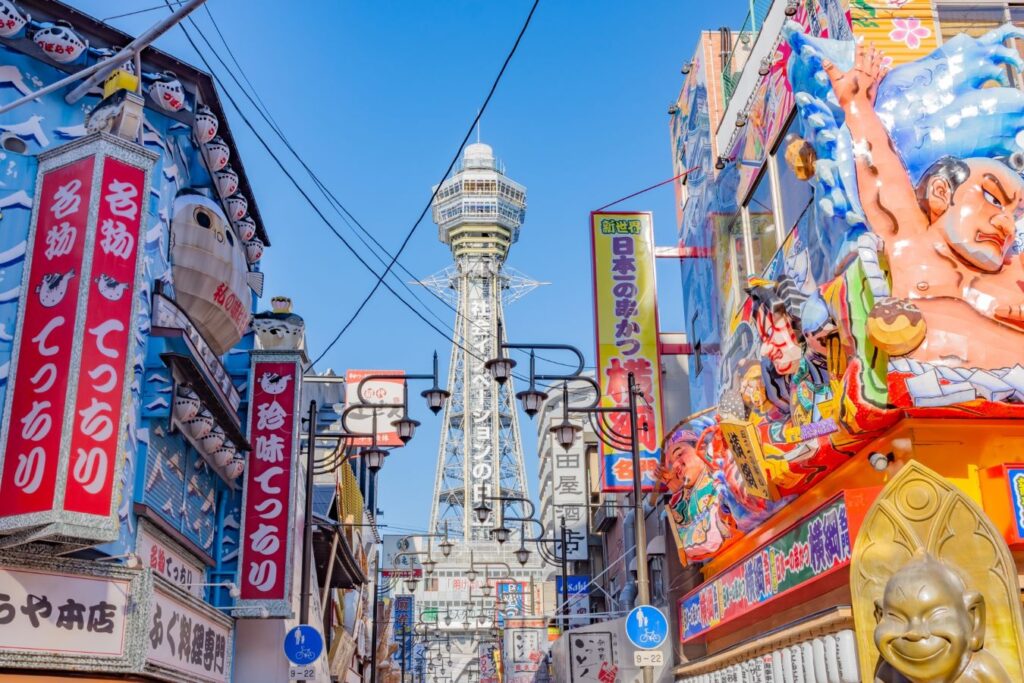 Tsutenkaku Tower is a historic landmark and observation tower located in Osaka's Shinsekai district. The tower was originally built in 1912 and has become a symbol of Osaka's unique culture and history.
The tower was originally based in the Eiffel tower, but as you can see, it has a much more retro, Osaka vibe to it.
Make Your own Instant Ramen At The Cup Noodles Museum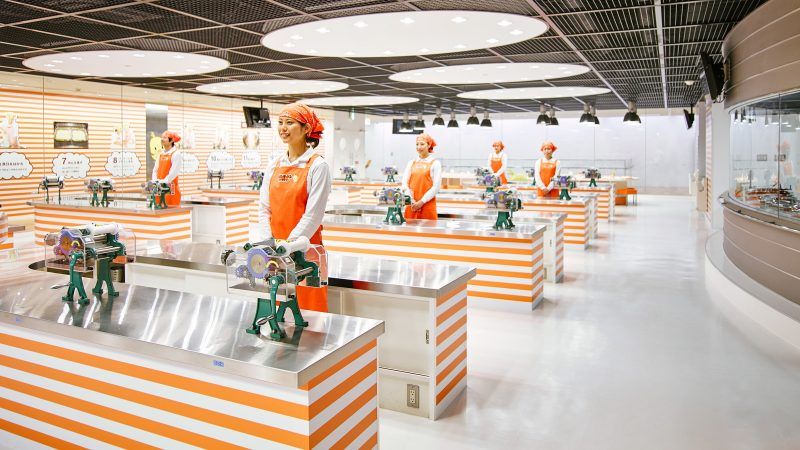 At the Cup noodles Museum or Instant Ramen Museum, as it's also known, you can learn about the invention and popularity of instant noodles in Japan and around the world, as well as create your own personalized cup noodles to take home as a souvenir.
We loved our trip here, especially making our own instant ramen so if you are looking for a great example of one of Japan's quirky museums. This is it!
Take A Day Trip To Japan's Ancient Capital: Nara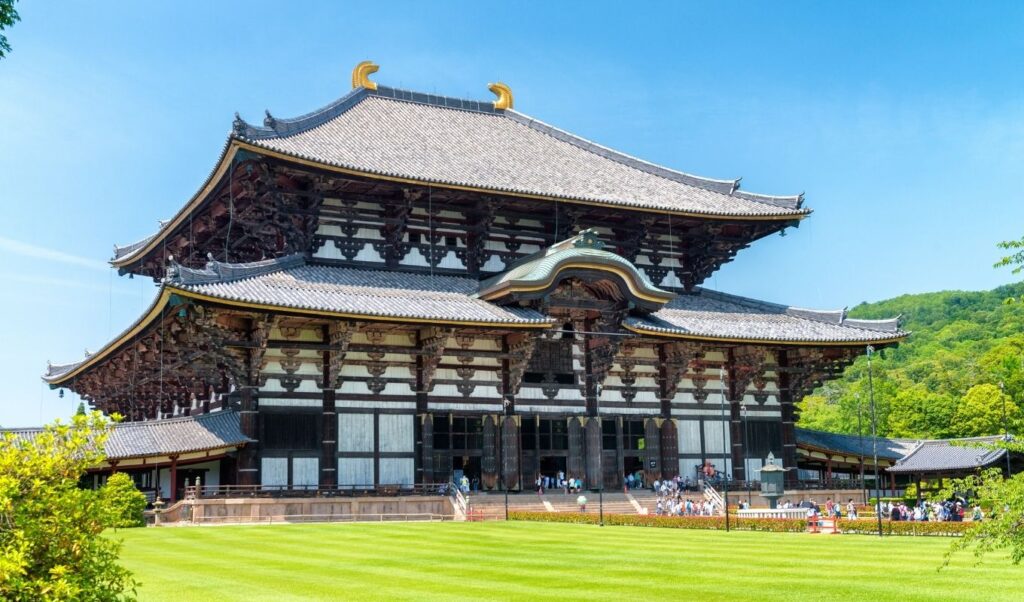 Nara is a small city located about an hour away from Osaka and is known for its temples, shrines, and deer park. The city was Japan's capital before Kyoto and is home to several UNESCO World Heritage sites, including the Todaiji Temple and Kasuga Taisha Shrine.
Make sure to take a stroll through Nara Park, where over 1,200 deer roam freely and are considered sacred by the locals. The park is also home to several famous landmarks, including the Todaiji Temple, which houses the world's largest bronze statue of Buddha.
Go For A Ride To The Bicycle Museum Cycle Center
The Bicycle Museum Cycle Center is another unusual museum and is dedicated to the history and culture of bicycles in Japan. You can learn about the history and evolution of bicycles, as well as see various types of bicycles from different periods and regions.
The museum is a great place to explore the unique and surprisingly significant role that bicycles play in Japanese society and culture.
Have Fun At Hirakata Amusement Park
Hirakata Amusement Park is a popular amusement park located in the Osaka suburbs. The park features several rides and attractions, such as roller coasters, water rides, and a Ferris wheel.
Visitors can spend a fun-filled day at the amusement park and enjoy the various rides and activities, as well as sample local snacks and treats at the food stalls. Hirakata Amusement Park is a great place for families and thrill-seekers alike.
Take A Spin Around The Tempozan Ferris Wheel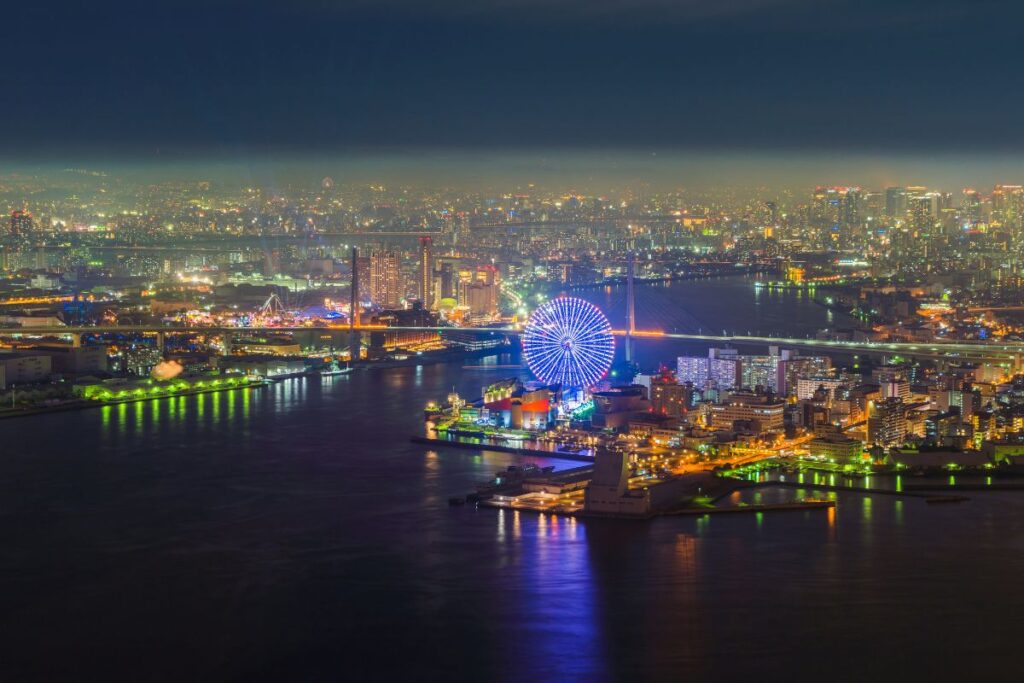 Tempozan Ferris Wheel just next to the Aquarium is a huge Ferris wheel that stands at over 112 meters tall and offers stunning panoramic views of Osaka Bay and the surrounding cityscape.
Jump in and enjoy the breathtaking views, as well as take in the surrounding attractions such as the nearby aquarium and shopping mall.
Marvel At The Sumo Spring Grand Tournament in Osaka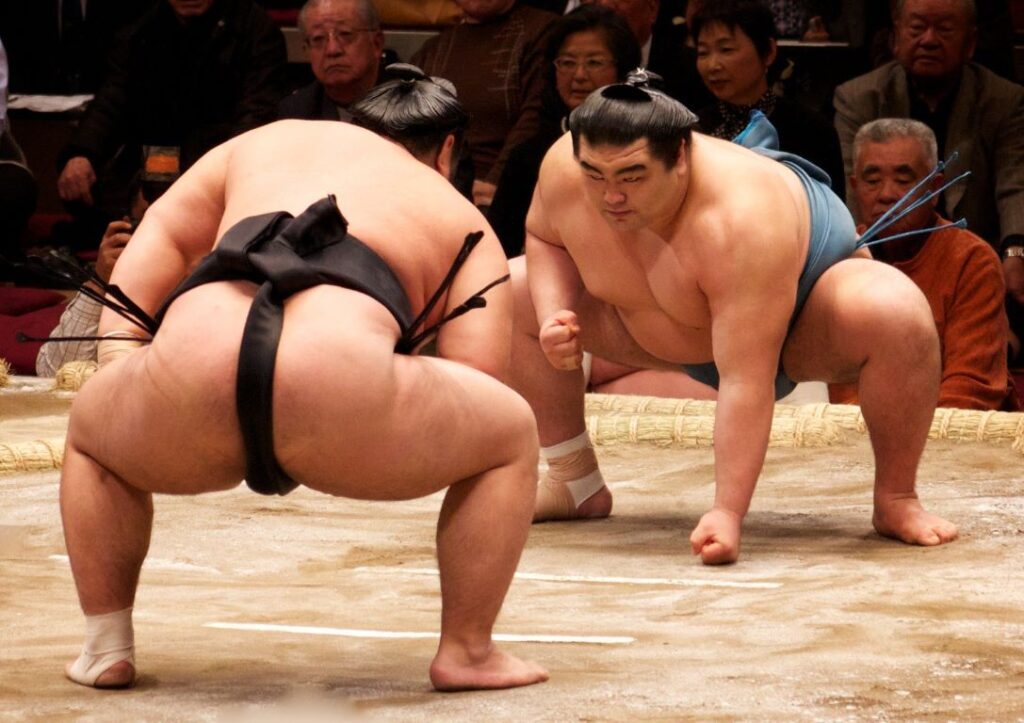 The Sumo Spring Grand Tournament in Osaka is an annual event that takes place in March and showcases Japan's national sport of sumo wrestling. The tournament attracts thousands of visitors from around the world who come to witness the skill and athleticism of the sumo wrestlers.
For us, nothing beats the excitement of the tournament, and watching the matches live was an unforgettable experience.
How To Travel To Osaka
If you're planning a visit to Osaka (which we hope you are after reading about all the awesome things to do here) you'll want to know the best ways to get to Osaka.
By Train To Osaka
if you are already in Japan, probably the best way to reach Osaka is by using the country's extensive rail network. The shinkansen (bullet train) is the fastest and most comfortable way to travel long distances in Japan, and Osaka is served by several shinkansen lines.
From Tokyo, the journey takes around 2.5 hours on the fastest trains, while the trip from Hiroshima takes about 1.5 hours.
If you're traveling from Kyoto, you can take the JR Special Rapid Service or the limited express train to Osaka Station, which takes about 30 minutes. From other cities in the Kansai region, such as Nara or Kobe, you can take a local train or a rapid train to reach Osaka.
By Air To Osaka
The easiest and most convenient way to reach Osaka is by air. Kansai International Airport, located on an artificial island in Osaka Bay, is the city's primary airport and serves as a hub for both domestic and international flights. If you're flying from outside of Japan, you'll likely land at Kansai International Airport, which is a modern and well-organized facility.
If you're coming from within Japan, you may also consider flying to Osaka from other major cities like Tokyo, Nagoya, or Fukuoka. Domestic flights are offered by a number of airlines, including Japan Airlines and ANA.
By Bus To Osaka
Buses are a more affordable option for traveling within Japan, and there are several bus companies that operate between Osaka and other major cities. The journey can take longer than the shinkansen or a flight, but it's a good choice for budget travelers.
One popular option is the overnight bus from Tokyo to Osaka, which takes around 8 hours and allows you to save money on accommodation. You can also take a bus from Kyoto or other cities in the Kansai region to reach Osaka.