Japan is famous for its high-speed bullet trains, also known as Shinkansen. These trains are a popular mode of transportation for both locals and tourists, allowing travelers to quickly and comfortably travel across the country. If not familiar with the Shinkansen system, it can be overwhelming to navigate and hard to know what to expect and what tickets or passes you need.
That's why this in-depth guide on Shinkansens in Japan is essential for anyone planning to travel by train in Japan.
This guide covers everything from how to purchase tickets to the different types of Shinkansen trains and their routes and hopefully in no time, you'll be able to confidently navigate the Japanese Shinkansen system and make the most of your trip to Japan.
History of The Shinkansen
The Shinkansen, also known as the bullet train, is a high-speed railway system in Japan that connects major cities across the country. The first Shinkansen line, called the Tokaido Shinkansen, began operation in 1964, just in time for the Tokyo Olympics. The line connected Tokyo to Osaka, two of Japan's largest cities, and was a symbol of Japan's post-war economic recovery.
The idea of a high-speed railway system in Japan was first proposed in the 1930s, but it wasn't until the 1950s that plans for the Shinkansen began to take shape. The project faced numerous challenges, including the need to build new tracks and tunnels, as well as resistance from local communities. However, the Japanese government was determined to build the Shinkansen, recognizing its potential to revolutionize transportation in the country.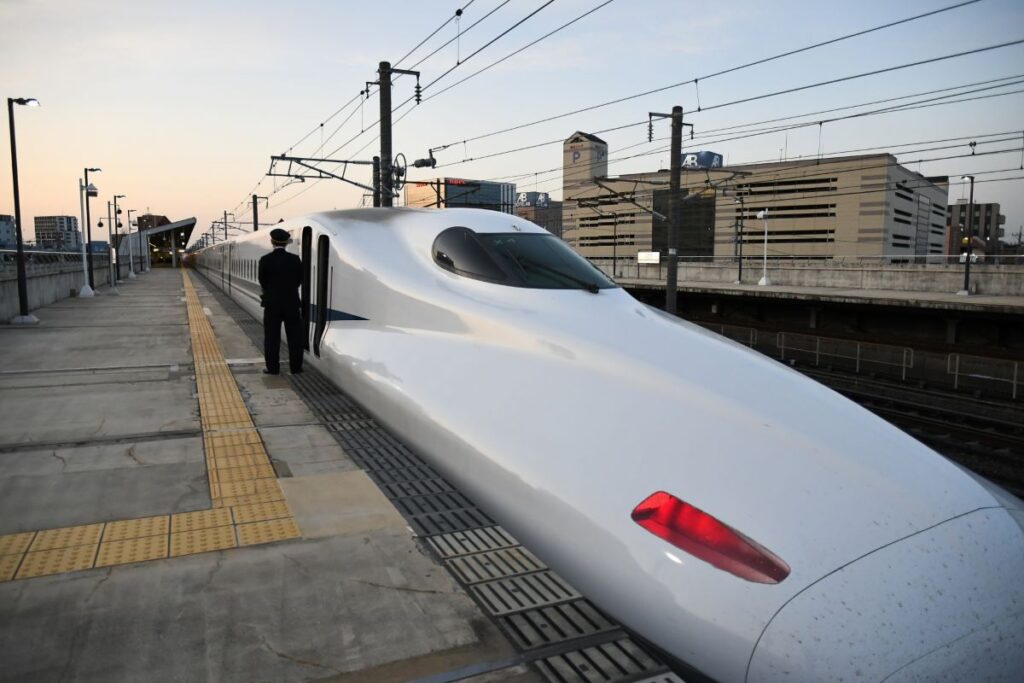 The construction of the first Shinkansen line was a major engineering feat. The tracks were designed to accommodate trains traveling at speeds of up to 210 km/h, and the trains themselves were powered by electricity, allowing for faster acceleration and deceleration. The first Shinkansen trains, called the 0 Series, were sleek and modern, with a distinctive nose that earned them the nickname "bullet train."
Over the years, the Shinkansen network has expanded to cover most of Japan's main island of Honshu, as well as parts of Kyushu and Hokkaido. Today, the Shinkansen is an integral part of Japan's transportation system, carrying millions of passengers every year.
Types of Shinkansen
Japan's Shinkansen high-speed rail network is one of the most advanced and efficient train systems in the world. There are several types of Shinkansen trains, each with its own unique features and characteristics. Here are some of the most popular Shinkansen train types:
Nozomi
The Nozomi is the fastest Shinkansen train, reaching speeds of up to 300 km/h. It operates on the Tokaido and Sanyo Shinkansen lines, connecting Tokyo to Osaka, Hiroshima, and Fukuoka. The Nozomi is a non-stop train that only makes a few stops along the way, making it the quickest way to travel between these cities.
Hikari
The Hikari is the second-fastest Shinkansen train, reaching speeds of up to 285 km/h. It also operates on the Tokaido and Sanyo lines, making more stops than the Nozomi but still providing a fast and efficient way to travel between major cities.
Kodama
The Kodama is a slower Shinkansen train, reaching speeds of up to 240 km/h. It operates on the Tokaido, Sanyo, and Kyushu lines, making stops at all stations along the way. The Kodama is a good option for travelers who want to take in the scenery along the route or who need to make stops at smaller cities and towns.
Sakura
The Sakura is a Shinkansen train that operates on the Kyushu line, connecting Fukuoka to Kagoshima. It is similar to the Hikari in terms of speed and number of stops, but it offers a more scenic route through the southern part of Japan.
Routes and Destinations
Japan's Shinkansen network is extensive, covering almost all major cities and regions of the country. The Shinkansen lines run from north to south and east to west, making it easy to travel to all corners of Japan at speed.
| Route | Destinations |
| --- | --- |
| Tokaido Shinkansen | Tokyo, Yokohama, Nagoya, Kyoto, Osaka, Hiroshima, Fukuoka |
| Joetsu Shinkansen | Tokyo, Niigata |
| Tohoku Shinkansen | Tokyo, Sendai, Morioka, Hachinohe, Aomori |
| Hokuriku Shinkansen | Tokyo, Nagano, Kanazawa |
| Kyushu Shinkansen | Fukuoka, Kumamoto, Kagoshima |
The Tokaido Shinkansen is the busiest and most popular line, connecting Tokyo and Osaka, two of Japan's largest cities. The Joetsu Shinkansen runs to Niigata, a popular destination for skiing and snowboarding in the winter. The Tohoku Shinkansen connects Tokyo with northern Japan, including the city of Sendai, known for its delicious beef tongue and beautiful scenery.
The Hokuriku Shinkansen runs to the city of Kanazawa, famous for its traditional crafts and historic buildings. The Kyushu Shinkansen connects Fukuoka with Kagoshima, two cities located on opposite ends of the island of Kyushu. The line runs through scenic areas such as Mount Aso and Kumamoto Castle.
Tickets and Fares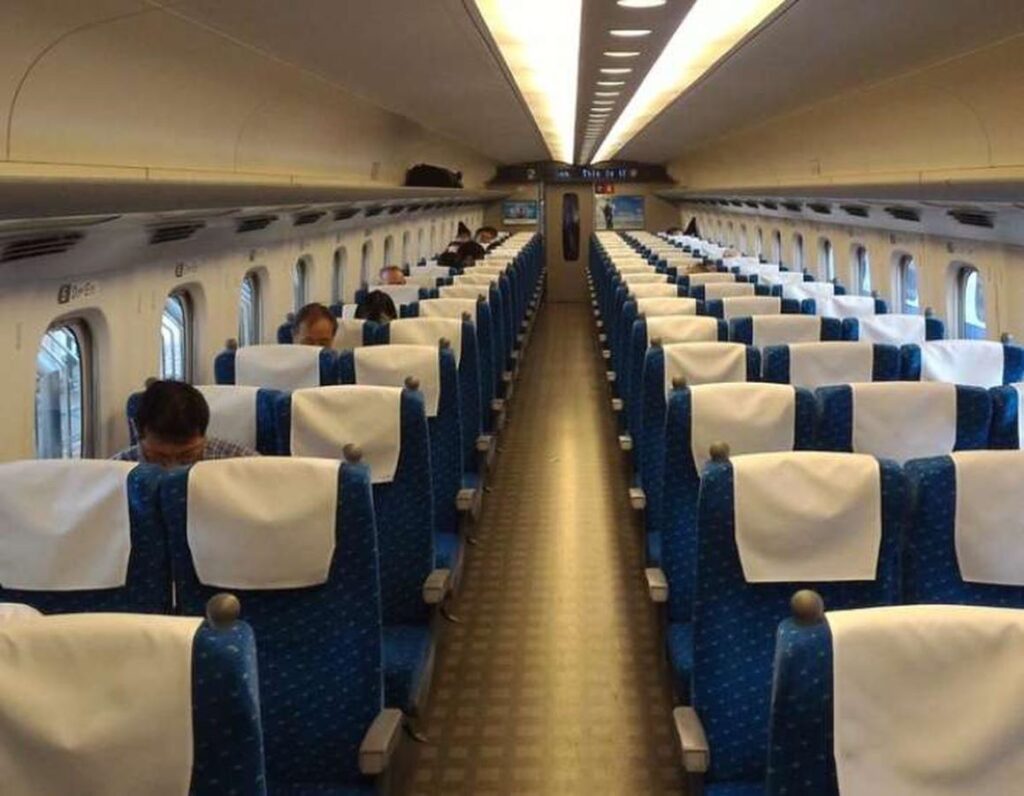 When it comes to riding the Shinkansen, there are a few different ticket types to be aware of. Tthe most common types of tickets are:
Regular reserved seat
Non-reserved seat
Green Car reserved seat
GranClass reserved seat
Regular reserved seats are the standard option and are available on all Shinkansen trains. Non-reserved seats are also available, but they can be crowded and may not be the most comfortable option for longer journeys. Green Car reserved seats offer more space and comfort, while GranClass reserved seats are the most luxurious option with extra amenities.
The cost of Shinkansen tickets can vary depending on the distance traveled and the type of ticket purchased. For example, a regular reserved seat ticket from Tokyo to Kyoto can cost around 13,080 yen, while a non-reserved seat ticket for the same journey can cost around 12,420 yen. Green Car and GranClass tickets are more expensive.
Note that Shinkansen tickets are not interchangeable with other types of train tickets in Japan. However, if you plan on doing a lot of traveling by train, it may be worth considering a rail pass. The All Japan Rail Pass is a cost-effective option for travelers who plan on using the Shinkansen and other JR trains frequently.
The pass allows for unlimited travel on JR trains for a set period of time.
Tips for Riding the Shinkansen
If you're planning to ride the Shinkansen in Japan, here are a few tips to help you make the most of your journey:
Arrive Early: Arrive at the station at least 15-20 minutes before your scheduled departure time to allow time for ticketing and security checks.
Reserve Your Seat: It is highly recommended to reserve your seat in advance, especially during peak travel times. You can reserve your seat at a ticket counter or through a ticket machine.
Bring Snacks: While you can purchase food and drinks on board, it's always a good idea to bring your own snacks and drinks.
Be Quiet: The Shinkansen is known for its quiet and peaceful atmosphere. Avoid loud conversations and keep your phone on silent mode.
Use the Restroom Before Boarding: The Shinkansen has restrooms on board, but they can be small and crowded. It's best to use the restroom before boarding the train.
Following these tips will help you have a comfortable and enjoyable ride on the Shinkansen.
The Sum Up
Traveling on the Shinkansen is an experience that should not be missed when visiting Japan. Not only is it a convenient and efficient way to travel, but it is also a cultural icon that represents Japan's innovation and progress. The Shinkansen has been a symbol of Japan's postwar recovery and has continued to evolve and improve over the years.
When traveling on the Shinkansen, it is important to follow the rules and etiquette. Passengers should arrive early, be respectful of others, and keep their belongings tidy. Eating and drinking are allowed on the train, but passengers should be mindful of the noise and smell they may create.
Overall, the Shinkansen is a remarkable achievement of engineering and design that has become a symbol of Japan's modernization and technological prowess. It is an experience that should not be missed when visiting Japan.