Asakusa is one of Tokyo's oldest districts, located right in the heart of the city.
It offers something for everyone – from historical attractions to unique shops and delicious restaurants.
Asakusa is well known for its iconic landmark, Senso-ji Temple, which contains vibrant shrines as well as a large shopping street full of souvenirs and traditional delicacies like mochi ice cream.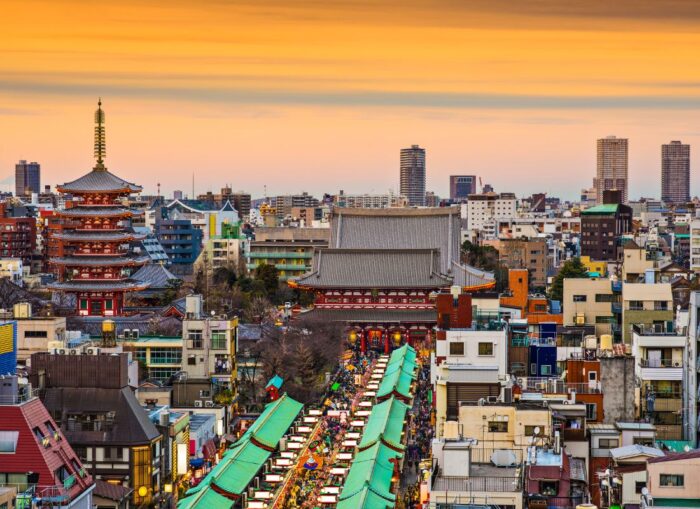 Other must-sees include Kappabashi Street (Tokyo's Kitchenware Town), Sumida River cruise along with spectacular views at nearby Sky Tree Tower or you can take an old school stroll through Nakamise Shopping Arcade where you'll find all sorts of artsy trinkets & enjoy local treats such as Takoyaki balls & Uiro rice cakes.
So here's our ultimate list of the best things to do in Asakusa.
Sensō-ji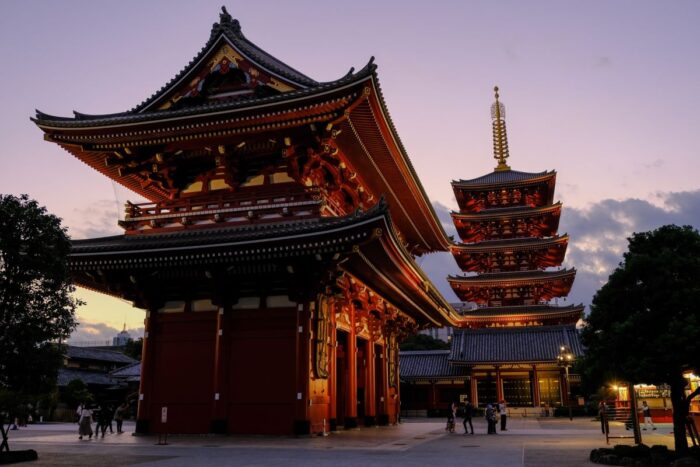 Sensō-ji is an ancient Buddhist temple located in the Asakusa district of Tokyo.
It's considered to be one of Japan's most important and popular temples, attracting millions of visitors every year.
The main attraction at Sensō-ji is a large red paper lantern that hangs above its entrance gate which features Japanese characters wishing good fortune on all who enter.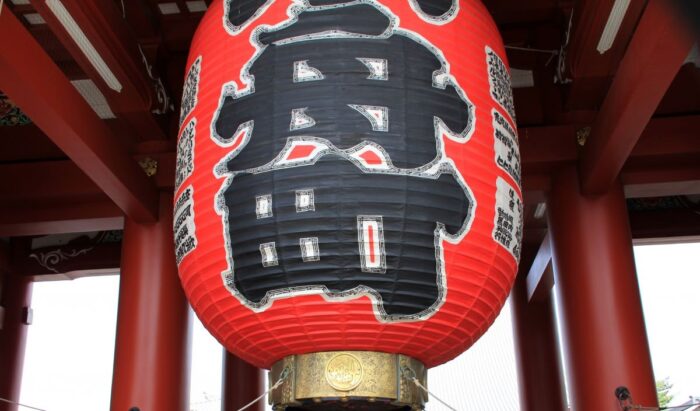 Inside you'll find many more incredible attractions including statues, pagodas and beautiful gardens where visitors can relax or explore various shrines dedicated to different gods such as Benzaiten – the goddess of music and luck.
A visit here wouldn't be complete without sampling some typical street snacks like taiyaki (fish shaped pastries filled with sweet bean paste) or okonomiyaki pancakes topped with fish flakes – something for everyone.
Nakamise-dori Street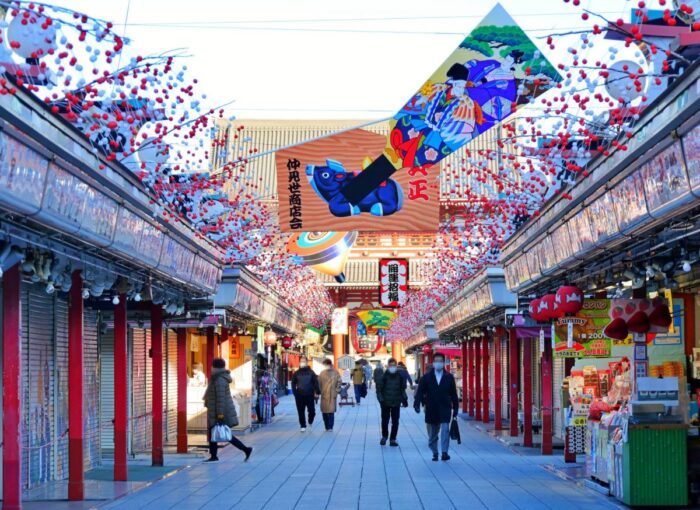 Nakamise-dori Street is a Japanese shopping street located in Asakusa, Tokyo.
It connects the outer gate of Sensōji Temple to the inner gate and spans over 250 meters with numerous shops on both sides of its narrow path.
The history of Nakamise can be traced back to 17th century when neighboring shop owners started selling souvenirs here near Sensoji temple.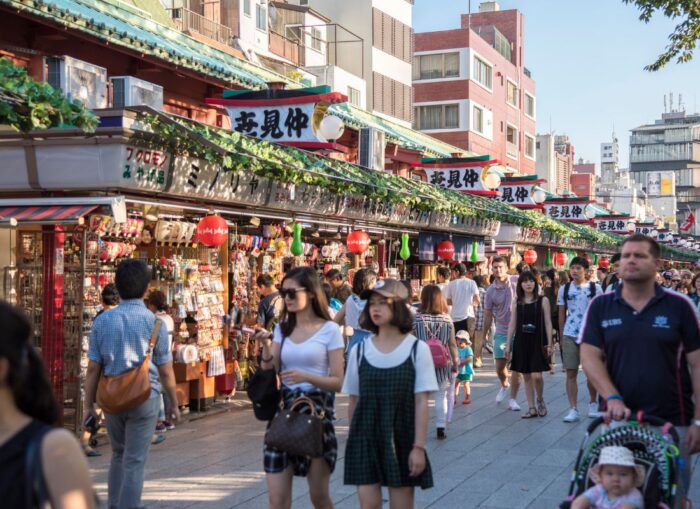 Today this popular tourist spot offers an array of traditional items such as handcrafted folding fans kimonos, scrolls or ceramics that makes it a great place for anyone who wants a taste from Japan's past culture and traditions.
But Nakimse also sells modern snacks like Pocky sticks, mocha cakes or candy apples which are must try for all visitors.
Kaminarimon Gate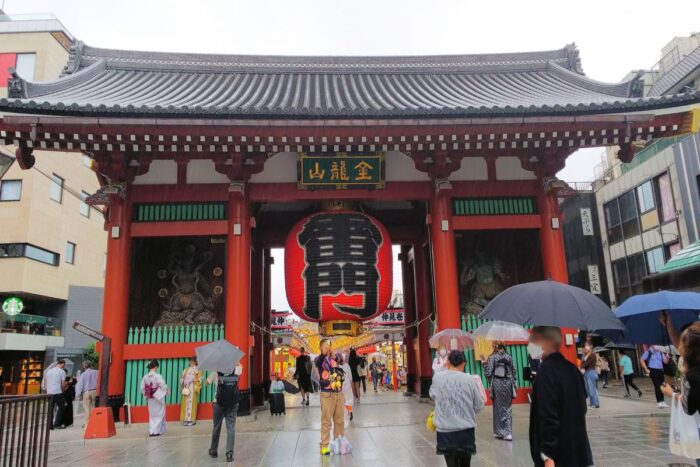 The Kaminarimon Gate is a delightful entrance to the Sensō-ji Temple in Tokyo.
It stands as one of Japan's most iconic gates, with its bright red color and large paper lantern that hangs above it.
Within the gate are two statues: Fūjin (wind god) on the left side, and Raijin (thunder god)on the right side; both protectors of Buddhism.
The impressive structure has become somewhat of an icon for Japanese culture around the world due to beloved films featuring this incredible gateway such as Spirited Away or Your Name.
Tourists flock from far away just to get a glimpse at this magnificent sight that remains so timelessly beautiful even centuries after being built.
Edo Taitō Traditional Crafts Museum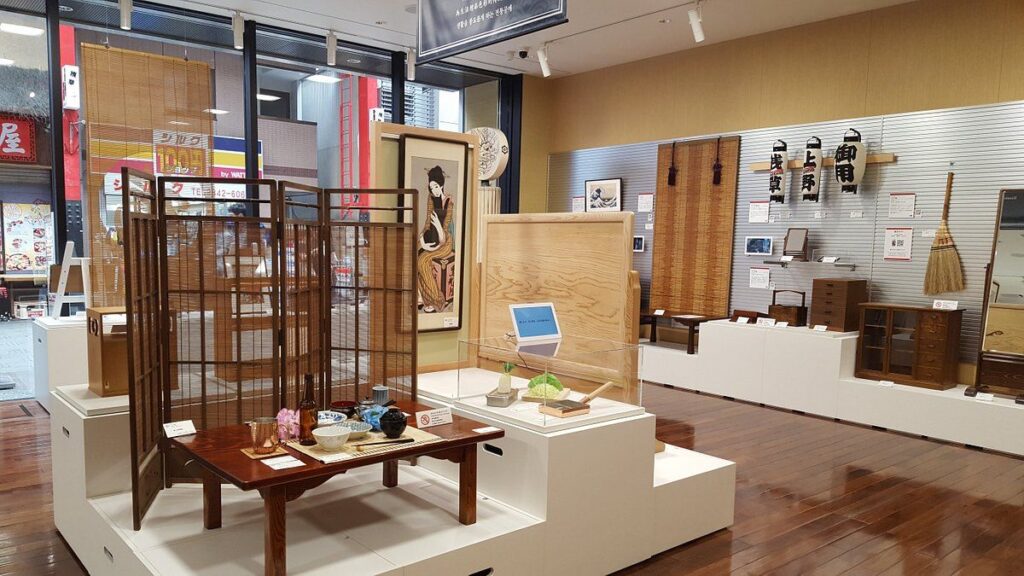 The Edo Taitō Traditional Crafts Museum is a great way to explore traditional Japanese craftsmanship.
The museum showcases various decorative and utilitarian art forms such as katagami stencil dyeing, lacquerware, porcelain ware and textiles.
Visitors can take part in hands-on activities like painting on shells or silk fans with brush strokes called Kaga Yuzen.
This process allows participants to create souvenirs that are unique works of art handmade by themselves.
In addition, the displays are captivating; from detailed examples of individual techniques used for each form to the impressive scale models illustrating how these crafts have been applied over generations – it's worth every moment spent here.
Asakusa Jinja
Asakusa Jinja is an ancient Shinto Shrine located in the heart of Tokyo.
Since its establishment in 645, it has been revered as a sacred place that has brought peace and prosperity to visitors over the centuries.
The shrine's main hall was burned down twice since 1633 but luckily rebuilt each time with beautiful ornate carvings on its walls depicting dragons, phoenixes and koi fish which make for mesmerizing viewing today.
It also houses numerous traditional decorations such as hand-carved torii (or gates) adorned with bright blades of straw forming intricate patterns known as gohei across their frames – these are believed to ward off bad spirits from entering sacred spaces within this magnificent temple complex.
Asakusa Denboin-Dori
Asakusa Denboin-Dori is one of Tokyo's famous shopping streets, located in the heart of Asakusa.
This street boasts traditional stores and trendy boutiques alike, making it a great place to pick up souvenirs or just wander around.
You can find anything from traditional Japanese craftwork like kimonos and handcrafted pottery to modern fashion clothing items such as t-shirts and sneakers.
There are even numerous restaurants offering everything from local specialties like tempura and yakitori to international dishes like Italian pizza.
No matter what you're looking for, there's something on offer at Asakusa Denboin-Dori that will suit your needs.
Asakusa Nishi-sandō Street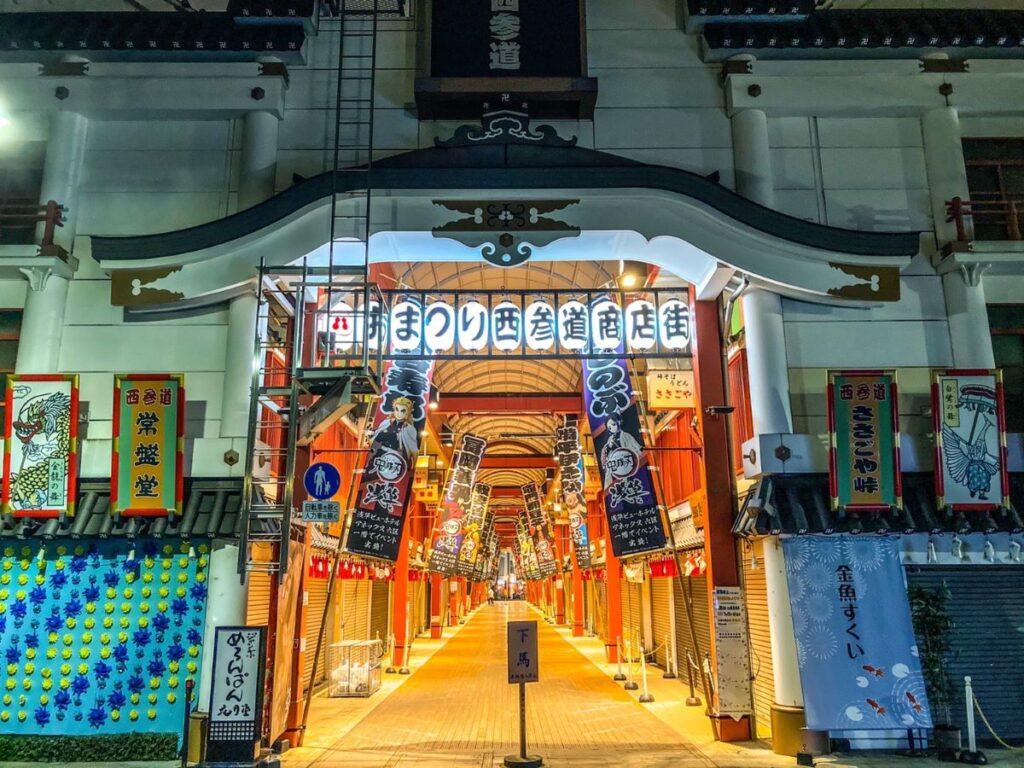 Asakusa Nishi-sandō Shopping Street is a vibrant shopping destination in Tokyo, Japan.
Its many stores offer everything from traditional Japanese crafts to modern clothing and accessories.
Some of the best places for souvenir shopping include Nakamise Dori – with its stalls selling handcrafted items such as fans, pottery and snacks; Asakusa Shinkin Bank where you can find unique jewelry; Riverwalk Canal Court offering eclectic antiques and vintage finds; Kappabashi Dougu-gai kitchenware shops that are stocked with all sorts of culinary wares – perfect if you're looking to recreate some classic Japanese dishes.
With so much on offer it's no wonder why visitors flock here every day.
Asakusa Culture Tourist Information Center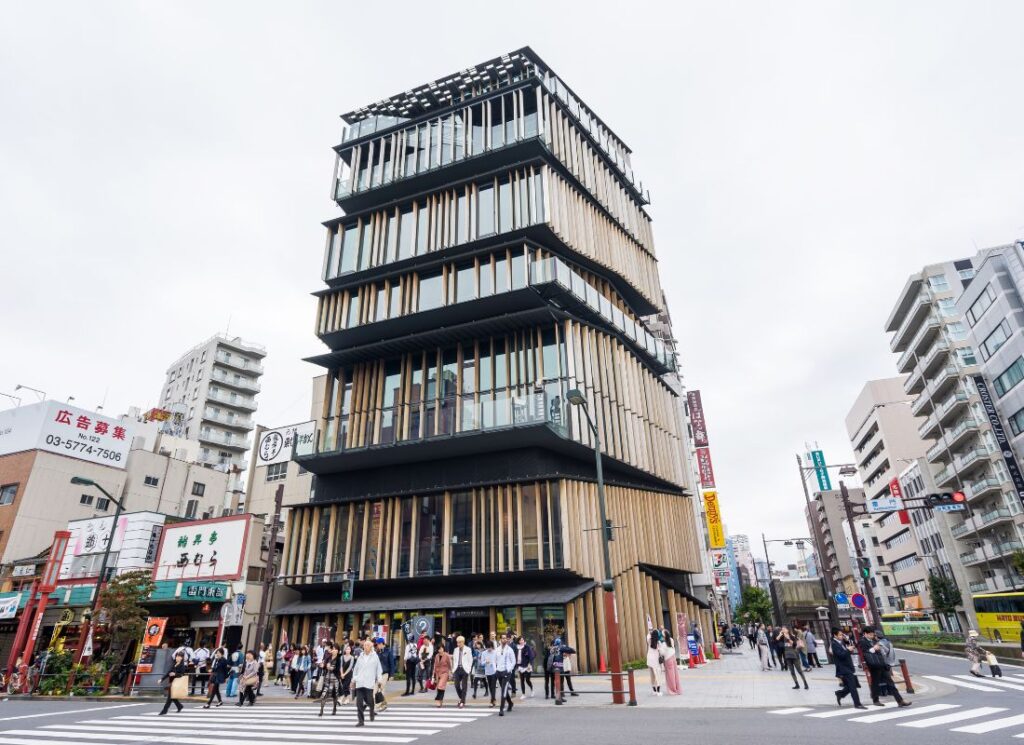 The Asakusa Culture Tourist Information Center is an essential stop for anyone looking to explore Tokyo's vibrant culture.
Located right in the heart of downtown, this modern center offers tourists a comfortable place to plan their sightseeing journey and pick up some souvenirs along the way.
The facility includes a wide range of amenities such as helpful tourist information desks, interactive multimedia displays on local attractions, ticketing services with discounts at nearby shops and restaurants, public showers and more.
Ride a Rickshaw Around Asakusa
Take a ride around Asakusa in a rickshaw — an unforgettable experience.
Explore the vibrant streets, visit local shops and soak up the atmosphere of this historical area.
You'll be able to see Senso-ji (the oldest temple in Tokyo) illuminated at night and marvel at its five-story pagoda lit up majestically against the dark sky.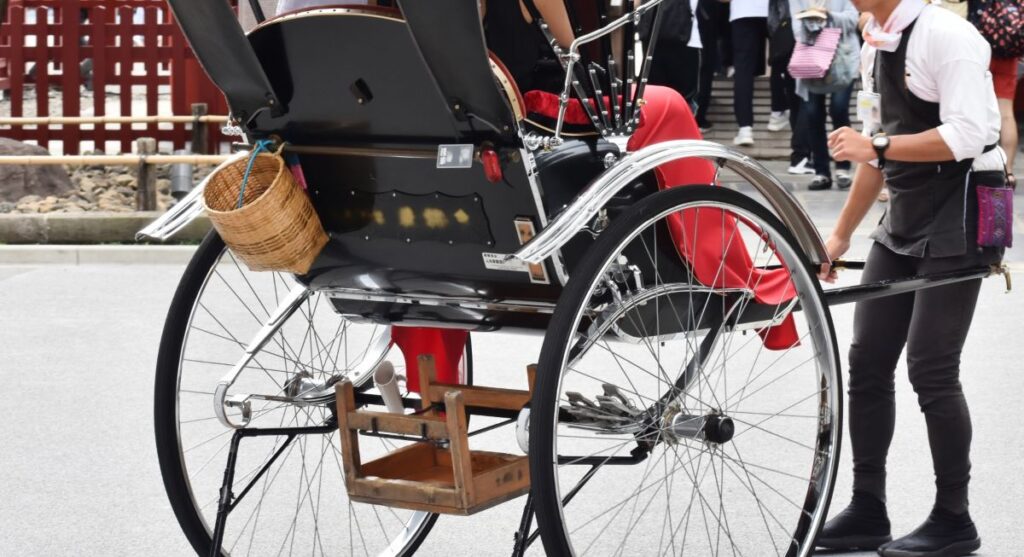 Walk along Nakamise Street or take part in one of many cultural activities such as kabuki shows, tea ceremonies or odori dance performances — all within reach by rickshaw.
Discover different cuisines and enjoy delicious traditional Japanese cuisine while admiring spectacular views from riverbanks -Asakusa will leave you speechless.
Tokyo Skytree
The Tokyo Skytree is an iconic landmark that stands at 634 meters tall and has become a symbol of Tokyo.
It's the world's tallest self-supporting tower, with two observation decks offering panoramic views across the cityscape.
Along with Shibuya Sky, it was on the top of our list of the best observation decks in Tokyo and is just a short walk from Asakusa.
Two restaurants featuring creative Japanese cuisine also offer guests tantalizing culinary experiences from on high.
The Tokyo Solamachi shopping complex below offers plenty of interesting souvenirs to add further charm to your visit.
During daytime hours, visitors can witness striking rainbow colors illuminating from within its latticed steel frame structure – all in perfect harmony against clear blue skies or glittering nightscapes filled with vibrant lights and neon signs.
There are many ways for people to explore this remarkable man-made wonder; whether it be taking part in one of their educational tours or absorbing spectacular views through interactive displays located near the observatory deck.
More: Tokyo Skytree: Best Tickets, Views & Things To Do
Asahi Beer Tower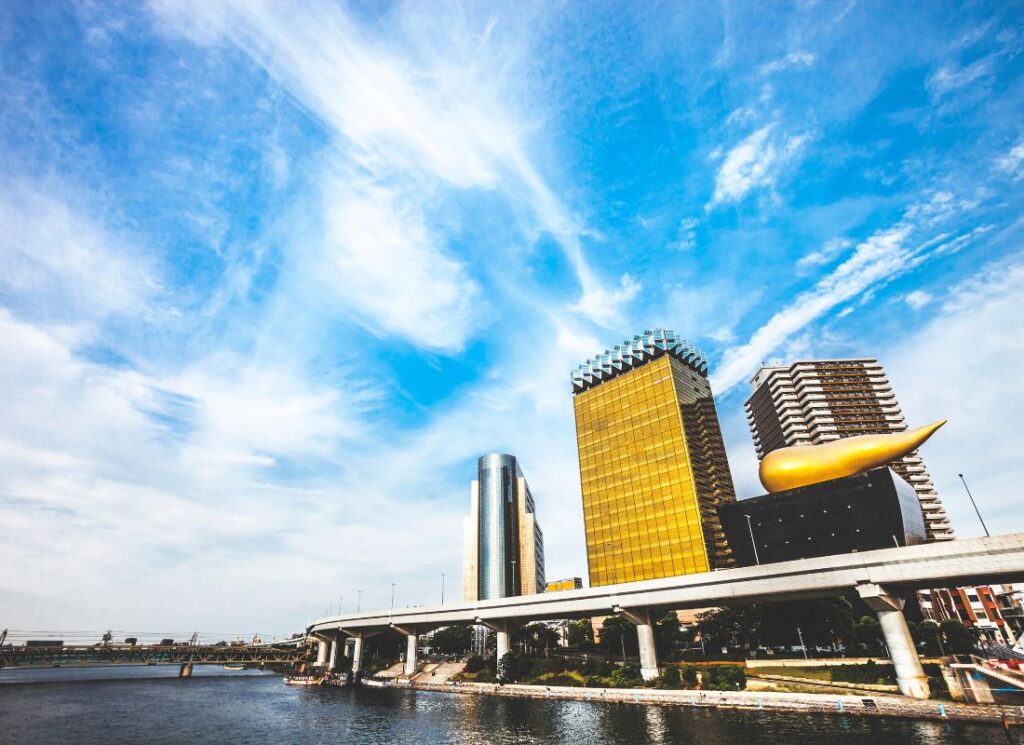 Asahi Beer Tower is a must-see in Tokyo.
It features the world's highest beer tower, standing at 135 ft and containing nearly 557 gallons of delicious Asahi draught beer.
This impressive sight has become an iconic symbol within Japan and YouTubers flock to it for its memorable experience.
There are also panoramic views from both inside and outside the tower that visitors can take advantage of , so make sure you bring your camera along with you as there will be plenty of great opportunities for stunning photos.
Sumida River Cruise
A Sumida River Cruise offers a unique way to explore Tokyo.
With breathtaking views of the city skyline and its famous landmarks, it's an unforgettable experience.
Explore some of Japan's oldest temples along with classic architecture like Skytree or enjoy watching local street life drift by as you listen to relaxing music in the background.
Get up close with nature at Shioiri Park, where beautiful flowers bloom all year round near tranquil gardens while swans float by underneath bridges on the riverbank.
Sumida Park
Sumida Park is a stunning oasis in central Tokyo, spanning nearly 11 hectares along the Sumida River.
With its lush greenery and blooming cherry blossoms each spring, it's no surprise that locals flock here for picnics or to simply soak up the beautiful natural surroundings.
Popular attractions include Ryogoku Bridge which offers spectacular views of both sides of the river; Asakusa Shrine with its towering red lanterns and intricate details; as well as Mizumoto Japanese Garden with winding pathways through wooden bridges over calm pond waters.
Whether you'd like to take a leisurely stroll while admiring nature or watch an outdoor performance at one of many festival events – Sumida Park has something special for everyone.
Matcha Gelato at Suzukien Asakusa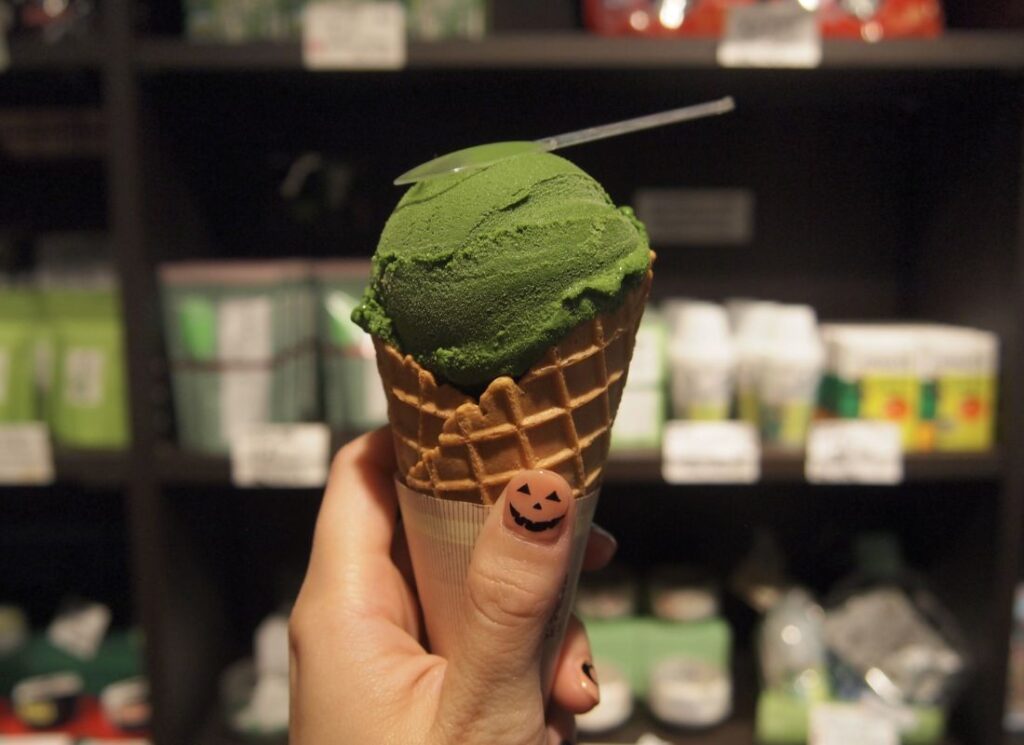 Matcha Gelato at Suzukien Asakusa In Asakusa is a must try.
The creamy gelato has an elegant sweetness, with just the right amount of matcha flavor.
It's made from quality ingredients like organic stone-ground matcha powder sourced directly from Uji in Japan and fresh Hokkaido milk.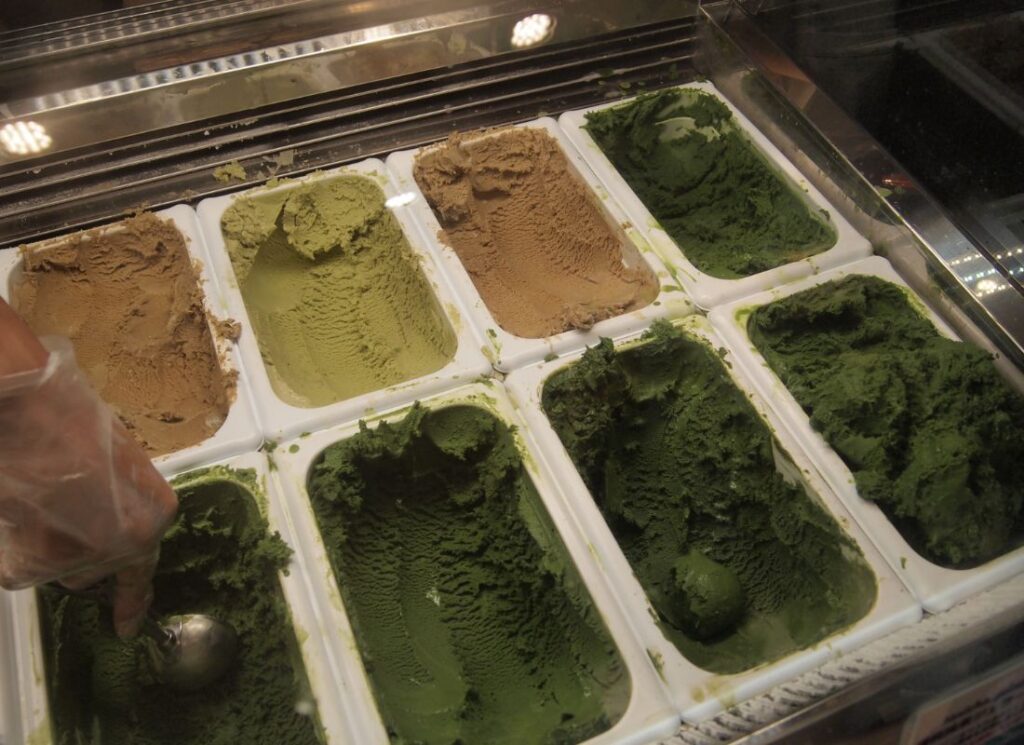 What stands out about this dessert are its subtle flavors – it's not too sweet or intense; instead, each spoonful brings a mild green tea flavor that will linger on your tongue long after you finish eating.
Plus the calming presence of Japanese culture around you creates the perfect environment to truly savor this special treat.
Kappabashi Street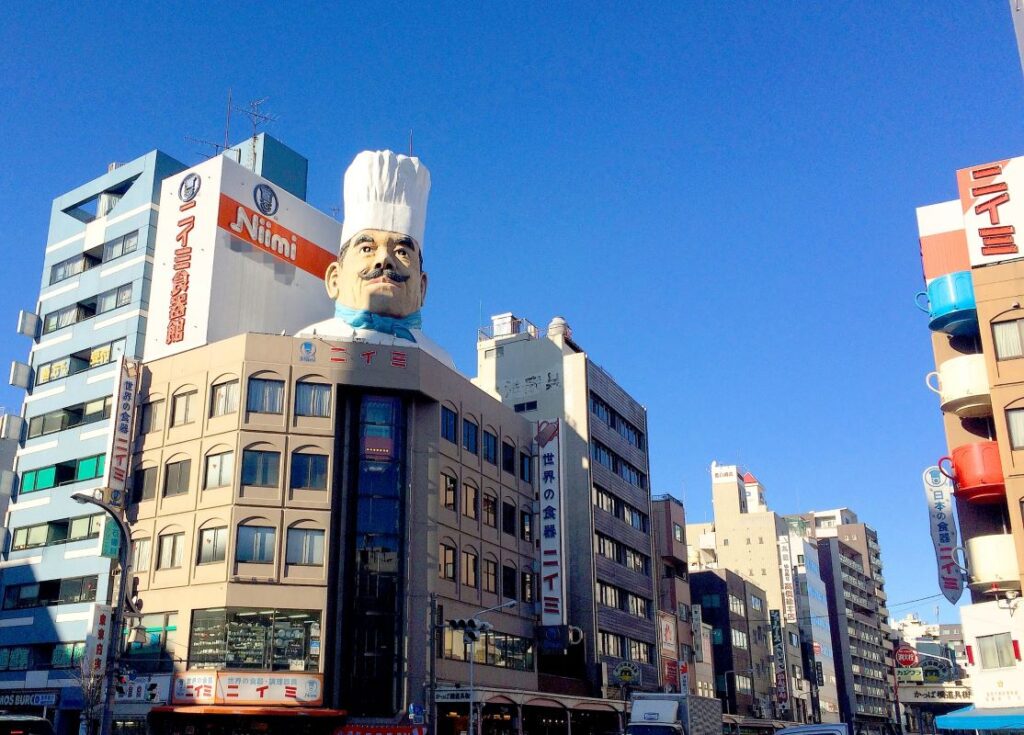 Kappabashi Street in Asakusa is a haven for anyone interested in kitchenware.
From rice cookers to chopsticks and sushi knives, you can find it all here.
Plus, the shops offer other unique items like melon-slicing scissors or glass ice cream molds that no one else has.
You'll also be spoiled with choice when it comes to dinnerware – colorful porcelain plates line the shelves of many stores along Kappabashi street.
Lastly, if you're looking for something extra special there are artisan pieces made out of copper or customizable Japanese bowls handcrafted by local artisans using traditional methods
Night Tour Of Asakusa
A night tour of Asakusa is a thrilling experience.
Revered temples illuminated under the night sky, stalls bustling with smells and flavors from around Japan – it's like stepping inside a storybook.
The Kaminarimon gate looms brightly in front of you as lights dance across its impressive roof.
Don't miss being part of the lively crowd at Sensoji Temple or discovering ninja-themed activities hidden away throughout the area.
Come explore Tokyo's antique district after dark for an unforgettable evening adventure.
Konica Minolta Planetarium TENKU
Konica Minolta Planetarium TENKU offers an amazing experience of exploring the universe.
Their advanced digital projection system and imaging technology take you through a realistic journey in space, allowing you to take stunning pictures of stars, planets, and galaxies with accurate colors.
Combining their cutting-edge visuals with 3D surround sound, they provide a breathtaking immersive show that will leave your jaw dropped.
You can even witness live celestial events like meteor showers right from the comfort of your seat – making it feel as if you're actually part of them.
Kimono Experience In Asakusa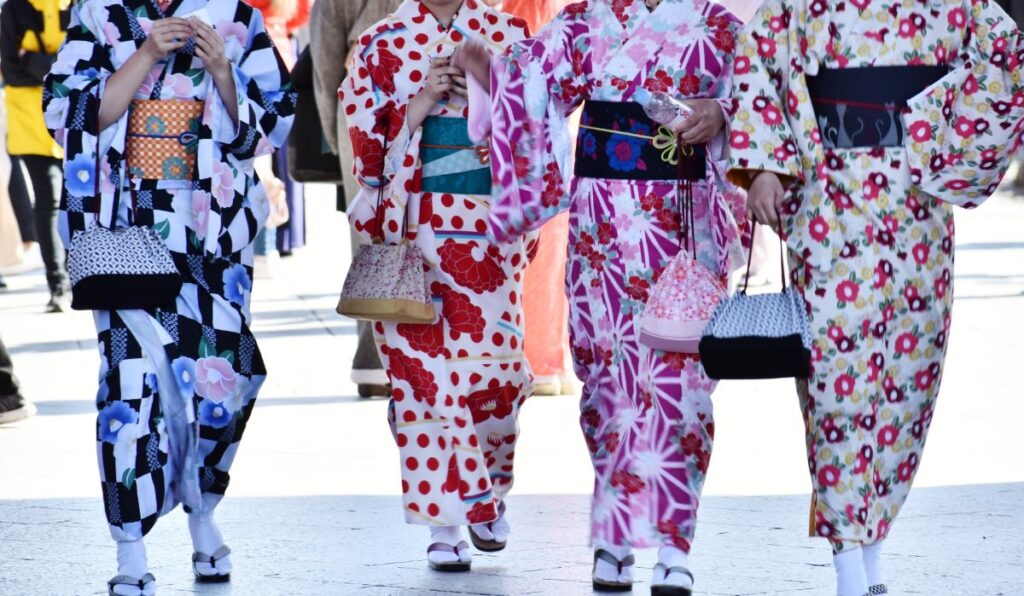 Asakusa is a great place to experience the traditional art of kimono.
Wander around Asakusa in your own colorful kimono and take part in unique experiences such as renting one, having it tailored, or attending tea ceremonies.
Exploring the streets while dressed up is an enjoyable cultural activity that's sure to make memories that will last forever.
Try out different accessories like fans, geta sandals, tabi socks, and obis sashes – all carefully curated by local craftspeople so you look perfect when enjoying this immersive Japanese fashion.
Asakusa Rokuku Street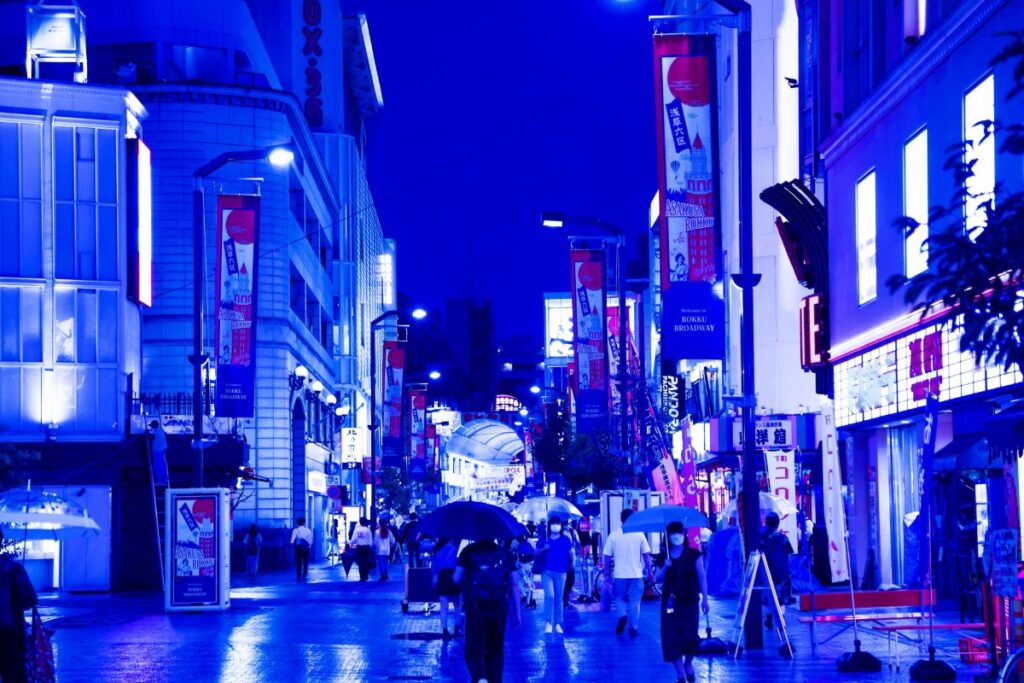 Asakusa Rokku Street is an exciting destination for visitors to Tokyo.
Stretching from Sensoji Temple to the Sumida River, this street offers a range of experiences.
From the historic atmosphere created by 300-year-old temples and shrines to traditional souvenir shops selling intriguing trinkets; you will find something that catches your eye at every turn.
Visitors can also sample delicious local cuisine or take part in festivals such as Hanabi Taikai (Fireworks Festival) held annually on July 7th.
How to get to Asakusa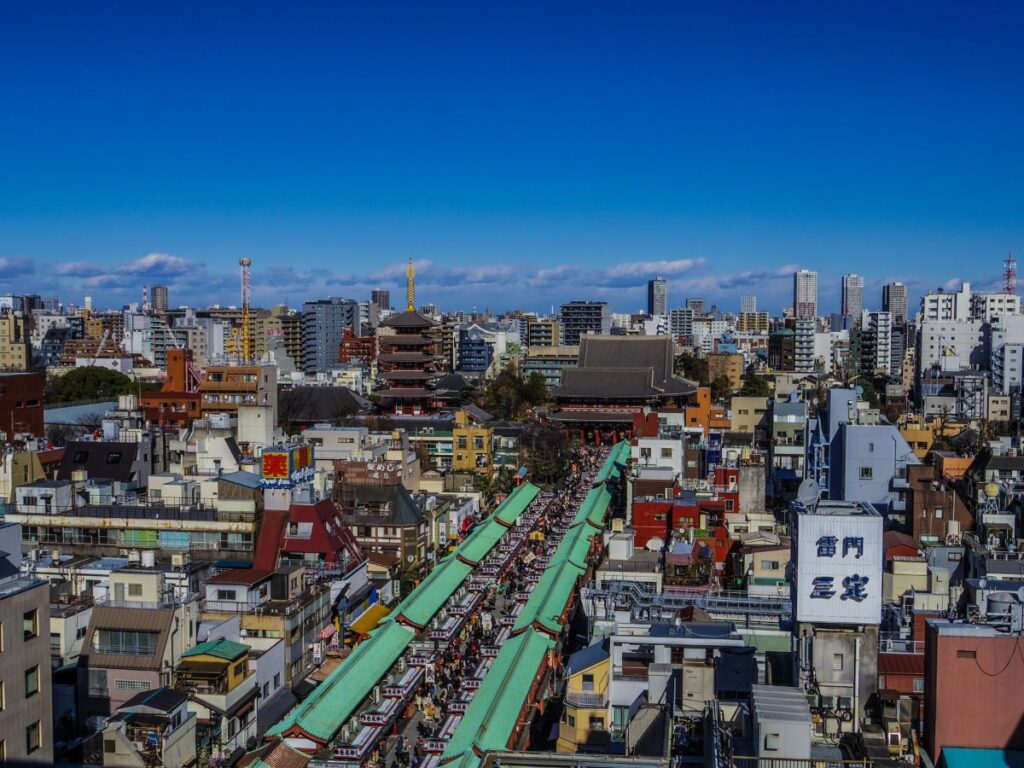 Getting to Asakusa, Japan's most iconic sightseeing destination by train is easy.
Take the Ginza subway line from Ueno Station and transfer to Tawaramachi Station.
Then board another Subway Line (Asakusa) which takes you directly to Asakusa station in less than 10 minutes.
Alternatively, hop on a JR Yamanote Train heading east and alight at Kanda or Akihabara Stations before catching an underground metro towards Asakusa again.
Enjoy shopping around town while taking in some of Tokyo's historic buildings such as Sensoji Temple – a must-see attraction when visiting this vibrant city.
Is Asakusa Worth Visiting?
Asakusa is a vibrant and charming district in Tokyo, Japan.
Home to some of the most iconic attractions like Senso-ji Temple and Kaminarimon Gate, it's definitely worth visiting.
As you explore this bustling place on foot or via its famous rickshaws known as jinrikisha, you'll be exposed to traditional wooden shops selling local specialties such as kabuki masks and colorful lanterns.
Stop for tea at one of the exquisite teahouses that line up along Nakamise Street before heading towards the 3rd-floor rooftop terraces with views over Tokyo Skytree – one of the tallest structures in the world dominating the city skyline.
With so much fascinating history around every corner and exciting events throughout the year (like Sumida River Fireworks Festival), there's really no reason not to take your time uncovering all mysteries Asakusa has to offer.
Enjoy Asakusa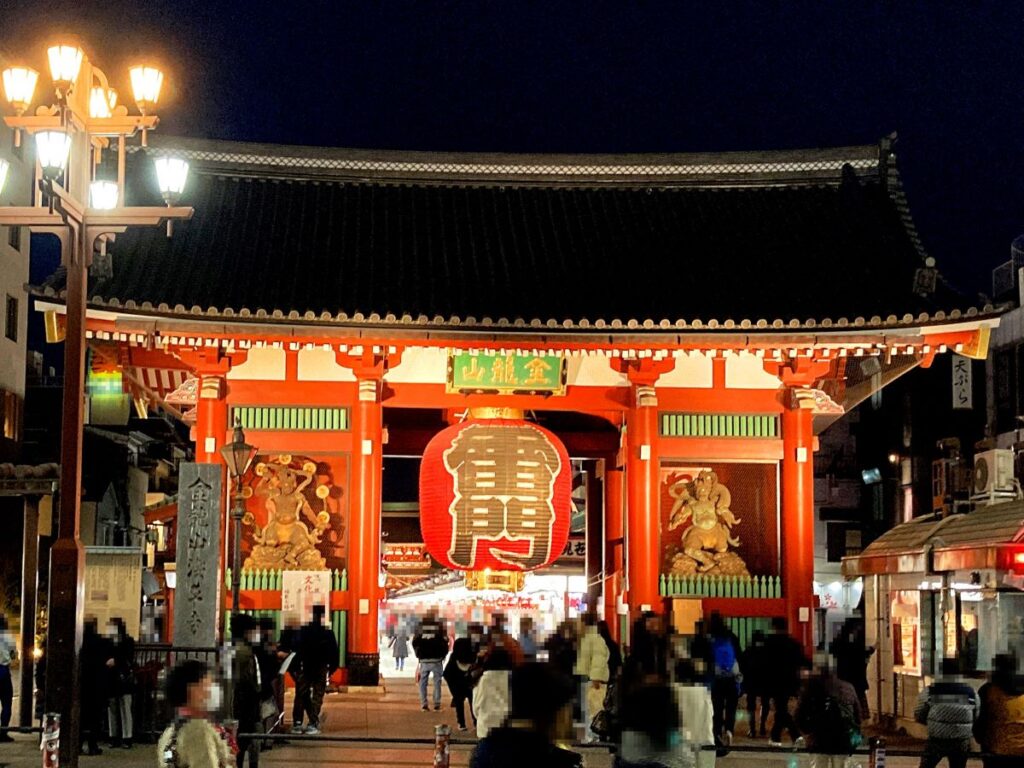 The best things to see and do in Asakusa are truly captivating.
Whether it's exploring the lively Sensoji Temple or shopping your way through Nakamise Street, there is something for everyone.
Admire traditional Japanese gardens, grab a bite at one of the many delicious restaurants on Kappabashi Street, and experience some of Tokyo's most vibrant nightlife spots like Hoppy Dori.
There's no doubt that Asakusa has been delighting visitors since its beginnings as an important entertainment district centuries ago – so come visit this unique part of town soon.