Kagoshima is a beautiful city located on the southern tip of Japan. There are plenty of exciting things to see and do in this region that will keep you entertained for days. One must-visit attraction is Sakurajima, an active volcano surrounded by hot springs and hiking trails offering stunning views over Kagoshima Bay.
Take a ferry ride around Kinko Bay or visit the Chiran Peace Museum where you can explore underground aircraft hangars used during World War II, now converted into peaceful gardens filled with cherry blossoms trees – truly spectacular.
Quick Take Aways
Visit the Sakurajima volcano and take a ferry across its bay.
Go to Sengan-en Garden, recognized as one of Japan's finest gardens with over 350 years of history.
Experience traditional Japanese culture at Chiran Samurai Residences and learn about their way of life in ancient times.
Learn all about Satsuma pottery from various historic periods by visiting museums dedicated solely to this craft.
Feel like royalty when you make your stop at Shiroyama Hotel – it has views overlooking both Mt.Sakurajima & Kinko Bay practically right outside each room
Want some quiet time? Head out into nature. The Kirishimayama range provides mountain hiking trails and hot springs abound throughout area
Try "Satan-no-Itagaki," made using hyuga-natsu oranges grown only here—a sweet smooth brandy-type drink perfect after dinner or even paired with desserts such as cake or ice cream
Is Kagoshima Worth Visiting
Kagoshima, located in the southernmost part of Kyushu Island, is a beautiful destination with plenty to see and do. The city offers stunning views of Sakurajima – an active volcano that looms over the bay. There are also several hot springs where you can enjoy a relaxing soak while taking in breathtaking natural scenery.
Kagoshima's rich history includes samurai culture and during your visit, you will find many historical sites dotted around the city including impressive castle ruins and museums dedicated to this era. Whether seeking adventure or relaxation, Kagoshima has something for everyone.
Sakurajima Island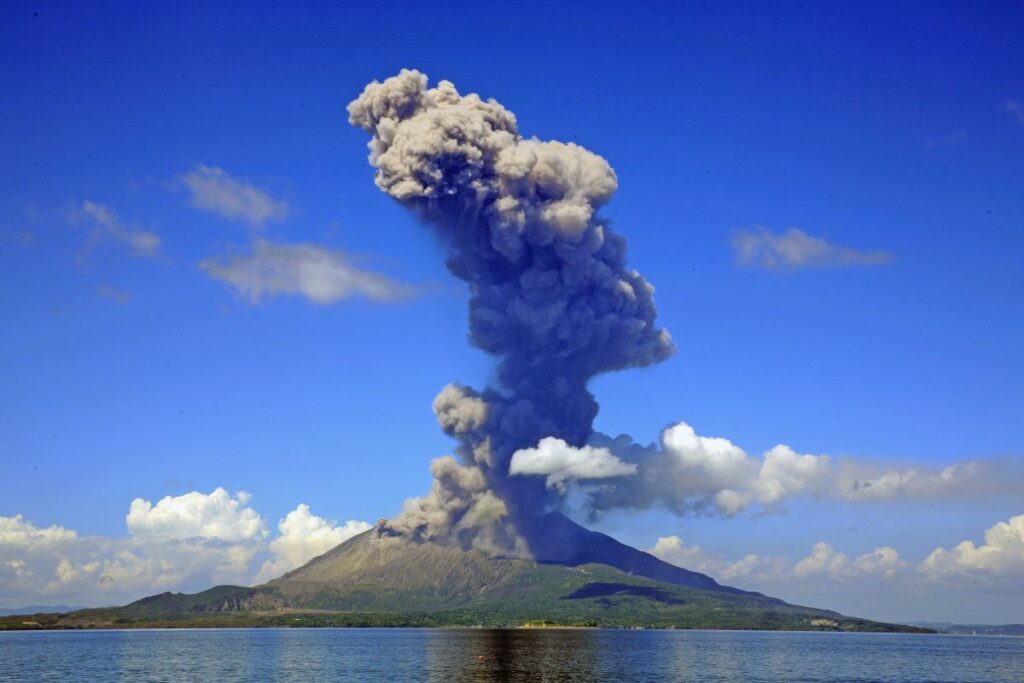 Sakurajima Island is a volcanic island located in Kagoshima Bay, Japan. The island gets its name from the thousands of cherry blossom trees that bloom every spring, creating stunning views for visitors to see. Sakurajima's volcano is active and can often be seen spewing smoke into the air.
However, this doesn't stop tourists from coming to enjoy all that the island has to offer such as hot springs, hiking trails with breathtakingly beautiful scenery along with unique cultural experiences like visiting traditional shrines or trying local cuisine at one of several restaurants on site.
Sengan-en Garden
Sengan-en Garden is a serene and picturesque garden located in the southern part of Japan. This traditional Japanese landscape boasts stunning views of Sakurajima volcano, which serves as its backdrop.
The well-manicured gardens have been meticulously tended by generations of samurai lords who once resided here, with an abundance of lush vegetation and colorful blooms throughout the year.
You can enjoy tea ceremonies or stroll along meandering paths while enjoying beautiful sights including waterfalls, ponds filled with koi fish and ancient trees that are hundreds of years old – making Sengan-en Garden one must-visit location for nature lovers visiting Kagoshima prefecture in Japan.
Shiroyama Observatory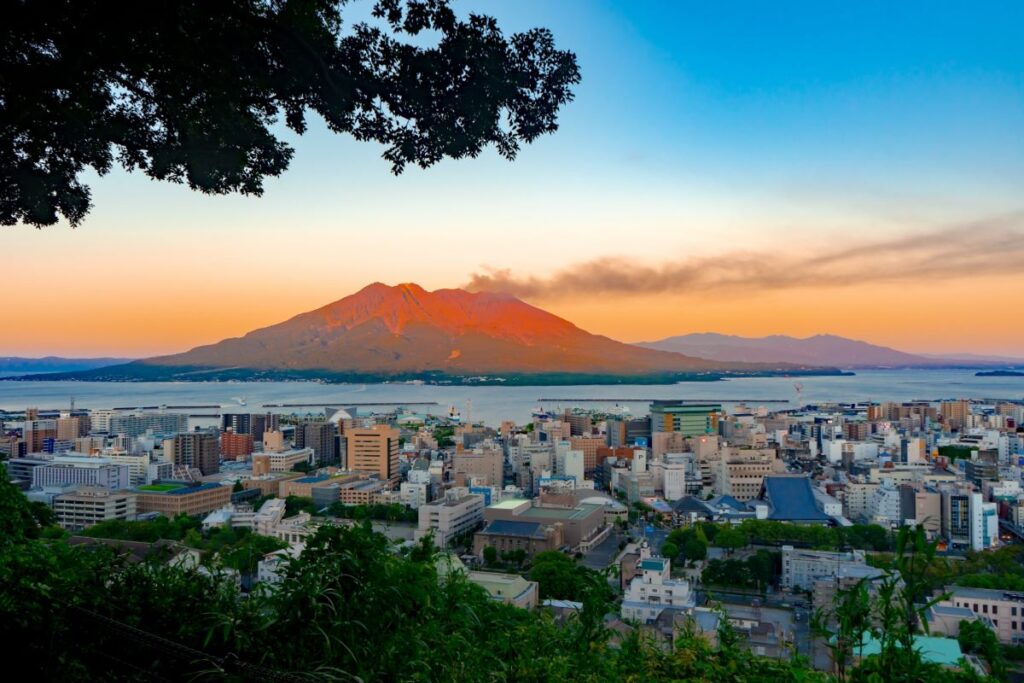 Shiroyama Observatory located in Kagoshima, Japan is one of the best places to enjoy stunning views from high up. The observatory offers panoramic views of Sakurajima volcano, Kinko Bay and downtown Kagoshima city. You can reach this spot via cable car or by hiking up a steep trail if you are feeling adventurous.
Stop by at night time for an even more spectacular experience with the city lights twinkling below you amidst volcanic smoke emanating from nearby mountains. An absolute must-visit on your trip to Kagoshima.
Reimeikan Museum
The Reimeikan Museum in Kagoshima, Japan is an absolute must-visit for anyone interested in Japanese culture and history. The museum houses a vast collection of artifacts related to the Satsuma domain – from samurai swords and armor to pottery and lacquerware. It's amazing how these objects have survived centuries.
Children will love exploring the interactive displays that bring ancient customs to life such as traditional tea ceremonies, theater performances, processions & more all recreated with lifelike robots assisting visitors along their journey through time. This place has something for everyone; plan on spending at least two hours here.
Kagoshima Aquarium
Nestled in the beautiful city of Kagoshima, Japan lies an aquatic adventure like no other. The Kagoshima Aquarium is a stunning facility that boasts over 500 species of marine creatures including dolphins, sea turtles and colorful tropical fish.
With its state-of-the-art exhibits and interactive displays, this aquarium offers visitors a unique insight into the fascinating world beneath our oceans. For families with children or anyone who simply loves marine life, a trip to Kagoshima Aquarium is absolutely essential when visiting Japan's southernmost island region.
Tsurumaru Castle
Tsurumaru Castle is a historical monument and popular tourist destination situated in Aizuwakamatsu, Japan. The castle was rebuilt during the Edo period after it was destroyed by fire, and today visitors can explore its impressive stone walls, moats, gates and towers.
Its location on top of a hill offers stunning views of the surrounding cityscape. Visitors can also learn about the history of Tsurumaru Castle at its museum or attend cultural events held within its premises throughout the year.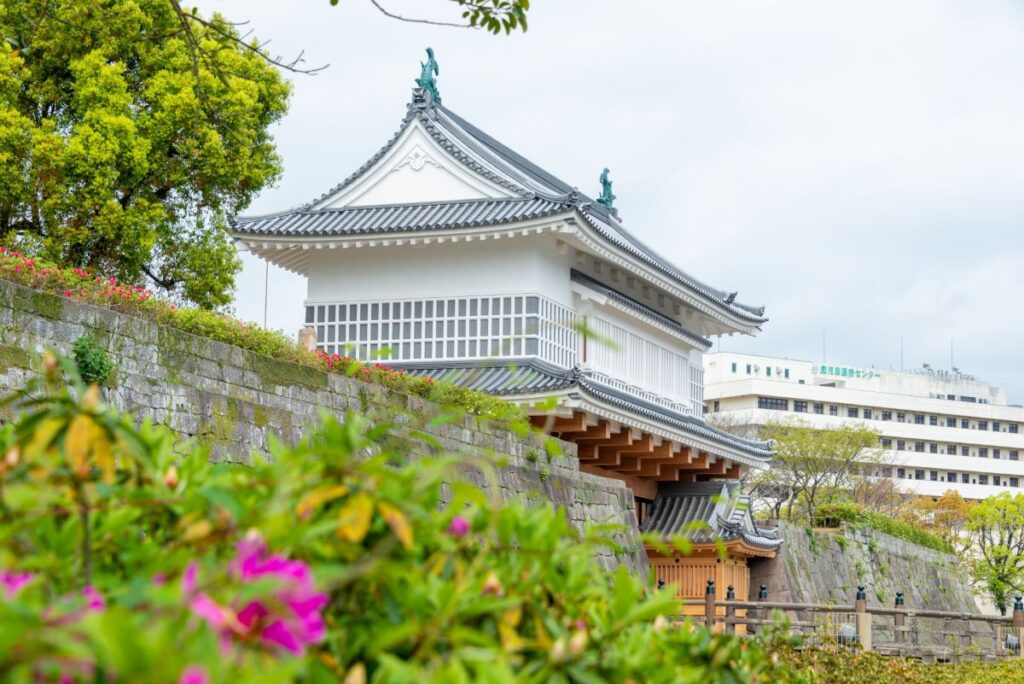 This magnificent architectural structure is definitely worth visiting for those interested in Japanese culture and architecture.
Kagoshima City Museum of Art
Kagoshima City Museum of Art is a stunning attraction for art lovers in southern Japan. Housed within a modern building, this museum showcases contemporary and traditional artworks from local artists as well as international talents.
Visitors can admire the various styles ranging from paintings, sculptures to installations while learning about Kagoshima's history and culture through visual arts exhibitions.
Kirishima-Yaku National Park
Kirishima-Yaku National Park is a stunning natural wonderland in southern Japan. The park covers over 35,000 hectares and encompasses the Kirishima mountain range as well as Yakushima Island. Visitors can explore picturesque hiking trails that wind through forests of ancient cedar trees, cascading waterfalls and volcanic landscapes dotted with bubbling hot springs.
Wildlife enthusiasts will be delighted by the diverse array of flora and fauna including rare species like black bears and Japanese macaques. Whether you're seeking adventure or tranquillity, Kirishima-Yaku National Park offers something for every type of traveller to enjoy.
Kinko Bay
Kinko Bay in Japan is a beautiful destination for families to explore. The bay's sparkling blue waters provide plenty of opportunities for swimming, boating and kayaking adventures. Families can also hike the nearby mountain ranges or visit traditional Japanese hot springs that dot the coastline.
There are also a few great restaurants serving authentic local cuisine, making it an excellent place to sample some delicious regional dishes while soaking up stunning views over Kagoshima City from across its tranquil waterways.
Satsuma Kiriko Glassworks
Satsuma Kiriko Glassworks is a stunning glassware factory in Japan, known for its unique and intricate patterns. The traditional Satsuma Kiriko technique involves carving delicate lines into the surface of the glass to create beautiful designs and shapes.
You can witness this artistry first-hand by watching as skilled craftsmen produce these remarkable pieces right before their eyes.
Amuran Ferris Wheel
Amuran Ferris Wheel is a must-visit attraction for families visiting Japan. Located in the heart of Osaka, it offers stunning views of the city from its towering height. The 5-minute ride on this iconic wheel with enclosed cabins takes you up to 123 meters high and provides an unforgettable experience that will have kids and adults alike shrieking with delight. Besides being a popular tourist spot, Amuran Ferris Wheel also has shopping outlets, restaurants, and entertainment facilities nearby making it an ideal destination for spending quality time with family or friends.
Shiroyama Park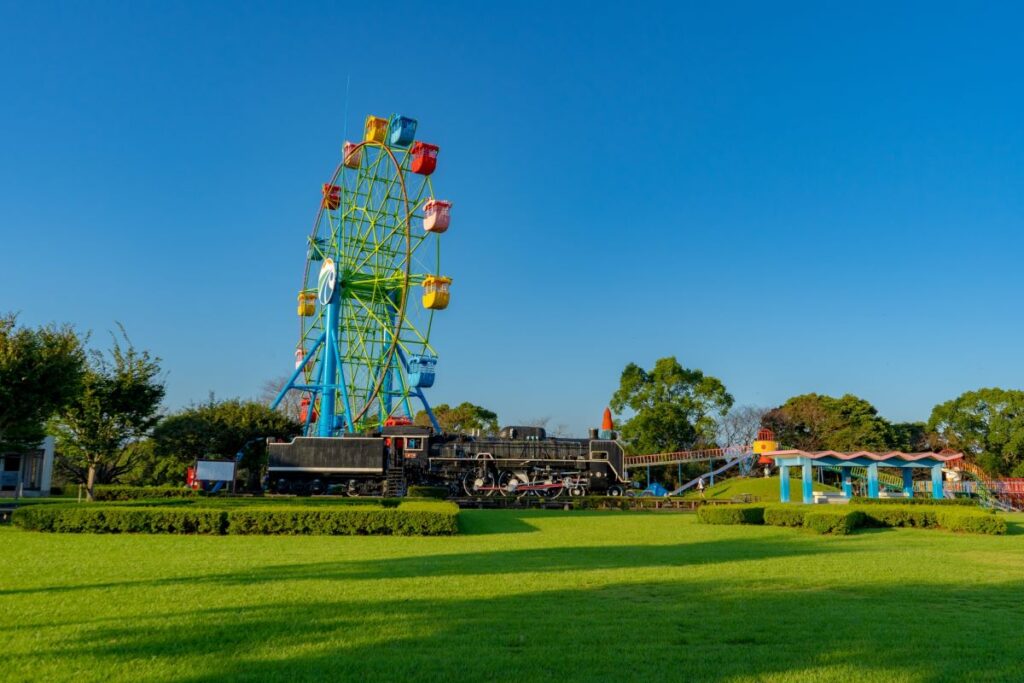 Shiroyama Park is a beautiful oasis in the heart of Kagoshima, Japan. The park offers stunning vistas that overlook the city and Mount Sakurajima volcano. Visitors can enjoy walking trails through lush greenery or take a scenic cable car ride up to Shiroyama Observatory for panoramic views over the landscape below.
History buffs will appreciate exploring Reimeikan Museum within the park grounds where they'll learn about local history and culture including Satsuma pottery exhibits. With its varied activities catering to both outdoor enthusiasts and cultural seekers, this hidden gem guarantees an enjoyable day out for all ages.
Nagashima Museum
The Nagashima Museum is a treasure trove of Japanese art, located in the city of Kagoshima. Its collection includes remarkable pieces from the Edo period as well as pottery works that date back to ancient times.
This museum also features exhibitions showcasing contemporary artists and their creations which add up to its charm. With serene gardens surrounding it, visitors can enjoy peaceful views while taking in awe-inspiring artwork displayed inside this stunning facility making it an ideal destination for culture lovers visiting Japan.
Museum of the Meiji Restoration
The Museum of the Meiji Restoration in Kagoshima, Japan is a great place to learn about Japan's transformative period. Visitors can explore exhibits and interactive displays that shed light on the country's transition from feudalism to modernity during Emperor Meiji's reign.
Highlights include an impressive collection of swords, armor, and other artifacts that illustrate how samurai culture evolved over time as well as replicas of some key moments in history. The museum is also located near Sengan-en Garden which makes for a lovely afternoon stroll after exploring all there is to see inside.
Kagoshima Prefectural Museum of Culture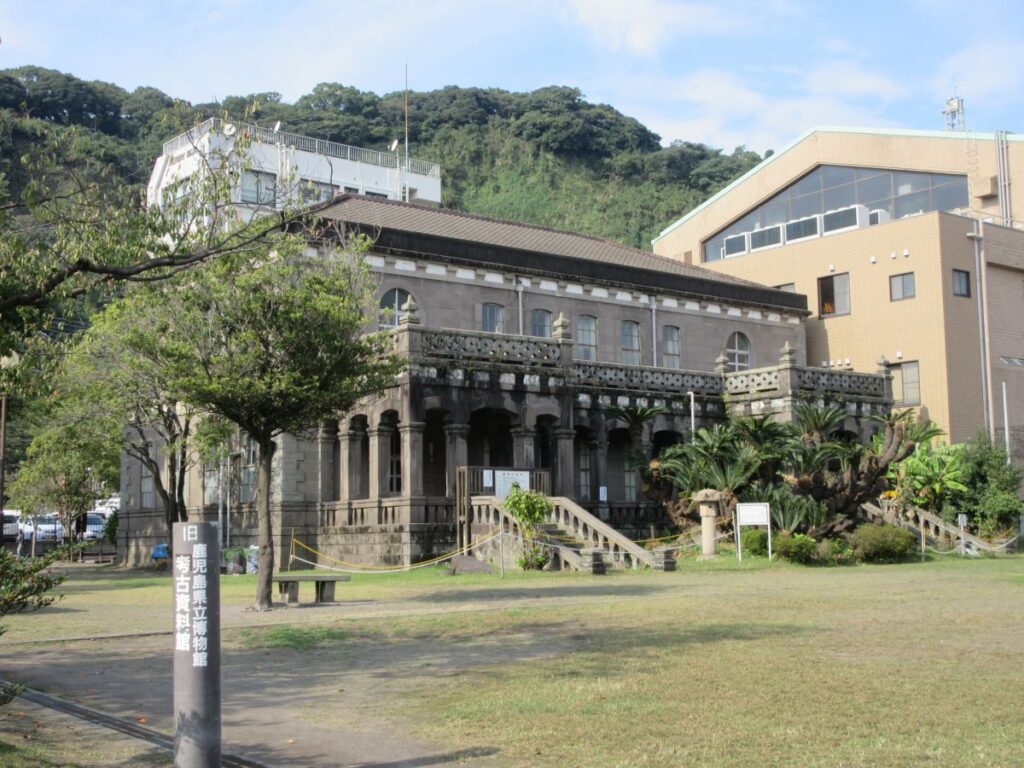 The Kagoshima Prefectural Museum of Culture is a must-visit destination for those interested in Japanese history and art. Travelers will be amazed by the vast array of exhibits on display, including pottery, sculptures, paintings, and textiles that showcase traditional crafts from different regions across Japan.
The museum also houses an impressive collection of historical artifacts detailing the rich cultural heritage of Kagoshima prefecture itself. Set against a stunning backdrop overlooking Kinko Bay this fascinating museum offers visitors an immersive experience into ancient Japanese culture that both adults and children alike are sure to enjoy.
Terukuni Shrine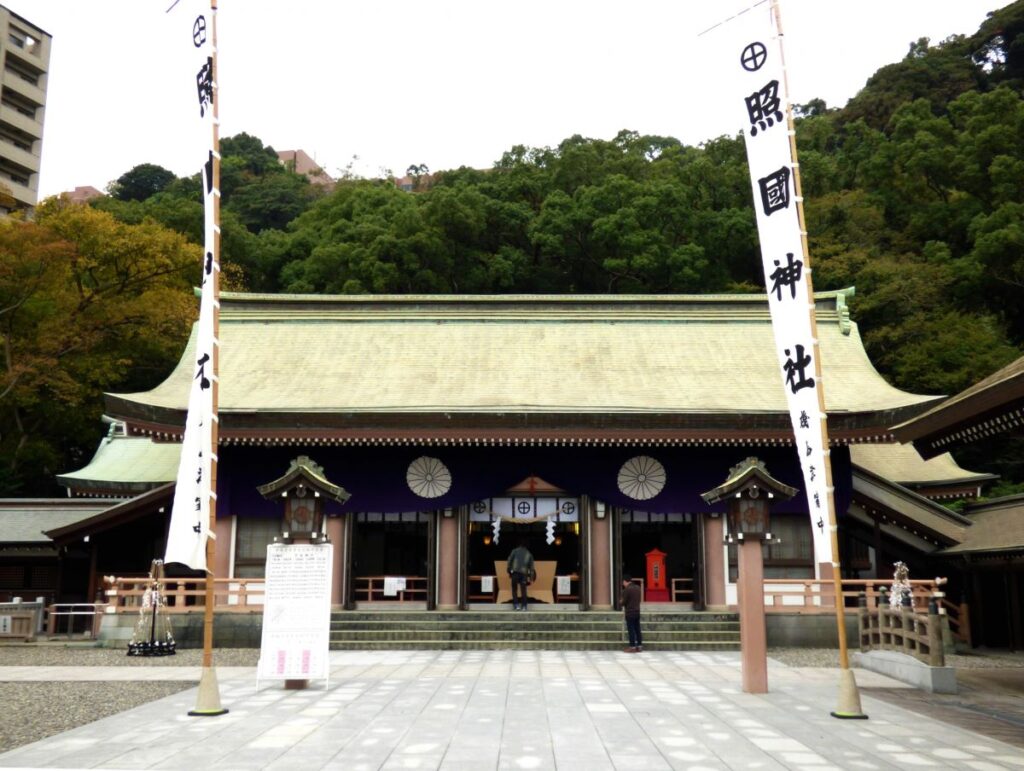 Located in Kagoshima, Japan, Terukuni Shrine is a revered Shinto shrine that attracts visitors from all over the world. The tranquil atmosphere and stunning architecture of the shrine are mesmerizing, making it an ideal destination for those seeking spiritual experiences or simply some quiet time to reflect.
Surrounded by lush greenery and serene ponds filled with carp, this historic site offers both peace and beauty beyond measure. Its sacred halls house numerous artifacts dating back centuries- testimony to its illustrious history as one of Japan's most significant religious sites – while its vibrant annual festivals draw locals together in celebration between January 1st through December 31st every year.
Shiroyama Hachimangu Shrine
Shiroyama Hachimangu Shrine is a beautiful Shinto shrine located in the city of Kagoshima, Japan. The shrine was originally built to honor one of the most famous samurai warriors, Shimazu Tadahisa. It features vibrant red-orange torii gates and several smaller shrines within its complex that are dedicated to different gods and goddesses. Visitors can take a walk up Mount Shiroyama for breathtaking views from this magnificent location or just relax amidst lush greenery at the base of Kinpozan Park where it stands majestically on top overlooking waterfalls below creating peaceful serenity throughout your visit.
Kagoshima Shrine
Kagoshima Shrine in Japan is a beautiful and historic site to visit with your family. The shrine is dedicated to the local hero, Saigo Takamori, who fought against the modernization of his country during the Meiji Restoration period.
Here you can enjoy strolling through its peaceful grounds where you will see various traditional structures such as Torii gates, stone lanterns, and even an ancient cedar tree that has been standing for over 800 years. A must-see attraction at Kagoshima Shrine is the stunning cherry blossoms which bloom from late March to early April each year creating a breathtaking sight for all visitors.
Saigo Takamori Statue and Museum
The Saigo Takamori Statue and Museum in Kagoshima, Japan is a must-visit attraction for history buffs. The statue pays tribute to the legendary samurai warrior who played a significant role in modernizing Japan during its Meiji Restoration period.
The museum features various exhibits showcasing his life's work, including weapons used by him during battles, clothing worn at court ceremonies and other personal belongings that offer an intimate glance at this historical figure's persona.
It's fascinating to learn more about one of Japan's most celebrated leaders from centuries past while immersed amongst such rich cultural artifacts within stunning spacious grounds -don't miss out on checking it out when you're visiting Kagoshima.
What To eat In Kagoshima
Kagoshima in Japan offers a unique culinary experience with its fresh seafood, flavorful shochu, and melt-in-your-mouth Kurobuta (black pork).
Kagoshima's signature dish is the savory tonkotsu ramen made from rich pig bones broth. Visitors can also indulge in local specialities such as torisashi – sashimi-style chicken breast meat or karukan – steamed sweet potato cake which are perfect souvenirs to bring back home.
Other must-try dishes include the creamy satsuma-age fishcake and imo-jochi , roasted sweet potatoes that have been cooked for hours over an open flame until they're caramelized on the outside but soft inside.
History Of Kagoshima
Located in the southern part of Japan, Kagoshima has a rich and fascinating history. It is said that it was one of the first settlements established by Japanese people around 10,000 years ago. During feudal times, this region became an important center for trade with China and Korea due to its strategic location near East Asia's mainland coastlines.
Kagoshima played a critical role during World War II as well because it served as a key naval base where many battleships were built. Today visitors can explore remnants and landmarks from these periods such as samurai residences or historic Catholic churches merged into modern-day commercial buildings – evidence of how Kanokujira Street flourished thanks to foreign exchanges more than four centuries ago.
How to travel to Kagoshima
If you're planning a trip to Kagoshima, Japan's southernmost mainland city, flying into the local airport is one option.
Alternatively, take one of the regular shinkansen (bullet trains) from Tokyo or Osaka to Hakata before transferring onto the Kyushu shinkansen.
If you have a JR Rail Pass a trip to Kagoshima is the very end of the Shinkansen line so will ensure you get your money's worth.
There's also a great Kyushu Rails pass that is cheaper than the JR pass and covers all of Kyushyu including the Shinkansen.
The Sum Up
Kagoshima boasts of a unique combination of historical and natural attractions that make it worth visiting. From the iconic Sakurajima volcano to its historic samurai district, there is plenty for visitors to see and experience in this charming city.
Explore traditional Japanese gardens or enjoy hot springs with stunning ocean views- Kagoshima has something for every traveler out there. Overall, whether you're looking to learn about Japan's history or simply soak up its scenic beauty, Kagoshima will not disappoint.