Shibuya is absolutely worth visiting. It's an extraordinarily vibrant area known for its ultra–modern culture. From the iconic Scramble Crossing and Hachiko statue to shopping malls like 109 Fashion Building and exclusive restaurants along Center Gai Street, Shibuya offers plenty of attractions that should not be missed.
Besides sightseeing experiences such as observation decks or art spaces with unique exhibitions, you can also enjoy many different entertainment facilities like karaoke bars or game centers which make your visit even more enjoyable.
Shibuya SKY Observation Deck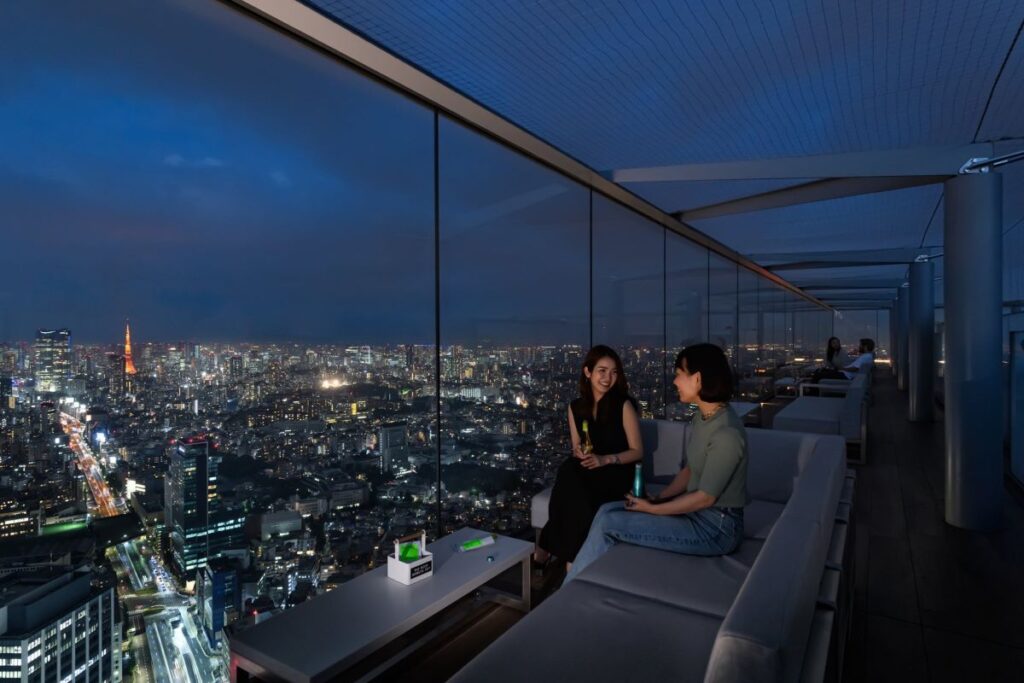 The new Shibuya SKY sat high on our list of the best observation decks in Tokyo and offers a unique bird's-eye view of Tokyo. Sitting high above the hustle and bustle of Shibuya, it can be reached by taking one of two elevators up to its 251-meter height.
Visitors are treated to an awe-inspiring panorama stretching far into the horizon in all directions – encompassing everything from iconic buildings such as Tokyo Tower or Mt Fuji (on a clear day) right down to street-level details like cars trickling through busy intersections below.
It's also possible to take part in interactive experiences including giant 300-degree views via VR headsets and even 'flight simulator' style rides that recreate famous aerial routes around Japan.
To top off your visit there is Sky Cafe where you can dine while gazing out over incredible cityscapes lit up against night skies – definitely an unforgettable experience for any traveler visiting Tokyo.
More: Shibuya Sky
Shibuya Scramble Crossing
Shibuya Crossing is an iconic intersection in Tokyo, Japan. It's often referred to as the "Scramble", and it's one of the busiest intersections in all of Asia. Hundreds of pedestrians cross each other at once, creating a unique sight that can't be found anywhere else on earth.
The crossing also serves as a popular spot for tourists who want to take great pictures capturing the hustle and bustle atmosphere around them – so if you're ever there don't forget your camera.
Additionally, Shibuya Crossing was featured prominently in many movies such as Lost In Translation, Fast And Furious: Tokyo Drift or even Resident Evil games (where zombies attack.), giving it additional fame worldwide among attention seekers alike.
Meiji Jingu
Meiji Jingu is an enchanting shrine located in Tokyo, Japan. It was built to honor the spirits of Emperor Meiji and Empress Shoken, a married couple who ruled from 1867 until their death in 1912-1914 respectively.
This splendid structure stands on over 175 acres of lush forest and serves as a symbol of peace, harmony, and prosperity throughout all levels of Japanese society.
Inside this grandiose building, one can find several monuments dedicated to significant events during the Meiji era; these include bronze barrels used by samurai warriors for drinking sake wine before fighting battles.
Often times ceremonies are held at the 'Haiden' (main hall area) with offerings made up of traditional items like rice cakes or fruit which are presented alongside prayers & wishes sent out into eternity.
Yoyogi Hachimangu
Yoyogi Hachimangu is an ancient shrine located in Tokyo that dates back to 1062. It stands as a symbol of peace and prosperity, making it one of the oldest Shinto shrines in Japan.
The original structure was destroyed multiple times before being reconstructed for the last time in 1659 by Tokugawa Iemitsu during his stay at Yotsuya Castle. Today's version has been modernized with several additions; however, its historic name remains unchanged since centuries ago.
On New Year's Day each year, thousands make their way up to Yoyogi Hachiamgu Shrine to ask God's blessings upon themselves while also offering gratitude towards what they have achieved throughout life thus far
It offers numerous activities such as cultural events like Japanese festival matoi parades – complete with traditional dancing & horses – and seasonal flowers blooming every month so there will always be something new for visitors even if you come again and again.
Shibuya 109
Shibuya 109 is a shopping mall in Tokyo that has become an icon for youth culture within Japan. It was built back in 1979 and was designed to be the female equivalent of Harajuku, which at that time catered mainly to men's fashion trends.
Its multi-level interior consists primarily of clothing boutiques catering to young women with its popular shops like Spinns, Zara TRF, and many more.
The most iconic feature of this building is its unique architecture; made up of multiple cuboids stacked on top of one another giving it the look of Tetris blocks being balanced together.
Each level offers different styles from trendy streetwear to something slightly more sophisticated or classy – perfect for every girl out there who wants a little bit of everything when they go shopping.
Besides these stores, you can also find restaurants, cafes as well as beauty salons dotted around Shibuya 109 making sure your experience here never gets boring.
Hachikō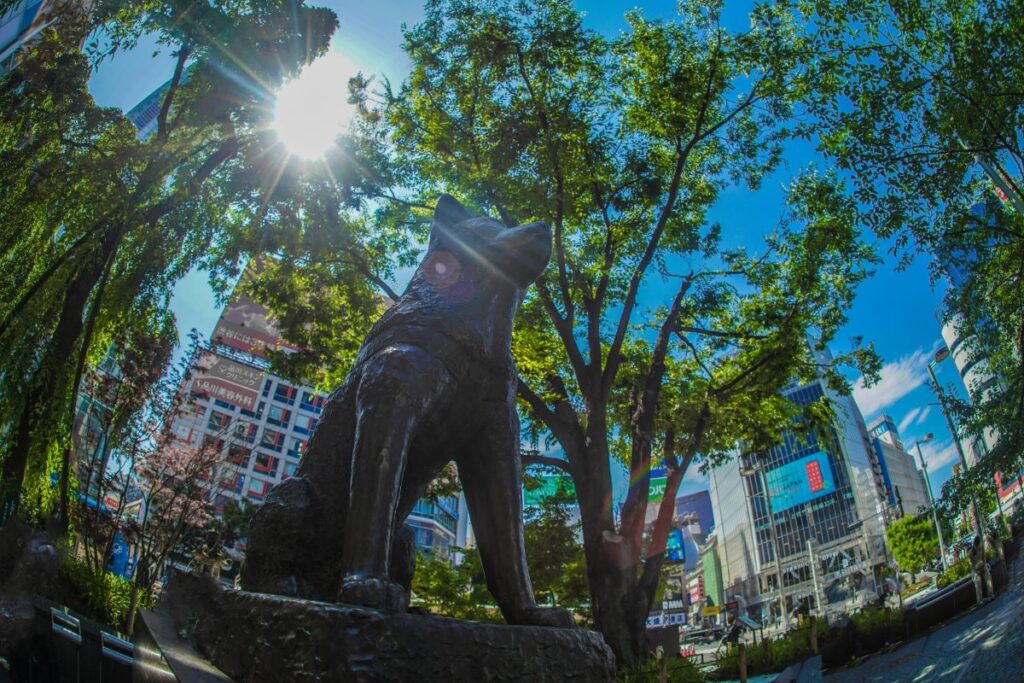 Hachikō, the world-famous Akita dog who waited for his human companion to return from work every day for nine years is immortalized in bronze at Tokyo's Shibuya Station.
The Hachikō Memorial Statue stands tall and proud as an iconic symbol of loyalty throughout Japan; its paw is forever outstretched to greet 18:00 every day when commuters depart their jobs. When he died in 1935, over 50,000 people attended his funeral—a testament to how much this remarkable pup was loved by those whose lives he touched.
Interestingly enough – dogs can't actually tell time so it must have been a strong instinct that drew him back each evening.
Nowadays students often rub Hachi's nose or take selfies with the statuesque pups before they go home. May we all be blessed with a fraction of his unwavering devotion and faithfulness which are now celebrated worldwide thanks to little old "Hachi"
Nonbei Yokocho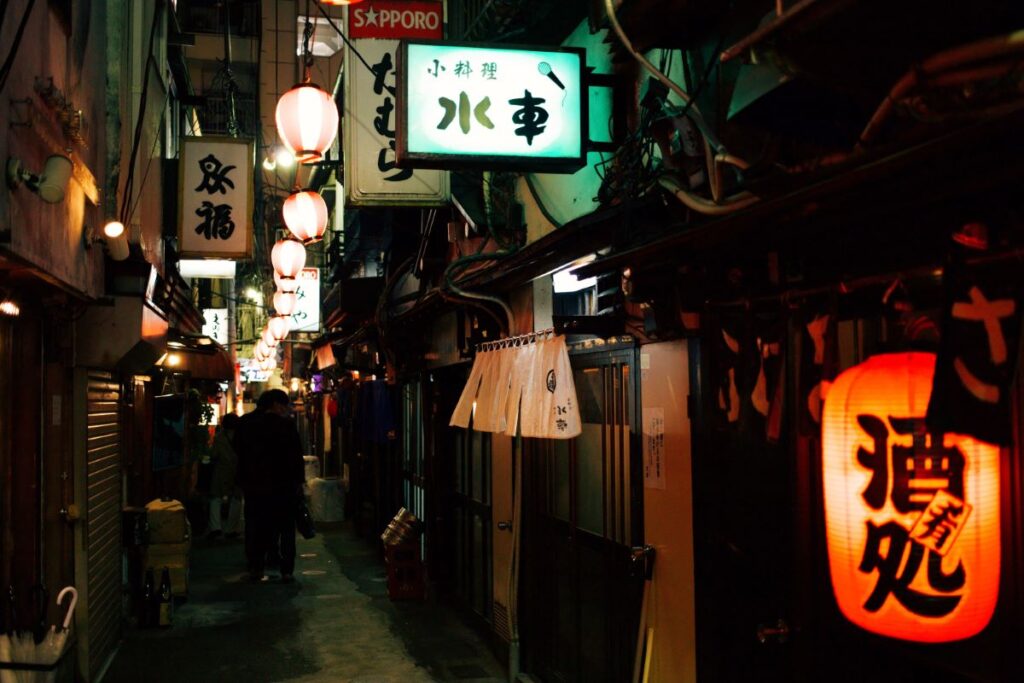 Shibuya Nonbei Yokocho is a one-of-a-kind outdoor drinking alley in Tokyo. This narrow network of alleys features hundreds of tiny bars, restaurants, and pubs offering unbeatable nightlife experiences.
After sunset, the whole area turns into an illuminated spectacle that's reminiscent of old Japan. Rub shoulders with locals at cozy izakayas to enjoy traditional Japanese dishes washed down with a few drinks or take your pick from any number of popular regional snacks like takoyaki balls or gyozas.
Whether you're looking for after-work beers among friends or are searching for rare sake varieties – Shibuya Nonbei Yokocho has something on tap (or bottle.) for everyone seeking some unique nocturnal entertainment in central Tokyo.
Takeshita Street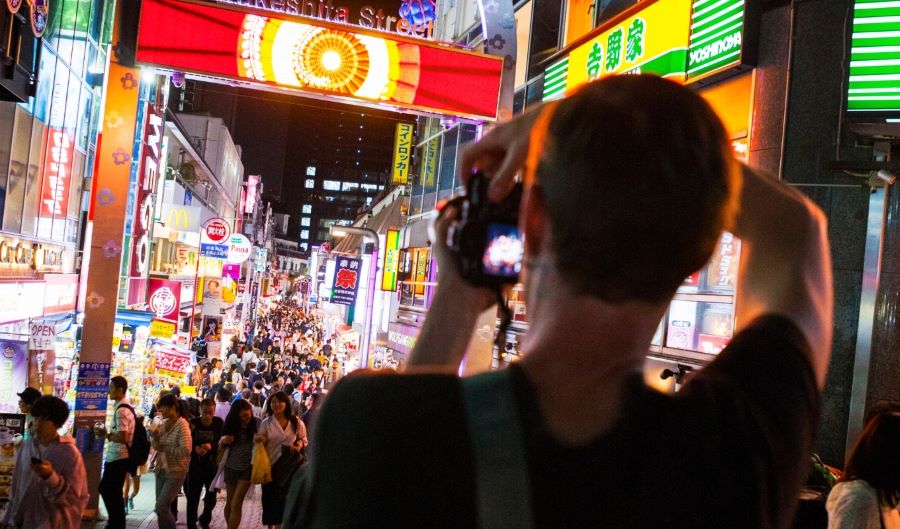 Takeshita Street is a bustling strip of streets and alleys in Japan's fashionable Harajuku neighborhood. With its colorful shops, hip restaurants, trendy cafes, and quirky boutiques – Takeshita street has long been the epicenter of Japanese youth culture.
Taking an afternoon stroll through here will be like taking a step back into Tokyo's past with vintage stores showcasing everything from classic manga to retro clothing; all blending perfectly amid modern-day trends such as contemporary fashion outlets and cutting-edge accessory stores offering jewelry for both everyday wear and special occasions.
A must when visiting this vibrant area are the local crepe stands that offer delicious treats any time of day. Whether you're after shopping sprees or just basking in fresh pop culture vibes —Takeshita Street remains unrivaled for those seeking experiences beyond conventional tourism hotspots.
Shoto Museum of Art
The Shoto Museum of Art, located in the fashionable area of ​​Shibuya Tokyo is a well-known destination for art enthusiasts and tourists from around the world. It was built to pay homage to Japanese masterpieces that span multiple centuries with its carefully curated collection by some renowned museums such as The National Museums of Modern Arts Japan and Bunkamura Museum Collection.
This museum features more than 400 pieces showcasing brilliant examples throughout history including artists like Matabei Matsuda, Hishida Shunichi, Taikan Yokoyama and various other classics.
Special exhibitions are also held here annually allowing you to explore new techniques or take a deeper dive into traditional works while offering unique educational programs so visitors can learn about art over cultural boundaries through creative discussions between curators—allowing knowledge exchanges across generations.
Spain-Zaka Slope
Spain-zaka Slope in Shibuya is a unique shopping street, known for its lively atmosphere as there are often throngs of people making their way up and down the long hill that characterizes the district.
Some describe it as being "in" Spain without ever having to leave Japan. This vibrant area is home to many fashion boutiques, vintage stores, and music shops where you can find almost anything under one roof – if you search hard enough.
During peak times on weekends, visitors will be treated to live performances from local bands playing Spanish music so they can get into the spirit of experiencing some traditional culture while abroad.
There are also plenty of mouthwatering eateries ranging from Japanese cuisine such as sushi restaurants to popular European spots too; definitely something for everyone here at this buzzing hub in Shibuyu​a​​..]
Shibuya Center Gai
Shibuya Center Gai is a bustling shopping district in Tokyo that boasts endless shops, cafes, and restaurants. With over 600 stores packed into just one square kilometer, it has been described as the fashion center of Japan's capital city.
It's also home to plenty of interesting features such as Hachiko Statue – made famous from the movie 'HOTEL FOR DOGS'; Purikura Land for fun photo booths; and unique side streets like Memory Lane where shoppers can find second-hand merchandise at bargain prices. And with several top entertainment venues nearby Shibuya Center Gai is sure to keep you on your toes throughout an exciting day out.
Konno Hachimangu Shrine
Konno Hachimangu Shrine in Shibuya is a beautiful place to visit for its traditional atmosphere. This shrine was built during the Edo period and enshrines the god of war, Susanoo-no-mikoto. Every May 15th, thousands of people gather around this sacred Shinto area to pray for academic success at 'Gakugyō Jōju' Festival or 'Academy Prize Award'.
In addition, you can also enjoy various cultural events such as dances called Kagura which are religious theatrical performances.
Museum of Yebisu Beer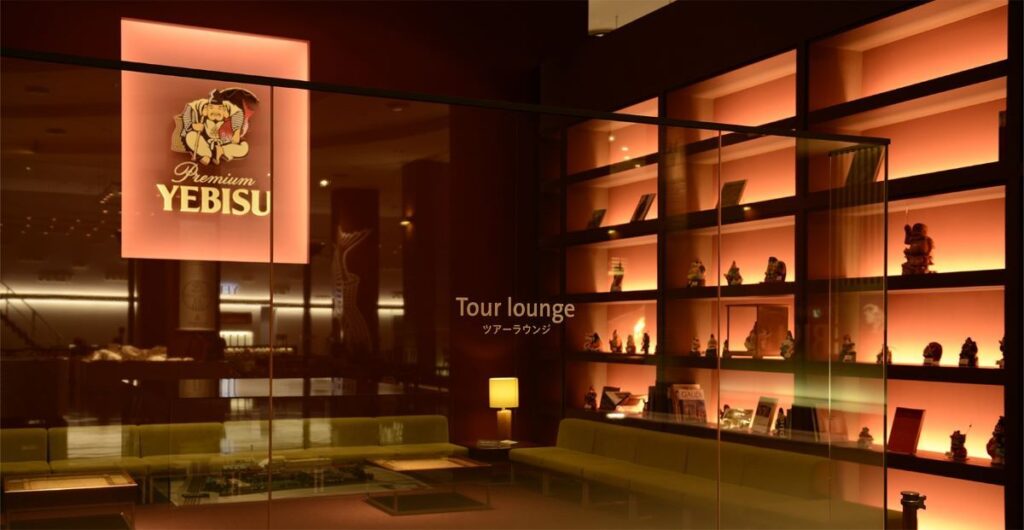 The Museum of Yebisu Beer in Shibuya celebrates the history and brewing process of one of Japan's most beloved beverages. From its creation more than a century ago to the present, visitors can explore through interactive displays, sampling exhibitions, and even get up close with beer-making robots.
Take a free guided tour around this fascinating museum – you might learn about why beers are paired with food or how hops give different flavors to each brew. Then head to their restaurant for some delicious grub before capping off your experience at their tasting corner where you'll sample several varieties of y
Bunkamura
Bunkamura, located in Shibuya, is a unique cultural hub with something for everyone. It hosts the Museum of Contemporary Art Tokyo and also has an opera house known as Orchard Hall.
There's a huge selection of restaurants and shops to explore too. Other interesting offerings include Marchen Cinema which plays classic Japanese animated films (anime) plus musical performances from emerging artists, making Bunkamura truly a one-of-a-kind experience.
Omotesando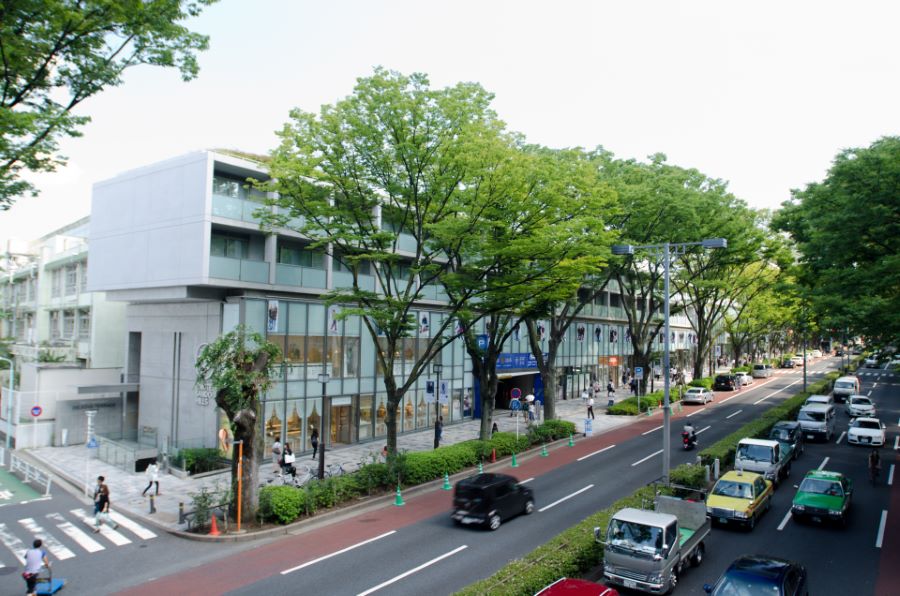 Omotesando is a fashionable street in Tokyo, Japan. It's known for its stylish boutique stores and cafes, so it's the perfect place to shop if you want to find unique fashion pieces. The architecture of Omotesando also adds charm – from traditional Japanese buildings with tiled roofs to sleek sandstone structures designed by prestigious architects like Tadao Ando.
There are even cherry blossom trees lining part of this avenue at certain times during springtime which creates a beautiful sight. If all that shopping makes you thirsty then there's no need to worry as some of the city's best coffee shops can be found on either side of Omotesando: Blue Bottle Coffee and Toby's Estate Café have delicious drinks while Cat Street Gallery has art exhibitions where visitors can enjoy their beverages.
Harajuku
Harajuku is Japan's trendy epicenter and buzzing cultural district, home to fashion-forward boutiques, cafes, and people-watching.
The area offers a unique experience for visitors: the streets are filled with eye-catching cosplayers donning outlandish costumes; it showcases Japanese street culture from Harajuku's main thoroughfare – Takeshita Street; and in Yoyogi Park, you can find musicians playing traditional music such as shamisen (three-stringed lute).
For more things to do in Harajuku, check out the list on Tokyo App.
Cat Street
Cat Street in Harajuku is unlike any other street. It runs between Takeshita-dori and Meiji Dori, two of the most famous streets located near Tokyo's iconic Shibuya crossing.
The main draws for visitors to Cat Street are its intriguing shops that specialize in original fashion items not found anywhere else, along with the eclectic mix of boutiques selling a variety of vintage clothing and accessories from both domestic and international brands.
But it's also known as one of Japan's centers for kawaii (cute) culture; adorable cat cafes can be spotted among trendy restaurants serving creative cuisine around every corner.
Visitors have plenty to see including murals featuring beloved characters like Hello Kitty or My Melody alongside quirky signs advertising the latest trends—a unique experience you won't find anywhere else.
Nezu Museum
The Nezu Museum, located in Tokyo's Minato district, is a must-see for anyone interested in Japanese art and culture. This prestigious museum houses over 7500 works of traditional Asian art spanning from Japan to China.
Some highlights include the impressive collection of bamboo baskets created by renowned artist Iizuka Rōkansai, delicate ceramics made during Japan's Edo period (1603 – 1868), intricate calligraphy scrolls crafted since ancient times as well as archeological artifacts such as haniwa figures dug up at various burial sites around Japan.
Visitors can enjoy relaxing strolls through peaceful gardens or take part in educational programs and workshops highlighting different aspects of classical East Asian art history – making it an unmissable destination on any trip to Tokyo.
Cosmo Planetarium Shibuya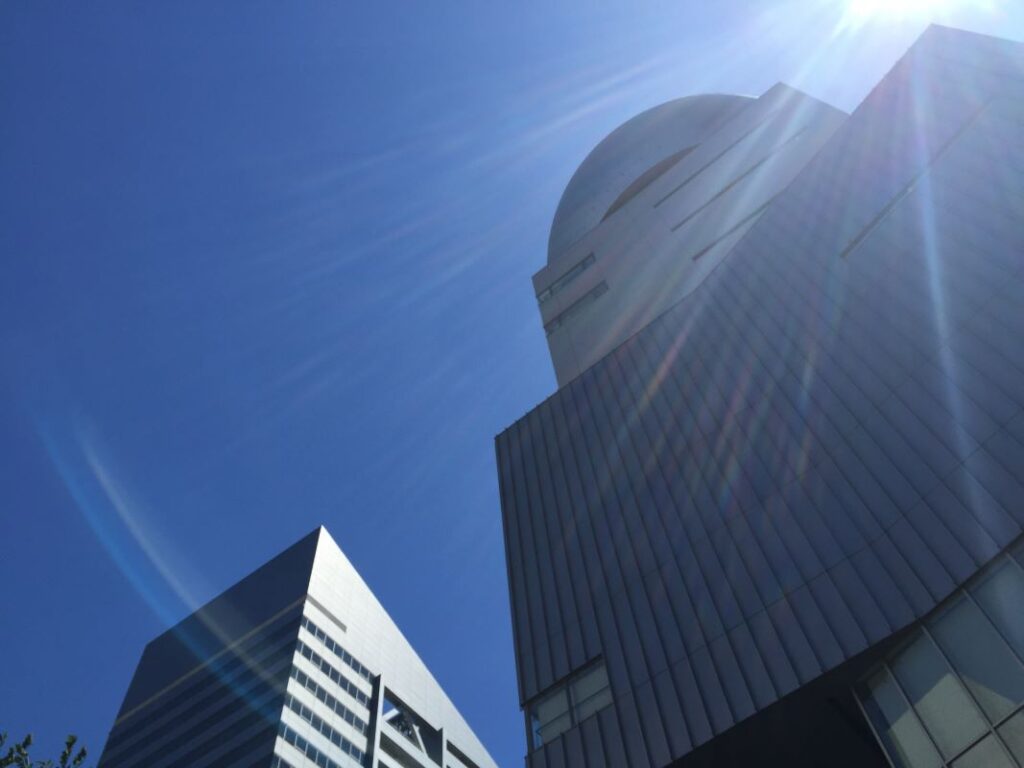 Cosmo Planetarium Shibuya is the largest planetarium in Japan, offering a stunningly realistic panoramic view of space.
It simulates about 11 billion stars and planets with its state-of-the-art projection system, providing an immersive experience that will make you feel like traveling to outer space. Some fascinating facts include being able to watch meteor showers every month due to their Digital Full Dome System which also features different kinds of phenomena such as the Aurora Borealis.
The Astro Theater at Cosmo Planetarium has something special for visitors – they can enjoy learning while experiencing an exciting journey into our universe's mysterious depths.
Shibuya Love Hotels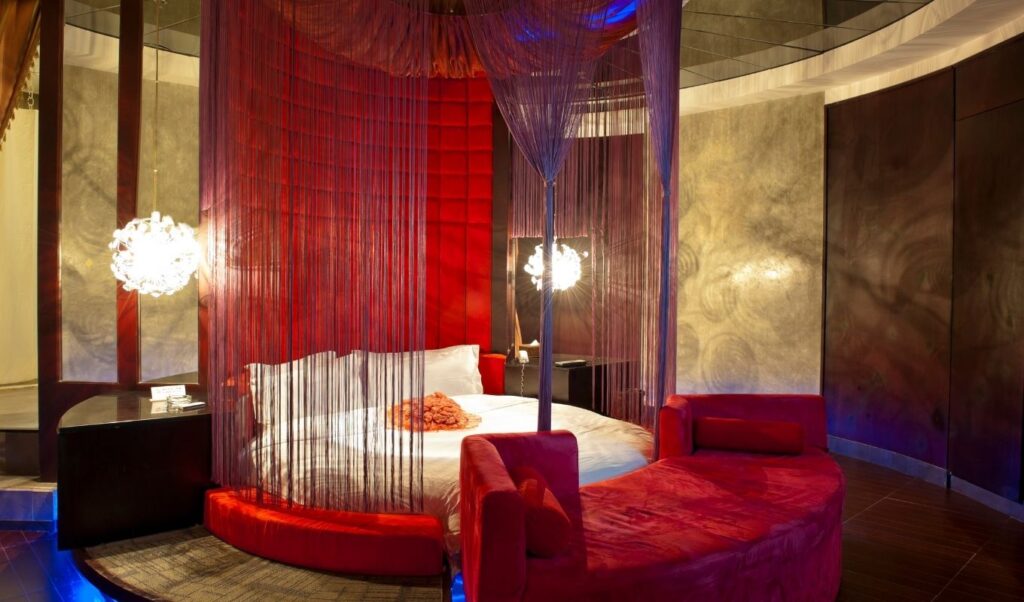 Visiting a love hotel in Shibuya is like taking an adventure into the world of intimacy and privacy. You name it, they have it: beds shaped like hearts, karaoke rooms with colorful lighting to set the mood – all at affordable prices.
Most hotels offer hourly rates and provide discreet entrances for extra security. So if you're looking for something special during your stay in Shibuya – think no further than one of its many intriguing Love Hotels.
Is Shibuya Worth Visiting?
Absolutely. Shibuya is an incredible place to visit and can provide visitors with unforgettable experiences. The area offers everything from the vibrant nightlife, scrumptious restaurants, exciting shopping opportunities, and more.
It's not only the most popular tourist destination in Japan but one of the world's liveliest districts as well – it has something for everyone. Its streets are bustling all day long; there are lots of shops, cafes, and eateries that never fall short when it comes to keeping people entertained or satiated while they explore this unique part of Tokyo city.
Regardless if you want a fun night out or just some good food – visiting Shibuya is worth your time without a doubt